Twinship — the perfect kinship! I've just returned from a 10-day trip to Atlanta to visit my twin sister. Diane was supposed to join me for part of my recent trip to Paris but had to bow out at the last minute when one of her family members became seriously ill. Happily, the family member is well on the road to recovery. The only thing Diane and I could think of to assuage our mutual disappointment was for me to make a visit to her home, so just days after my return from Paris I was back on an airplane winging my way from Oregon to Georgia.
We had a lovely time! I usually wind up with a home dec project when I visit Diane but this time my trusty old Elna, which I took to Atlanta a few years ago so I could sew there, stayed put. We did get in a bit of antiquing, though. My visit happened to coincide with the Scott Antique Mall, open just one weekend a month in Atlanta, so off we went.
I wasn't planning to buy anything but . . . you know how that goes. Minutes after walking through the entrance at Scott's I spied a collection of vintage buttons. If I had found just this one thing, I would have been delighted: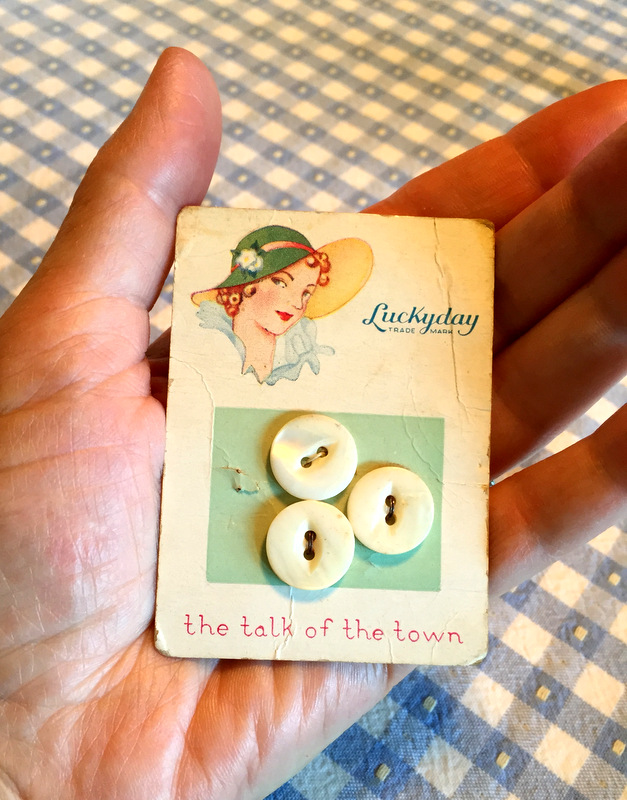 This little 2″ x 3″ card will go up on the bulletin board in my sewing room.
I also found these green glass buttons dating back to the 1940s: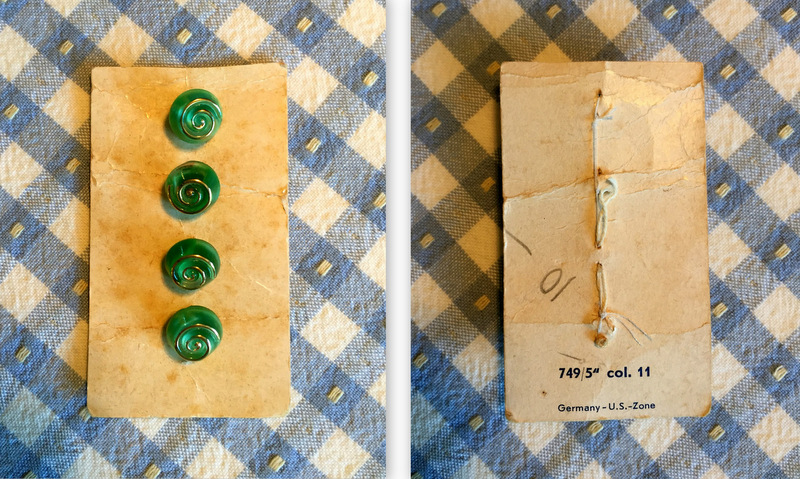 How do I know how old they are? The back of the card is marked "Germany – U.S. – Zone," indicating they were made between 1945-1950.
And look at these fun clock buttons: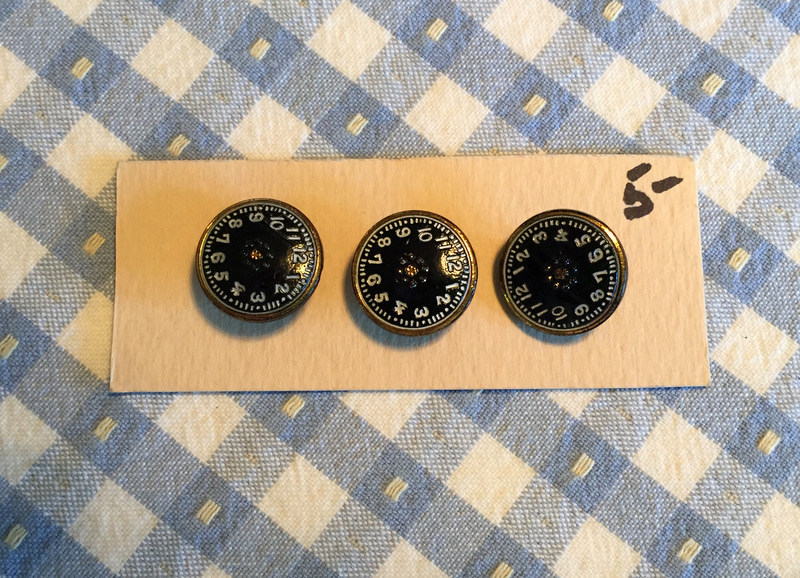 I have no idea how old they are or even what I will use them for. Hmmm, let me see. . . . What if I were making a mini quilt with buildings on it, and what if one of the buildings were a clock tower? Wouldn't one of these buttons make a fun clock? Something to think about.
Toward the end of the day I spotted this charming ironstone lidded jar: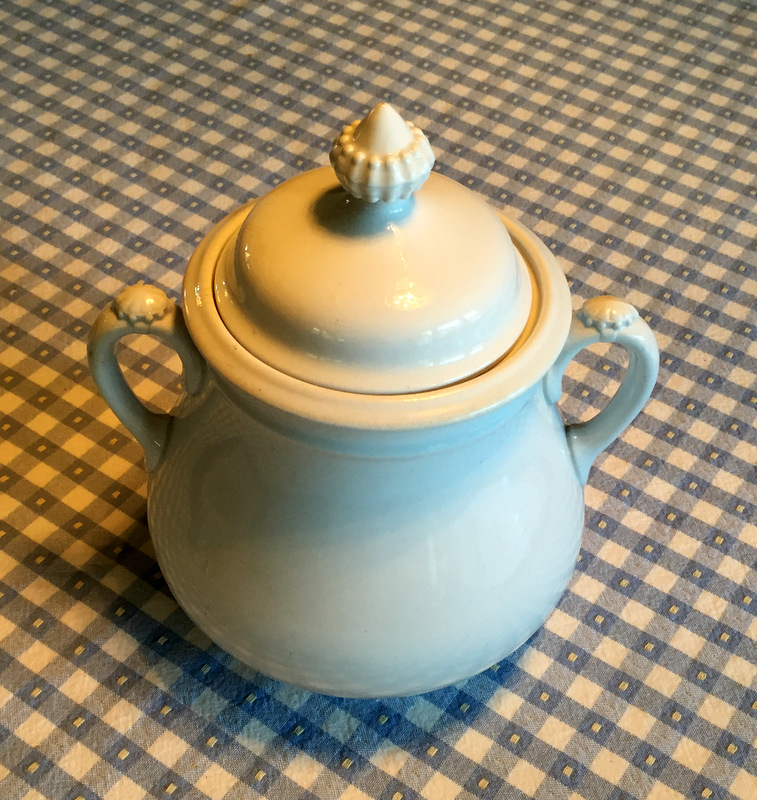 What is it? A large sugar bowl? A biscuit jar? It measures about 7½" tall and 7″ wide. The maker is John Maddock & Sons, one of the many potteries located in Burslem, Staffordshire, England. Here's a look at the bottom of the jar: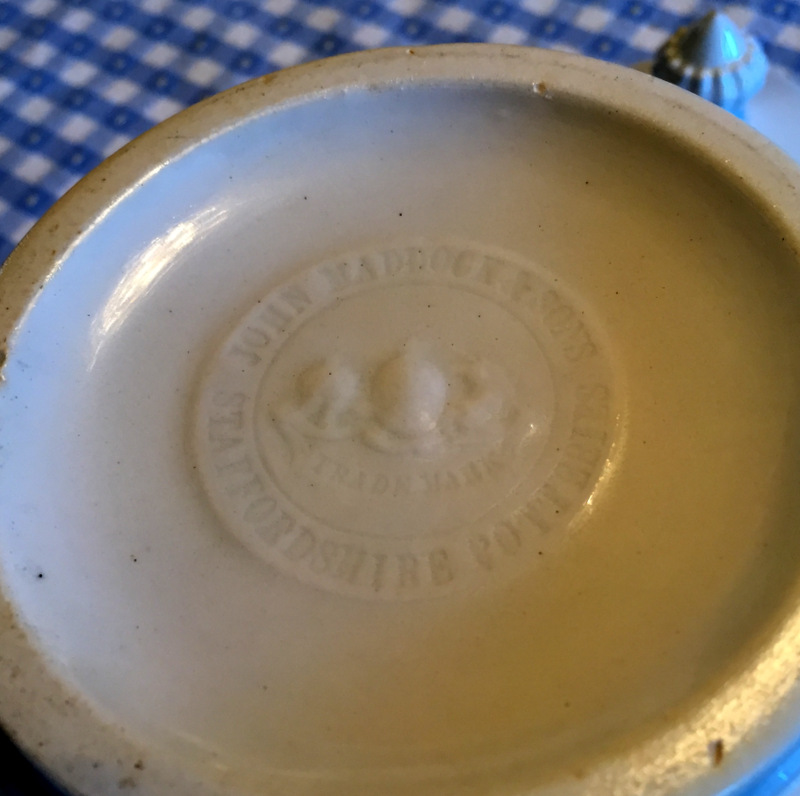 I haven't found information on this specific mark but judging from other maker's marks from this pottery that I read about on line, my jar may have been made between 1870, when the mark changed from "Maddock and Son" to "Maddock and Sons," and 1896, when "Ltd" was added to the mark. The pottery continued to produce until the 1960s, though, so perhaps my jar is not as old. It doesn't really matter; I bought it because I loved it, not because of its age.
I thought it would be perfect on the narrow table opposite the clawfoot tub in the master bath but it turned out to be a little too small in scale. Now it's in the guest bathroom where it does double duty as a Pretty Little Thing and as a holder of cotton balls: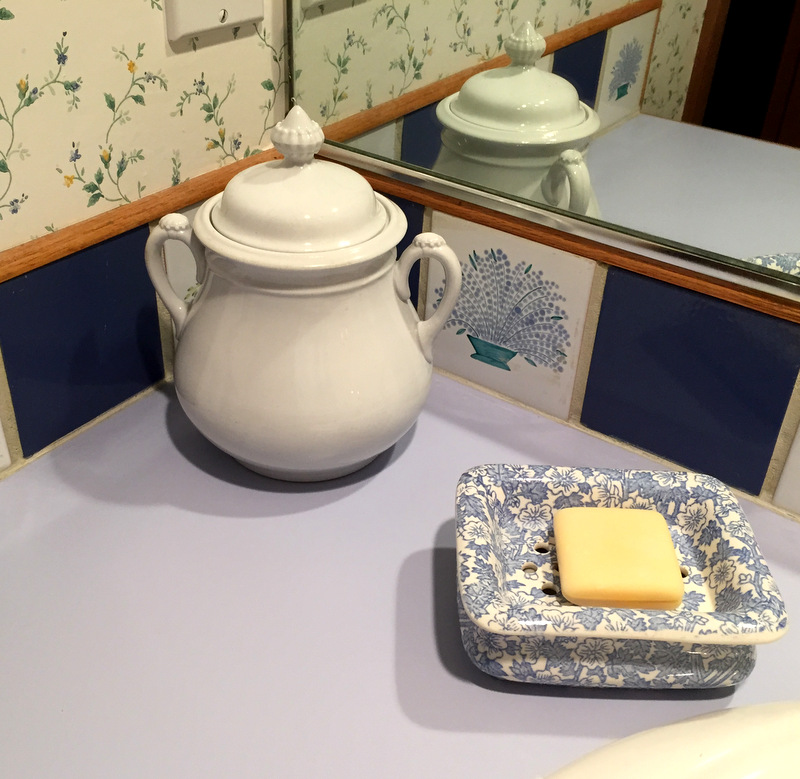 Diane found a couple of Pretty Little Things, too. For some time she has been looking for a slotted spoon small enough to scoop fruit from a can or olives from a jar. She finally found what she has been looking for: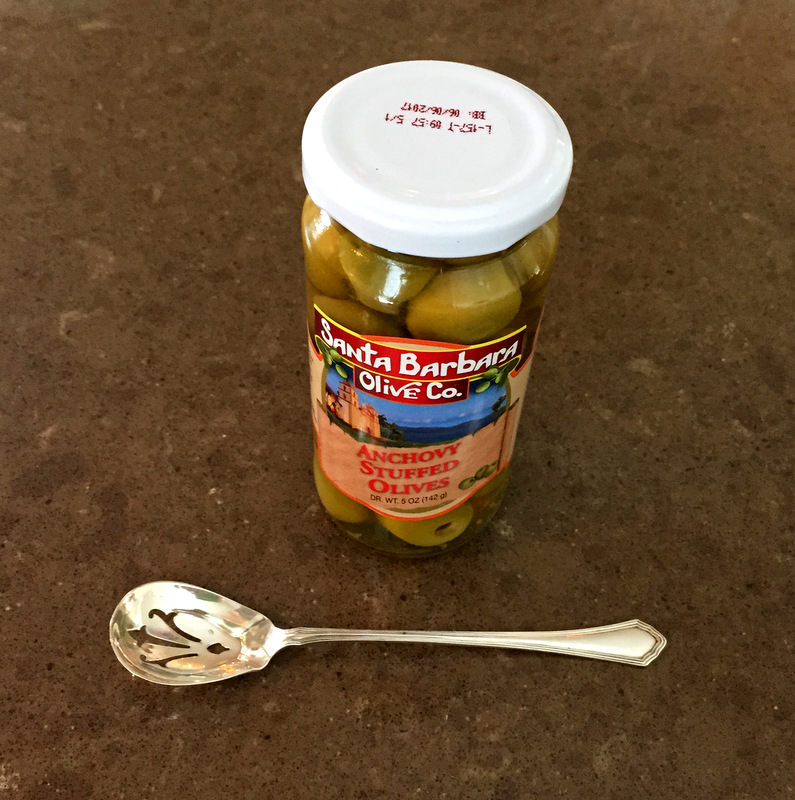 A pleasing combination of form and function. As Diane would say, "Elegantly simple and simply elegant!"
She also found the perfect container to corral the various and sundry remotes for the TV, the DVD player, the sound system, and who knows what else. It's a round paper maché box covered with vintage wallpaper: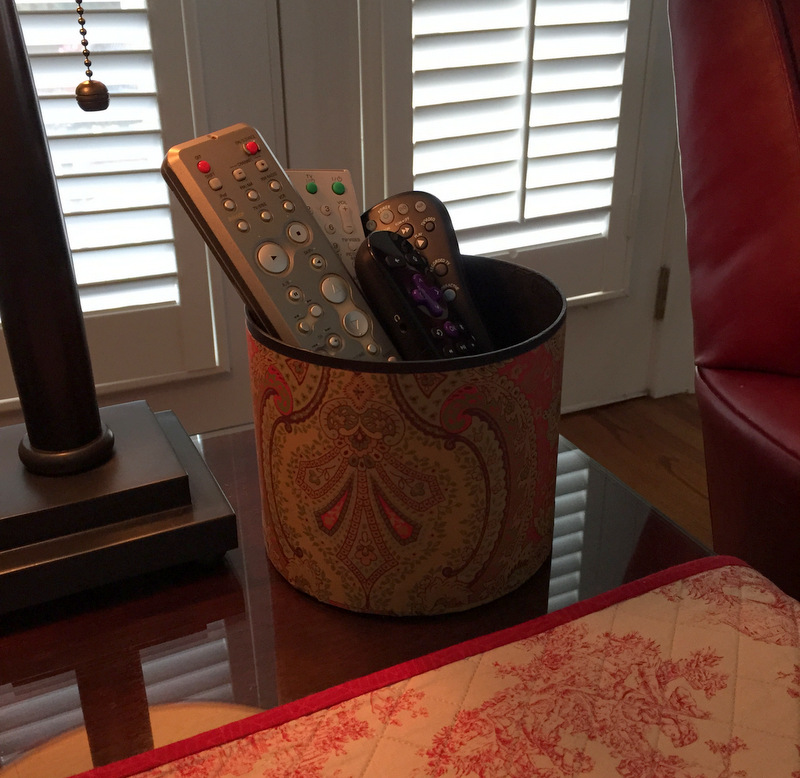 The colors match her living room scheme and go well with the reversible table runner I made her a few months ago: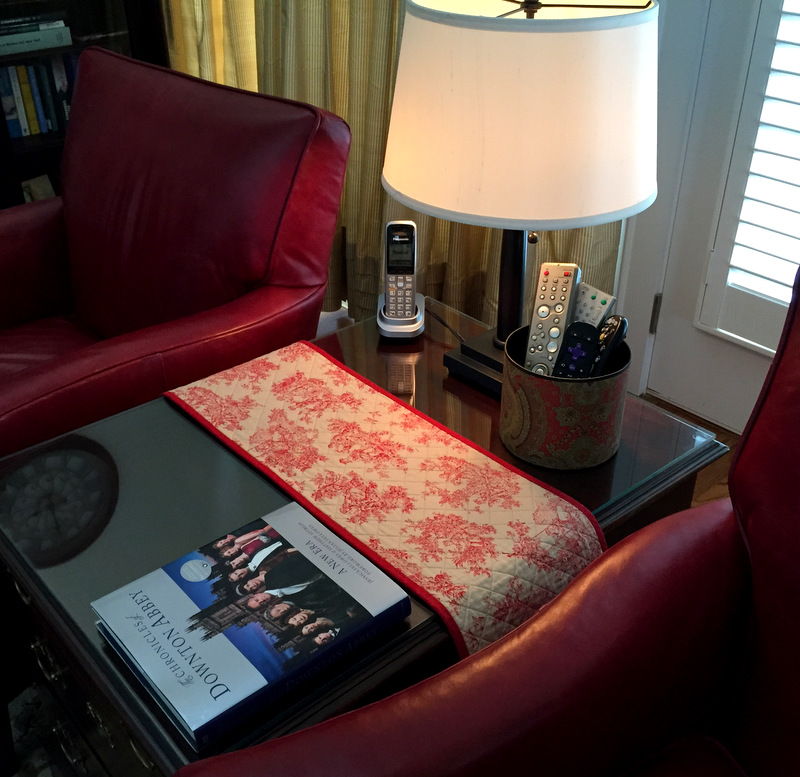 (That narrow quilted table runner was made to cover the "seam" created when Diane put two chests back to back to create a larger surface area between the two chairs in her living room. You can see the reverse of the table runner and read about the making of it in this post.)
Diane's final find of the day was made from a recycled Reader's Digest Condensed book: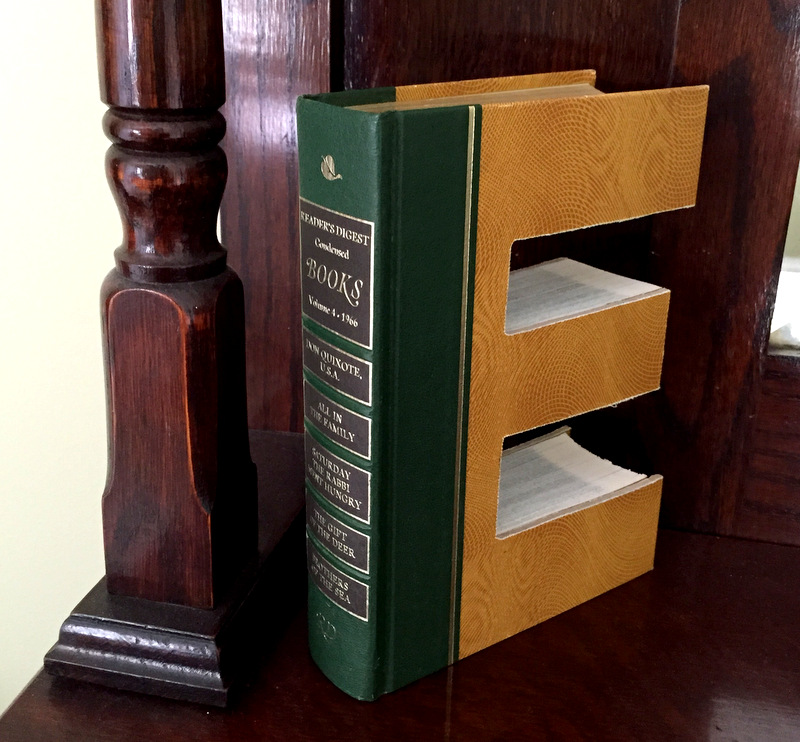 The vendor had laser cut old volumes into letters of the alphabet. In this case, E is for Edward, Diane's 6-year-old grandson (named after his grandfather, Diane's husband Ed). Young Edward is a frequent overnight guest at his grandparents' home, so much so that he has his own room. Here the letter E is displayed with another of his grandmother's marvelous antique store finds, a vintage appliqued wall hanging: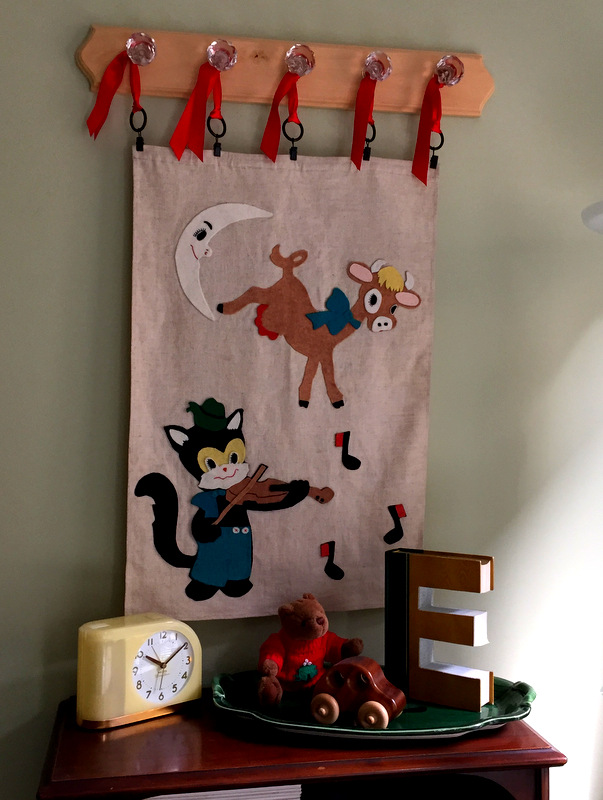 Can you tell we had fun at the antique mall? The entire visit was fun. Now I'm back home and eagerly anticipating getting back to my quilting projects. My sewing machine is not used to being idle.