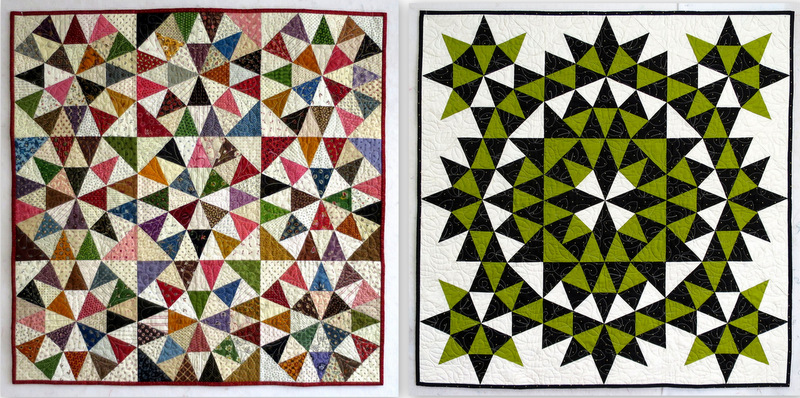 Aren't these two quilts striking? They were both made by local designer and teacher Joyce Gieszler, whose book Then and Now Quilts was published last year by Kansas City Star Quilts. These quilts have something else in common: they are made from the very same block!
Now look at this third version, also made by Joyce: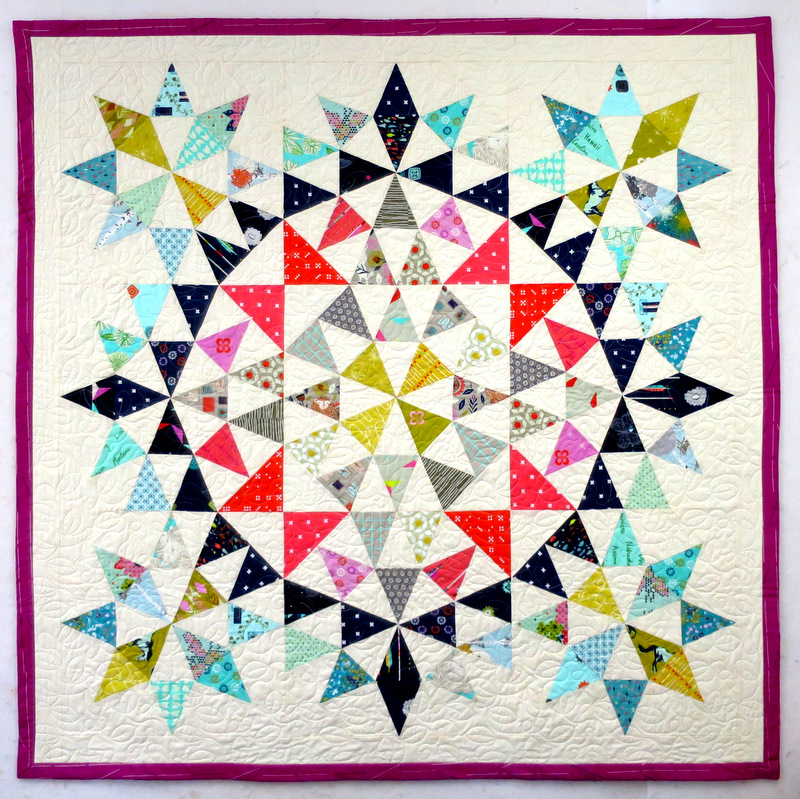 Made with Cotton and Steel fabrics, this quilt is as contemporary as the the upper left quilt, made of Civil War reproduction fabrics, is traditional. I first saw this third version in January at the Pine Needle Quilt Shop's Open House. Joyce was there introducing herself, her new book (which includes this design), and an upcoming class. I signed up for her class on the spot.
The block in these quilts is called Grandma's Surprise.  Deconstructed, it's a kaleidoscope block. Well, you know how I love kaleido quilts. Is it any wonder I wanted to make one of my own?
When Joyce showed me a photo of the three-color quilt (upper right), I knew immediately that I wanted to make this version. I'm intrigued by the way color, value, and fabric placement completely change the look of a quilt. Joyce's three versions illustrate this beautifully.
A basic kaleidoscope block is made of eight 45° triangles, forming an octagon, and finishes with four corner triangles to make a square: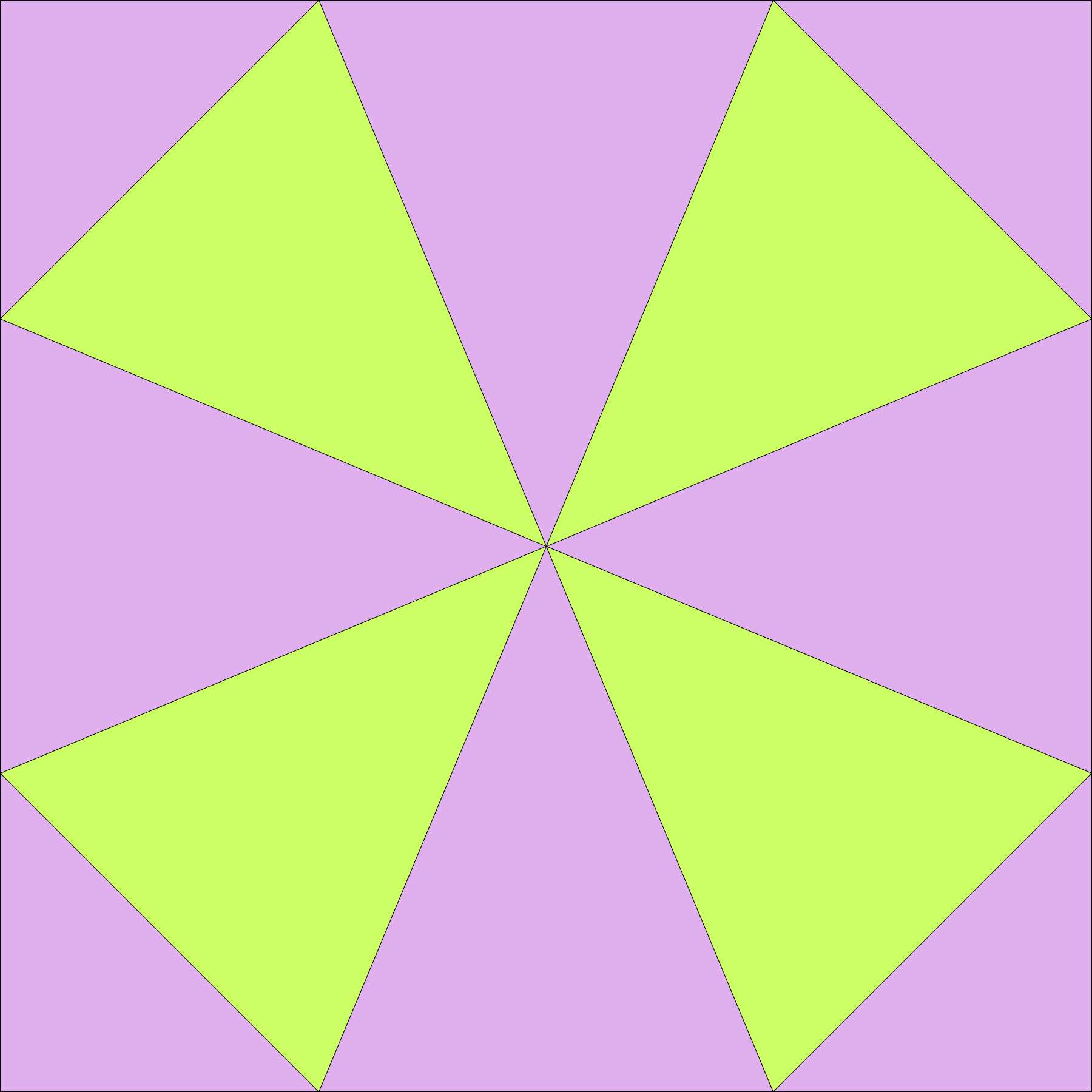 That's a total of 12 pieces. The Grandma's Surprise block contains 36 pieces (32 + four corners) because each of the triangles is made up of four smaller triangles: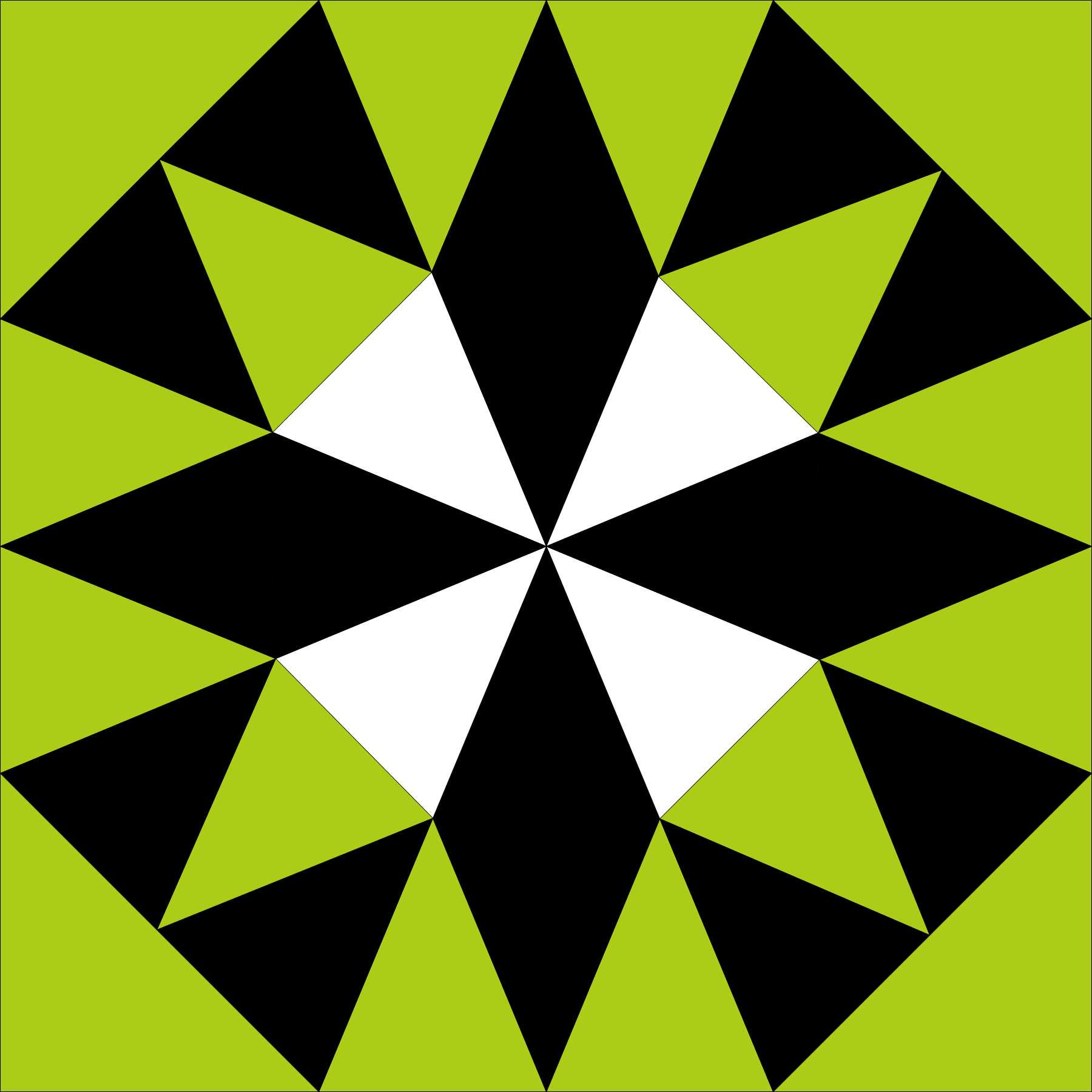 Do you see how four triangles fill the same space as one triangle in the basic version?  Joyce calls the triangle made up of four smaller ones a pyramid; her clever method of constructing a pyramid is to cut the triangles oversize and trim them after they have been sewn together and pressed. Distortion (from pressing, especially) is minimized so matching the seams and sewing the pyramids together is much easier.
The quilt is made of nine blocks in a 3 x 3 grid. In the two quilts at the top of the page, Joyce made 12″ blocks so the quilts finish at 36″ square. The Cotton and Steel version is made of 16″ blocks with a 3″ border, finishing at 54″ square.
For my three-color version of Grandma's Surprise, I chose red, black, and a very pale grey. Here is my center block: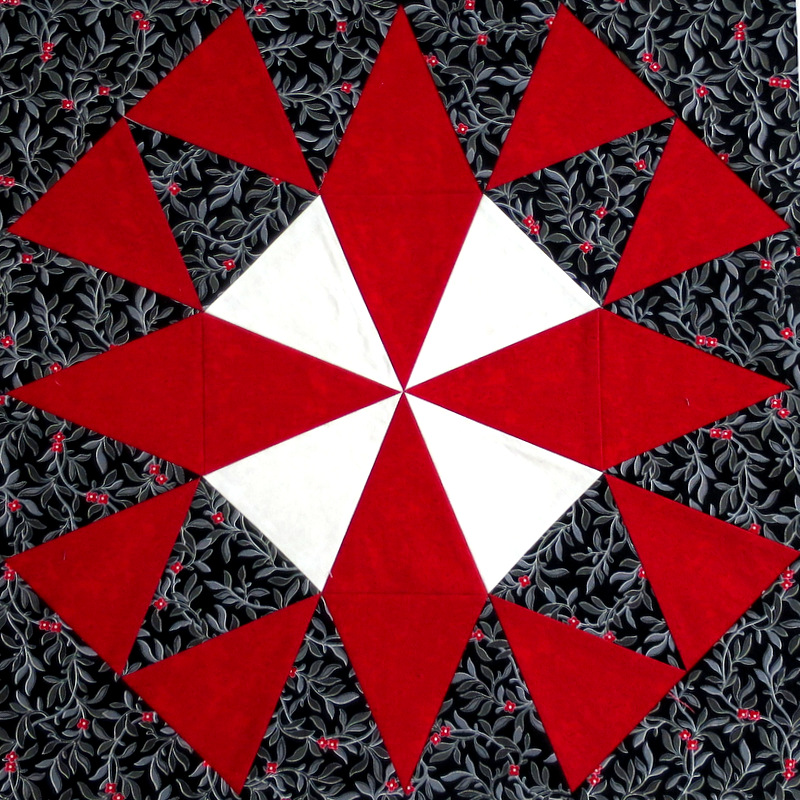 It measures 16½" unfinished. The black print is from the Black, White & Currant 5 line by Color Principle for Henry Glass & Co. At a recent Portland Modern Quilt Guild meeting, guildmate AnnMarie Cowley surprised me with several large pieces from this line left over from a quilt project of her own. (Thanks so much, AnnMarie!) I'm delighted to find a project that puts her gift to good use.