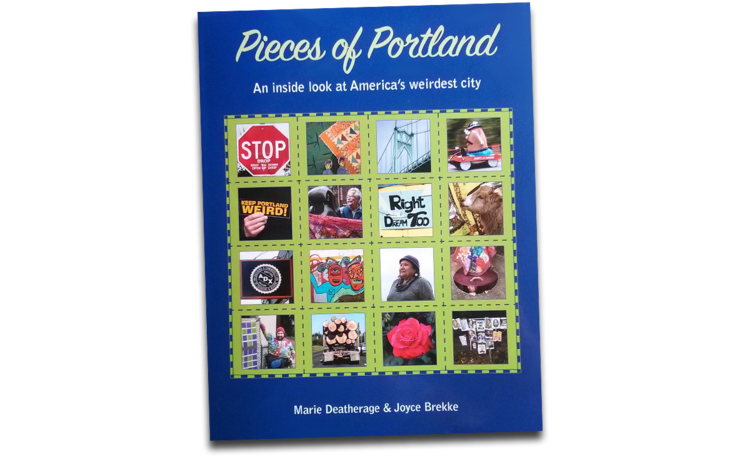 This is a book report, not a review. A review suggests impartiality, and I can't be impartial because Marie Deatherage, the author of Pieces of Portland, is a friend of mine. But even if I didn't know her, I would be rhapsodizing about this book because it is about two things near and dear to me: quilts and Portland.
This photo, appearing on page 20, pretty much sums up the appeal of the book for me: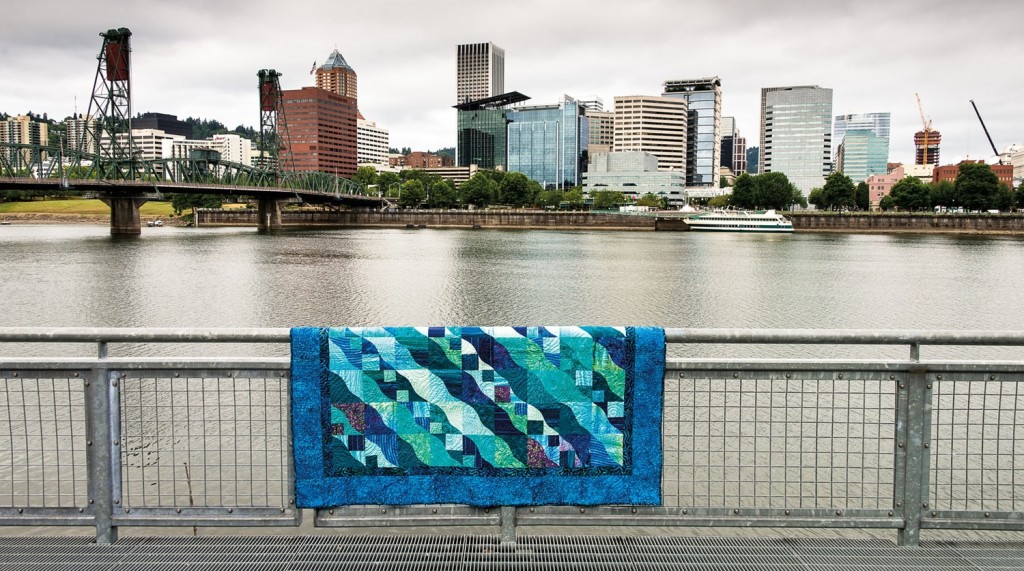 My family moved to Portland, Oregon when I was seven years old. That means I have spent the better part of 60 years in this city. I have watched it grow, have grown along with it. It is, quite simply, my city. Author Marie Deatherage and photographer Joyce Brekke, whose beautiful photographs enhance almost every page, have created a unique and wonderful book that explains in words and pictures everything I love about Portland.
Trained as a geographer, Marie has also been a college instructor, foundation grant administrator, disability rights advocate, and writer. She has drawn on those experiences — plus four decades of living in Portland — in writing this book. Joyce took up several hobbies, including world travel and photography, after retiring from a career in law. Originally from the Midwest, she settled in the Pacific Northwest and now lives across the river from Portland in Vancouver, Washington. Friends since their college days at the University of Chicago, Marie and Joyce share several interests, including quilting.
In 2011, in preparation for a one-woman quilt show by Marie, the two sought out landmarks and iconic places in Portland to use as backdrops for Joyce's photos of Marie's quilts. An idea for a book was born — but not the book you see pictured above. The original concept of a coffee table book featuring quilts photographed in Portland became something much more. The subtitle of the book says it all: An Inside Look at America's Weirdest City.
In prose that is sometimes serious, sometimes wry, often humorous, frequently irreverent, and occasionally deeply personal, Marie writes about every topic under the sun that touches on Portland. Bridges. Urban farming. Politics. History. Flora and fauna. Food and drink. The environment. Parks. Neighborhoods. Fashion. People of Portland, past and present.
And, of course, the things that make Portland weird. Like the Unipiper, a street performer who plays the bagpipes while riding a unicycle. Like the miniature toy horses that appear in old neighborhoods tied to the cast iron rings that were attached to curbs back in Portland's horse and buggy days when folks needed to tether their horses.
Like the roll of carpet recently removed from Portland International Airport (PDX) that was "appointed" grand marshal of the 2015 Rose Festival Starlight Parade. Here's a photo of that carpet before it was removed from PDX: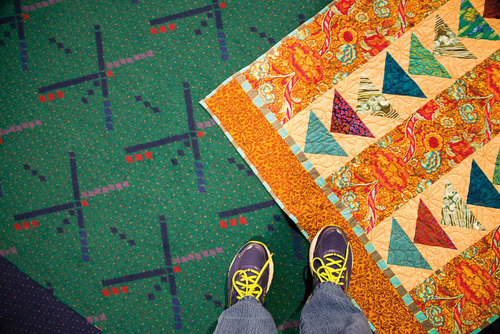 Whatever the subject, Joyce's photos cleverly illustrate Marie's words — with quilts. Lots of them. Take a look at pages 170 and 171: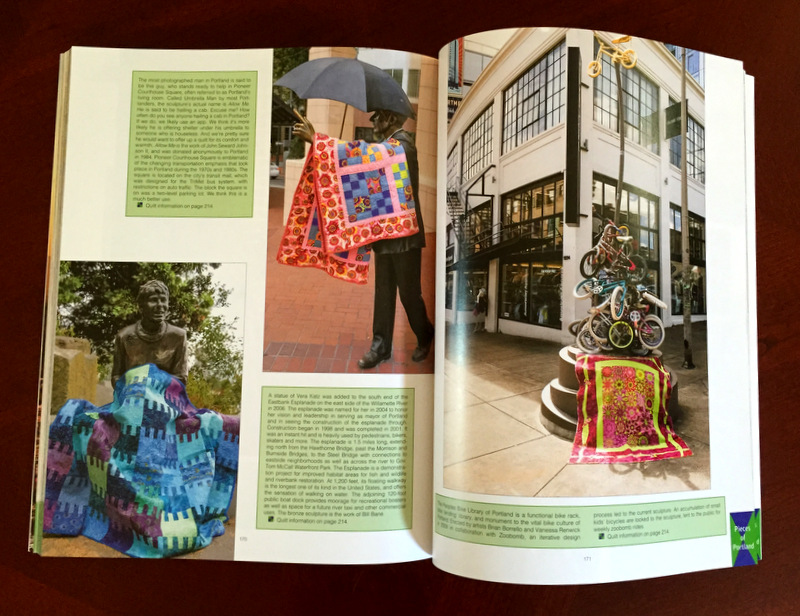 On the left facing page are photos of two famous statues in Portland: Allow Me (aka Umbrella Man) in Pioneer Courthouse Square and former Portland Mayor Vera Katz on the Eastbank Esplanade along the Willamette River, both artfully draped in quilts made by Marie. On the right facing page is the People's Bike Library of Portland, a monument to the bike culture of Portland.
I love the fact that Marie's kaleidoscope quilt — a favorite design of mine — evokes the spinning wheels of a bicycle: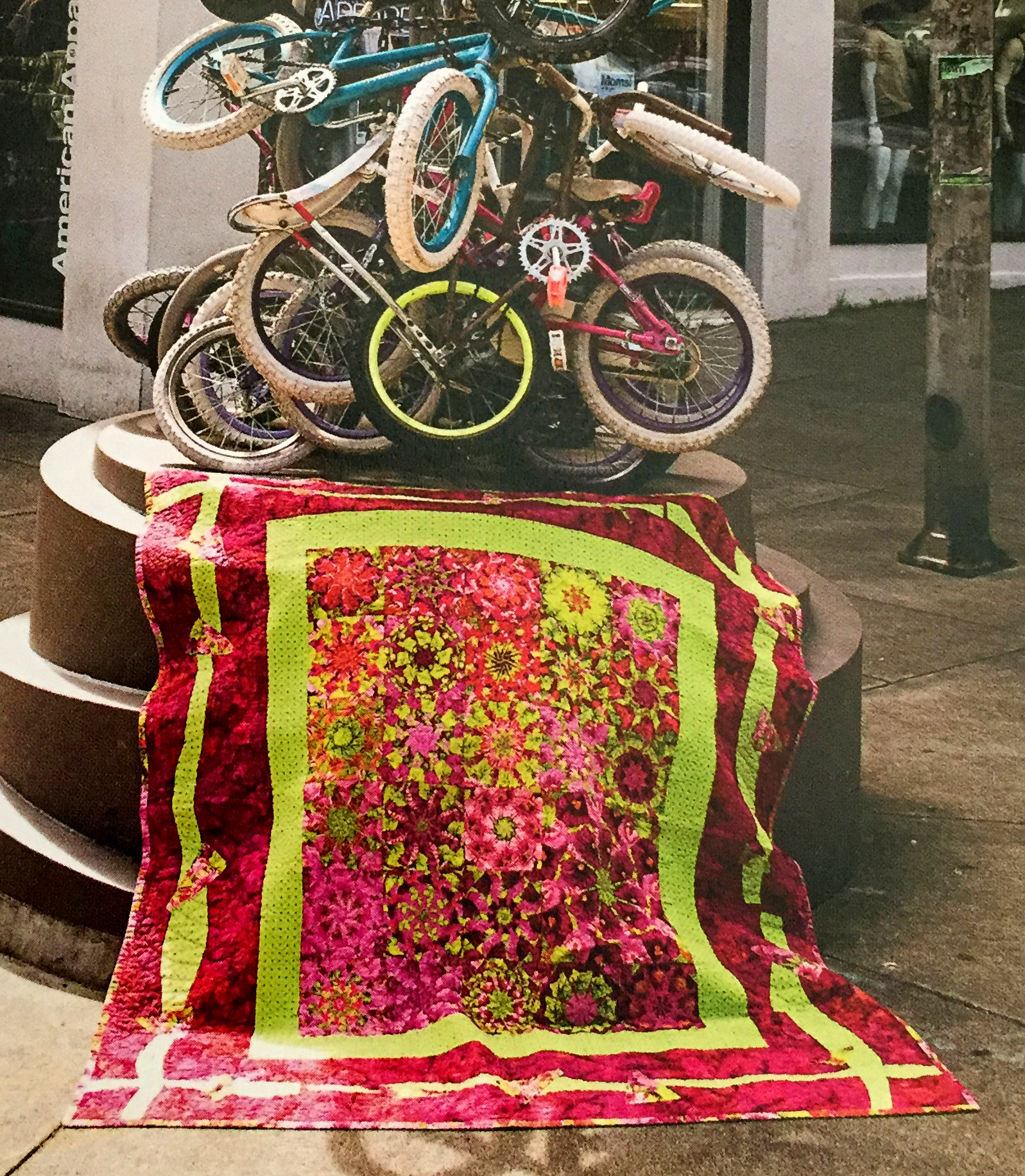 Marie made most of the quilts in the book but there are several by Joyce and a few by Marie's mother and grandmother. An annotated quilt index provides information on each quilt, allowing credit to be given to the designer, piecer, and/or professional quilter, and revealing the inspiration behind many of the quilts.
Published earlier in 2015 by Quiltlandia, Pieces of Portland was officially launched in July. In late June, the week before the launch party, Marie accepted an eleventh hour invitation to be a replacement guest speaker at a meeting of the Westside Modern Quilt Club held at the Pine Needle Quilt Shop in Lake Oswego. She brought armloads of quilts and boxes of books so fresh from the printer they hadn't even been opened yet.
Marie told the assembled quilters about the making of the book as well as the stories behind many of the quilts that appear in the book. It was a marvelous trunk show. When well over half the quilters in the packed classroom bought copies of her book on the spot (which Marie graciously signed), I knew Pieces of Portland was a winner.
Now Pieces of Portland (258 pages with 400 full color photos) is available locally at Powell's Books and just about every local quilt shop in the metropolitan area, including cool cottons in my own neighborhood. It's also at New Seasons Market (a quilt book at a grocery store? How very Portland.). It's coming soon to the Made in Oregon stores, and I have a very strong hunch it will be distributed much more widely very soon. You can order directly from the publisher by clicking here.
I'm so happy that I have my own autographed copy of Pieces of Portland! I have several people in mind who will be receiving copies in the near future. It's the perfect gift for someone who loves quilting or Portland. Or both.
Marie and Joyce did not ask me to write about their book. I was motivated to do so by a desire to spread the word in Portland and beyond about a unique book that opens windows on a city and a craft that I love.