Oh, yeah! Since giving myself permission a few days ago to spend part of my sewing time playing with fabric (and not fretting too much about projects set aside for the time being), I've been sketching out ideas, making sample blocks, and washing and ironing the fabrics I have (ahem) recently acquired.
I even finished a quilt top. It's a small top, but it's still a top. Remember that Northcott fabric line called Ainsley that I was swooning over a couple of posts ago? I made a large kaleidoscope block out of the Jacobean floral border print: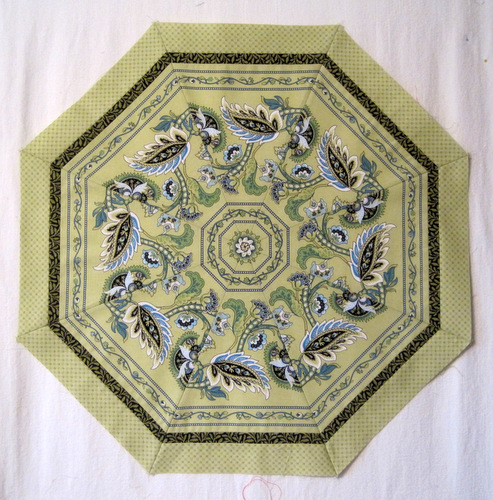 One block, eight 45° triangles. Very simple. Since I was making only one block, I fussy-cut the triangles rather than stacking eight layers of fabric. I added the narrow black and green strip and the outer small geometric — both part of the Ainsley line — to the triangles before sewing them together. Here's the back: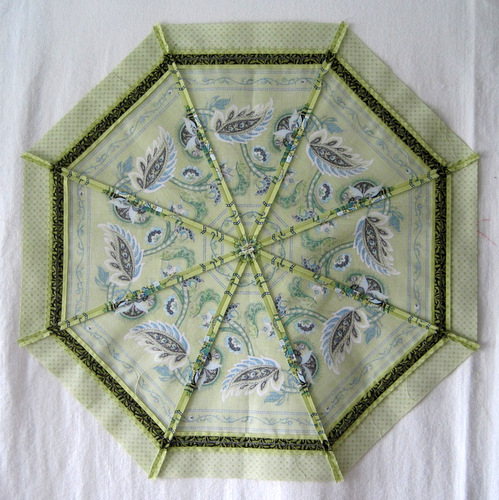 I haven't decided yet which fabric to use for the binding on this little table topper. Once I do, it shouldn't take long to finish it.
This project barely put a dent in the fabric I bought. Not to worry. You'll be seeing plenty more of it. I already know what I'm going to make next.