Very early tomorrow morning, at a time I would much rather be sleeping, my husband and I are boarding a plane for Atlanta, Georgia to spend two weeks with my twin sister Diane and her husband. I have no doubt we'll have a wonderful time. We always do!
As a hostess gift, I made Diane 12 table napkins: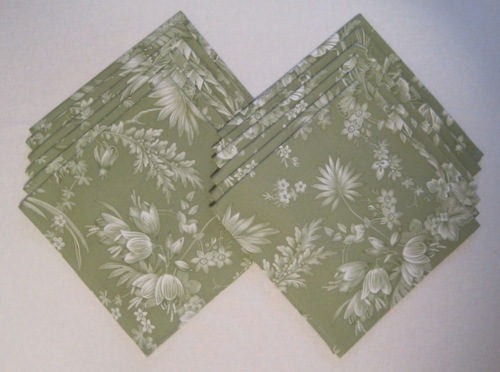 The napkins, which measure 19″ square, will look good with Diane's everyday white dishes from Pottery Barn and the beautiful Spode china in the Rosalie pattern that her mother-in-law gave her many years ago. The fabric is Heavenly Peace by Verna Mosquera for Free Spirit Fabrics. It's been in my stash for a couple of years.
My plan was to make 16 napkins but I didn't get them all done, so I'm taking four with me that are cut but not sewn. I can finish them while I'm there. Diane usually has a crowd at Thanksgiving, and I want to make sure there are enough to go around.
We use cloth napkins all the time at the Portland White House. Over the years I have experimented with mitered corners and have finally come up with a method I really like. In the next few days I will post a tutorial on how I make mitered corners for my table napkins. I hope you will come back for a lesson!