I drew my sister Diane's name in the siblings and spouses Christmas gift exchange. And — she drew mine! That doesn't happen very often. This is what I am giving her:

It's a table topper. You may remember seeing the unfinished top in an earlier post. Diane saw that post and fell in love with the fabric (from the Ainsley line for Northcott Fabrics) and the kaleidoscope block. When I drew her name, I decided to finish the table topper for her.
I didn't want the topper to be poufy so I used flannel for the batting. It's quilted very simply. First I stitched in all the ditches and then quilted on both sides of the straight lines in the center and outer edges. Then I quilted a triangle in each of the eight wedges of the kaleidoscope. The simplicity of the quilting keeps your eye focused on the flowers and leaves and vines in that gorgeous Jacobean print: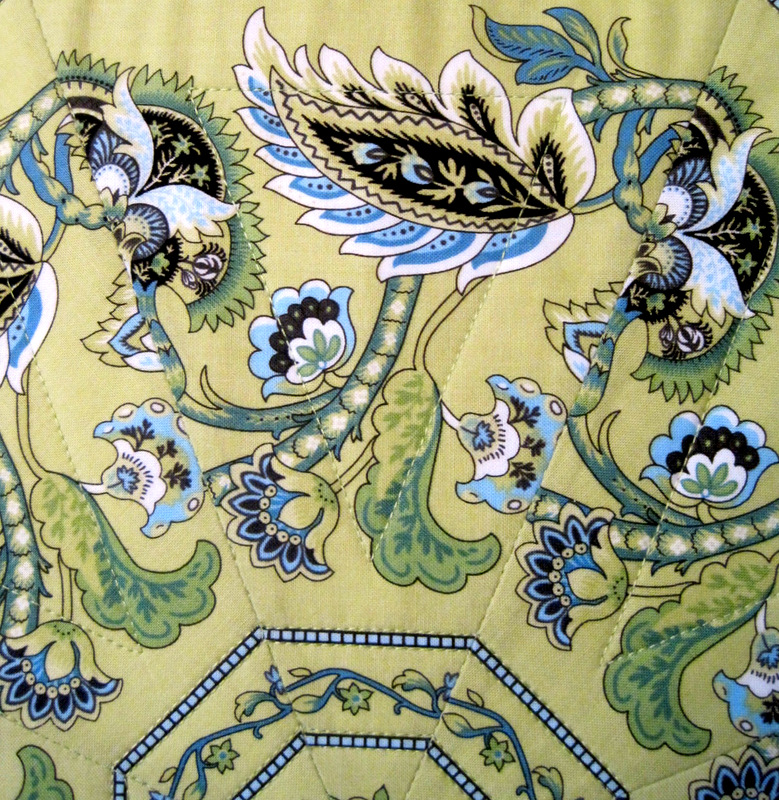 Here's the back of the topper: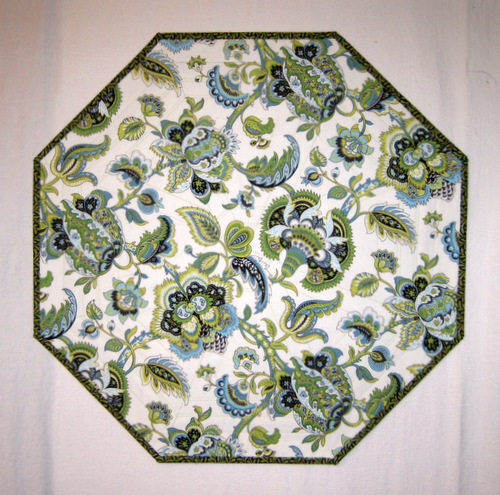 I had never before applied binding to a quilt with obtuse angles (greater than 90 degrees but less than 180). Thanks to Heather Mulder Peterson of Anka's Treasures, who posted a terrific tutorial on her blog, Trends and Traditions, it was a breeze.
Diane's table topper — #5 in my series of kaleidoscope quilts — measures 22″ across and 22″ top to bottom.
I hope she likes it — and I hope she doesn't see this post until after she opens her gift!