Here is a sampling of home dec projects and other handmade items I've made over the years. Left click on an image to see a larger view.
Loft Window Treatment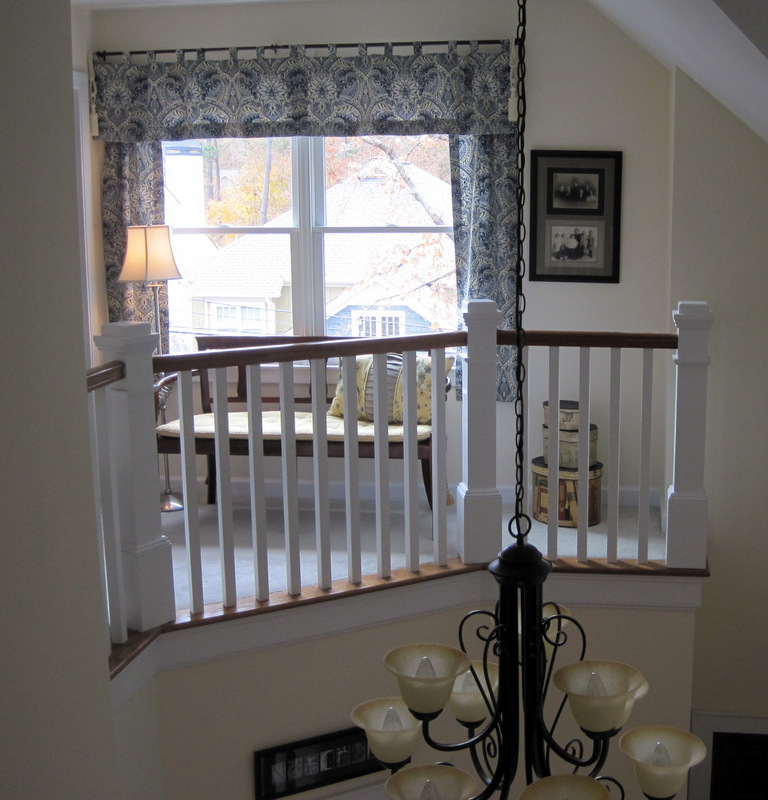 Over Thanksgiving 2013, spent at my twin sister Diane's home in Atlanta, I made a valance and side panels for her loft using recycled panels from our sister Reigh's home. To read more about the project, view my post here. 2013
Guest Room Valances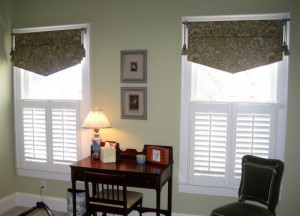 The guest room in my twin sister Diane's home in Georgia got a major home dec facelift during my visit over Thanksgiving. I fashioned a pair of valances based on Diane's own design and made a new bedskirt out of the same decorator fabric. 2012.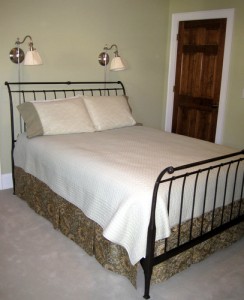 To read my post about these projects, click here.
Bedroom Window Valance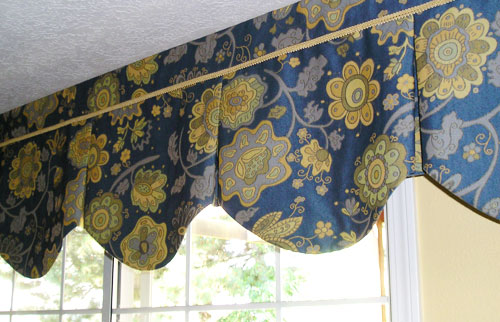 My sister Reigh ordered a valance from a catalog and was disappointed in both color and quality when it arrived. We found this wonderful blue and yellow home decorating fabric at our local Mill End store, and I made a valance based on the store-bought version. When Reigh moved to a new home, the valance went with her, and on one of my visits I was able to alter it to fit the new window. 2007
Ottoman Slipcover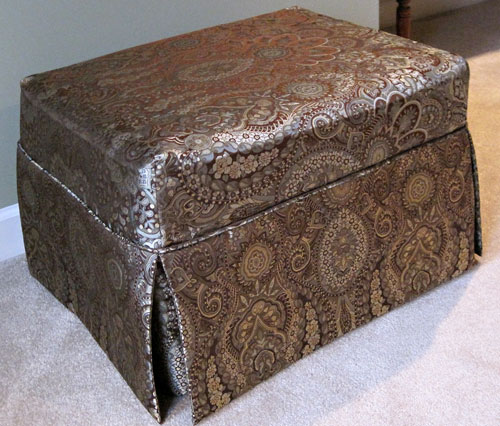 I'm not a fan of slipcovers. What I like about this one is that it doesn't look much like a slipcover. It covers an upholstered ottoman in one of the guest rooms in my sister Diane's home. 2010
Pincushion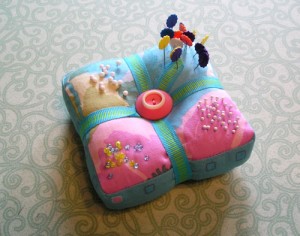 A very handy little pincushion for someone like me who uses a variety of pins and likes to keep them separate. The pattern, designed by Heather Bailey, is a free download from www.allpeoplequilt.com. Enter "pins and needles pincushion" in the search box. 2009
Master Bath Valance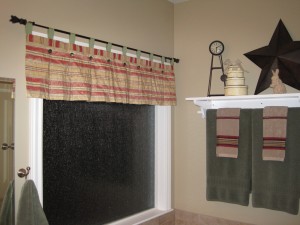 This valance with inverted pleats was made for my sister Reigh's master bath. The tabs are grosgrain ribbon. 2010
Guest Room Shower Curtain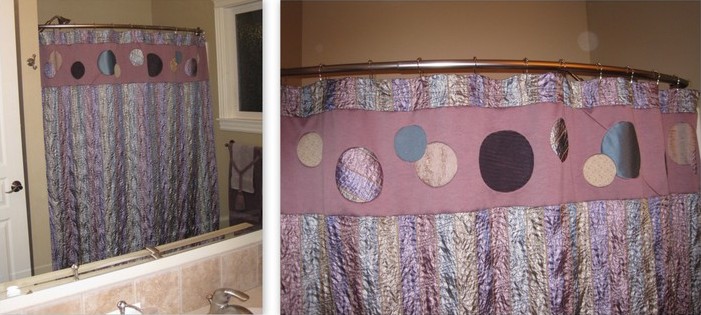 For my sister Reigh's guest bath, I embellished a store-bought shower curtain with set-in circles made from a variety of textured home dec fabrics. 2010
Renovated Shower Curtain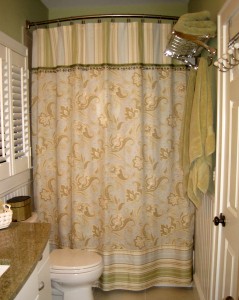 When my sister Diane renovated her second guest bathroom, she brought in a shower curtain I had made for another bathroom. The ceiling in the renovated bathroom is much higher than the other one, so the shower curtain was way too short. Fortunately, we were able to find more of the same Waverly fabric I had used in the original version. I simply added a wide piece of horizontally striped fabric to the bottom to complement the vertical stripe at the top. On a visit later the same year, we added the ball fringe. Click here to read more about it. 2012
 Cases for Sewing Scissors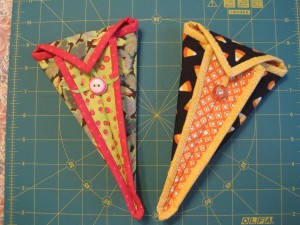 These sewing scissors cases look complicated but they are surprisingly easy to make. All it takes is contrasting squares of 7" fabric with batting in the middle and a length of binding in a third fabric. A bit of ribbon and vintage buttons make charming fasteners. These were birthday presents for my friends Peggy and Lee. 2011
Pillow Shams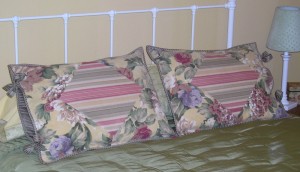 My sister Reigh and I collaborated on the design of these pillow shams for her guest room. They are coordinated with a tailored bedskirt and tab curtains. 2006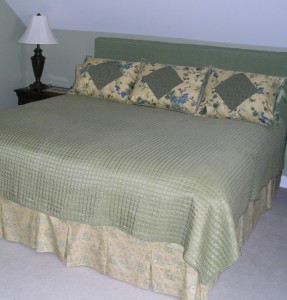 The shams turned out so well that I used the same design in my sister Diane's guest room. I also made the pleated bedskirt. 2007