I teach at the Pine Needle Quilt Shop in Lake Oswego, Oregon and occasionally at other shops. I also teach and do trunk shows for quilt guilds.
To register for a class at the Pine Needle, please click on this link or call the shop at 503-635-1353. For questions about a class, please email me.
Upcoming Classes at the Pine Needle
Pineapple Plus — Summer 2017
July 19  •  10 am – 1 pm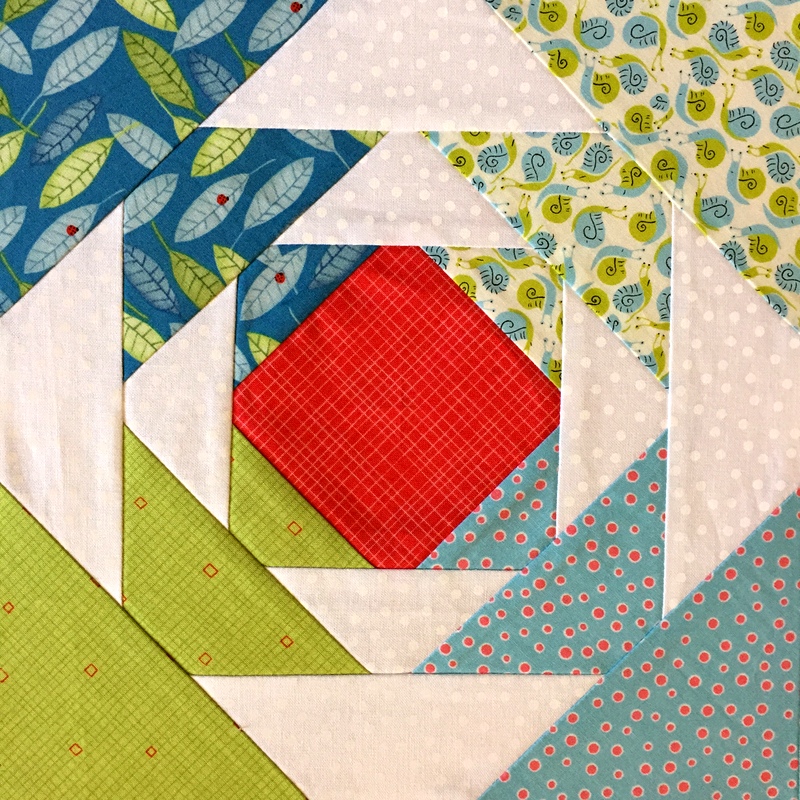 British quiltmaker and teacher Karin Hellaby has devised a unique way to create pineapple blocks. It's a bit like making a log cabin block: the block is sewn in rounds — except that they are squares. It sounds a little bit odd but it's fun!
Block size: 10″ finished (shown at right). The quilt without borders measures 40½" unfinished. The book shows several border options. In class we will work on just the interior part and you can decide for yourself whether you want to add plain borders, fancy borders, or no borders at all.
Required book: Pineapple Plus by Karin Hellaby (Quilters Haven Publications, 2010)
Skill level: confident beginner.

Quiltmaking 101 — Spring/Summer 2017
May 13, 20, 27 and June 3, 10, 17  •  10 am – 1 pm

Learn the basics of making a baby quilt/table topper or lap quilt in this six-week class. I'll guide you through the entire process of learning to quilt – from accurate and safe rotary cutting to quilting your first masterpiece. I'll also share my best tips and tricks for accurate cutting, piecing, and pressing.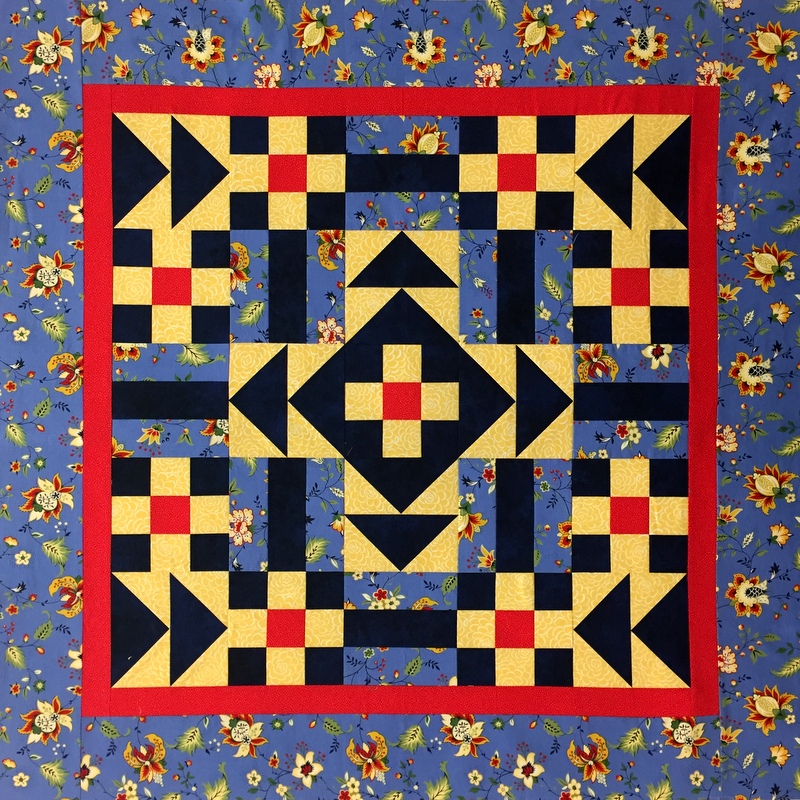 We'll start with the basic 9-Patch and Rail Fence blocks. Then you'll learn how to make Half-Square Triangles (HSTs) and Flying Geese, two of the most popular and versatile shapes in quilting, followed by at least two other blocks (Square-in-a-Square and Sawtooth Star). When it's time to lay out your quilt top, you'll choose block designs from the ones you make in class to create a quilt that is uniquely yours. The quilt top pictured here is just one possibility.
Block size: 6" finished. Quilt size: 41" square (baby quilt or table topper) or 42" x 54" (lap quilt)
Skill level: beginning.
Sew with Dawn
Multiple sections — see below
I'm delighted to be part of the "Sew With" series at the Pine Needle, joining a talented team of quilting instructors ready to share their knowledge with you.
Need help starting or finishing a quilt? Stuck on an ongoing project? I'll offer suggestions and advice while you work on any project you like in a relaxed and supportive setting. You'll build skills and develop new friendships. All skill levels are welcome!
Spring/Summer 2017 — May, June, July
Sew with Dawn (First Mondays)
May 15, June 5, July 10  •  6 – 9 pm
Sew with Dawn (Third Mondays)
May 22, June 26, July 17  •  6 – 9 pm
Sew with Dawn (Wednesdays)
May 17, June 14, July 19  •  1:30 – 4:30 pm
Sew with Dawn (Sundays)
May 21, June 11, July 16  •  12:30 – 3:30 pm
Recently Completed Classes at the Pine Needle
Junior Billie Bag, Winter 2017
Wonky Greek Key (Rewind), Winter 2017
Sew with Dawn (First Mondays), Winter 2017
Sew with Dawn (Third Mondays), Winter 2017
Sew with Dawn (Wednesdays), Winter 2017
Sew with Dawn (Sundays), Winter 2017
Junior Billie Bag, Fall 2016
Sew with Dawn (First Mondays), Fall 2016
Sew with Dawn (Third Mondays), Fall 2016
Sew with Dawn (Wednesdays), Fall 2016
Sew with Dawn (Sundays), Fall 2016

Recently Completed Classes Elsewhere
Secrets of the Quick Curve Ruler
Oct. 14, 2016 workshop for the Oregon Coastal Quilt Guild