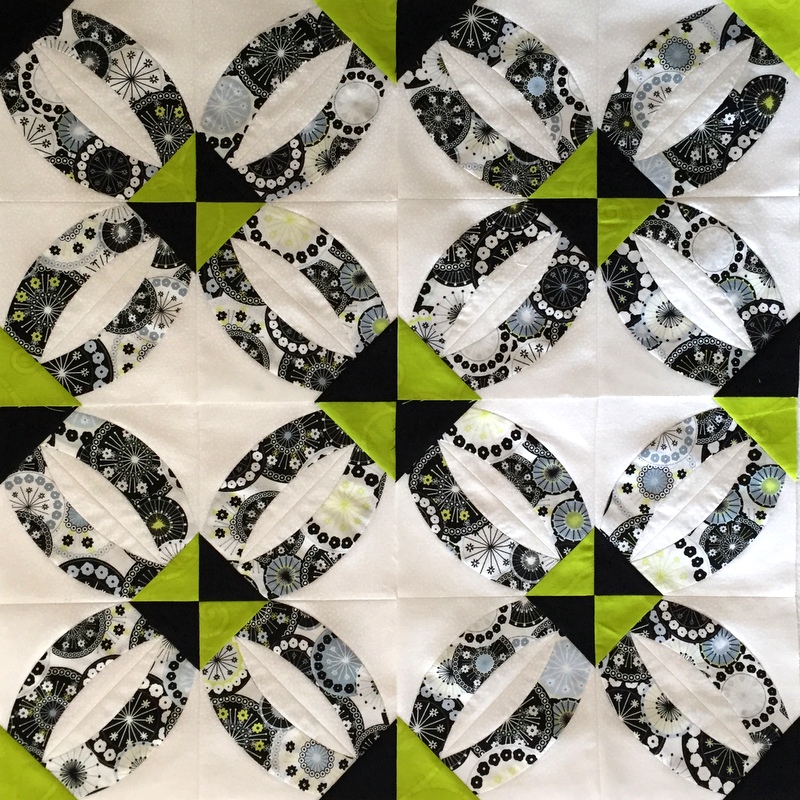 Four of nine blocks for my Mini Rings quilt, made using the QCR Mini (mini Quick Curve Ruler), are done.
I've run out of background fabric, a white-on-white Michael Miller pindot. I could make more blocks using one of several other white-on-white prints in my stash but I am  holding out for having all my blocks the same. A little obsessive-compulsive, perhaps? Now I have to hope that the fabric I ordered on line is from a similar enough dye lot that no one can see the difference between the old and the new. You would be surprised, even with white and black fabrics, how much dye lots can differ.
Working on these blocks has helped take my mind off the loss of my little cat Theodora, subject of my previous post. Thank you so much to those of you who wrote consoling comments on my blog. I cried the entire time I was writing that post, and I cried while reading the comments.
In the 35 years my husband Charlie and I have lived in this house, we've never been without a cat. If one of our cats died, there was at least one still at home to help ease the grief. Not so now, since Theo's last feline companion, Elfie, died three years ago.
Charlie and I are going to the Oregon Humane Society next week, hoping to bring home a cat (maybe two) in need of a "forever home." Although it seems a little disloyal to Theo's memory, I've already been on the OHS website looking at pictures and descriptions of available cats. There are some very sweet looking ones! We'll choose an adult cat, since the older ones are not considered as adoptable as kittens.
By the time of my next post, there may be a new resident of the Portland White House.