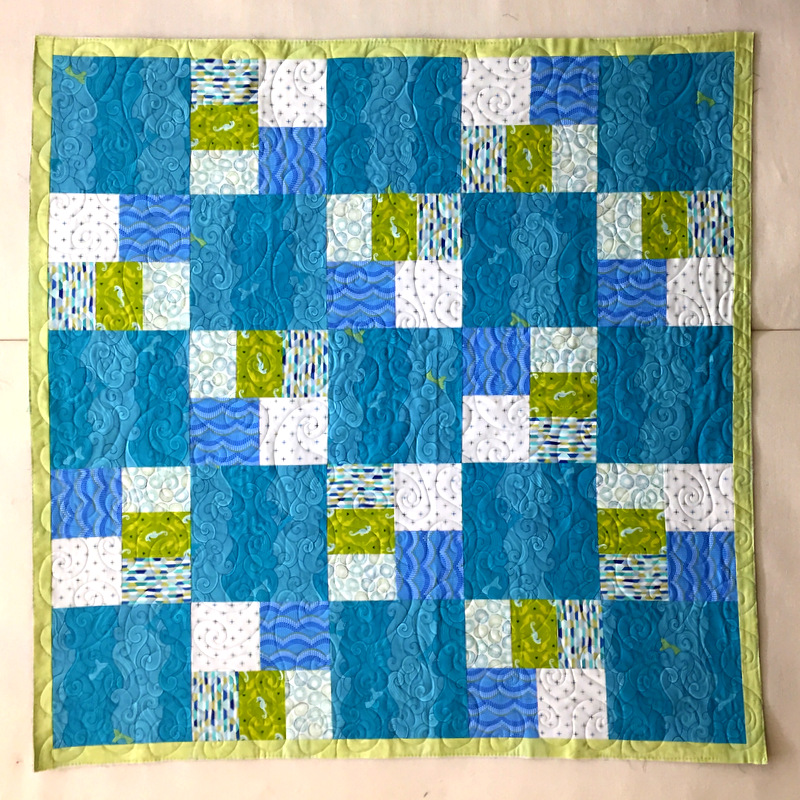 The baby quilt I sent off to be quilted recently is back, and I'm tickled pink. Make that blue, as this quilt is for a little boy. Longarm quilter Sherry Wadley and I picked a modern swirly edge-to-edge design that echoes the waves in the sea-themed fabric.
Here's a close-up of the quilting that also shows off some of the prints in the quilt, including a stylish seahorse sporting a bowtie: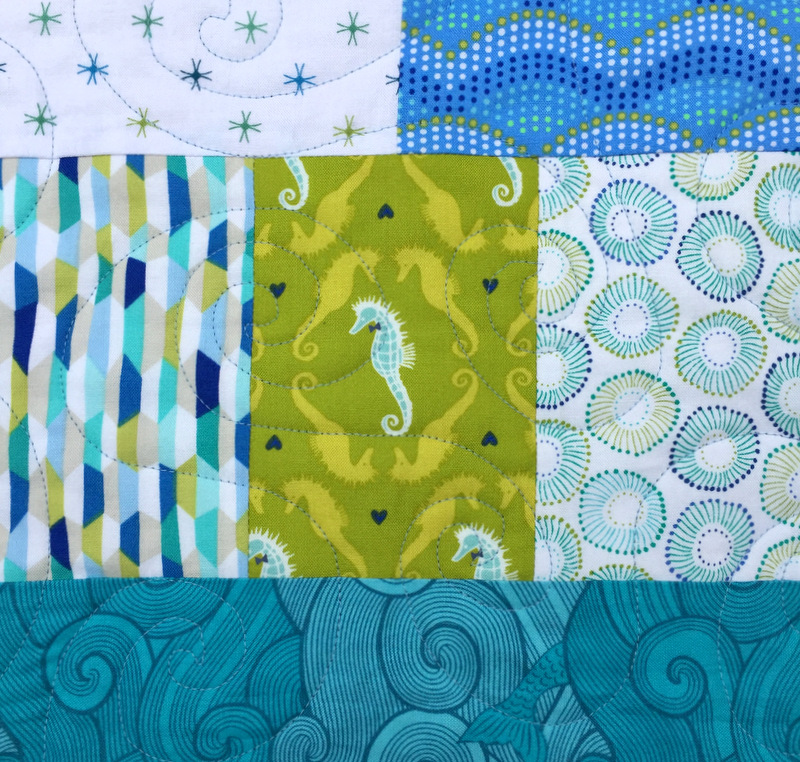 You can see why I fell in love with this line of fabric, Into the Deep, designed by Patty Sloniger for Michael Miller Fabrics.
On the back, the quilting motif shows up well on the batik stream that flows alongside the jellyfish fabric, part of the Into the Deep collection:

Here's a close-up of the stream that shows off that organic-looking quilting: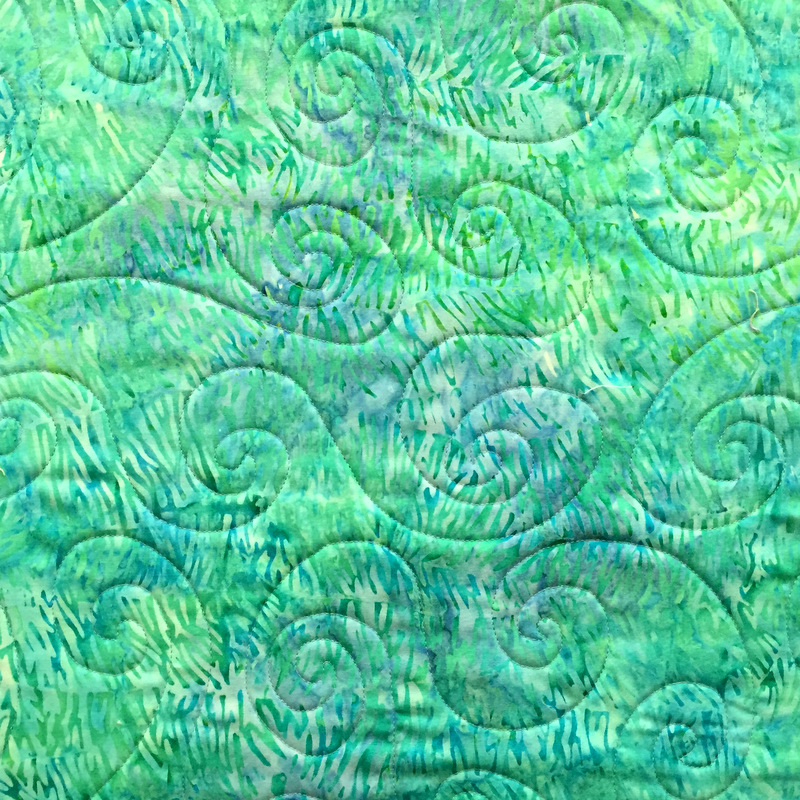 I'm going to bind and label this quilt as quickly as I can so I can deliver it to Baby Stefan. Here's hoping it will keep him warm and wrapped in love well beyond his toddler years.
In other happy news, there's a new resident feline in the Portland White House. My husband and I had planned to visit the Oregon Humane Society yesterday but last Friday night I got a call from my friend Colleen, who lives out in the country. A calico cat, obviously hungry, had been hanging around her house all day, and was I interested in taking a look at her? Yes, please!
I picked the kitty up Saturday afternoon, and it was love at first sight. She was thoroughly checked out by our vet on Monday, who thinks she is about one year old. She's gotten all her shots, been treated for ear mites and fleas, and been microchipped and licensed. She is ours.
And she's a beauty, don't you agree?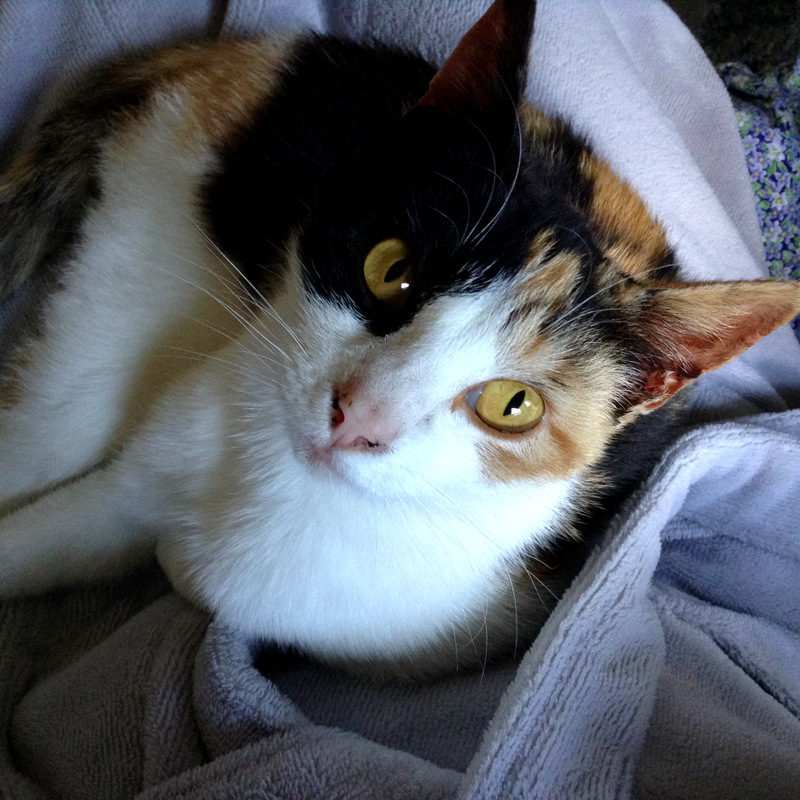 What a mellow cat she has turned out to be, especially for a stray! Now that she knows there will be a next meal, she is totally relaxed. She absolutely adores my husband. This photo was taken on Sunday, the first full day we had her: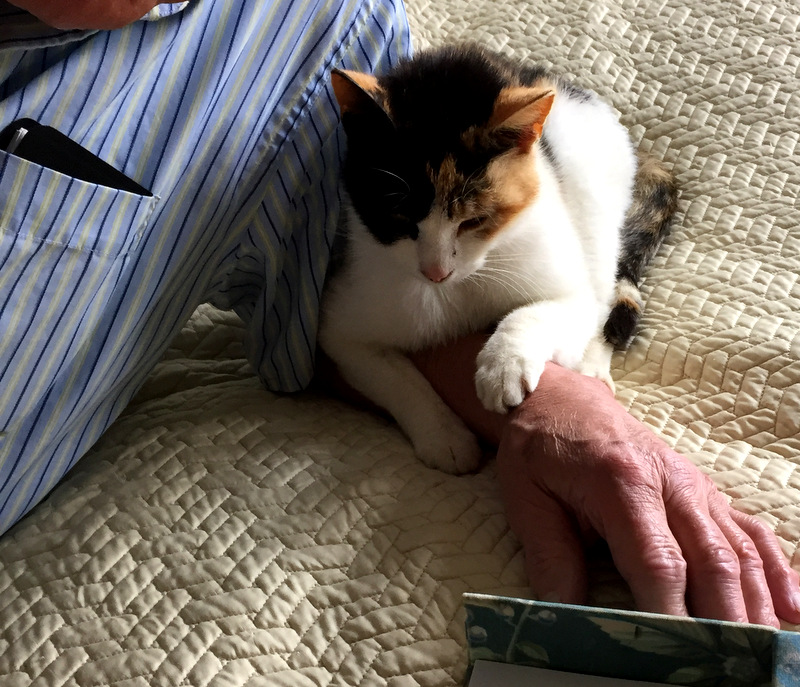 We have named her Cordelia, after the daughter of King Lear. (We name all our cats after royalty and I figure literary royalty counts, too.) We call her Coco for short.
Babies and cats. Irresistible!