Talk about a room with a view!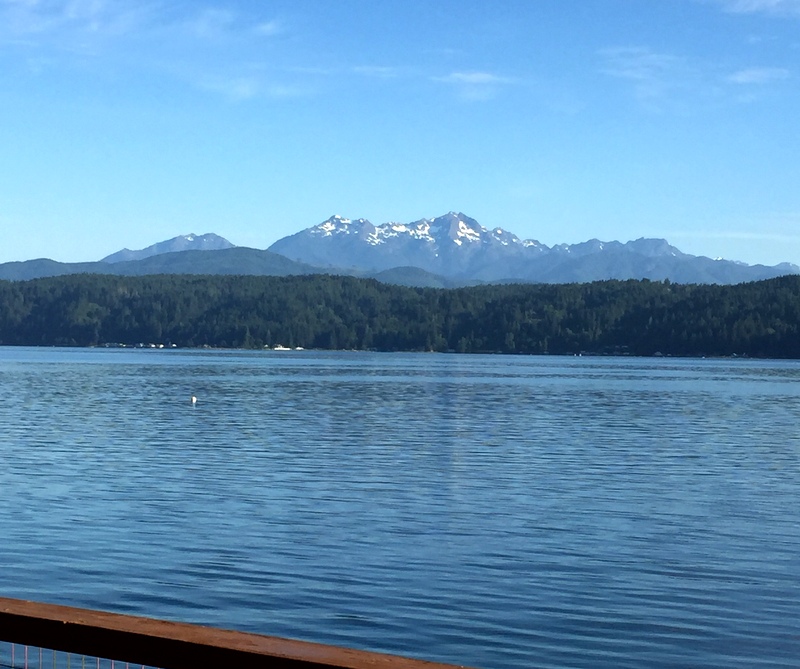 This photo of Hood Canal in Washington State — those are the Olympic Mountains in the background — was taken from the deck of the house I stayed in last week. I was in Union, Washington to teach at a four-day quilt retreat organized by the Pine Needle. The deck of the house I shared with Geri, the owner of the Pine Needle, was built right over the water. I fell asleep to and woke to the sound of water gently lapping at the rocks on the shore.
The retreat itself was held at St Andrews House, a retreat and conference center run by the Episcopal Church of Western Washington: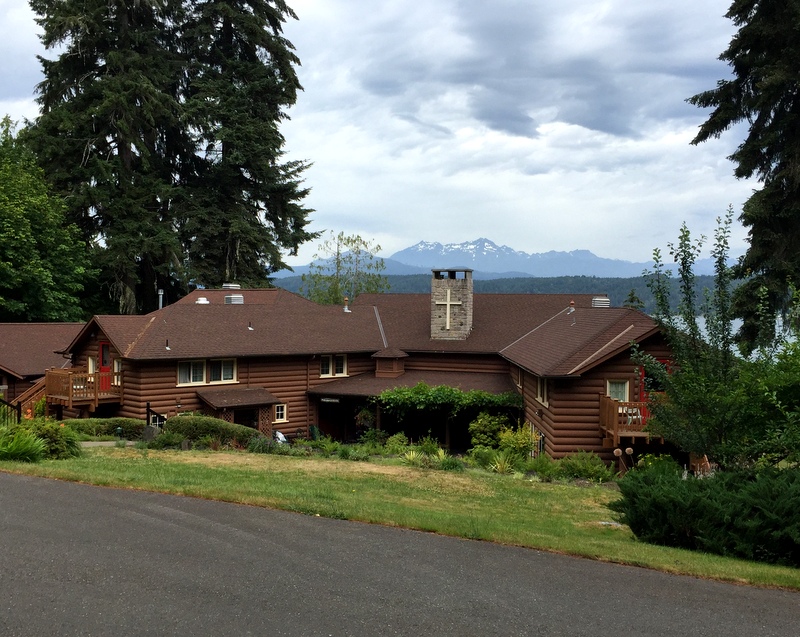 Isn't that a serene setting for a retreat? Here are a couple of closer views of the building: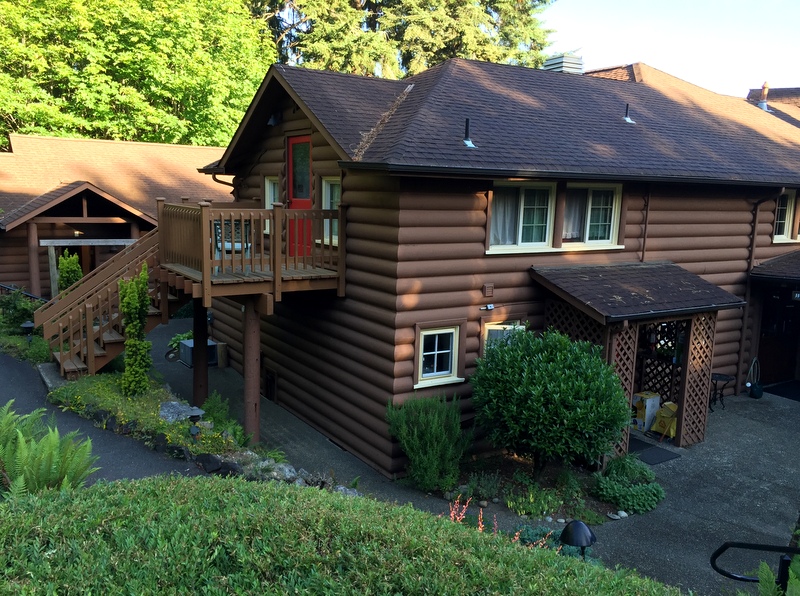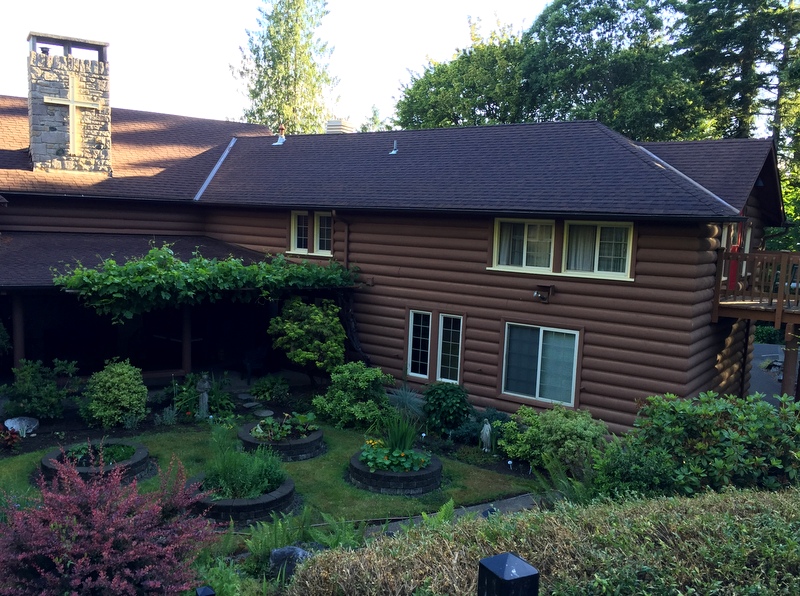 A covered deck runs the entire length of the house on the water side, affording spectacular views of Hood Canal (technically a glacial fjord) and the Olympics.
The pattern I selected for the retreat was Spinners, from the book On the Run Again by Heather Mulder Peterson (Anka's Treasures, 2014). Spinners is one of 11 designs in the book, so participants got a bonanza of designs when they signed up.
One of the things I love about teaching is seeing what fabric combinations students bring to the sewing table. Here are the first few blocks: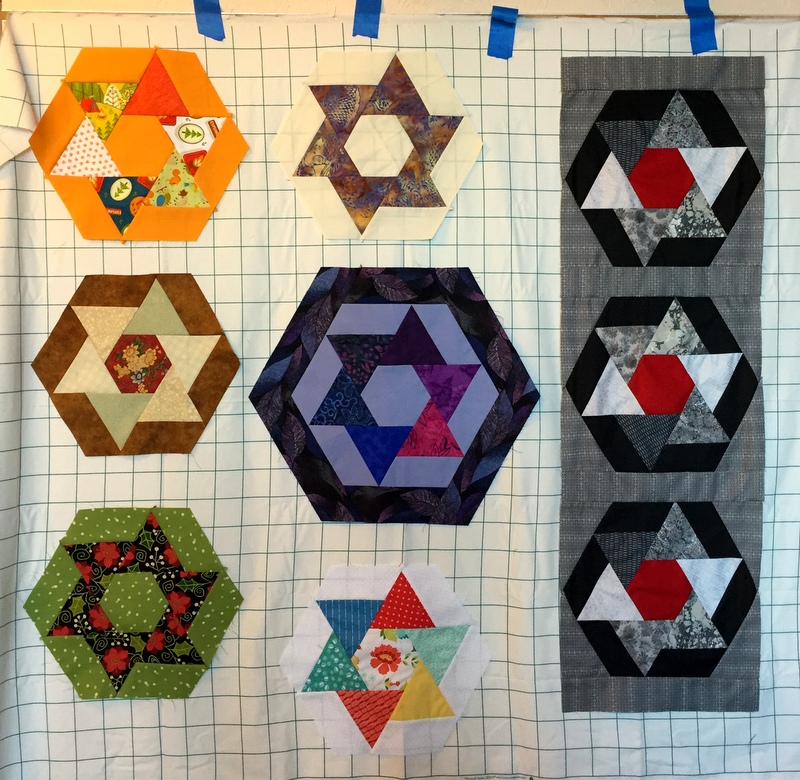 On our last morning, we had an impromptu show and tell of our projects. Unfortunately, our California girls (Candyce, Jan, and Janice) had to leave very early to catch a flight home, and a couple of other participants had already packed their projects away, so I don't have photos of those. Still, we have plenty of examples to show you.
Diana came to the retreat planning to make one test block. She liked her first block so well she decided to make an entire quilt! Here are her first six blocks: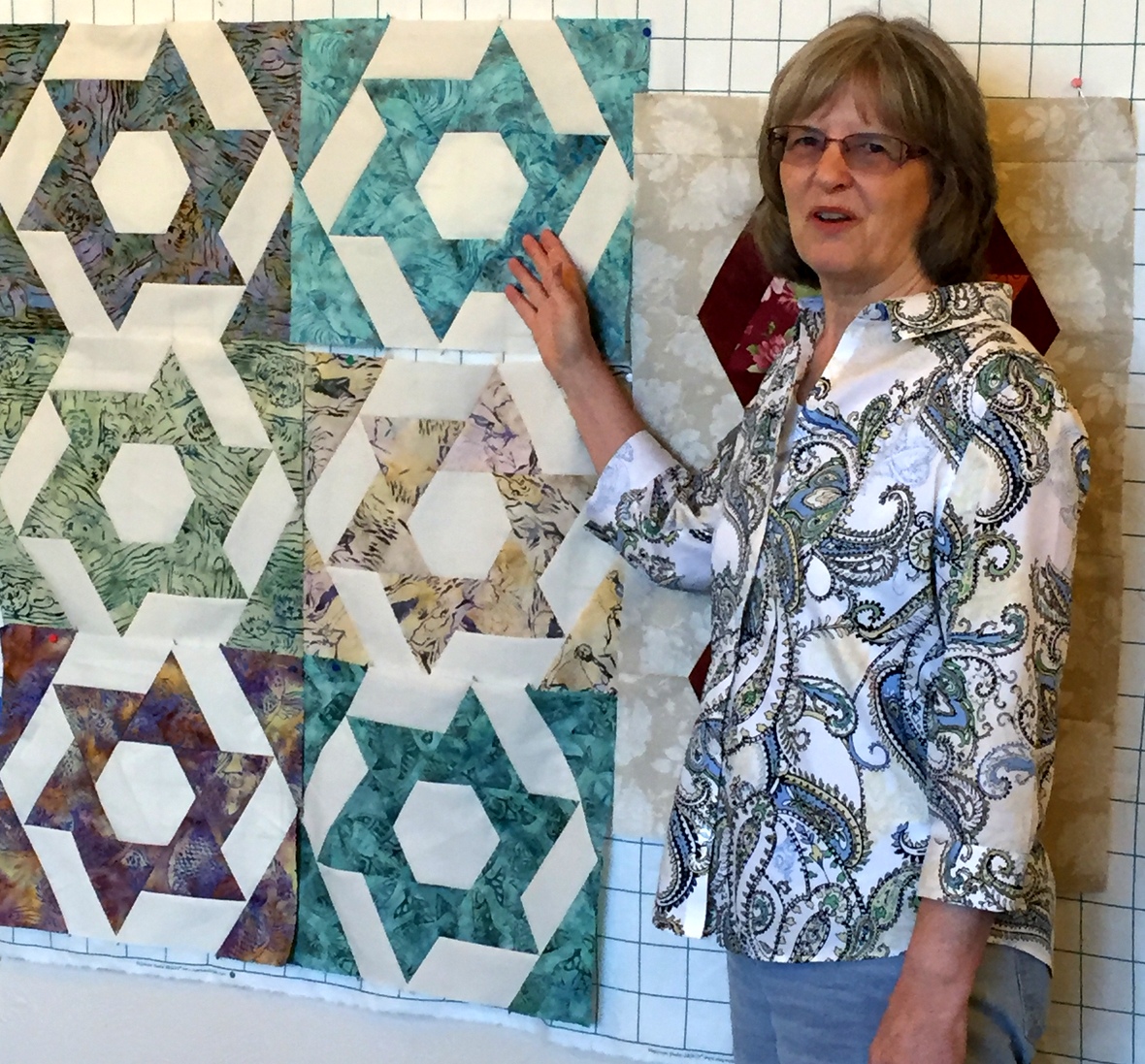 Linda completed her quilt top! She fussy cut the center hexagons. The narrow containment border and wider floral border set off her blocks beautifully: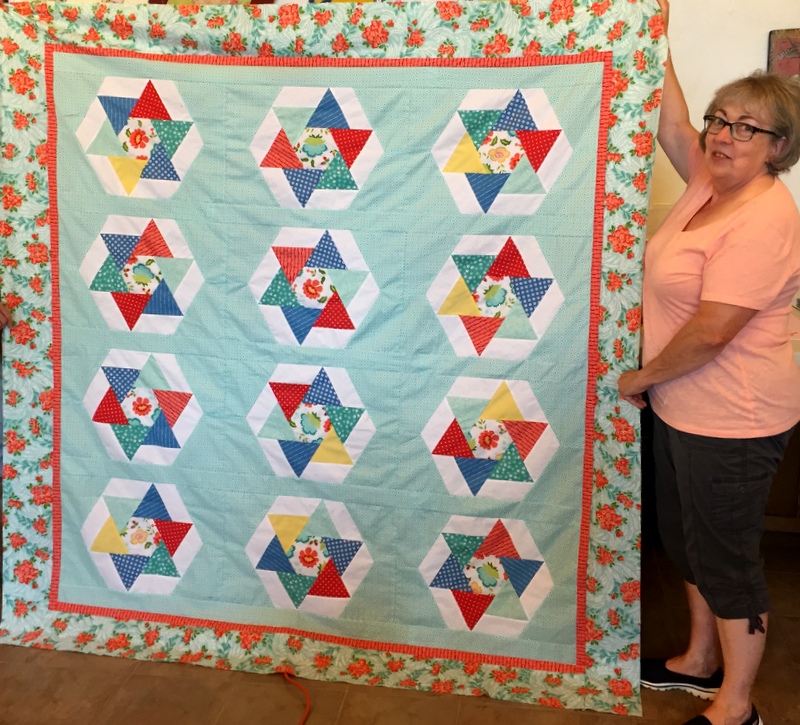 Sophia was very productive! Not only did she complete a Spinners top . . .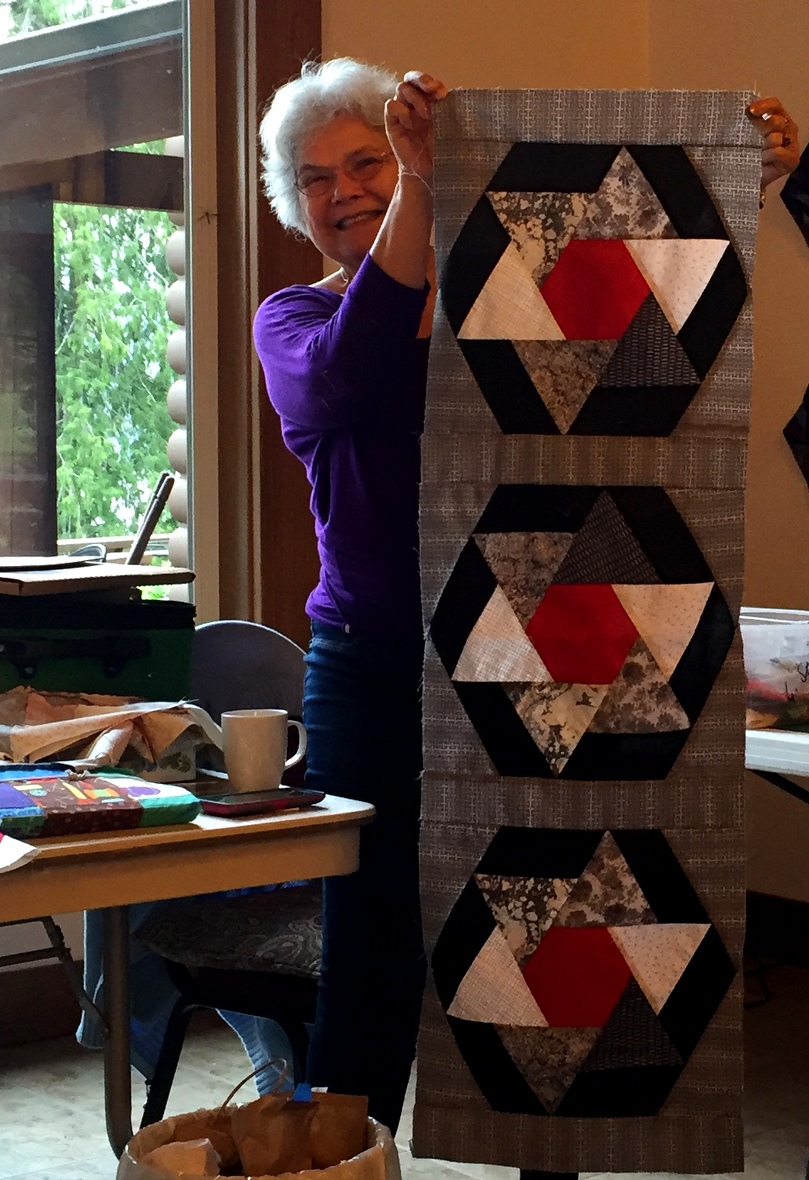 . . . she also made another block from Heather's book, the block called Happy Dance . . .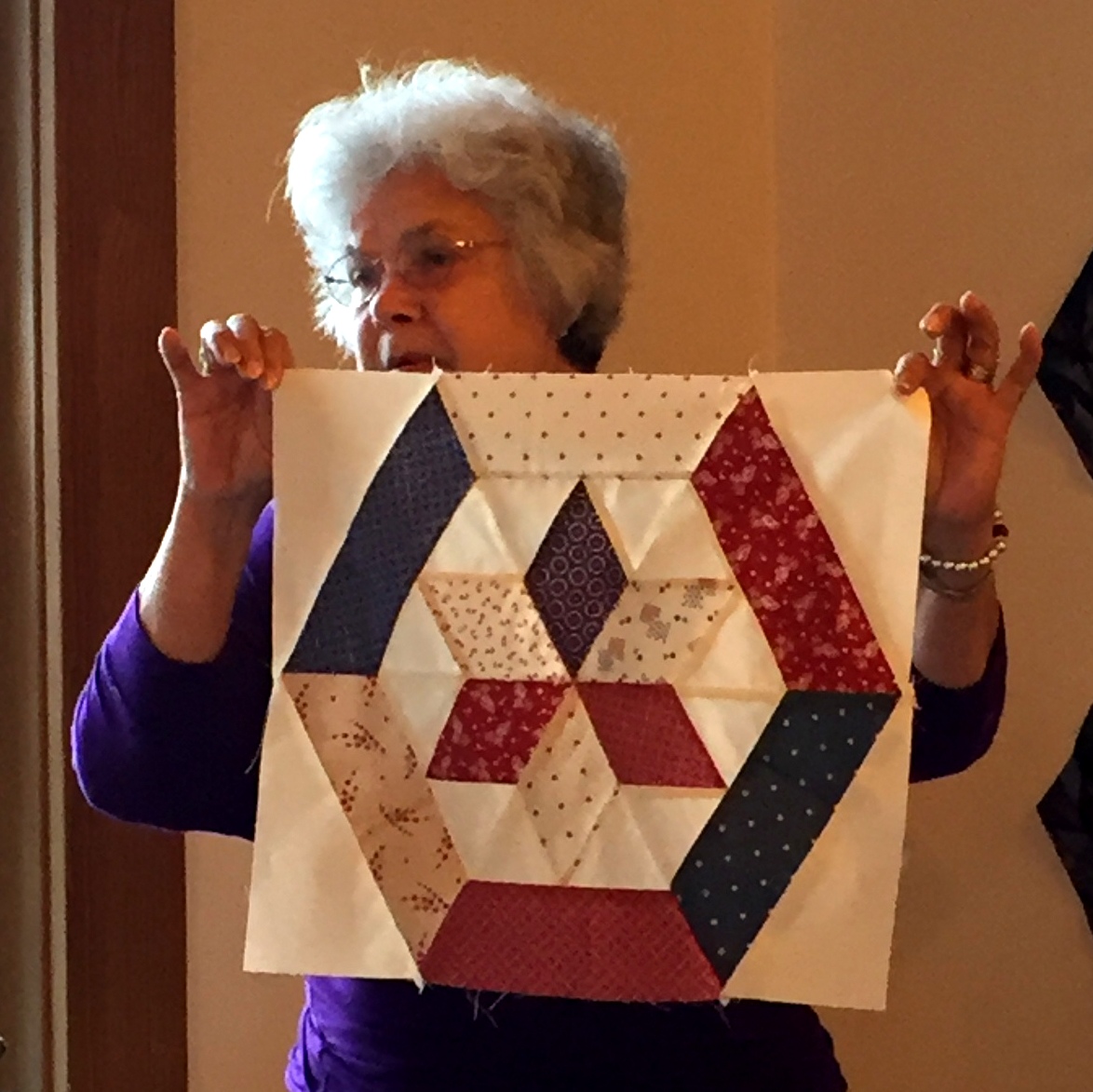 . . . and this one called Chatter Box: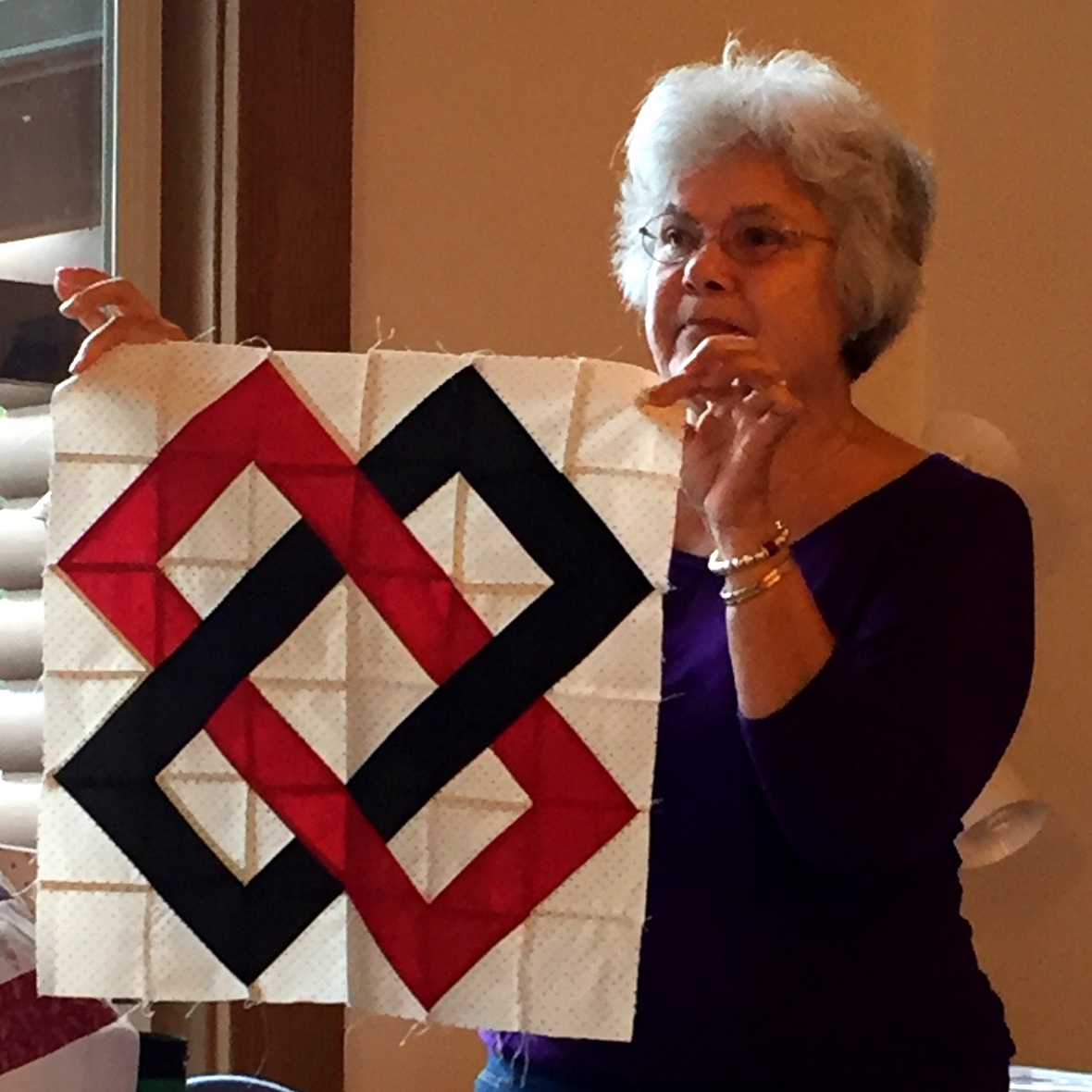 Donna made a set of placemats using the table topper design from the book — and had enough fabric leftover to make a table runner: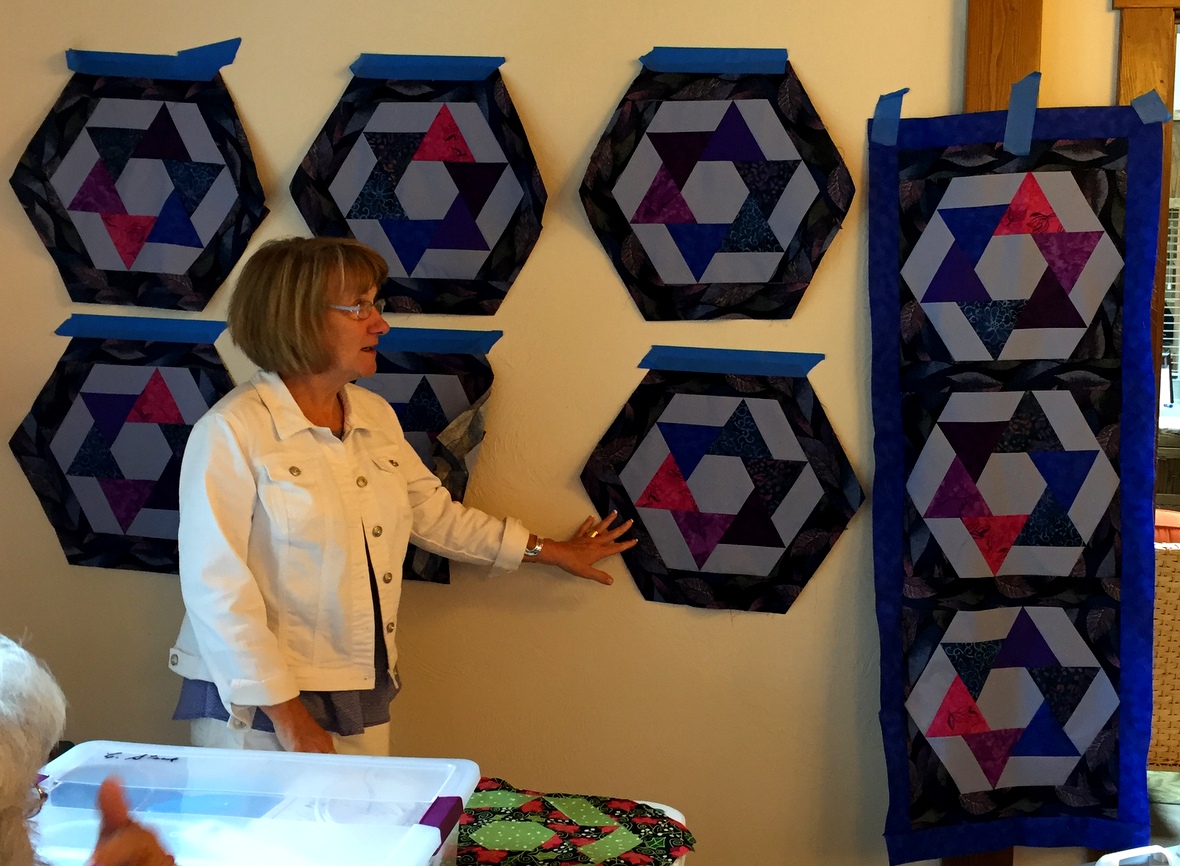 Those placemats will add a lively jolt of color to Donna's table.
Carol S. also chose the table topper design, using a delightful holiday fabric featuring poinsettias and holly:

She made several, to be given as gifts. Lucky recipients!
Carol D. made kaleido-spinner blocks (my name for the Spinners block made with identically-cut triangles that surround the center hexagon) using a lovely stylized floral fabric: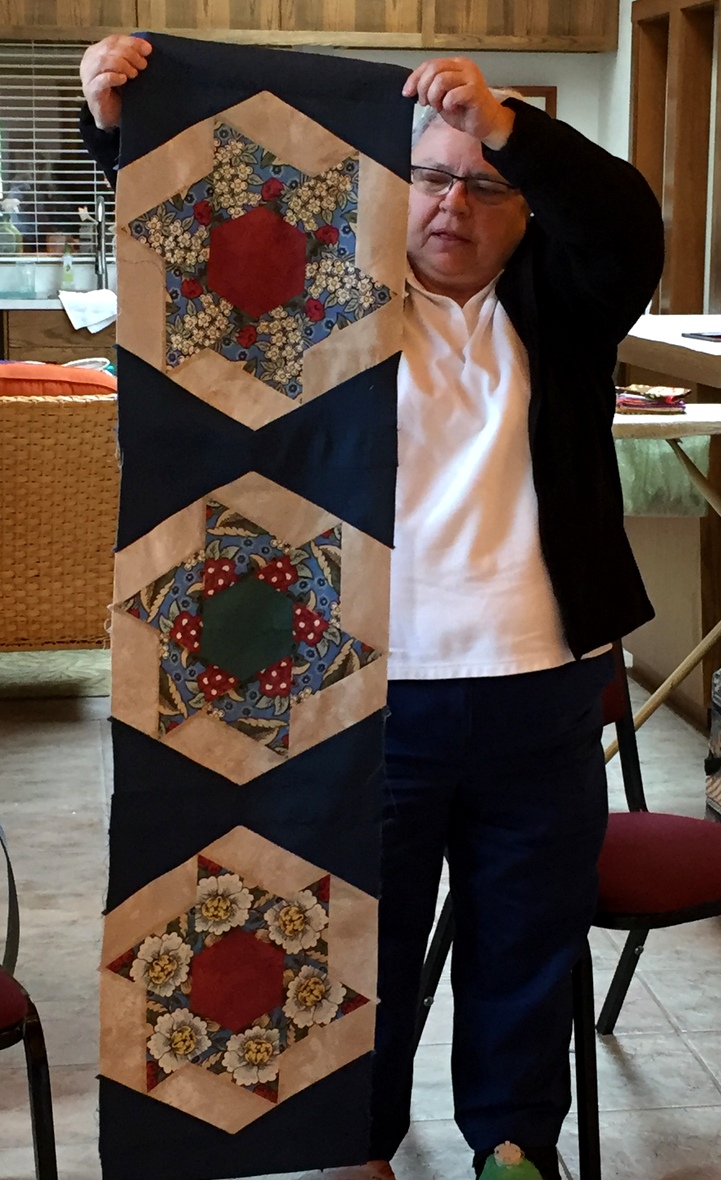 Did you notice Carol's Spinners blocks are on point? She is making a runner for a narrow table; her runner will be 13½" wide. If she had turned her blocks horizontally, the runner would measure 15½" wide.
Pam S.'s runner features playful prints spinning around solid gold: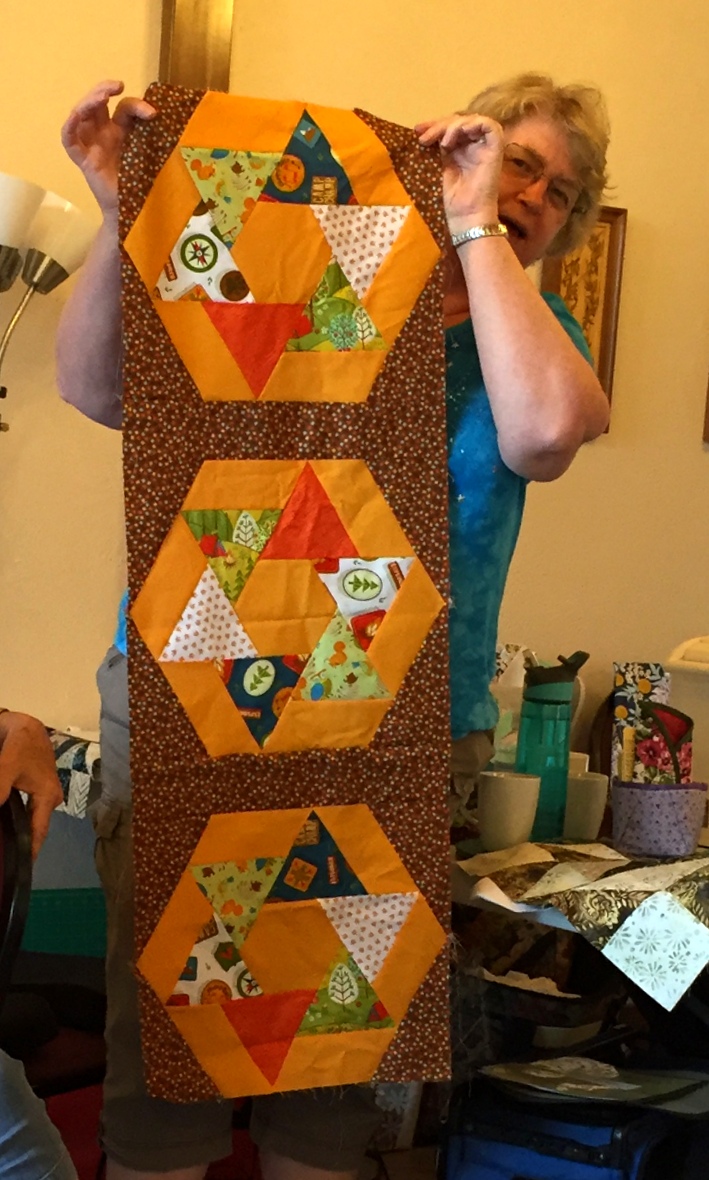 I can't help it; those fabrics make me smile.
Evelyn also made kaleido-spinner blocks. She's making a quilt and is showing us the fabric she chose for the border. It's going to look terrific next to the subtly textured aqua batik that surrounds the spinning triangles: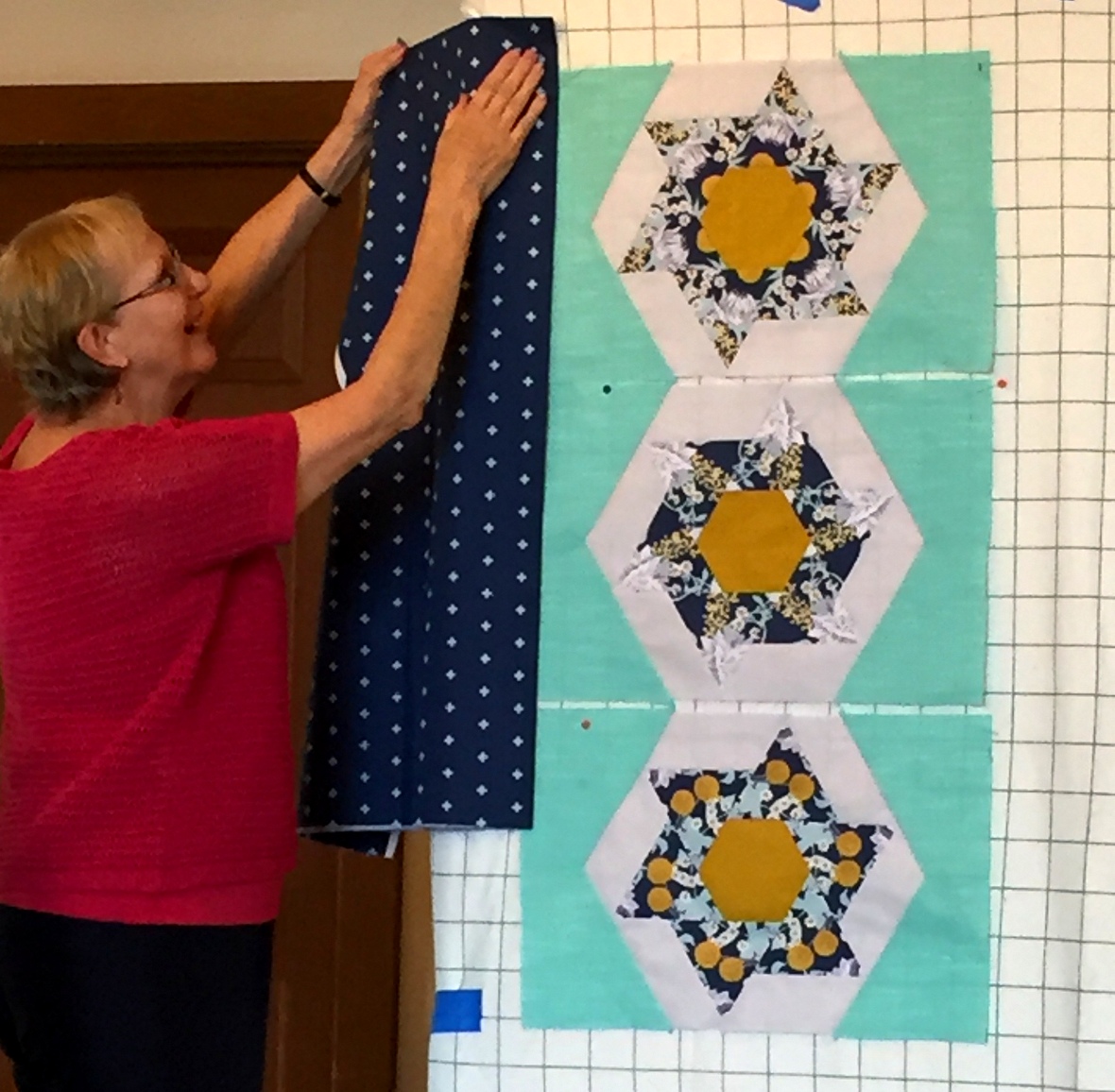 I can think of only one word to describe Tamara's Spinners runner: elegant. Take a look: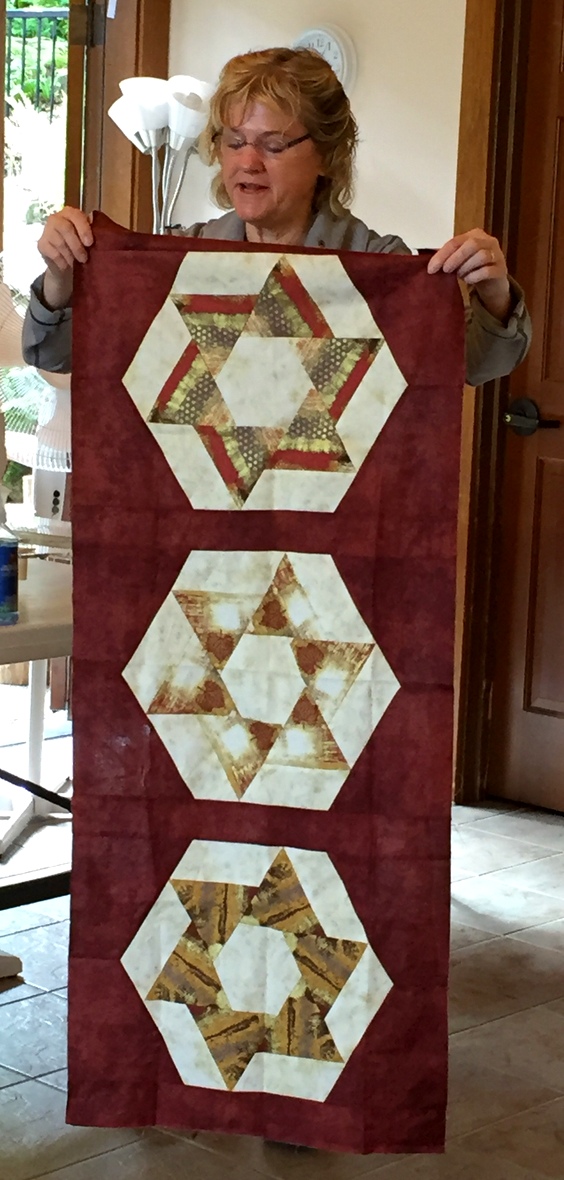 The touches of metallic in the triangles and light background fabric, contrasting with that rich burgundy, contribute to the rich effect. Tamara fussy cut her triangles from a fabric I wouldn't have thought of for a kaleido-spinner quilt: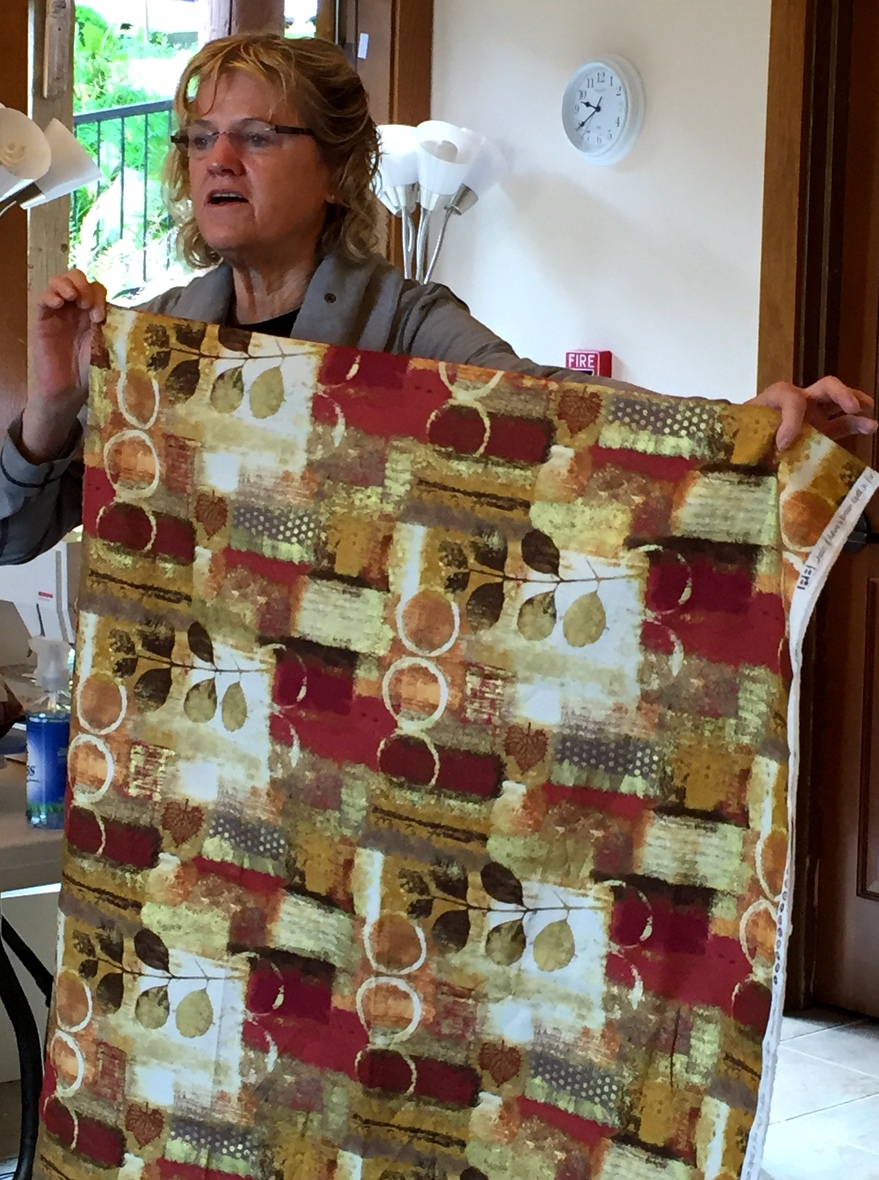 Tamara will incorporate that fabric on the back of her runner.
Sharon fussy cut flowers for the center of her blocks from a beautiful fabric that looks like a watercolor painting. Here's one of those blocks . . .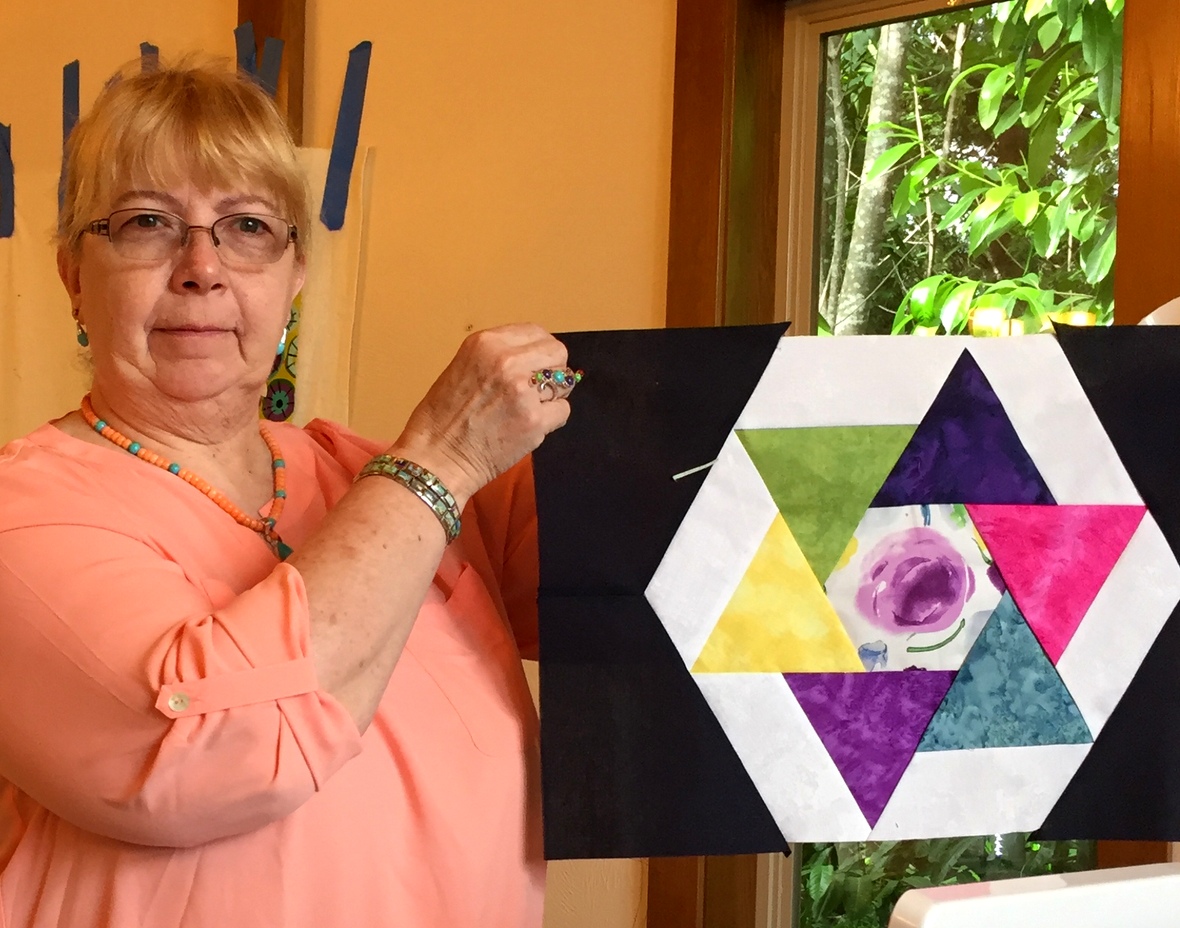 . . . and another: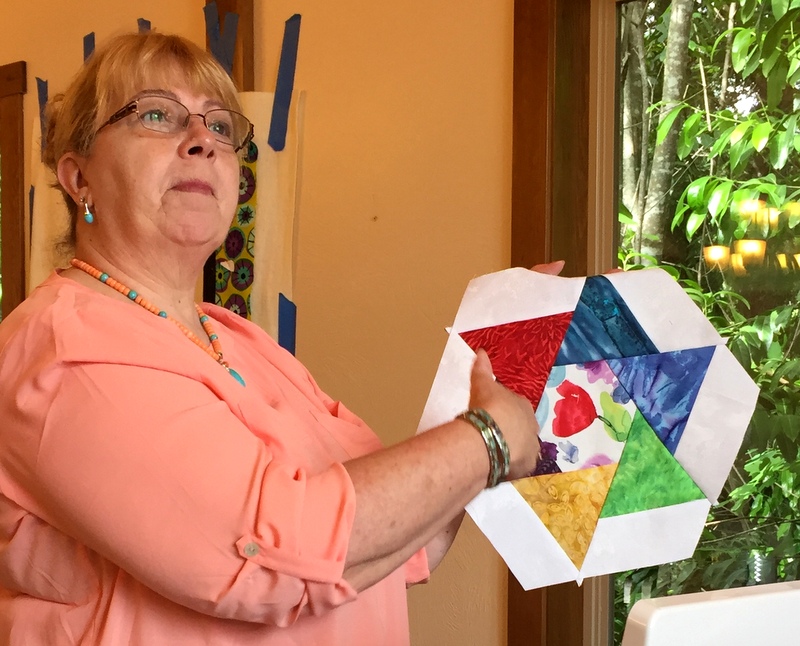 She's using a different colored batik in each of the triangles.
Debbie H. chose fabrics for her runner that match the décor of her dining room: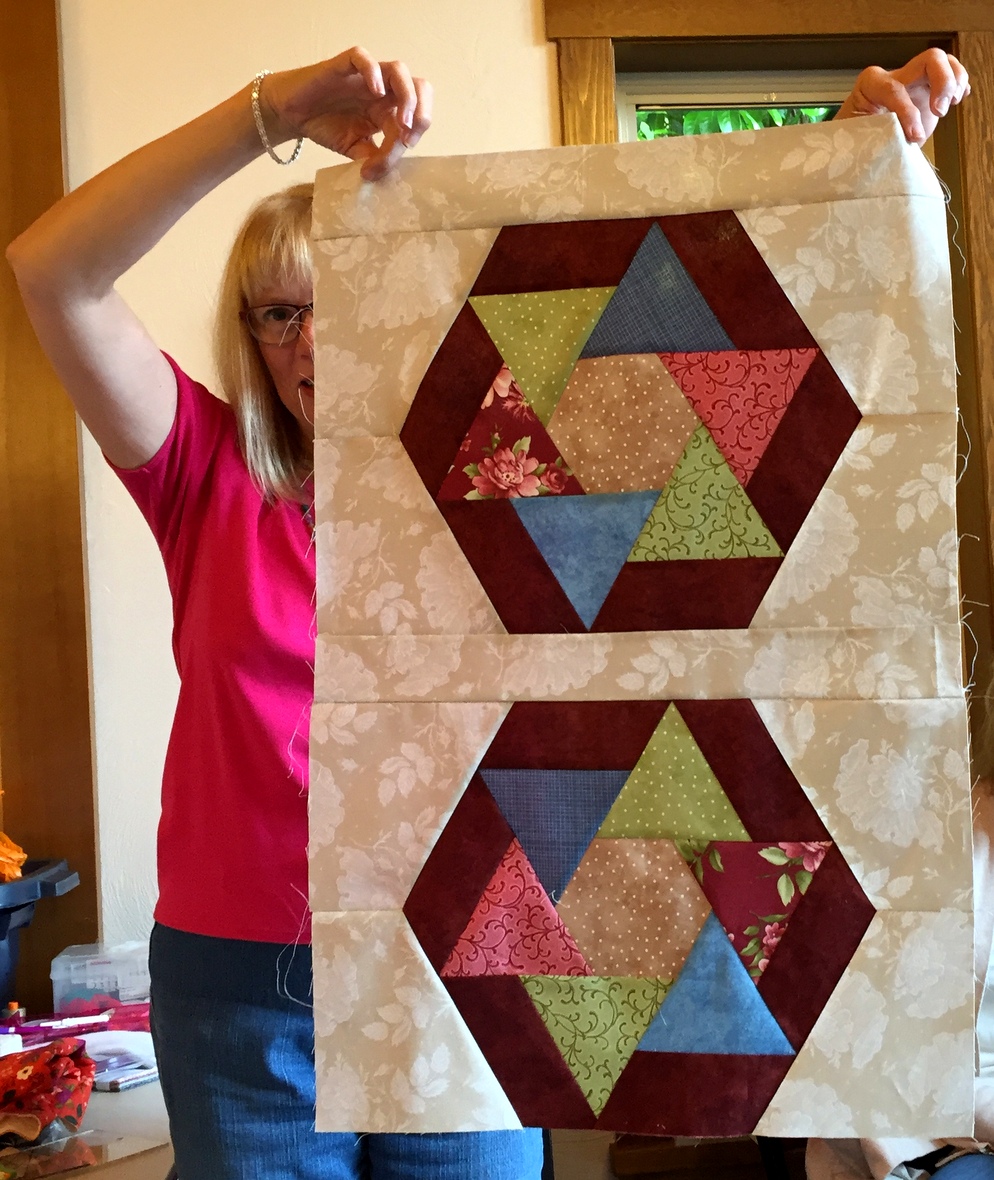 That creamy jacquard background fabric sets off her Spinners blocks so well. And her Y-seams are perfect!
Debbie S. pieced a king-size bed runner using lively tropical fabrics. She also made kaleido-spinner blocks: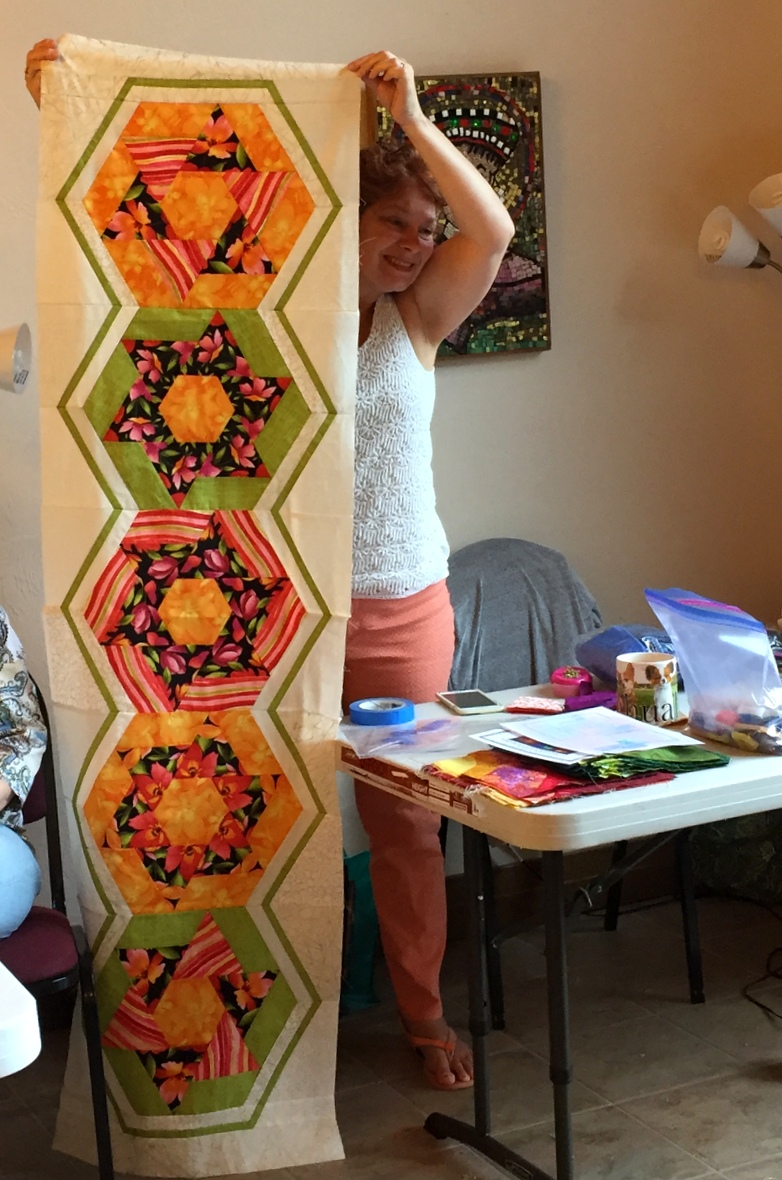 Debbie put her own spin on the design by incorporating two fabrics in the top and bottom blocks (that stripe!), omitting the sashing strips, and adding an accent strip around the blocks. Debbie is a professional longarm quilter (AllQuilted LLC). I will be very interested to see how she quilts this vibrant runner.
While the retreat featured the Spinners pattern, the participants were free to work on whatever they wanted.  Helen was finishing the binding on two spectacular small projects . . .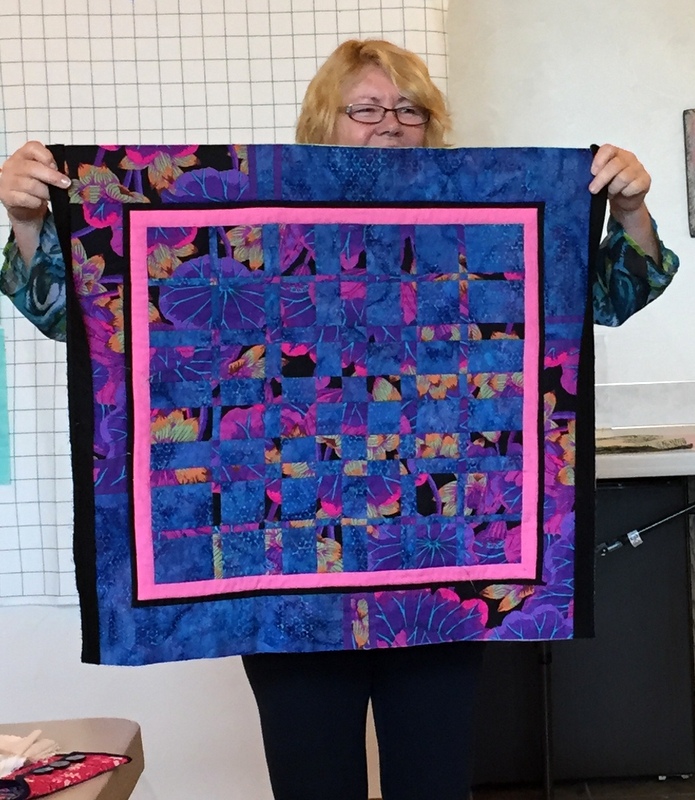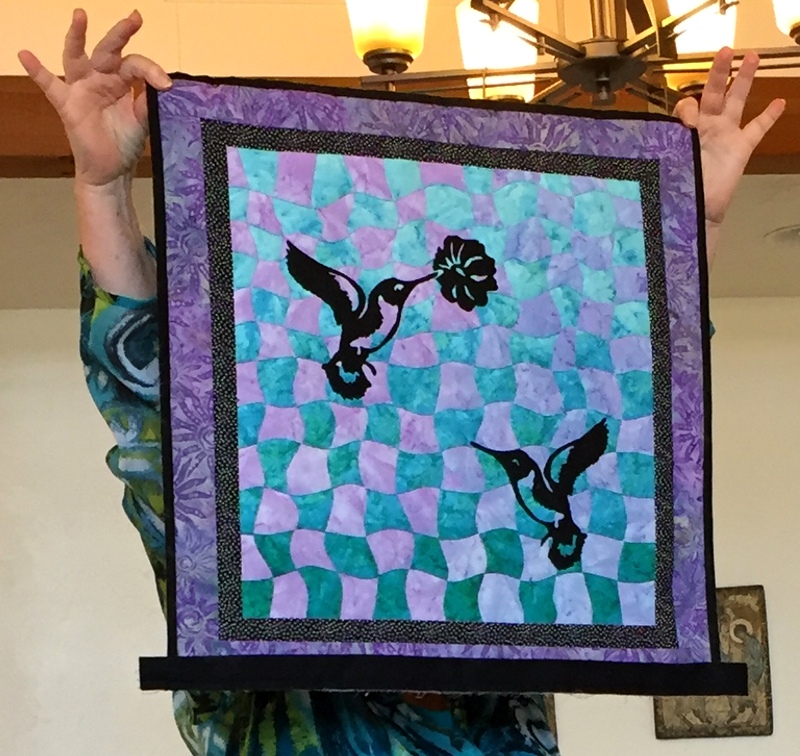 . . . and she was also working on her version of Shadowbox (pattern by Mountainpeek Creations):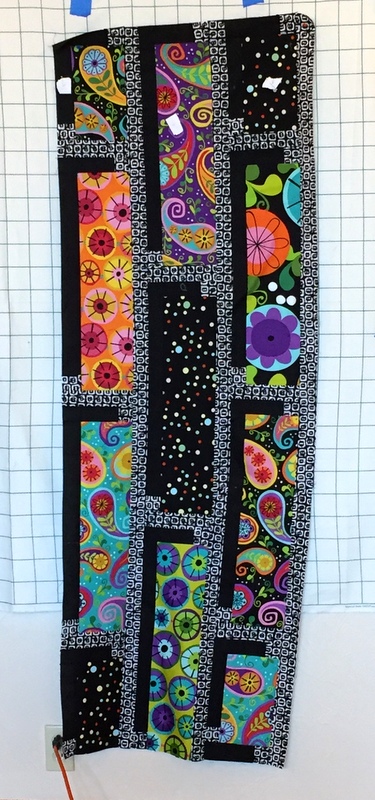 Colleen worked on her 6″ Farm Girl Vintage blocks, designed by Lori Holt of Bee in My Bonnet: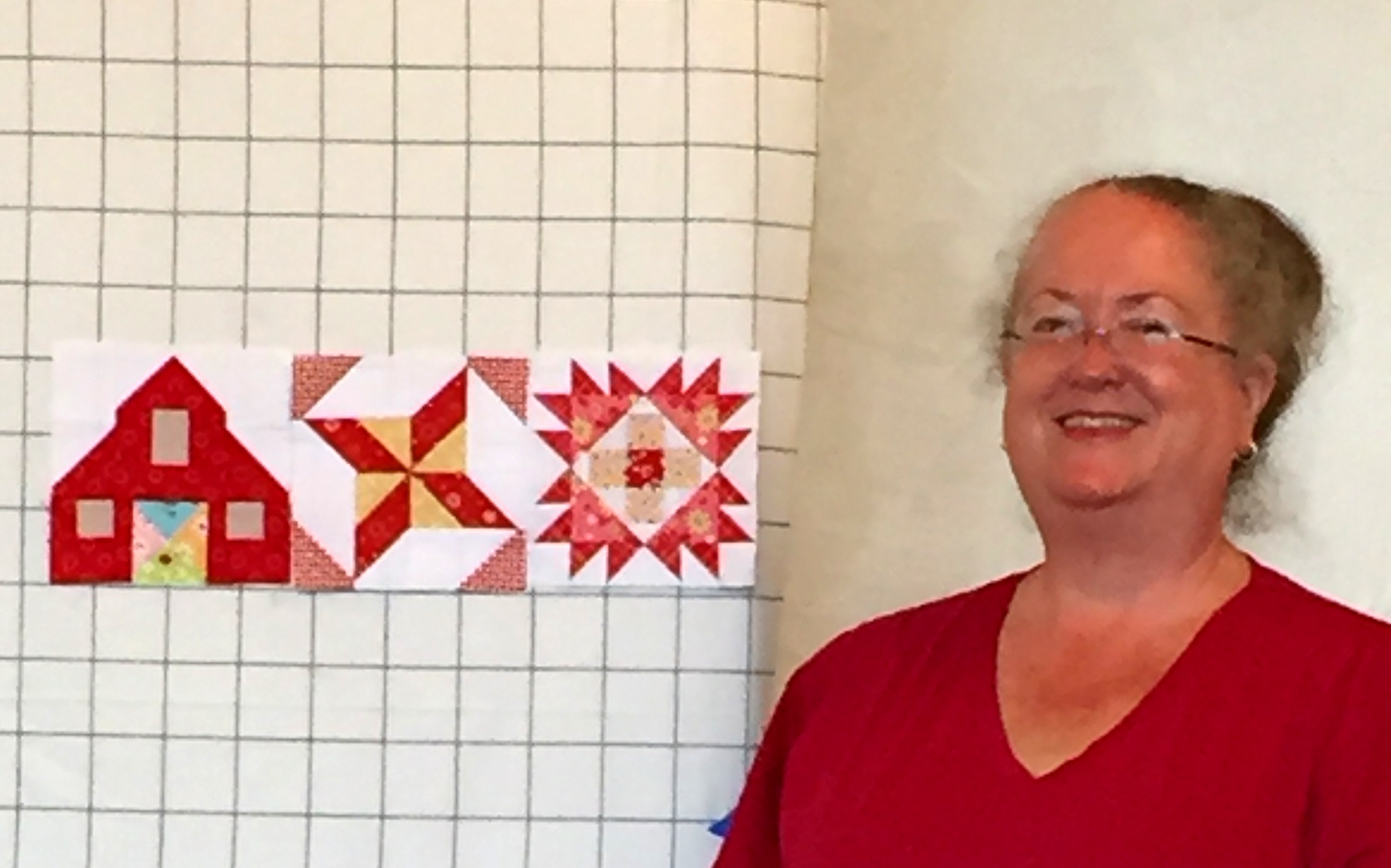 That block on the far right has over 50 pieces in it. I can only imagine how many pieces the finished quilt will contain.
Thank you, Geri, for organizing a fabulous retreat filled with laughter, games, good food, and some very productive and creative sewing. Thank you, participants; you made teaching a pleasure. I hope to see you all again when we convene at the Pine Needle in October to show off our finished creations.