Yesterday I took Karla Alexander's "Rewind" class in Sisters, Oregon. Rewind is the name of her brand new pattern for Saginaw Street Quilt Company, designed just for this class. Karla is teaching  at Quilter's Affair, the week of classes (July 4-8) put on by the Stitchin' Post quilt shop.
In my last post I showed you the cover of Karla's pattern: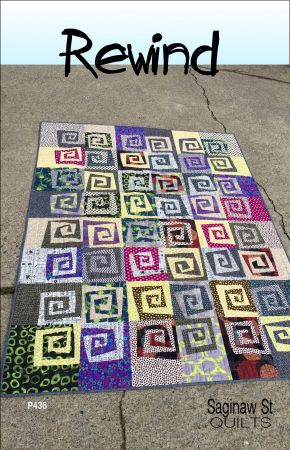 I spent yesterday within 10 feet of the original quilt and plum forgot to take any photos of it. I expect it will be on display this Saturday, July 9, at the Sisters Outdoor Quilt Show, and I promise to take pictures of the real thing.
My friend Deborah and I took Karla's class together, and we enjoyed every minute of it. Karla showed us how to make the Rewind block using the paper template and sewing guides included in the pattern.
Here is my first block . . .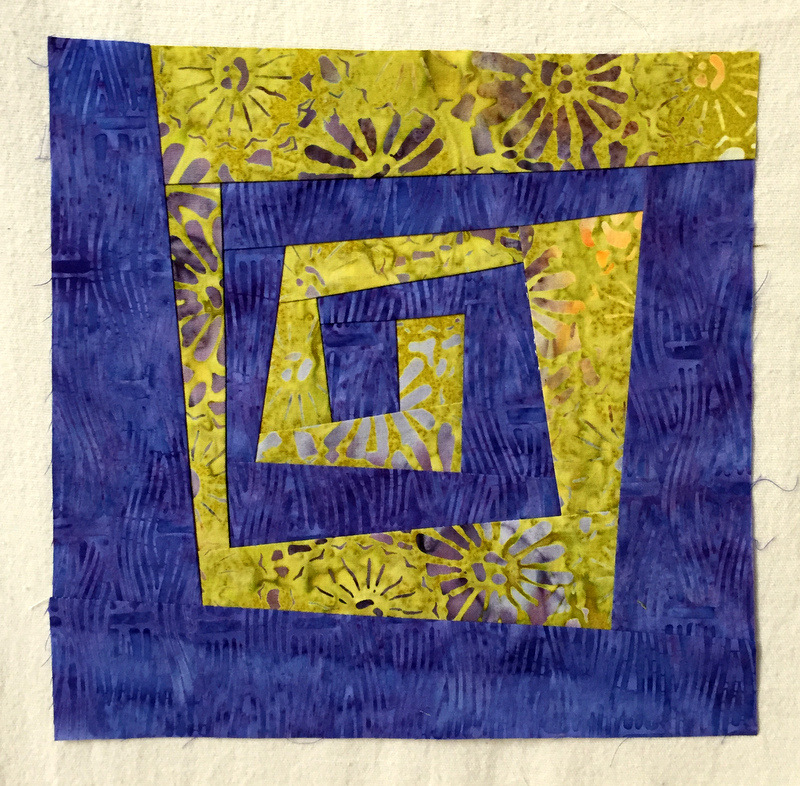 . . . along with the second block, the reverse of the first: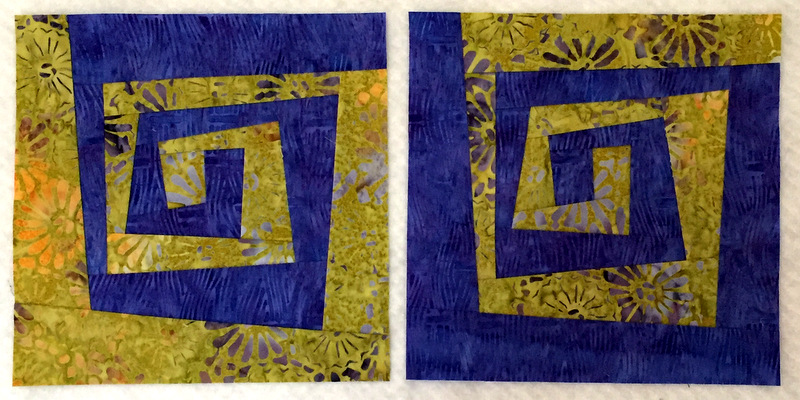 These two blocks have been trimmed to 8½" square.
Do you see how the block looks like a wonky Greek key? Someone in class described the block as a cross between a Snail's Trail block and a Log Cabin block, also an apt description.
Here are my third and fourth blocks: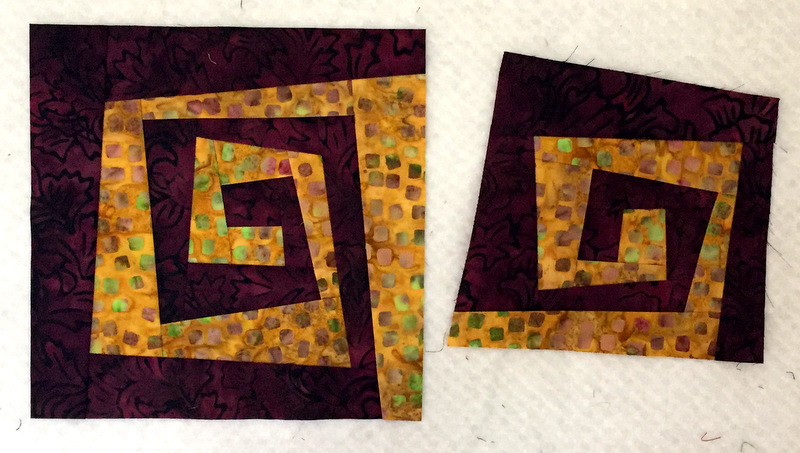 Yes, the fourth block isn't done. I should have finished it in class but I sewed a strip on the wrong side and trimmed it before realizing my mistake. After unsewing the strip, I discovered it was too short to use in its proper spot. Now I have to wait till I get home to cut a new strip and finish the block.
Deborah was speedy! She completed six blocks in class: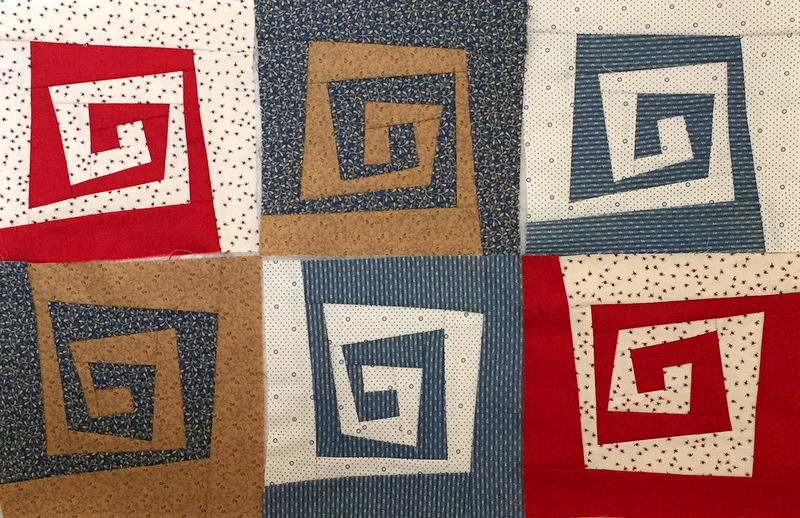 Isn't it fun to see the same design using completely different fabrics? Deborah's palette is a controlled red-blue-tan-white in light to medium/dark values.
For my quilt I chose a colorful mix of batiks: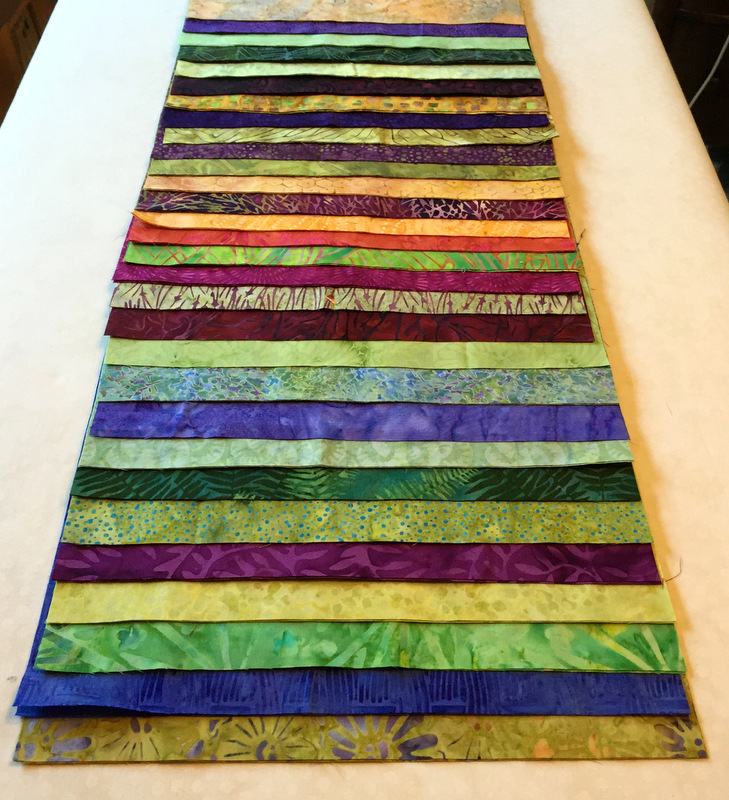 After we got the hang of using her template, Karla showed us how to cut our blocks free-form, i.e. without a template but with a ruler to get straight lines. Here I have two of my "darks" with the cutting lines marked in white: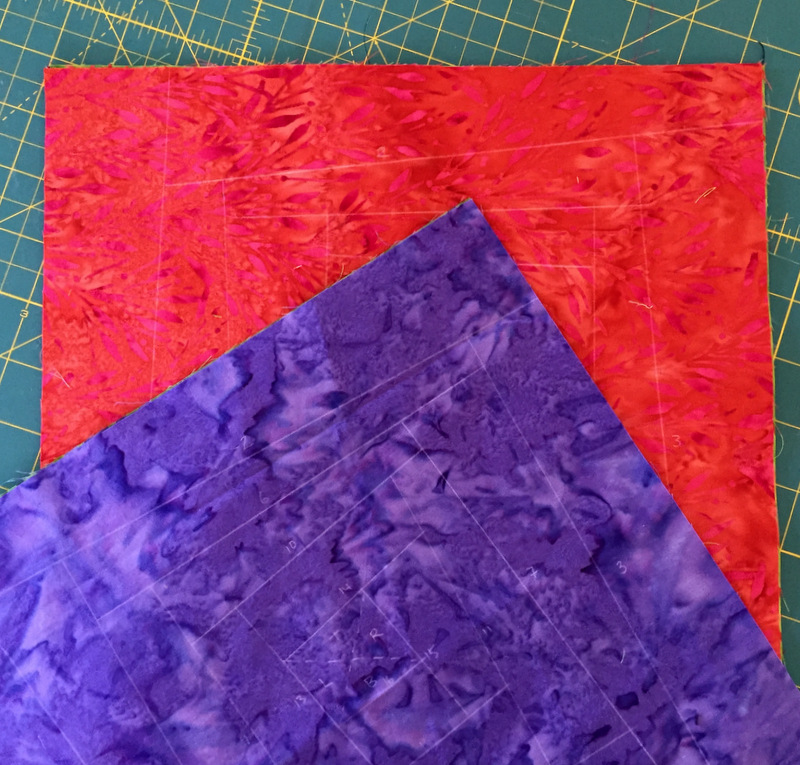 I would love to work on this all week but tomorrow brings another day . . . and another class: "Star-Crossed Lovers" taught by Colleen Blackwood. I hope you will check back to see what it looks like.