Do you ever have a vision for a quilt project that doesn't quite pan out? That's what happened last Thursday, when I took a class called "Star-Crossed Lovers" in Sisters, Oregon. I love teacher Colleen Blackwood's design, pictured here: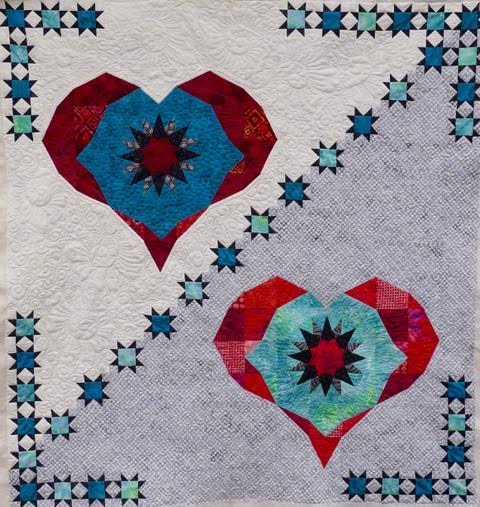 The quilt you see above is hanging in a quilt shop in Washington State so my classmates and I didn't get to see it in person but Colleen had another version on hand: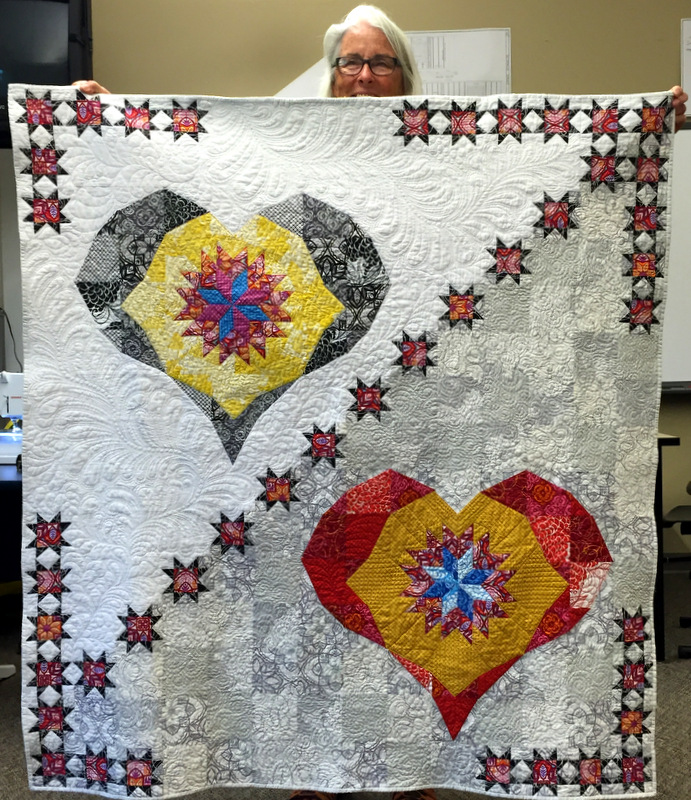 (Both quilts were expertly quilted by Colleen on her domestic sewing machine.)
Note that each heart-within-a-heart contains a block that finishes at 12″ square. The background fabric for the inner heart is the same as the block background, so the block floats in the inner heart.
We students had the option to make our blocks in advance. I created two kaleidoscope blocks using Tula Pink's Chipper fabric, making Chipper (the chipmunk) the focal point in both of them. I converted the octagonal kaleido blocks into circles, centering them in the 12″ square blocks. Here is the first block . . .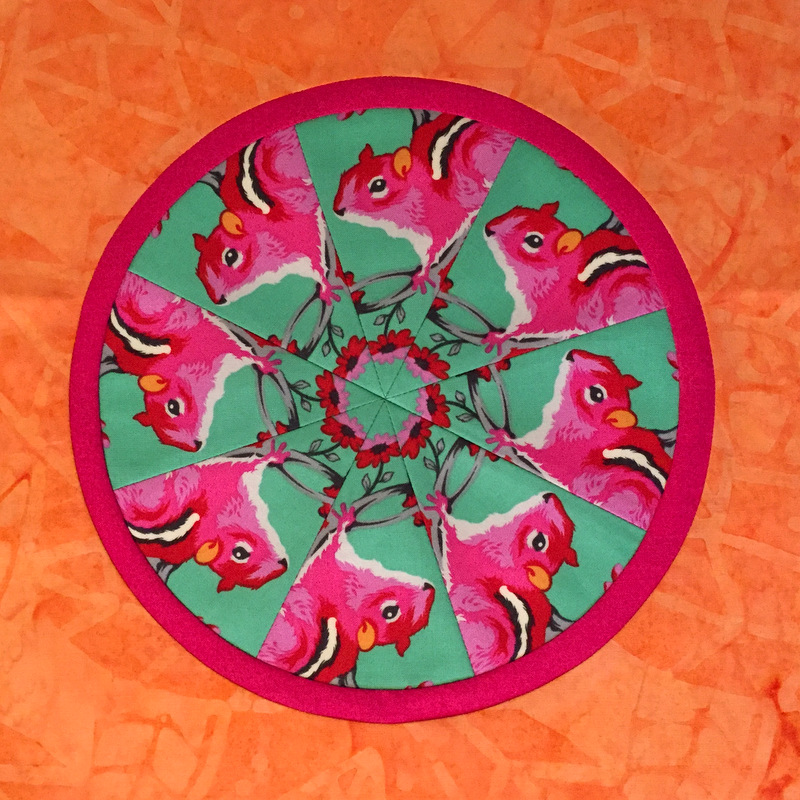 . . . and the second one: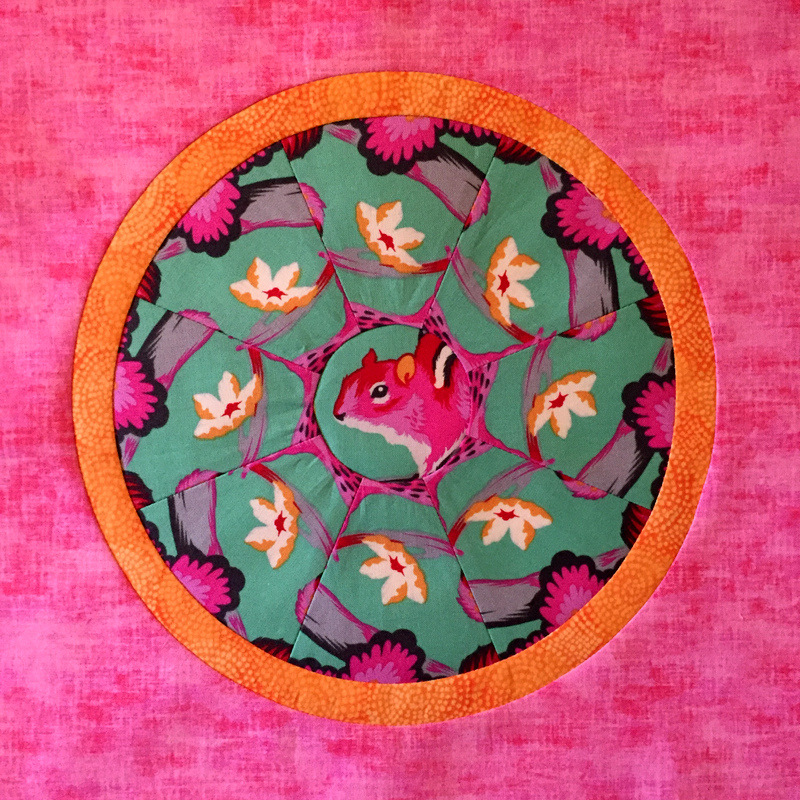 My plan is to have one heart go from pink to orange and the other from orange to pink. Starting with the pink block, I chose several orange fabrics for a scrappy outer heart. In class I labored away cutting my fabrics — inner heart, outer heart, and background — and sewing the first large heart-within-a-heart block.
Later that evening, as I was sewing the last of the orange segments to the inner heart, I realized I had a problem. Two of them, in fact.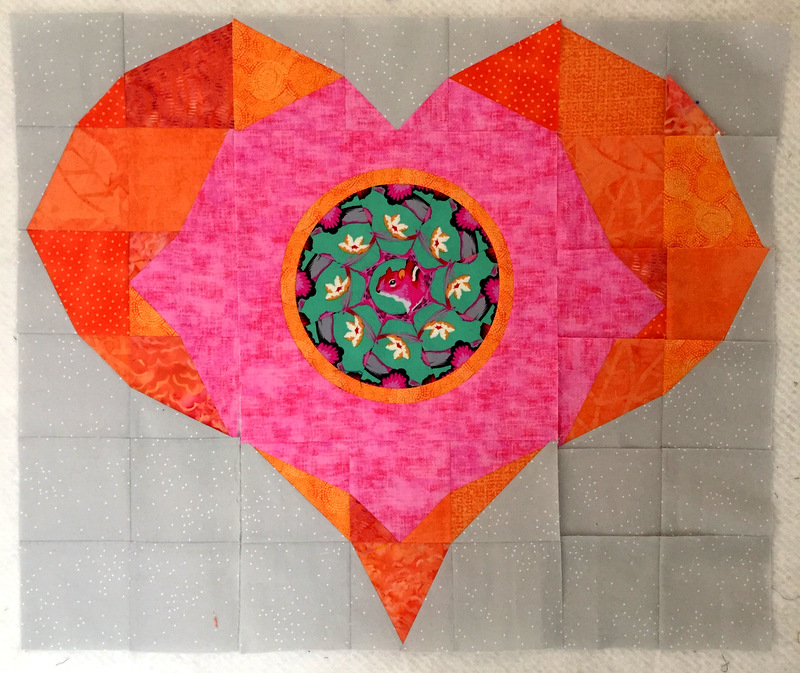 The first problem: there's not enough contrast between the pink and orange fabrics; they are too similar in value. The orange polka dot fabric, which I initially thought might be too dark, seems just right to me now. I'm planning to remake the outer heart using just that fabric.
The second problem: my Chipper circle looks a little too small. It measures 9″ in diameter, not filling the 12″ squares as Colleen's blocks do. So now I am thinking about reducing the scale of the hearts. Except for the center block, the entire quilt is constructed of squares that finish at 4″. If I reduce those squares to 3½", the Chipper circles will appear larger in the inner hearts. But reducing the squares to 3½" means all of those sawtooth stars (43 of them) would have to finish at 3½" too. Do I really want to deal with that?
Another thought is to keep the center blocks the same size (12″) but add a second ring of color around the kaleidoscope blocks by inserting another circle. If I do that, it will preserve the original scale of Colleen's design.
I put a lot of thought and effort into making my two chipmunk blocks and even have a quilt name picked out: Chipmunk Love. As much as I would like to continue working on this quilt, I'm reluctant to proceed until my path is clear. Now that I'm back at home, I'll put the blocks up on my design wall and make sure I take a look at them a few times a day.
What a dilemma! Do you have any suggestions for me?