Yesterday I finished piecing Dragonfly Kisses, based on the pattern Chic Diamonds by Sew Kind of Wonderful: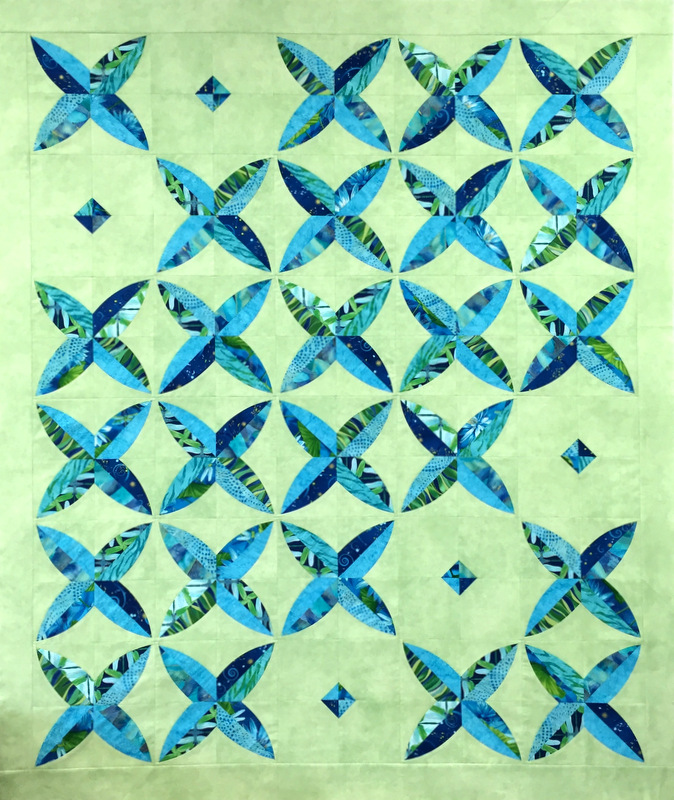 I originally thought about using white or pale blue for the background but am so glad I went with the pale mint instead. It's so refreshing, don't you think?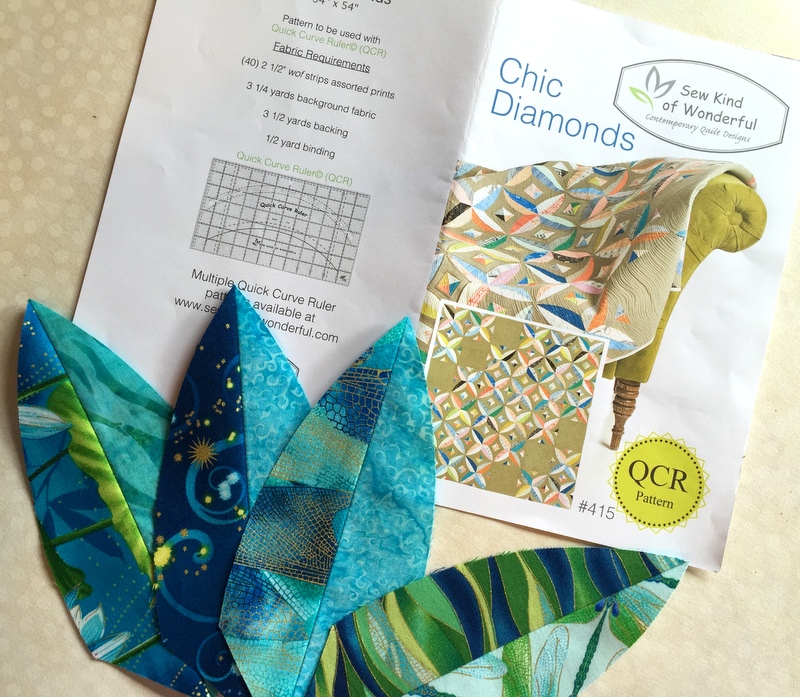 Chic Diamonds was designed as a jelly-roll friendly pattern, since the pointed pieces (I call them blades) are made from 2½" strips that are sewn in pairs and then trimmed using the Quick Curve Ruler. Triangles cut from the strip pairs are saved and used in each block. Six blocks in the design are intentionally left blank as a design element, perhaps to give the eye a place to rest.
I decided early on not to use all the triangles, wanting to make my quilt less busy so a viewer's eyes would be drawn to the X blocks (the kisses). I used only 20 triangles rather than the 240 called for in the pattern. And I put my triangles in the middle of the blank blocks rather than in the blocks with the blades. (Thanks to my friend Deborah for giving me that idea.) I like to think those triangles form the "chic diamonds" in my quilt.
The original design uses a 6 x 6 setting, finishing 54″ square. I went with a 5 x 6 setting using five blank blocks instead of six. I like the asymmetry of the look. And I added a narrow border of background fabric to float the outer blocks a bit, giving a bit more airiness to the design and making the top slightly bigger. It now measures 51″ x 60″ — a nice size for a throw or lap quilt.
Now to piece the backing. The dragonflies that gave my quilt its name are hard to spot among the narrow pieced blades so I'll use my remaining strips of that fabric line (Dance of the Dragonfly by Kanvas Studio and Benartex) on the back.
I'm excited to report that I'll be teaching Chic Diamonds (both the original design and my variation) at the Pine Needle Quilt Shop this fall. And rumor has it the Pine Needle is going to have kits available of Dragonfly Kisses!