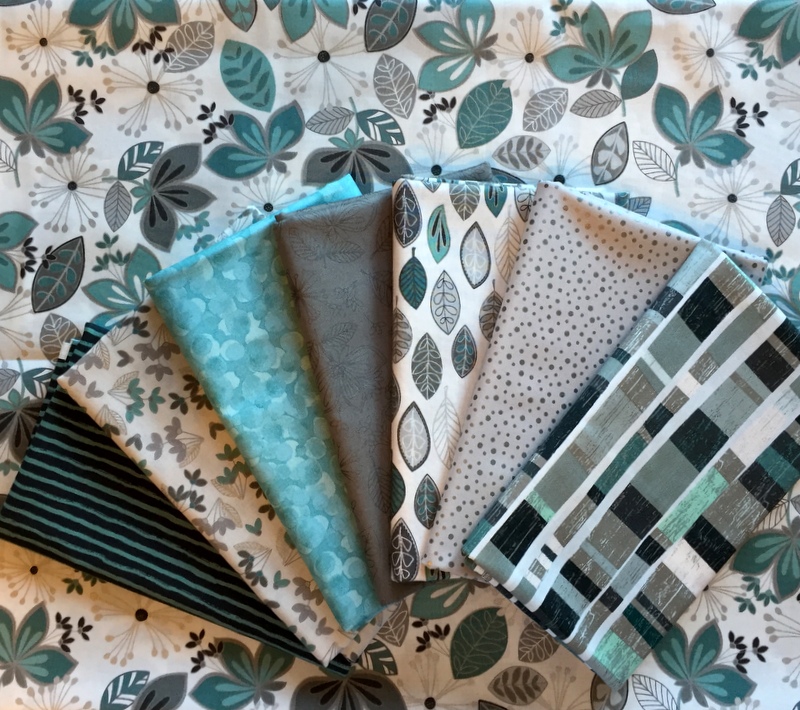 A few weeks ago a line of fabrics from Maywood Studio called "Neutral Ground" came into the Pine Needle, the quilt shop where I teach. The line features a contemporary rendering of leaves and florals in shades of grey and aqua on a greyish-white background, with sprinklings of silver metallic. I was sorely tempted but withstood the siren call.
Then an unrelated line of fabric by Riley Blake Designs, "Knock on Wood," came into the shop. The colors blended beautifully with the other line, although the overall themes of the lines couldn't be more different. That uneven stripe on the left and the uneven block print on the right in the photo above are the Riley Blakes.
Combined with a couple of fabrics from other lines, I suddenly had a grouping of fabrics I could get excited about. Excited enough to buy them? Well . . . yes!
I was preparing to tuck them away, vowing not to start something new until I had finished at least two other quilt tops, when I realized these fabrics would be perfect for the two girl-baby quilts I still need to make this year. I went through the patterns I've purchased over the last few years and pulled out several candidates. Those have been narrowed down to two. As soon as I have the first test block made, I'll share it with you.
That uneven block print is the wild card in the mix. I'm not positive it will work with the other fabrics but I'm going to give it a go.
I can't wait to get started!