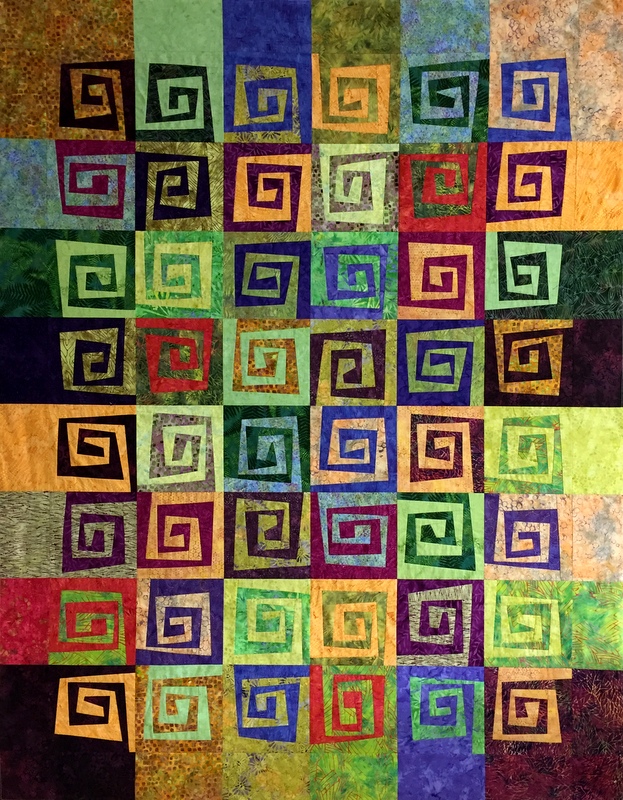 Last night I finished piecing my wonky Greek key quilt, which already has a name: Where It's @.  The name comes from the resemblance of the @ sign on a keyboard to the classic Greek key motif, which gets a decidedly funky treatment here.
The pattern is Rewind by Karla Alexander of Saginaw Street Quilts. I had the pleasure of taking Karla's class last summer in Sisters, Oregon during the week of classes known as Quilter's Affair. Karla provided a template for the block, which is made up of strips sewn in rounds like a log cabin block, and she also demonstrated how to make a block by cutting the strips free form. I can't tell you how much fun it was cutting those strips free form — the wonkier, the better, as you can see from comparing a few blocks.
By the time I got to the last few blocks, I had finally developed a system for keeping my strips in order — imperative, since I was cutting through four layers of fabric at a time. Before getting to that point, I made a few mistakes, requiring some of the strips to be pieced, but I was hard pressed to find them by the time the finished top was up on the design wall.
One of the things I love about Karla's design is how the background fabrics in the outer blocks extend to create a pieced border. My blocks finished at 8″ square. With the borders added, the quilt top measures 57½" x 73½".
Where It's @ is quite a departure from the quilts I am normally drawn to. It was good for me to step outside my comfort zone and make something a bit on the zany side.