One of my goals this year was to make four baby quilts. I finished three by the middle of the year and then got sidetracked by other projects. With one week left in the year, I realized I needed to get back on track. Quickly.
I remembered a fun pineapple block quilt I had started in a class with Karin Hellaby at Quilter's Affair 2015 in Sisters, Oregon. The prints are perfect for a little girl's quilt. Here's one of my blocks: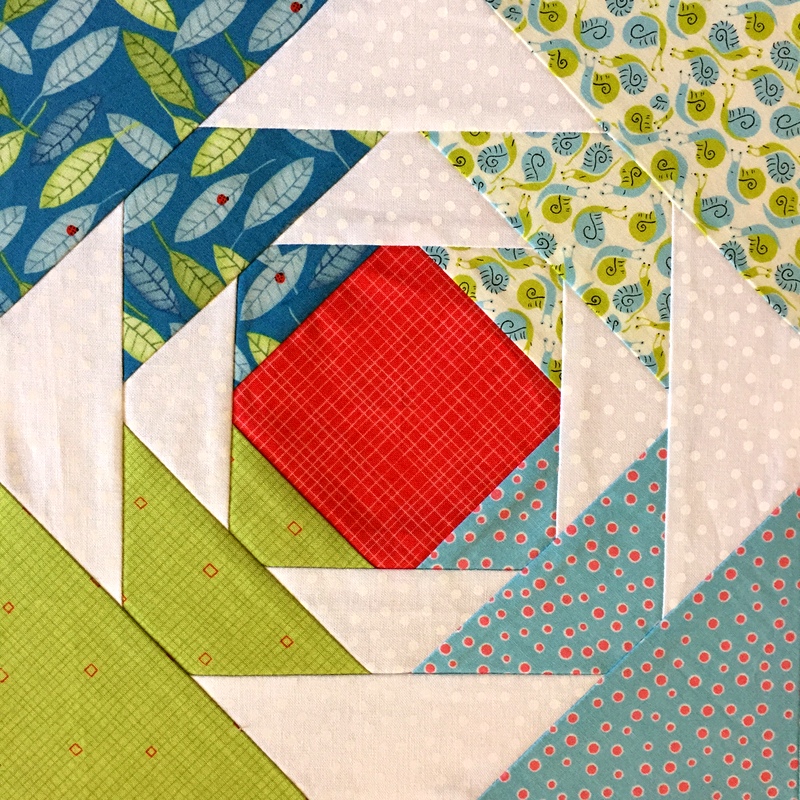 Isn't that a delightful combination of fabrics? They are all from completely different lines but they go so well together.
I had already made 12 blocks but for some reason only eight of them were identical. I had changed the position of the fabrics in the others. Why? I couldn't tell you but I did know right away that they wouldn't work in the layout I had in mind.
It didn't take long to make the remaining eight blocks I needed for a 4 x 4 layout of 16 blocks. Here they are in my newly finished quilt top, destined for a special great-niece: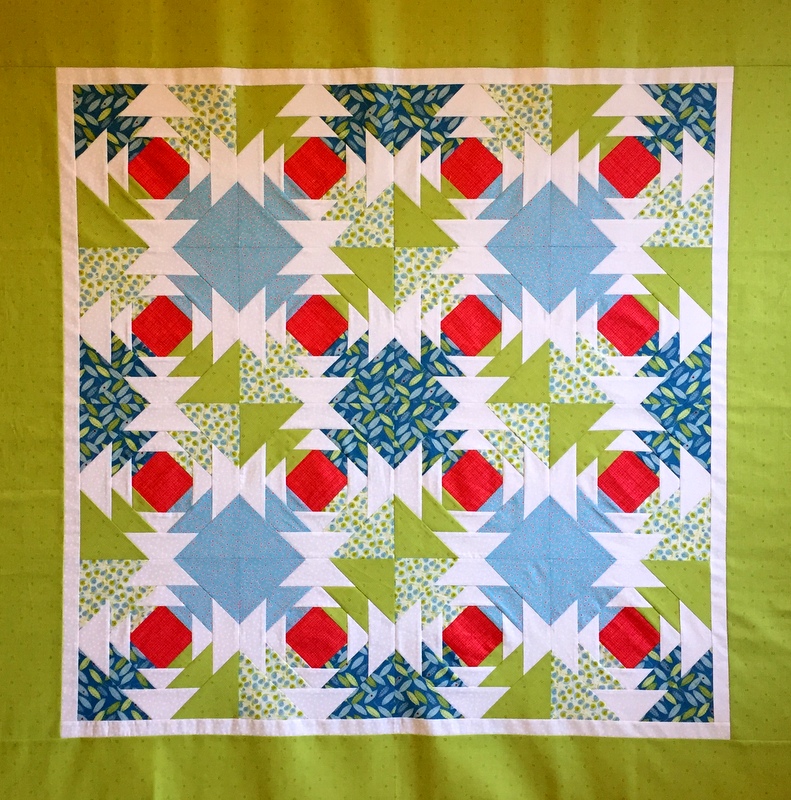 The blocks finish at 10″ square. With two sashing strips added, this top measures 50″ square, a good size for a toddler quilt.
The design is from Karin's book Pineapple Plus: Sew Simple Techniques for the 21st Century (Quilters Haven Publications, 2010). This is the "four triangle method" she describes in her book, which results in the center squares (the red ones in this quilt) positioned on point. (Karin's books are published in Great Britain but are available in the U.S., sold online and available at many quilt shops.)
The red fabric has a cross-hatch design that looks great on the diagonal. Take another look at the single block at the top of the post and also notice the tiny red squares in the green fabric and the tiny red ladybugs in the blue leaf fabric. I knew immediately that I wanted to bind this baby quilt in the red cross-hatch fabric.
Alas, I only had one little piece left measuring about 8″ x 14″ — and nothing in my stash that exact shade of red. A quick search of the Internet revealed that the fabric — Mixology Woven 2143 by Camelot Fabrics — was still available. What's more, I found it on sale. Result: I ordered two yards instead of one.
What about those leftover blocks? They'll go on the back, of course, along with the leftover pieces of the other fabrics from the top. I'm going to start working on that right now.