This is the final layout of my scrappy red and white windmill quilt: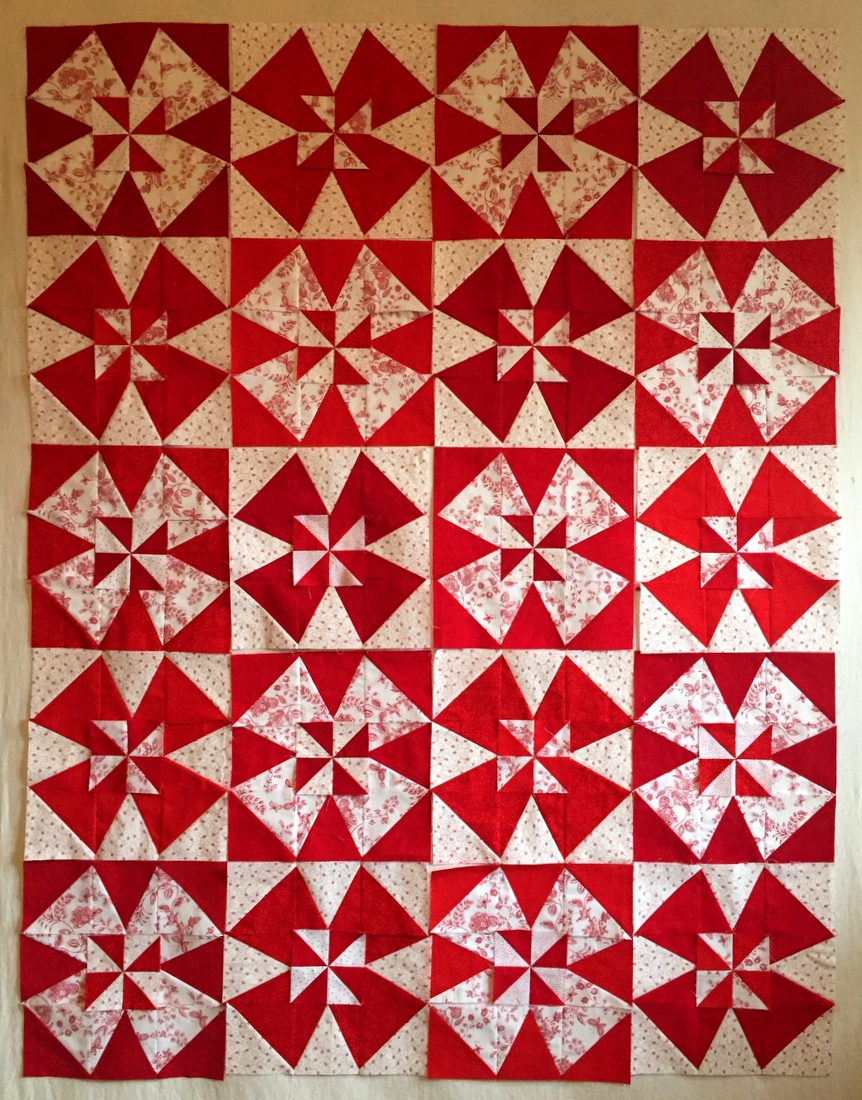 The pinwheel centers were the last to go in, as they needed to be balanced with each other as well as inside their respective blocks. And it was a balancing act. First the windmills needed to be positioned so that no like red prints (which read as solids) were in adjacent blocks and then the pinwheels needed to be positioned in the same way. My other self-imposed rule was that the red prints in each pinwheel had to be different from the other reds in the same block.
Since I was working with a limited number of reds, this turned out to be quite a challenge. I wound up with two neighboring blocks with the same red in the pinwheels (not sayin' where) but I'm not worried about it because the quilt top still looks balanced over-all.
Speaking of pinwheels, those little blocks look pretty cute from the back: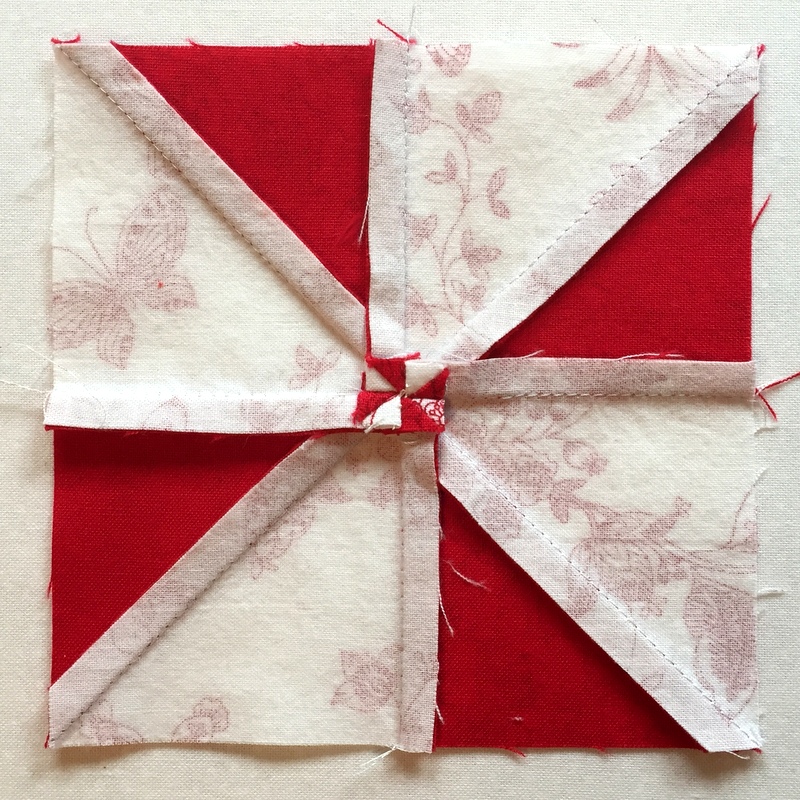 To flatten the center where eight seams intersect, I popped two seams open, creating a teeny tiny pinwheel which no one will ever see once the quilt top is sandwiched.
The pattern I am using is A MidWinter's Night by Deb Eggers of the Cottage Rose. I made one small but significant change to her directions which is best explained by showing you a couple of photos. Here are the first two blocks I made, side by side: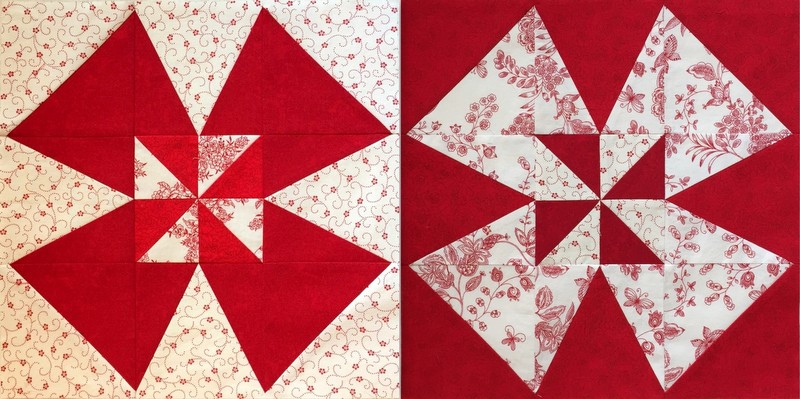 See how the values are reversed in the two blocks so that the windmill is dark in the left block and light in the right? But notice that the dark and light values in the center pinwheels are in the very same position.
Doesn't it stand to reason that the values in the pinwheel should be reversed as well? I removed the pinwheel in the left block above and replaced it with a pinwheel with reversed values. Now look at the two blocks: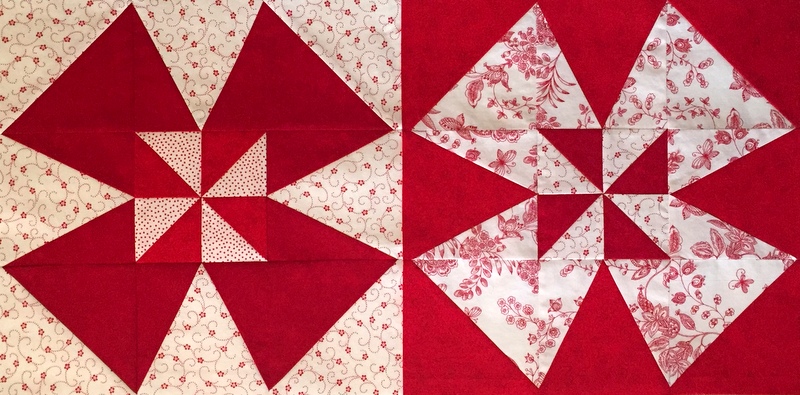 Doesn't that look better? I sure think so. I'm glad this occurred to me before I sewed 20 pinwheels together the same way.
I am hoping to get all of the blocks sewn together this weekend. I might even get the top completed. My efforts are somewhat hampered by this constant visitor to my sewing room: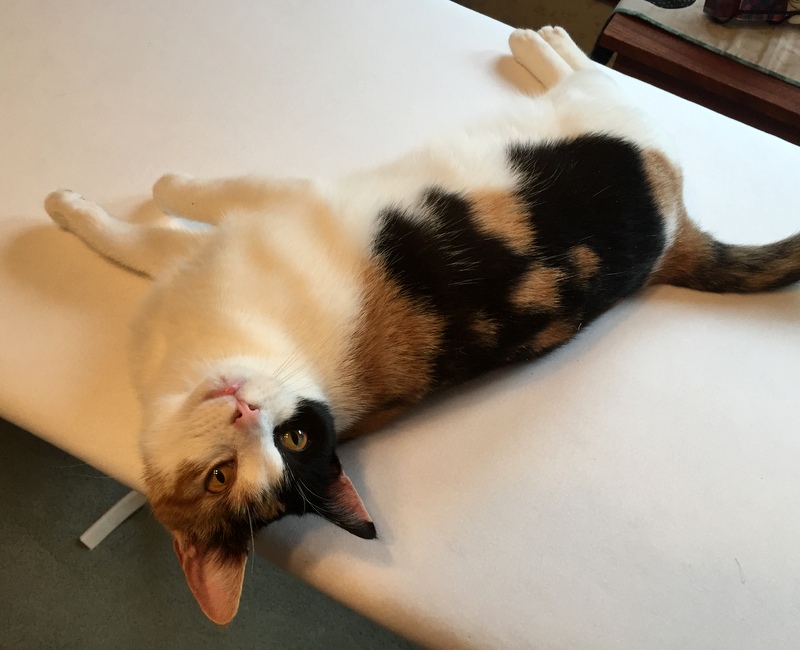 Coco likes to make herself at home on my ironing board. She's always very interested in what I'm doing: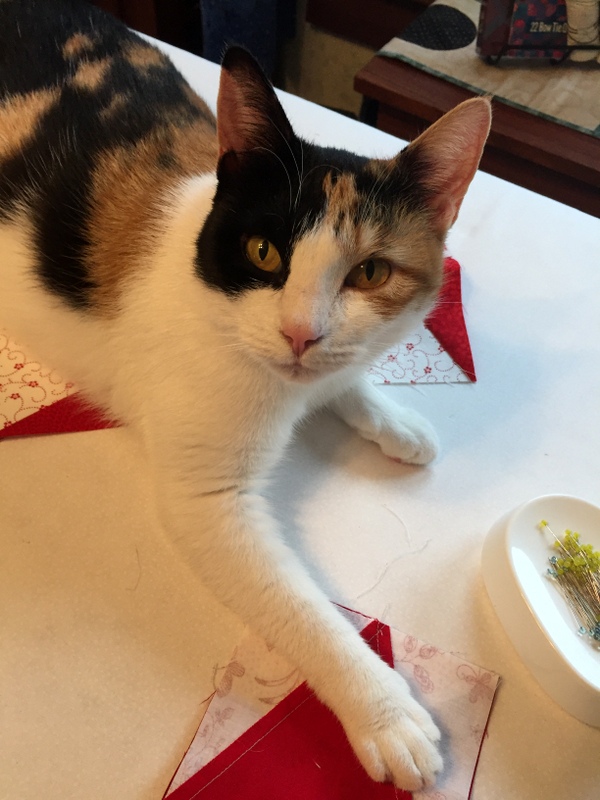 See how she has placed her paw directly on the pieces I am trying to pin? With "help" like that, no wonder I sometimes feel my progress is too slow.