Next month I start teaching a new class at the Pine Needle:  Quiltmaking 101. I'm both excited and apprehensive!
On the one hand, teaching a beginning class has appealed to me since I started teaching in 2010 and discovered how much I love it. I remember how much I learned from taking Billie Mahorney's beginning class at the Pine Needle more than a decade ago — and at the time I already knew how to sew and had even made some baby quilts. I love the idea of passing on skills, techniques, and good practices on to the next generation of quiltmakers.
On the other hand, it's an awesome responsibility. It needs to be done well — and it needs to be fun. My goal is to teach the basic skills in a relaxed and supportive atmosphere and to nurture creative sparks in those students eager to push boundaries at the outset.
When Billie moved away from Oregon in 2009, she told me if I ever taught a beginning class I could use her syllabus. And Nancy McGuire, whose move away from Oregon created the teaching vacancy I am now filling at the Pine Needle, also told me I could borrow from her materials. I have incorporated elements from both of my predecessors in the syllabus I am in the midst of preparing. Thank you, Billie and Nancy!
My students will have the option of making a 5 x 5 baby quilt or table topper or a 5 x 7 lap quilt. The basic blocks in both quilts will be the 9-Patch and Rail Fence, with options to add four other blocks to the mix. This is a sample top I made with the addition of a few Flying Geese blocks: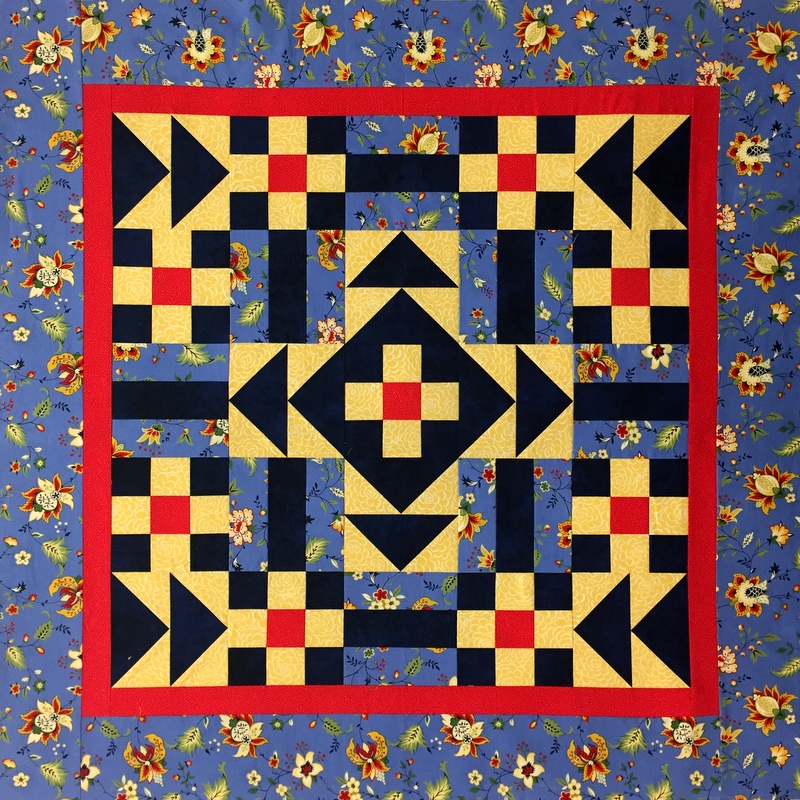 Notice that it contains only four fabrics. For me (and many of my quilting friends), the hardest part of making a quilt is deciding on the fabrics. I want my first group of beginning students to really enjoy this first step so I have deliberately limited the fabrics involved. I'll suggest they start with a favorite border fabric and then pick the other three fabrics based on the border print.
I think I am on the right track!