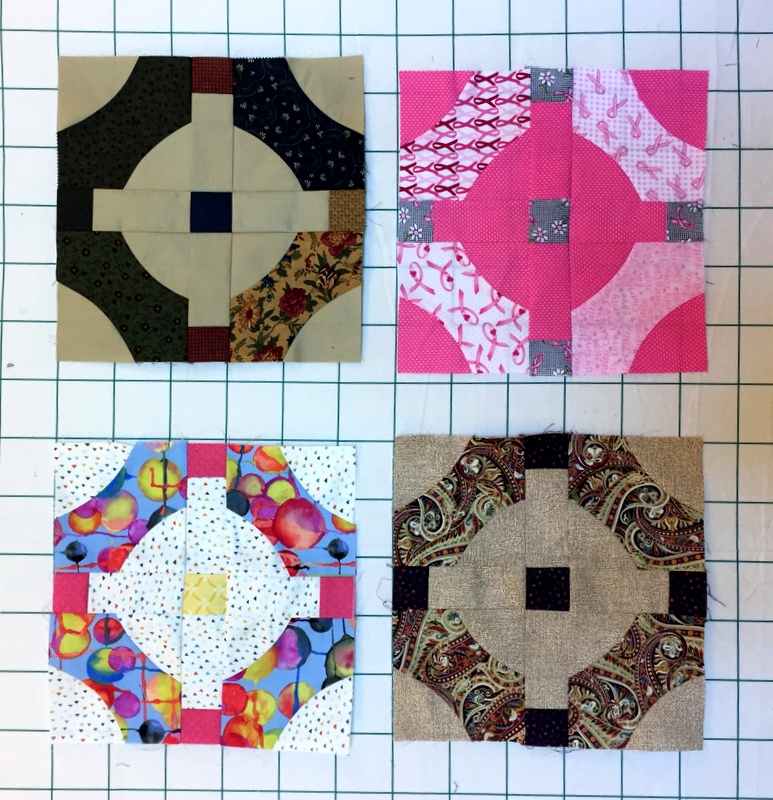 Aren't these lovely? They are the first group of Mini Mod Tile blocks coming from the second group of quilters attending the Pine Needle Quilt Shop's retreat in western Washington last month. (You can read all about the first group's output in my preceding post.) The blocks you see above were made by Sandra and Dena (top row) and Linda and Barbara B. (second row).
Here are the second group of blocks: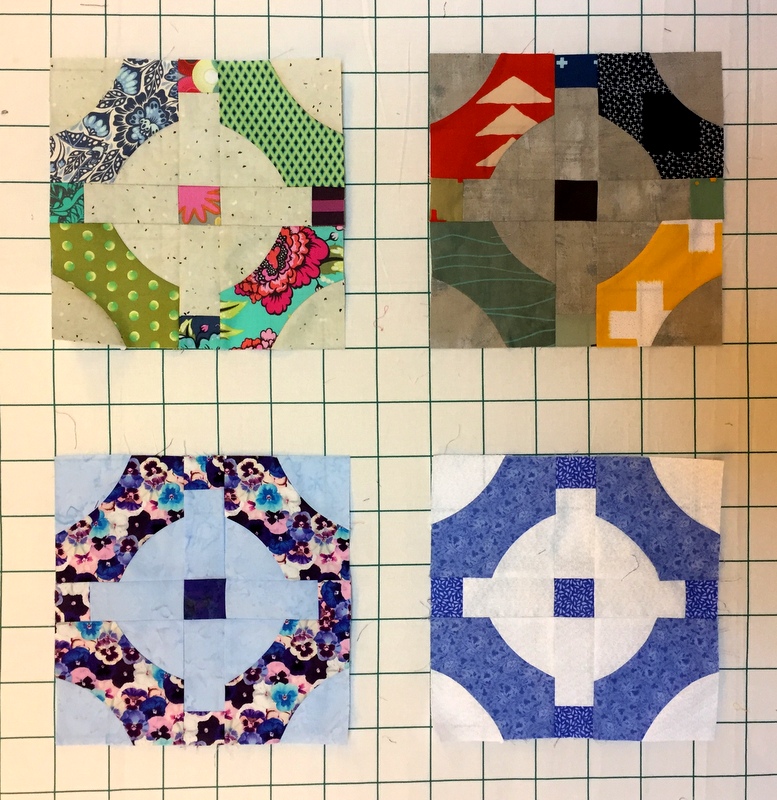 These were made by Lorri and Barbara S. (first row) and Liz and Roxanne (second row).
The venue for the retreat was St Andrews House on Hood Canal near Union, Washington. In my previous post I showed you the view of the Olympic Mountains from the long porch at St Andrews House. Here are some photos of the house itself starting with the porch, which runs along the back of the house: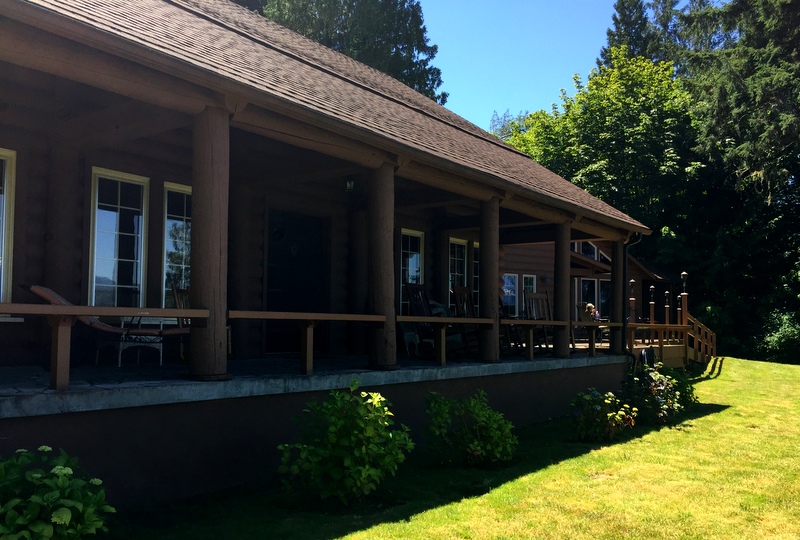 The view from the parking lot: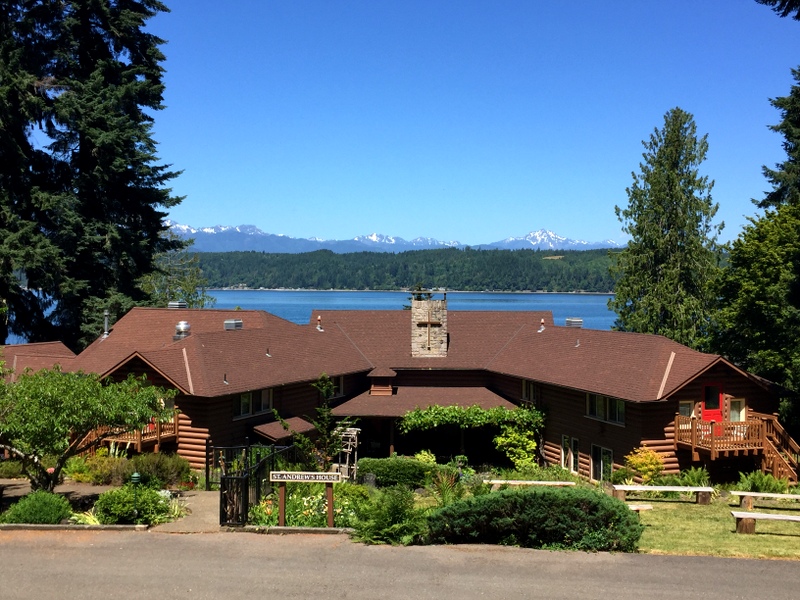 The herb garden: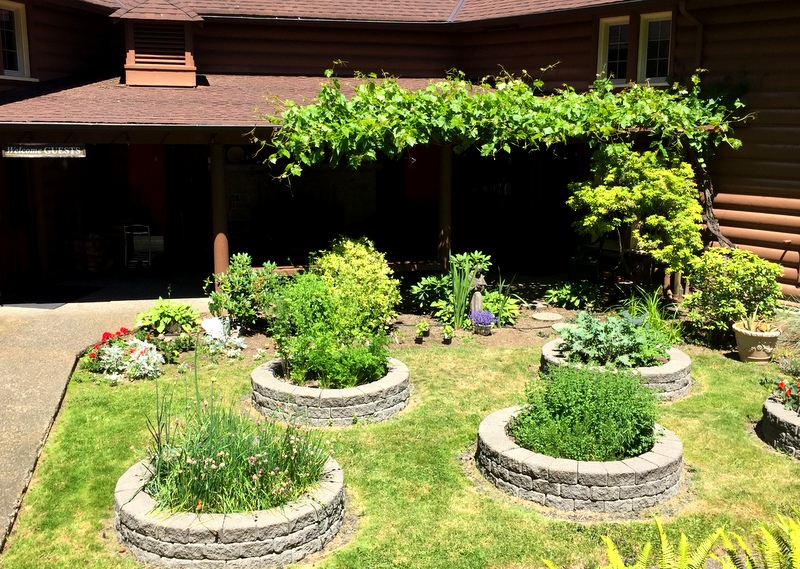 A pleasant shaded seating area: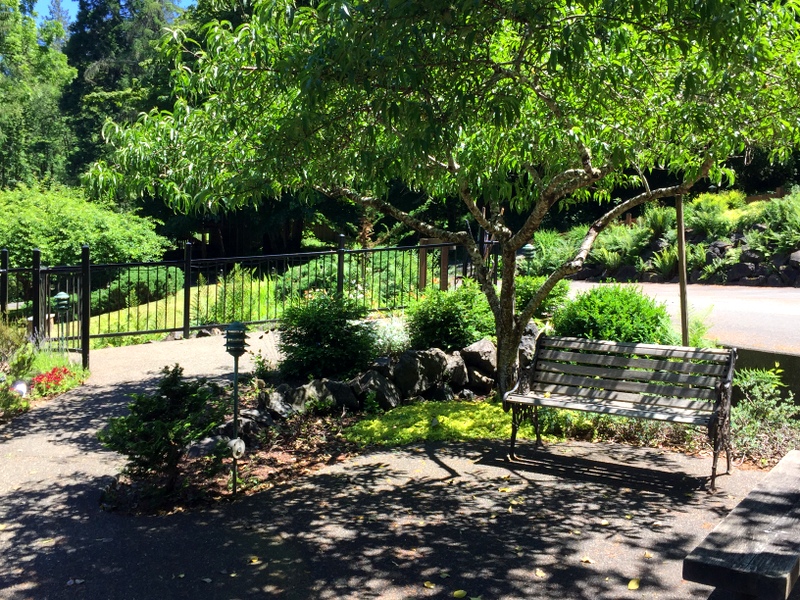 Such a lovely retreat and conference center!
Now for more blocks. These blue and white blocks were made by Joyce . . .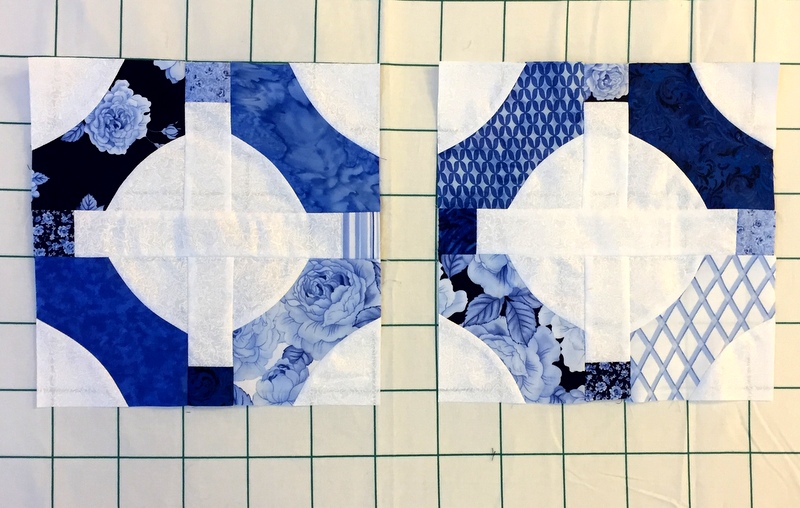 . . . and these were made by Sue and Lisa: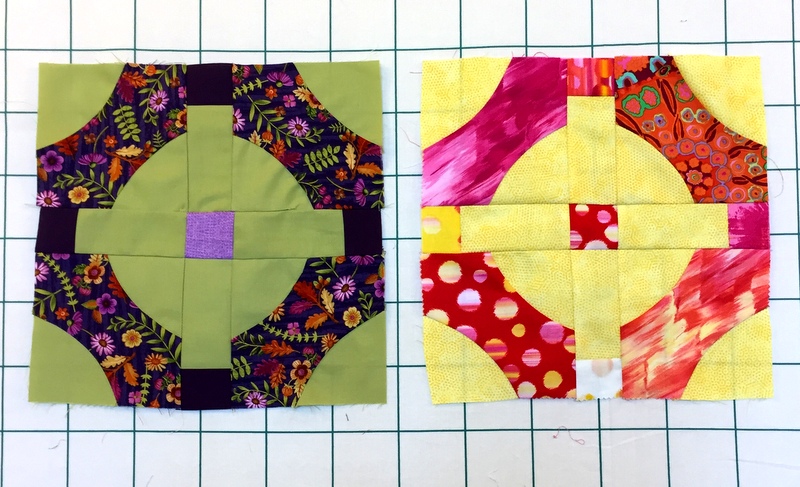 So far all the blocks you've seen measure 11″ unfinished and were made with the QCR Mini, the small version of the original Quick Curve Ruler by Sew Kind of Wonderful.  Kay was one of those making my "supersized" version of Mini Mod Tiles in which the blocks measure 18″ unfinished: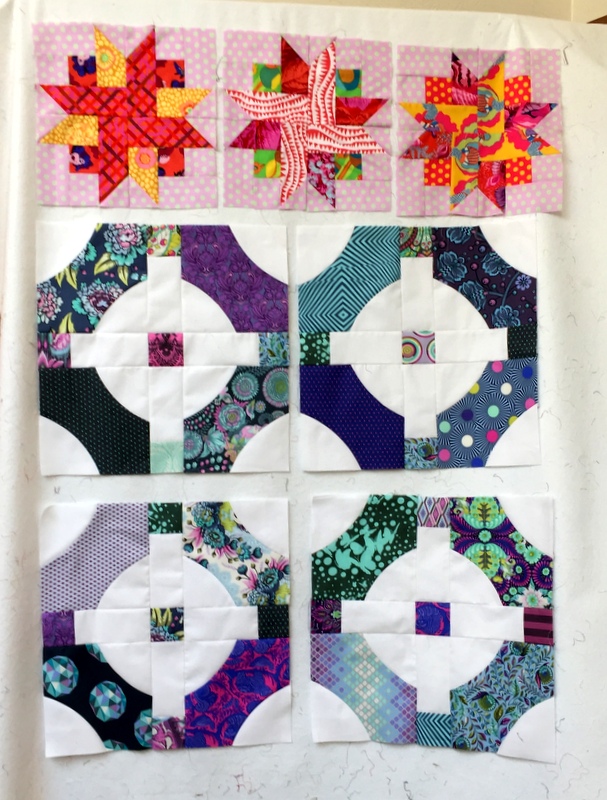 What about those three blocks on top? Kay was also working on a second project, making Ribbon Star blocks from the Missouri Star Quilt C0. It's pretty clear Kay likes color!
Another quilter making colorful supersized blocks was Kristine: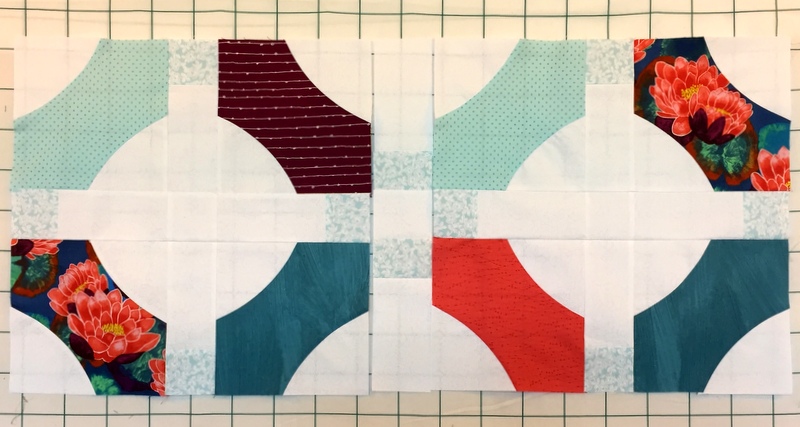 Missy was making the mini version using a palette quite similar to Kristine's: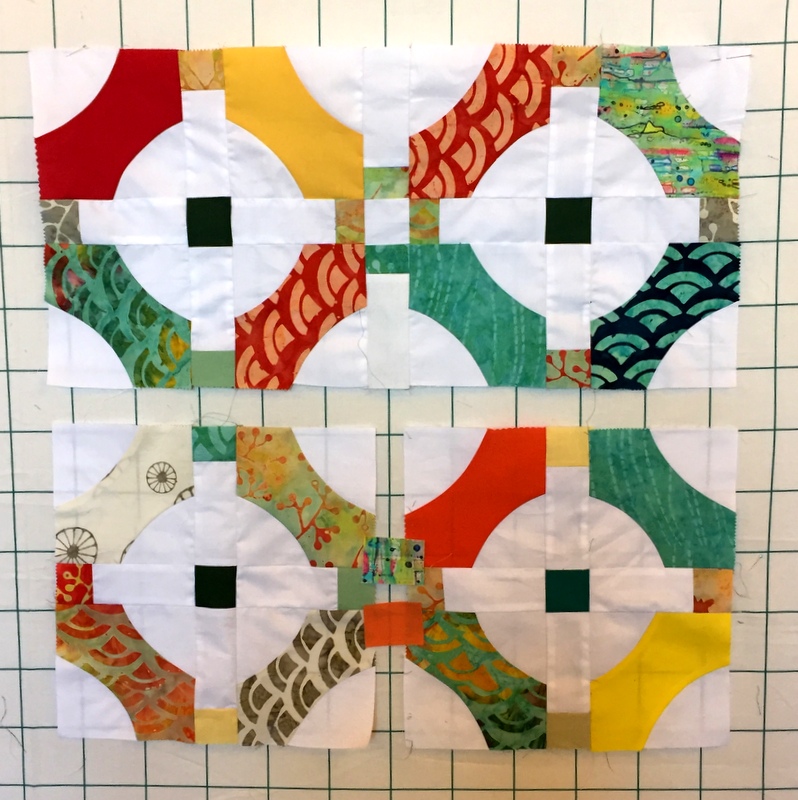 Three of my students were using the original Quick Curve Ruler to make different designs by Sew Kind of Wonderful. Janna started with the free pattern Spring Fling from SKW but departed from the design to do her own thing. Here's her first block: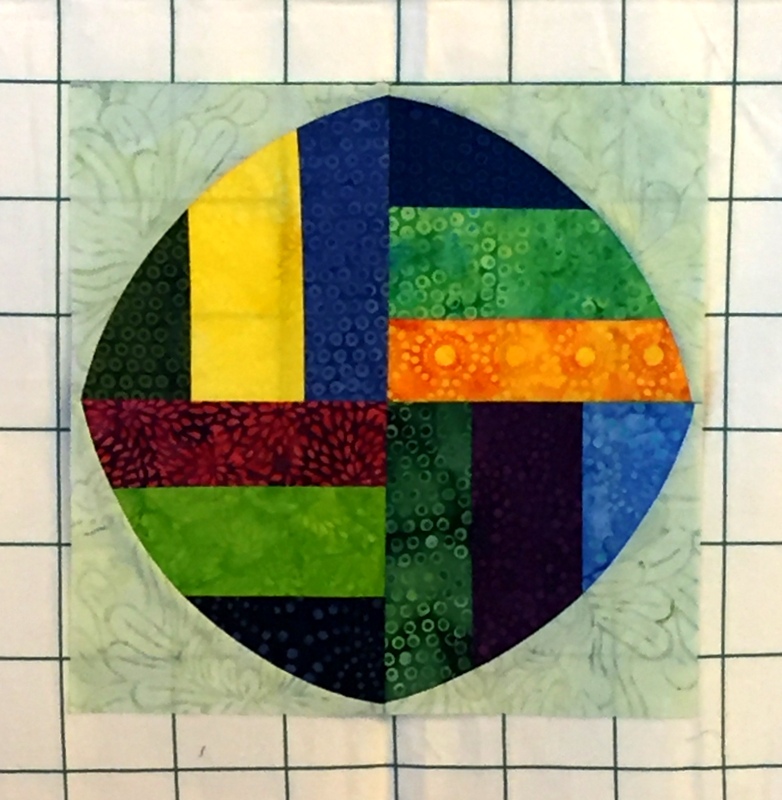 Katie fell in love with the pattern Dancing Churndash designed by SKW for Cut Loose Press. Here are her first two blocks: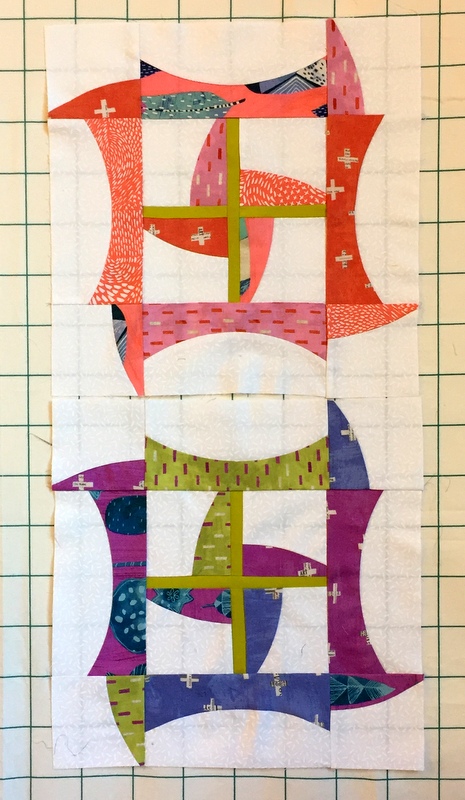 Delia chose SKW's Chic Diamonds design: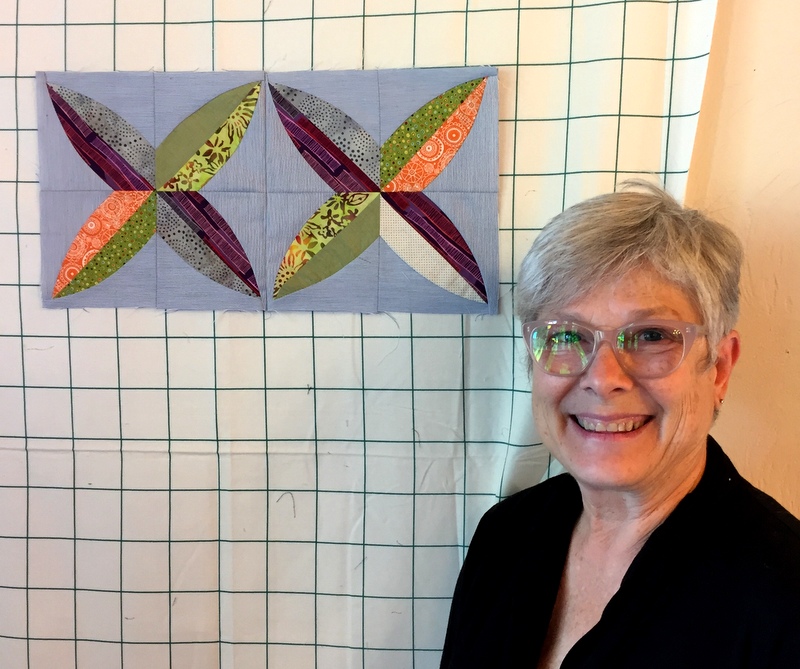 With the second group of students I was much better at getting pictures of them with their projects toward the end of our time together. Here is Rosalie with her five beautiful blocks: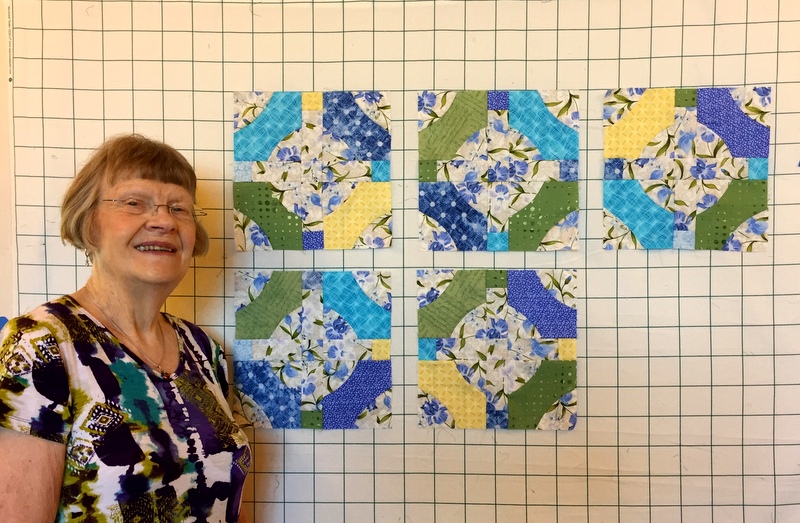 Barbara B. completed a runner . . .

. . . and had enough fabric left to make a mini Fun Poinsettia block: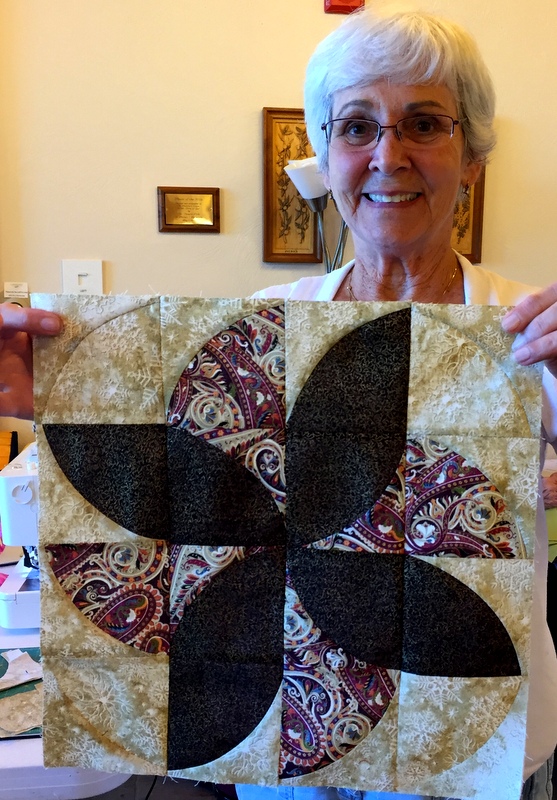 Here's Missy with her four blocks sewn together: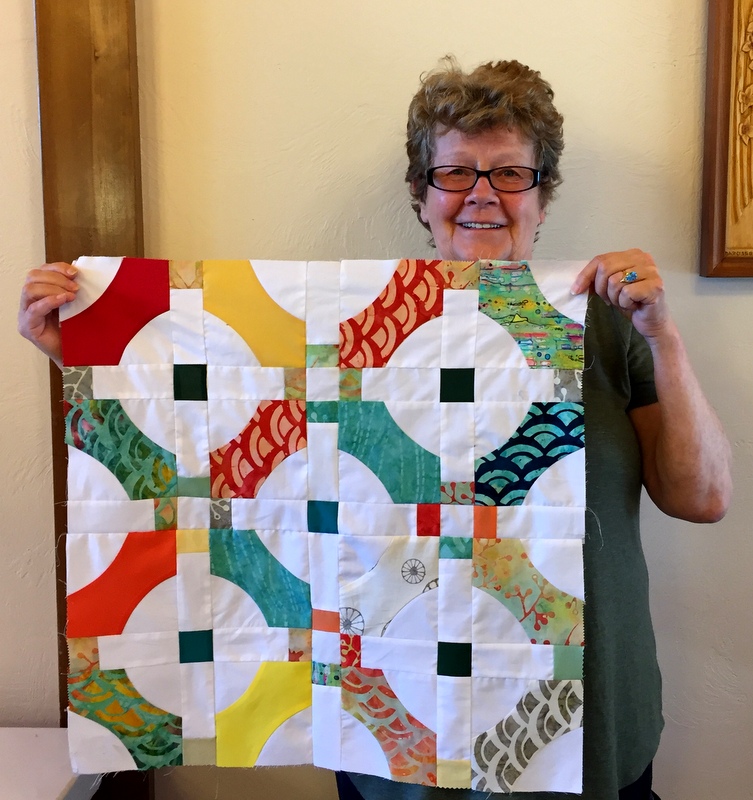 Do you see how there's a fifth block in the center that is made up of partial blocks from the four? This is an example of a secondary block design being the same as the primary.
In addition to their blocks (shown behind them), Dena and Kristine made self-binding baby blankets in soft flannels: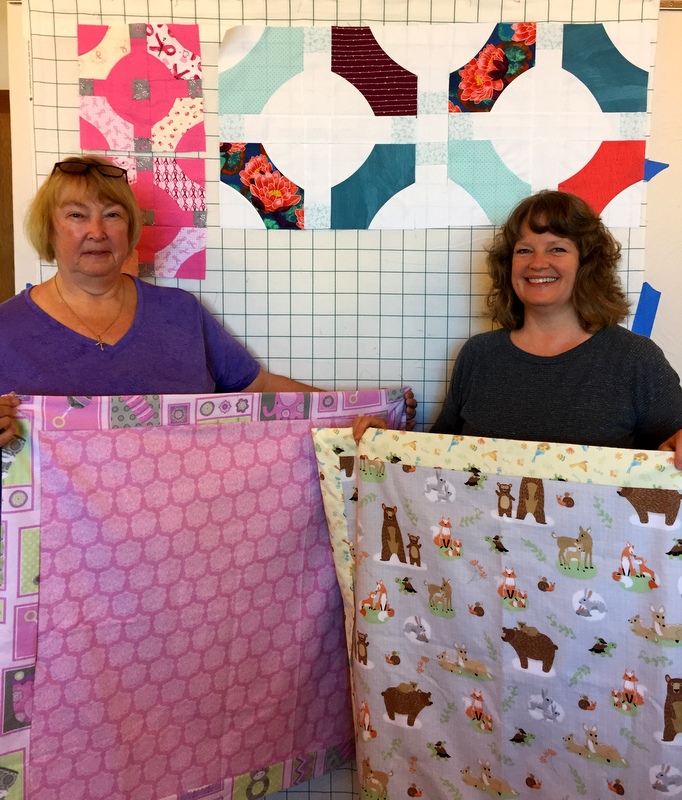 Dena showed several quilters how she mitered the corners on her baby quilt. Joyce practiced the technique, making a square with mitered corners in addition to her lovely runner: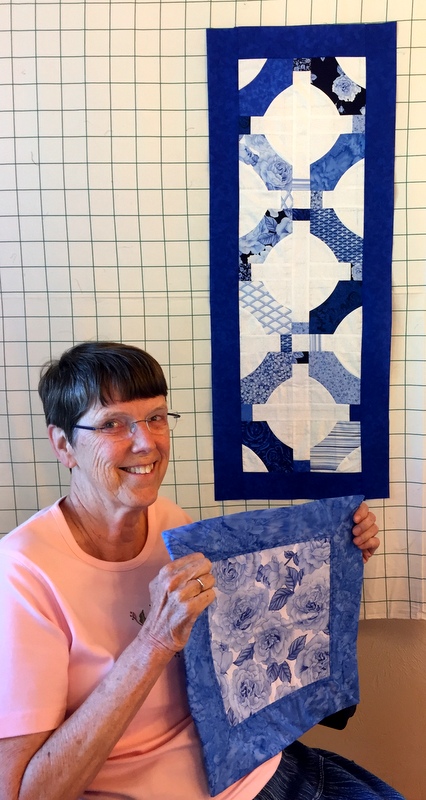 Another vision in blue and white is Roxanne's quilt top: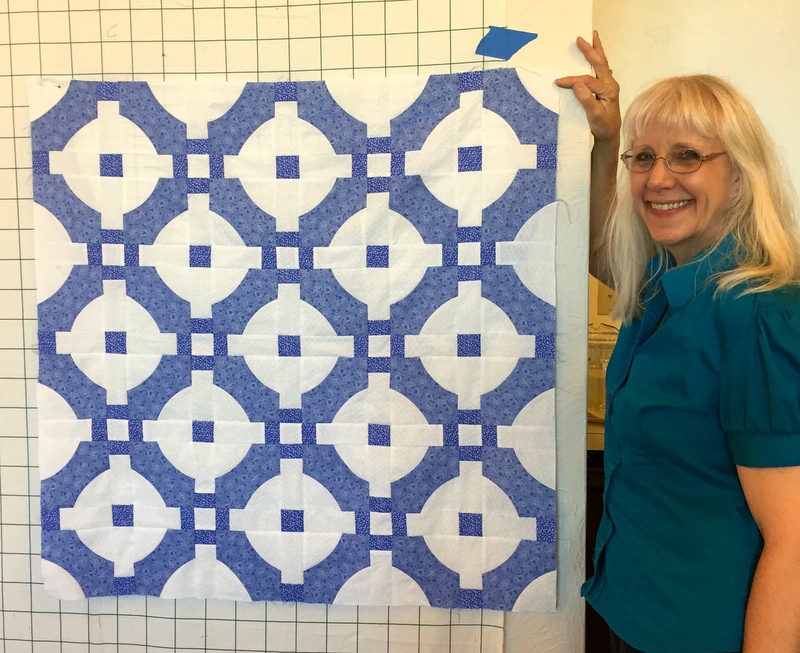 Linda decided to change the 3 x 3 setting to 4 x 5 to make a bigger quilt. Here is half of her Mini Mod Tiles quilt sewn together: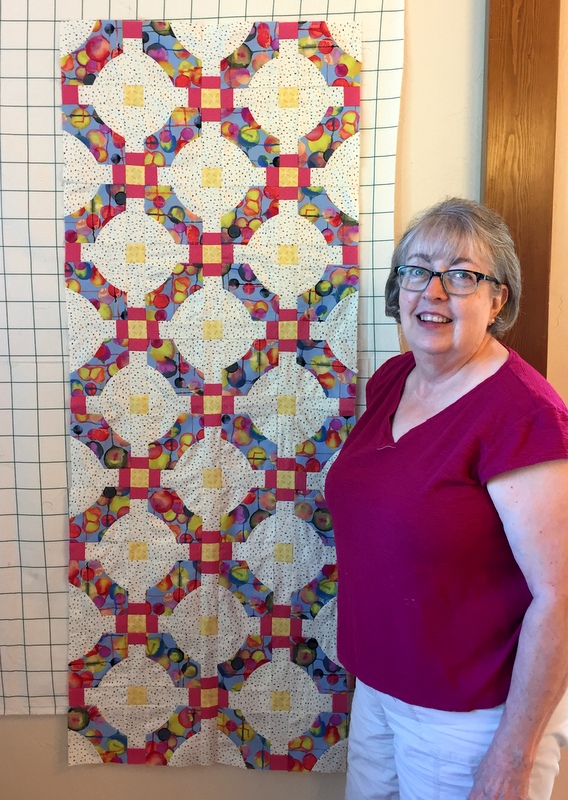 Mini Mod Tiles looks wonderful in both traditional and modern fabrics. Here is Sandra with her four-block runner in soothing muted colors. . .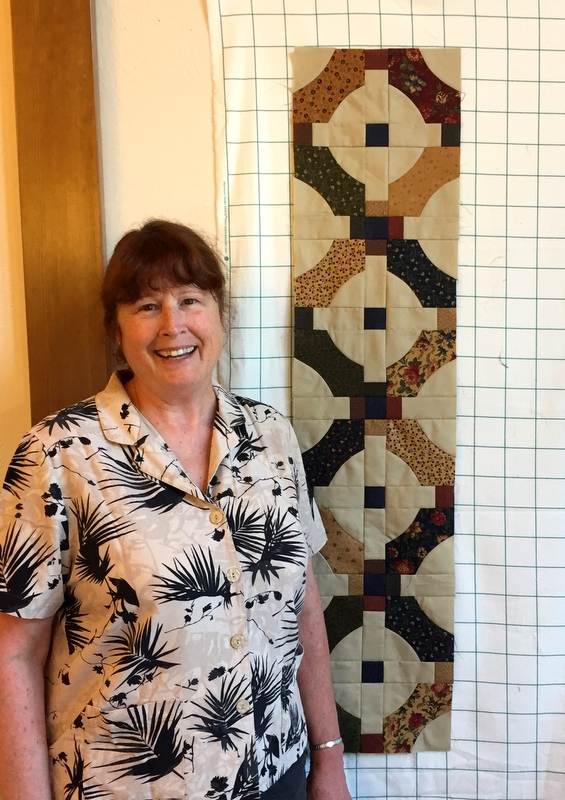 . . . and Lorri with her five-block runner using bright Tula Pink prints: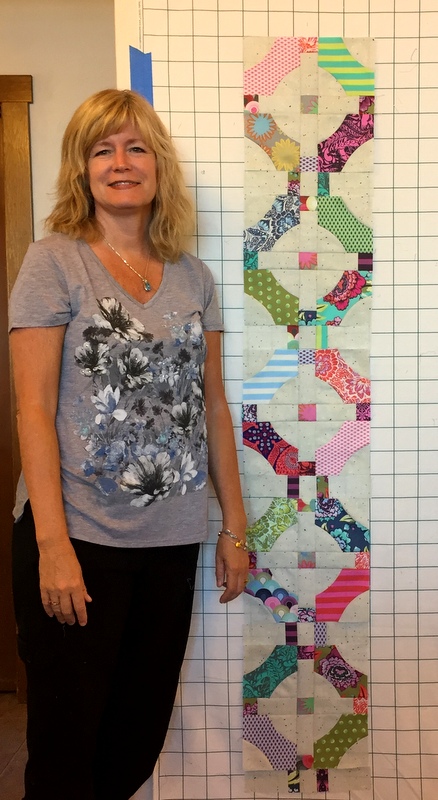 Lisa's runner makes me think of pink lemonade: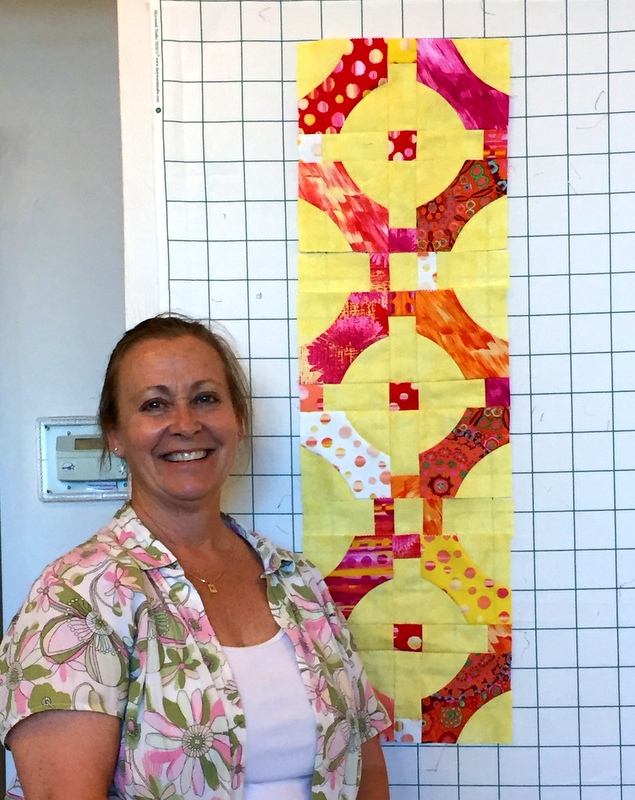 Or maybe raspberry sorbet?
Liz completed her purple pansy runner and made a second one with a charming pinecone print: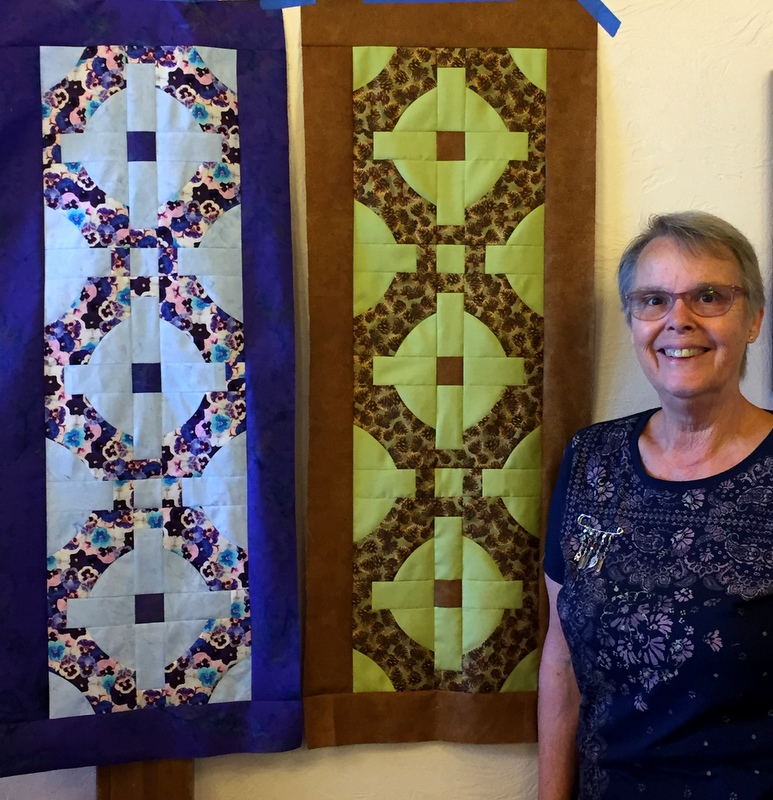 Sue departed from the original design by incorporating sashing strips inside some of her blocks: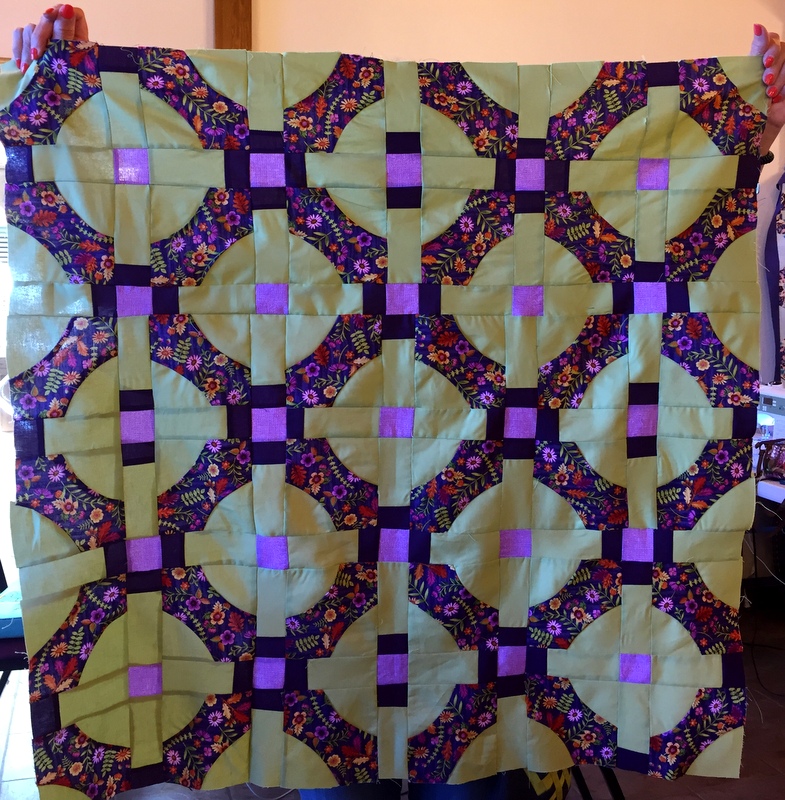 Remember Janna's bright batik block? Here is her quilt top complete with narrow and wide borders: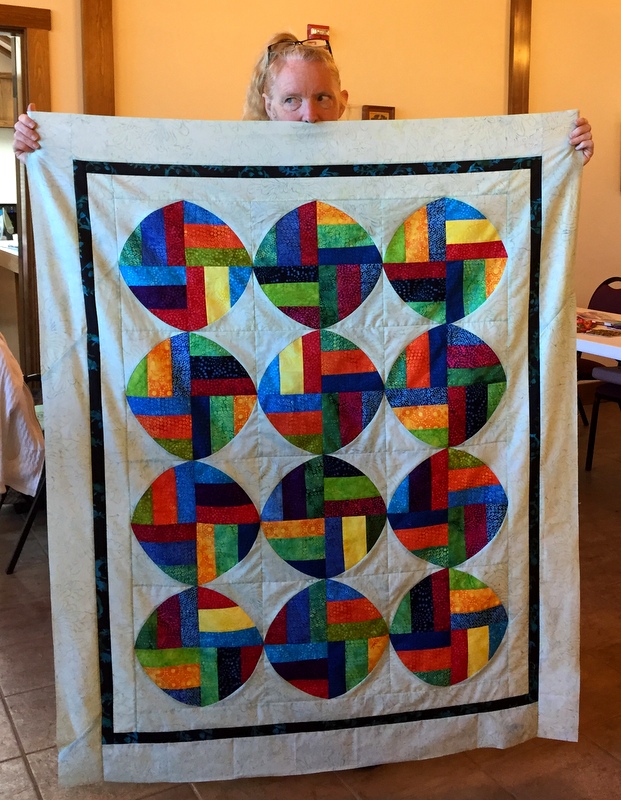 Here is Katie with her four Dancing Churndash blocks: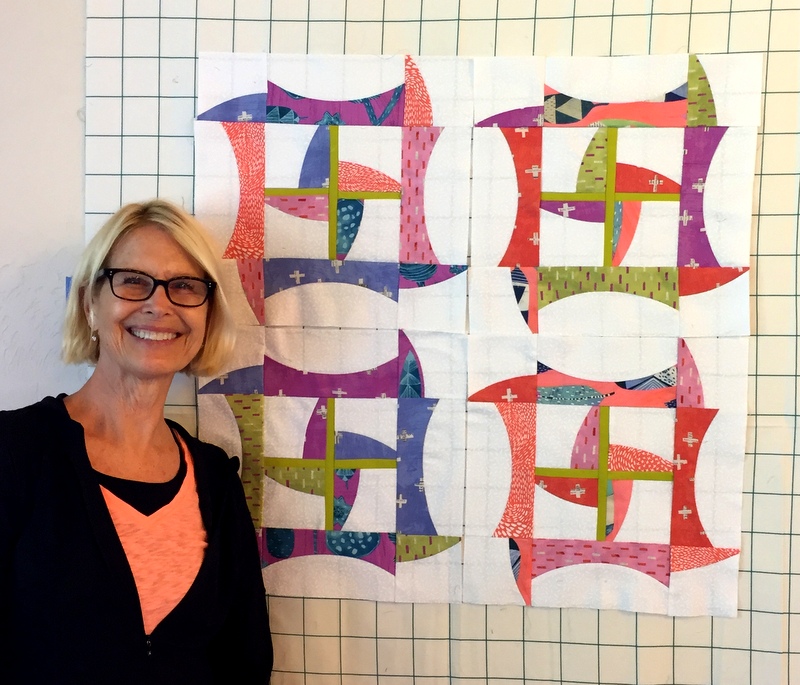 Can you believe Katie is working on her very first quilt? Amazing! She has a bright future as a quiltmaker.
Katie's sister Barbara S. was originally planning to make a runner but she liked her blocks so well she kept making them and wound up with a quilt top!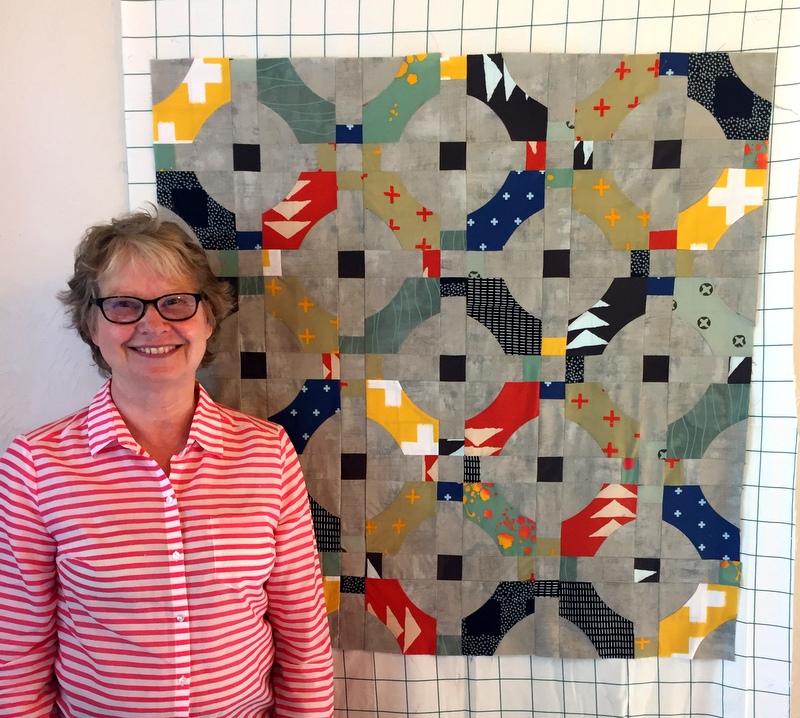 In this photo Kay has laid out her supersized blocks and is auditioning the scrappy connector strips between blocks: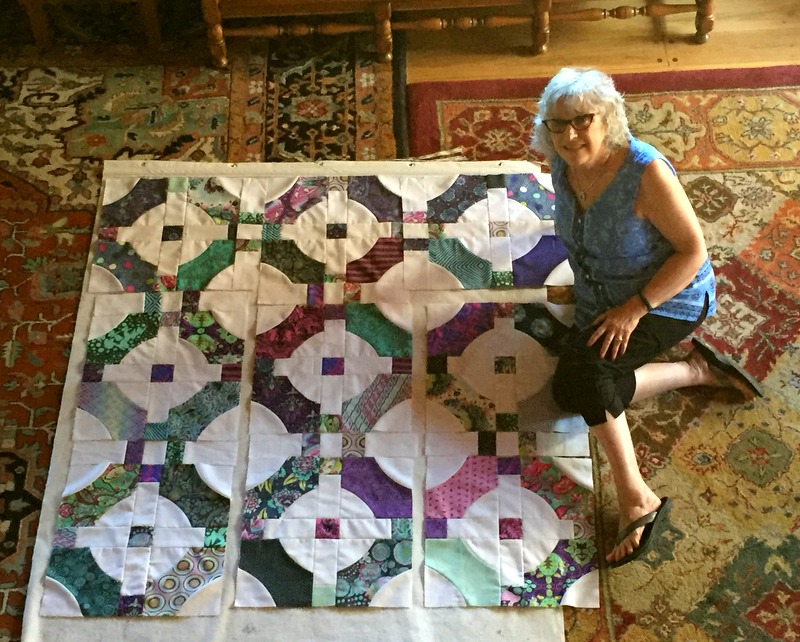 Kay also made a few more fabulous Ribbon Star blocks: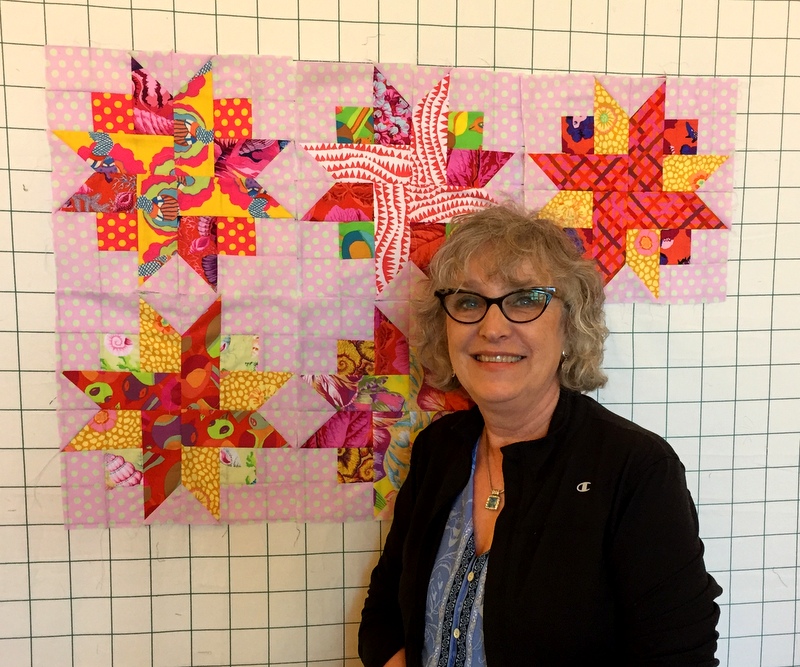 During her time at the retreat Delia finished quilting a quilt begun in an improv class with Jean Wells: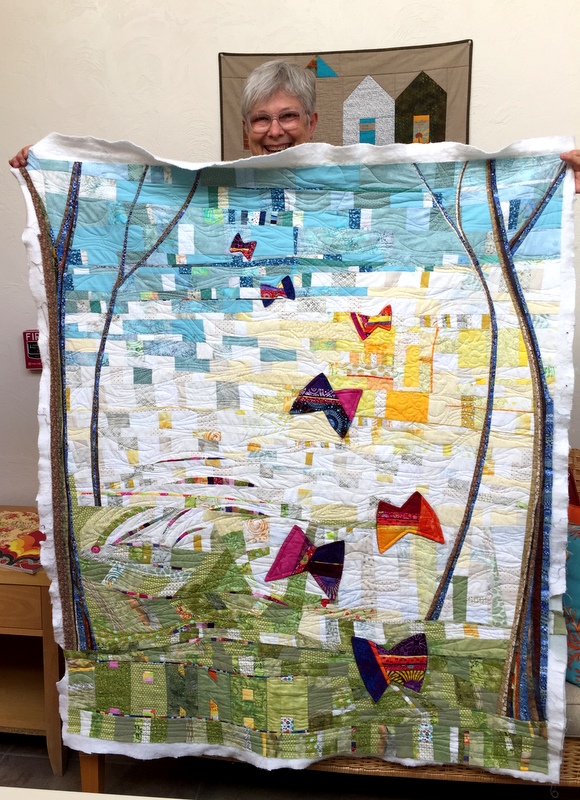 The back is as interesting as the front: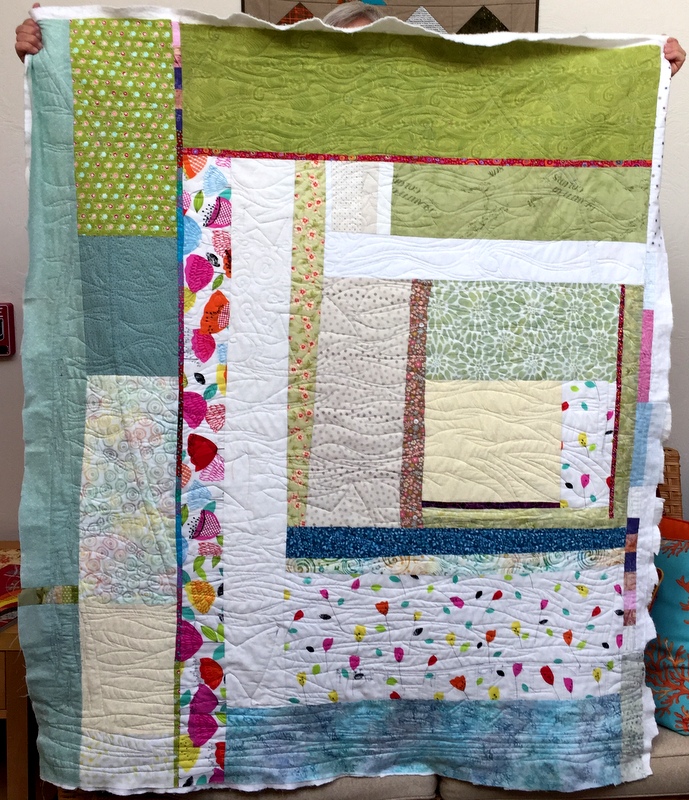 It was all quilted on Delia's domestic machine. She was on deadline: her quilt needed to be in the mail the following week to Sisters, Oregon where it will hang in the world's largest outdoor quilt show on Saturday, July 7.
That's the perfect segue to let you know I am in Sisters right now with my quilt group, the Quisters. We've taken classes this week put on by A Quilter's Affair and we will all be at the quilt show tomorrow where a record 1,497 quilts will be hung for one day. Of course I will be keeping an eye out for Delia's quilt.
I hope you have enjoyed seeing the beautiful blocks, runners, quilt tops, and other projects created by my students at the two Pine Needle retreats!