The DH and I got home today from a week-long road trip that took us north into Washington State and British Columbia. Our goal was to watch a minor league baseball game every night. (Yes, I do love baseball that much.)
Mission accomplished: seven games, six stadiums, and about 1250 miles of total driving. The trip was fun and relaxing and totally enjoyable. We took our time each day, taking secondary roads when we could and really enjoying the scenery. I've lived in the Pacific Northwest my entire life and never cease to marvel at its natural beauty.
Coming home to triple-digit temperatures was not part of the plan. The temperature is expected to hit 105 degrees in Portland today and 106 degrees tomorrow. My sewing room is on the second floor of our 1913 Craftsman house. Air-conditioned? Nope. Guess I won't be spending much time up there the next couple of days.
The night before we left on our trip I finished the baby quilt top I've been working on: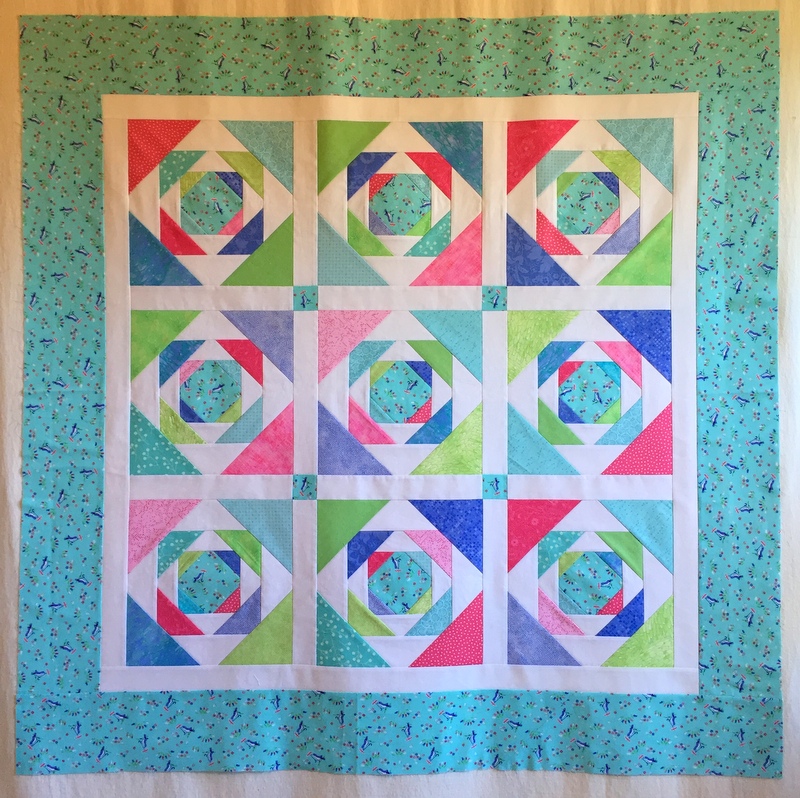 This is a variation of the Pineapple Plus design by Karin Hellaby. Adding white sashing strips to lessen the intensity of the stronger colors was a good call. I added an outer border of the birdie fabric (Garden Birds by Pam Kitty Morning for Lakehouse Dry Goods) and love how it turned out. The top now measures 46″ square.
The only problem is I used up almost all of that birdie fabric. On a whim I decided to check the Internet to see if it was still available. You know, just in case. Not only did I find another yard of the fabric, I discovered it also came in a green background color called "lettuce." Well, you know how much I love green . . .
Look what was waiting for me when I got home: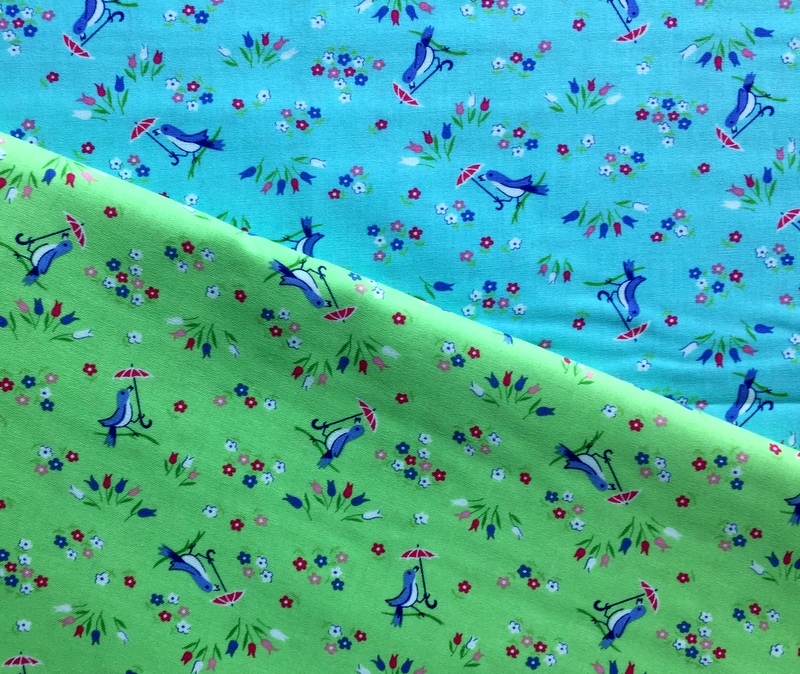 Do you ever like a fabric so much you search for more more when you've used it up? Surely I'm not the only one.
Our road trip involved stops at quilt shops in some of the smaller cities where minor league games are played. My sweet husband even made a list of shops for me to visit. Be it known: I did not come home empty-handed.
While I wait for temperatures in Portland to drop — the forecast is for another week of temperatures in the low to mid-90s — I'm going to hunker down in the basement where it's nice and cool. Instead of sewing I'll continue editing the photos I took at the Sisters Outdoor Quilt Show last month. The plan is to have a couple of posts about that in the near future. I hope you'll check back.