I took a needle-turn appliqué class last month from Australian quilter and designer Sarah Fielke. She was teaching at Quilter's Affair in Sisters, Oregon. Quilter's Affair? That's the week of classes leading up to the Sisters Outdoor Quilt Show, which is always held on the second Saturday in July. My quilt group, the Quisters, goes every year and we all take at least one or two classes.
Sarah created a series of contemporary quilts based on old quilts in the collection of the American Folk Art Museum, making both "a direct interpretation" and "a modern reinterpretation." The class I took was called I've Got Sunshine, also the name of a quilt in her book Old Quilts New Life (CICO Books, 2015). Our class project was a block from that quilt.
We spent the day learning how to appliqué sunflowers, leaves, and hearts. Here's my block, still under construction: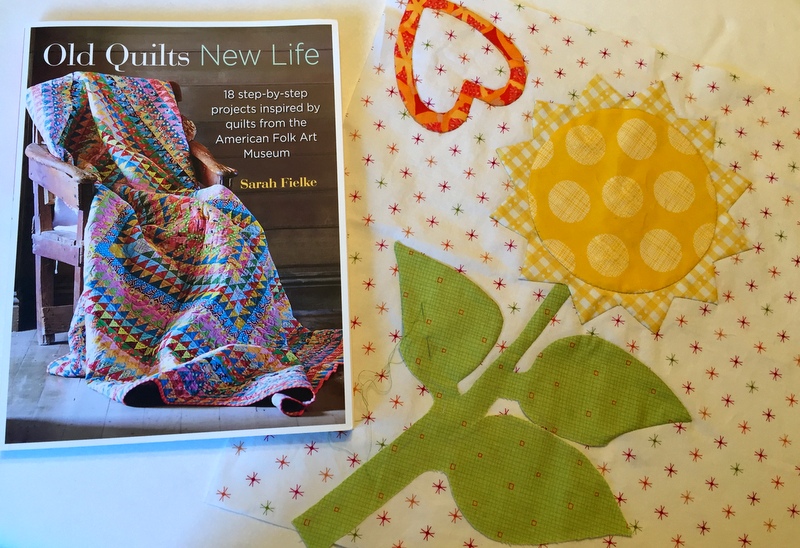 Here's a look inside the book: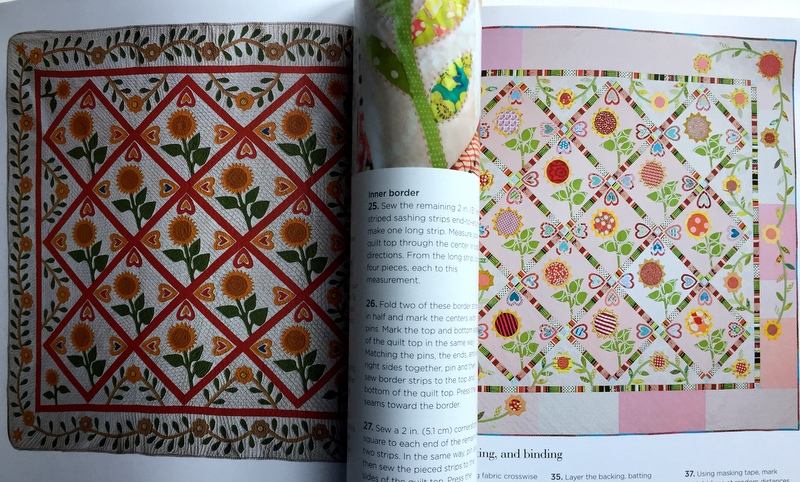 On the right you see Sarah's quilt I've Got Sunshine and on the left the quilt that inspired it: Sunflowers and Hearts, made sometime between 1860 to 1880.
Sarah teaches the classic needle-turn appliqué technique in which shapes of fabric are attached to the background by hand, using a sewing needle to turn under the seam allowance. It's a technique I have yet to master, despite having taken two other classes on it. This was by far the best of the classes I've taken. With the others we spent too much time getting the design ready and not enough time stitching. In Sarah's class we had needle in hand within the first hour, and she circled the room several times to give us individual attention, gently correcting our techniques and providing tips as well as encouragement.
And I am encouraged. My plan is to spend a couple hours every week working on my practice piece. There are at least three quilts I want to make that require lots of appliqué; more on them in a future post.
Sarah had a couple of other quilts on display in the Teacher's Tent at the Sisters Outdoor Quilt Show. Take a look at this one: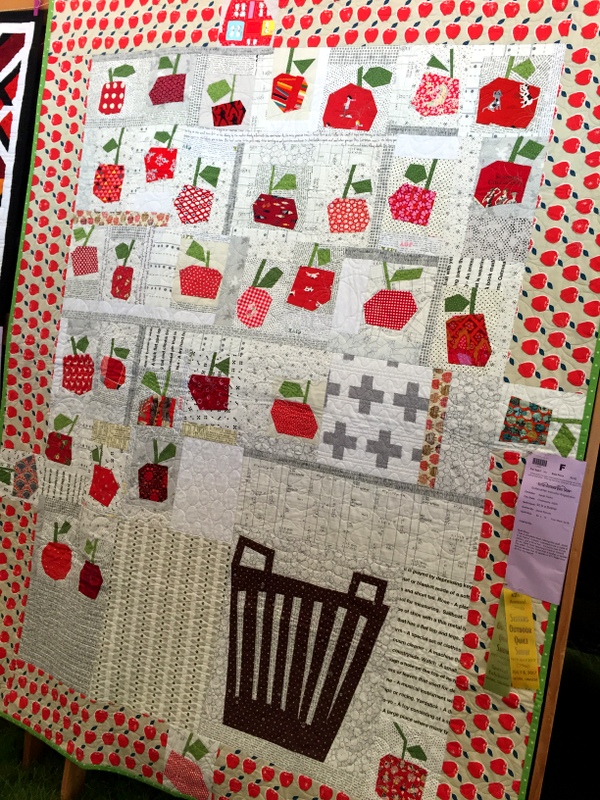 It's an improv quilt — no templates and certainly no needle-turn appliqué. The apples and stems are cut free-form and sewn by machine on different low volume background fabrics. I was totally charmed by the fabrics Sarah chose for her apples. The only thing these fabrics have in common is that they are mostly red. They couldn't be more different: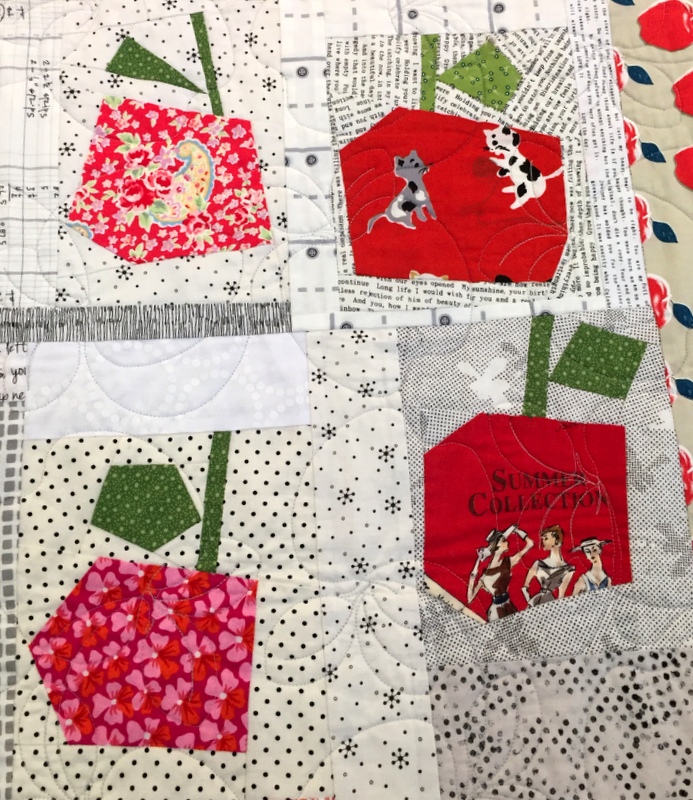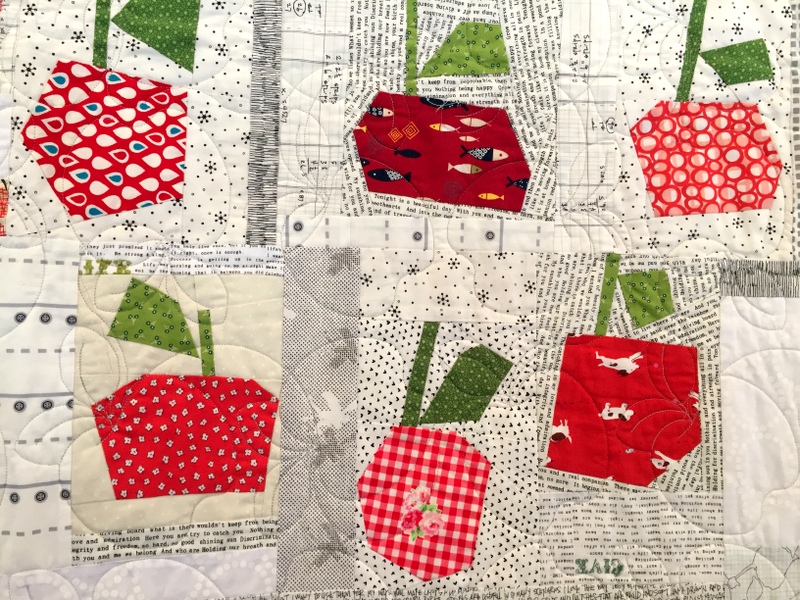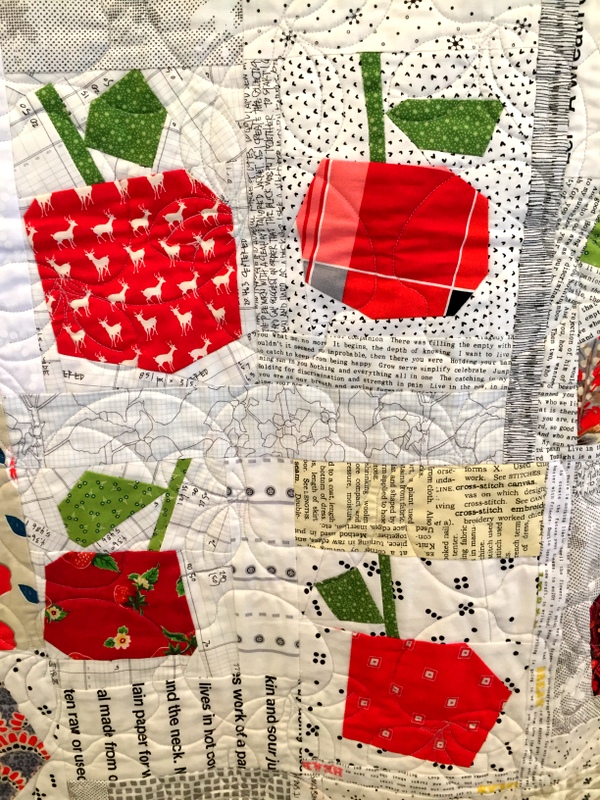 Getting back to needle-turn appliqué, this is Sarah's quilt Sweet Home, inspired by a Whig Rose Quilt made in 1857-58: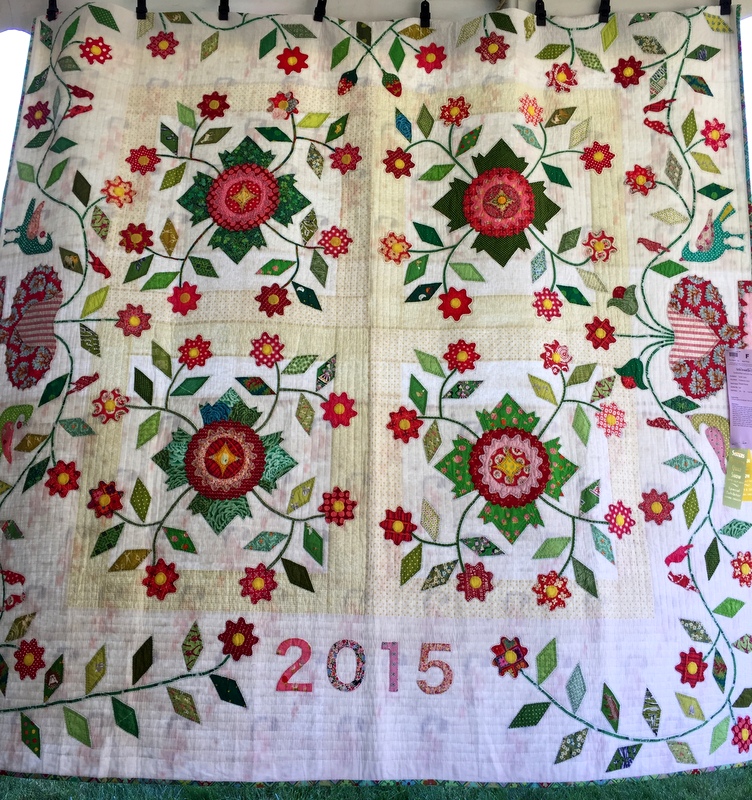 It's not the best shot as the quilt was backlit by the sun but here's a charming detail that highlights Sarah's hand quilting as well as her appliqué skills: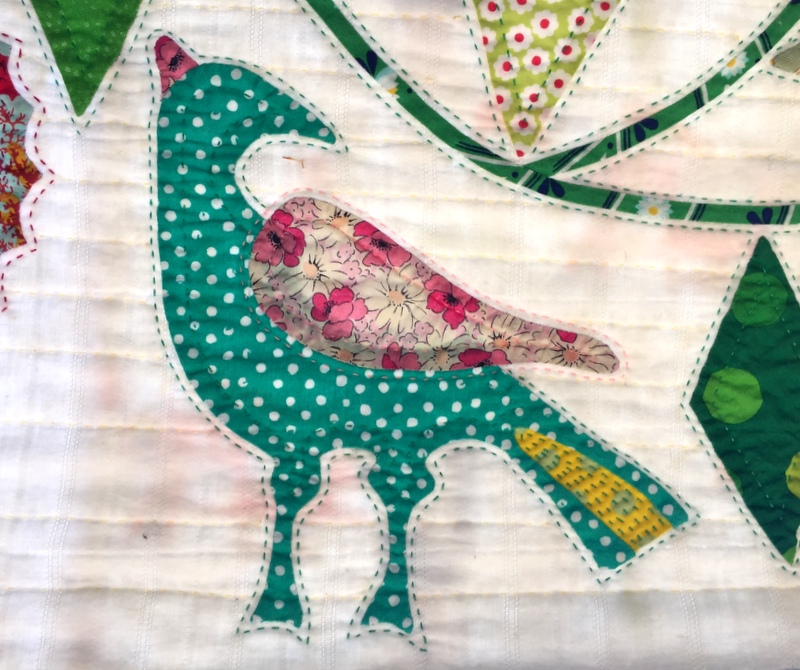 Having taken this class from Sarah two days before the quilt show, I found myself drawn to quilts featuring hand appliqué. In my next post I'll show you several examples from the show.