I just got back from a fun-filled three days at Quilt Camp. Hanging out with a dozen wonderful quilting friends and working on whatever my mood dictated was a terrific way to spend 72 hours. I've been going to Quilt Camp for the last 10 years or so and gee, it's great. No cooking, no cleaning, no laundry. No idling away the hours playing Scrabble online. Okay, I did play my turns in a few ongoing games but for the most part managed to stay away from electronics (except for my sewing machine).
I decided to start with a quick and easy project, this Rising Star quilt designed by Lauren Palmer that appeared in the Sept. 2017 issue of American Quilter magazine, the publication of the American Quilter's Society: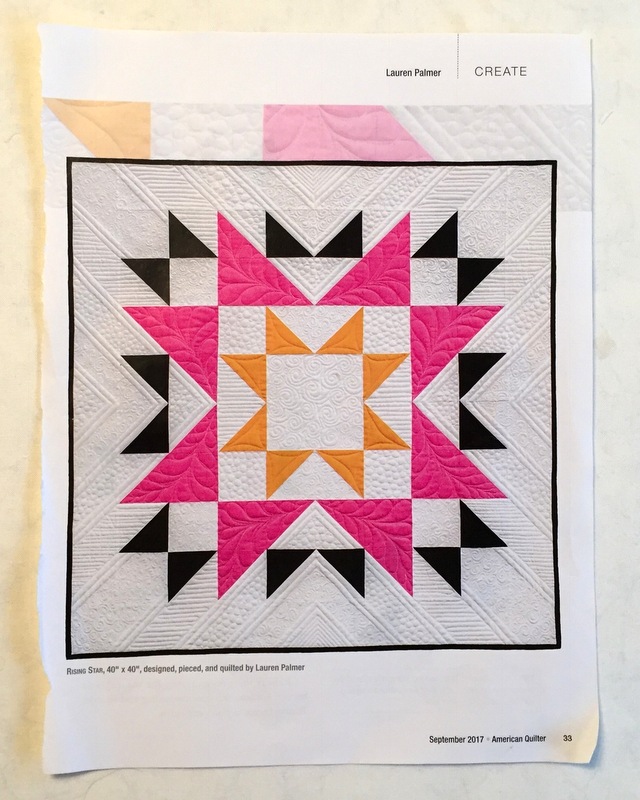 Lauren's quilt, made of all solids, finishes at 40″ square. It was constructed of 4″ squares and 4″ Half-Square Triangles (HSTs) plus 4″ strips for the border. I resized the blocks to 5″ to make a slightly larger quilt (50″ square) and chose pink and orange floral prints from the 2014 "Paradise" line from Camelot Cottons to go with a white-on-white background fabric and a navy blender. I switched the placement of pink and orange, using pink for the smaller star in the middle of my quilt and orange for the larger star.
After studying the design and the directions, I decided to incorporate Flying Geese and Split Cat's Cradle blocks in my quilt to minimize the number of seams. If you've never heard of a Split Cat's Cradle block, this is what it looks like: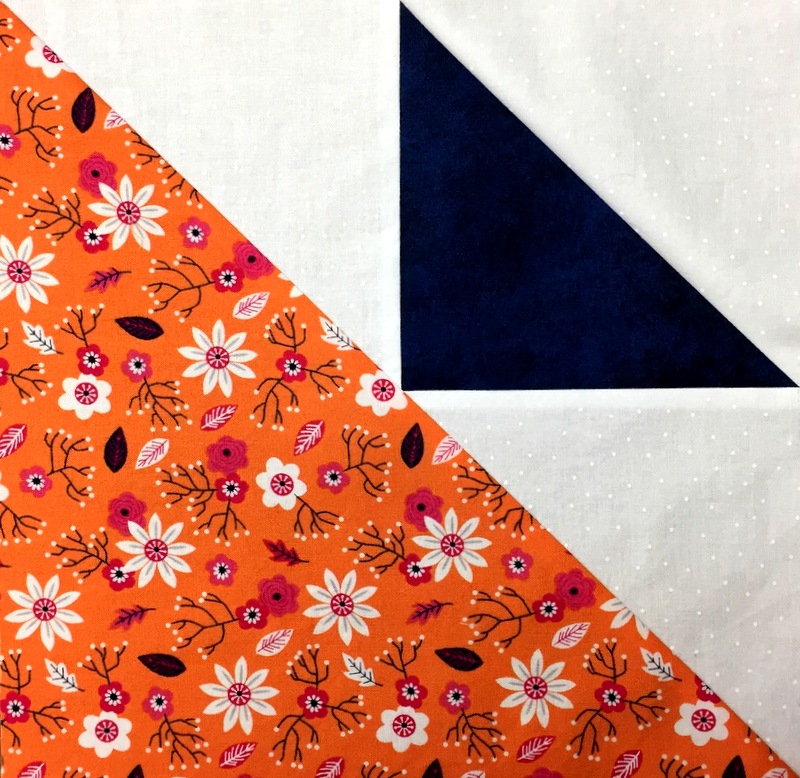 This block could have been made of four smaller blocks — one square and three HSTs — but I didn't want to interrupt the flow of the printed fabric with seam lines. I also didn't want to fuss with cutting and sewing triangles so I turned to the Cat's Cradle Ruler designed by Deb Heatherly for Creative Grids. With the ruler you start with squares and rectangles and wind up with two blocks at a time. The finished squares range in size from 1½" – 4″ square. My block finished at 10″ square so I had to do some figuring to determine what sizes my squares and rectangles should be.
I doubted one of those calculations, which was a mistake. It led me to sew eight seams using squares of fabric that were a quarter inch too small. I had to take out the stitching, cut new squares, and resew. I think I spent as much time making those Split Cat's Cradle blocks as I did the rest of the quilt. This was strictly operator error. The ruler and directions are excellent and I will use them many times in the future.
The pink star in the center of my quilt was made with 10″ x 5″ Flying Geese blocks instead of Half Square Triangles, which also involved some quilt math.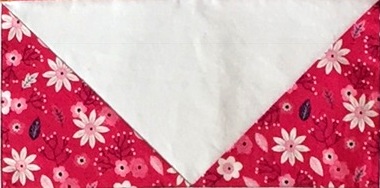 Deb Tucker's Wing Clipper ruler made trimming those blocks a breeze.
After my quilt top was done (before borders) I put it up on the design wall and took a picture: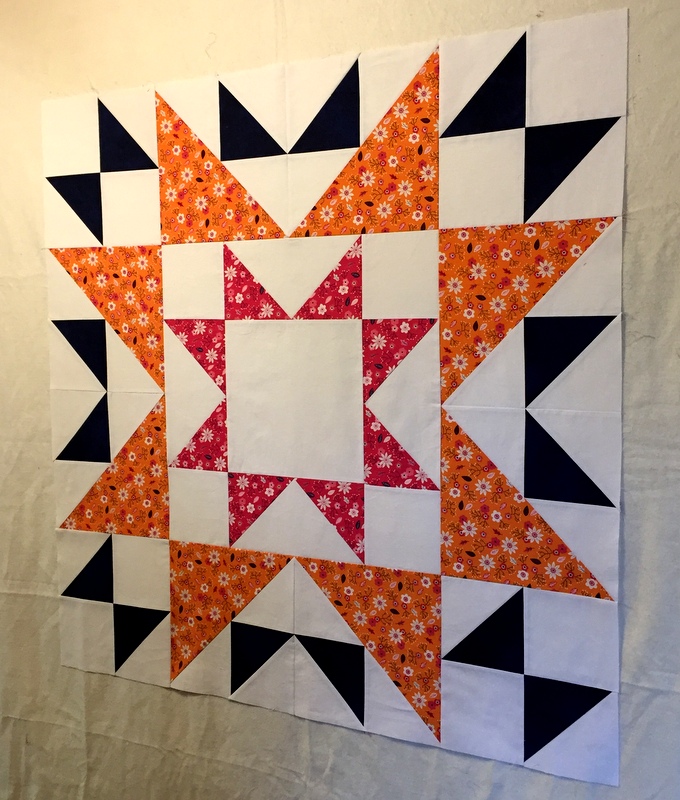 Oops. Do you see what I see? One of my corner hourglass blocks is turned the wrong way.  I didn't notice it until after I looked at this photo and then it jumped right out at me.
Ah, this is better: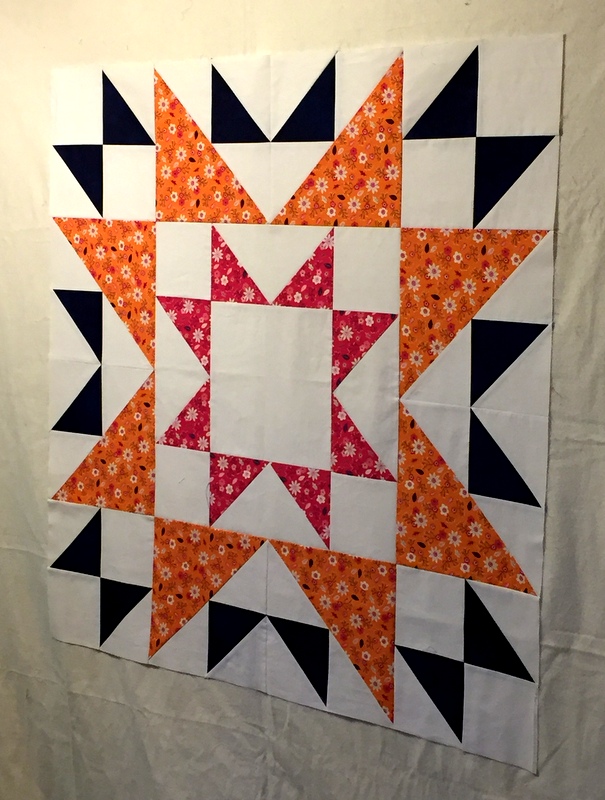 I didn't have enough white background fabric with me at Camp to add the border strips. I can do that now that I'm home but there are other options. I could make the quilt even bigger by adding an additional pieced border. Or I could it declare it done and move on. Right now it measures 40½" square, a good size for a baby quilt. Any recommendations?
In my next post I'll show you what else I worked on at Quilt Camp.