The weekend can't come fast enough for me. On Sunday I am heading to Sisters, Oregon with my quilt group, the Quisters.
Sisters, a small town in central Oregon, is home to the largest outdoor quilt show in the world. The show is always held on the second Saturday in July. Last year on that day 1400 quilts were hung all over town and the population of Sisters swelled from about 2000 to 12,000. It's a wonderful experience to spend the day walking in sunshine with your best friends, oohing and aahing over the spectacular quilts on display.
For the last few years our little group has rented a house for the week preceding the quilt show in order to participate in Quilter's Affair, a week of quilt classes and events sponsored by the Stitchin' Post. Classes are taught by local experts, nationally-known teachers, and a few instructors from abroad, and quilters come from all over the world to take their classes.
This year I'm taking a class from Janet Fogg, a world-renowned quilter who happens to live right here in Portland, Oregon. Her class is called Basic Drawing for Machine Quilters. The only things we bring to class are sketchbooks and pens — no sewing machines!  The emphasis is on drawing freehand quilting motifs. I can hardly wait!
My trusty sewing machine is in the shop right now for its annual tune-up (six months late, I confess) so I'm spending this week deciding which projects to take with me to Sisters. Let's see . . . I have a quilt that needs binding . . .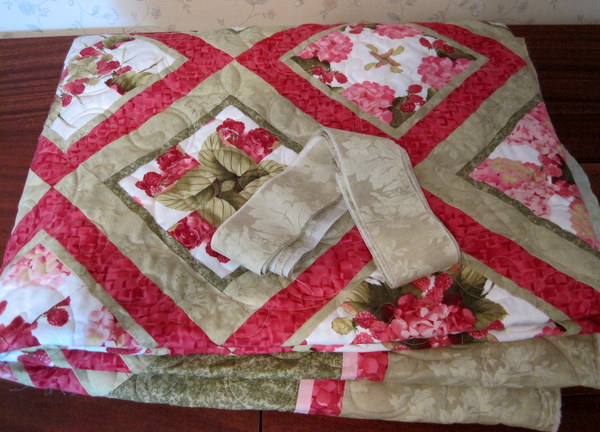 I want to make a sewing machine cover along the lines of one designed by Monique Dillard of Open Gate Quilts. Instructions are in the August 2012 issue of American Patchwork and Quilting magazine. I have some blocks and fabrics left over from another project that I want to use on that. . .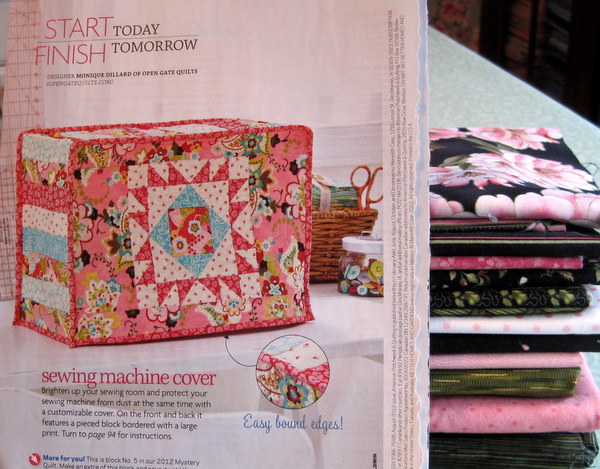 I'm getting reacquainted with some UFOs. (The project bins in my sewing room closet seem to be reproducing at an alarming rate.) Here are the blue and white strips I cut ages ago for that checkerboard square quilt; think I'll take them along . . .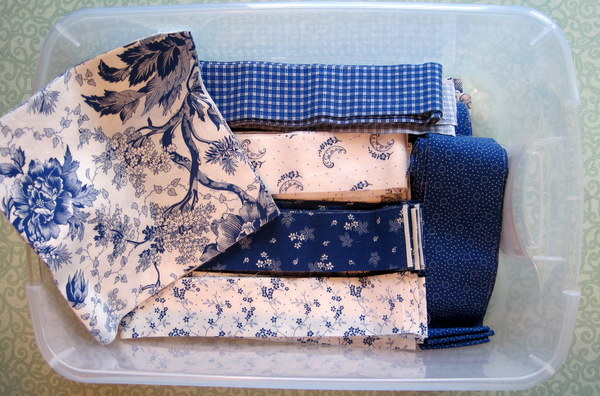 And I'm still tweaking my newest design, the Monterey Bay Apron. Here is one of my recent versions; I really love this French-inspired bicycle fabric: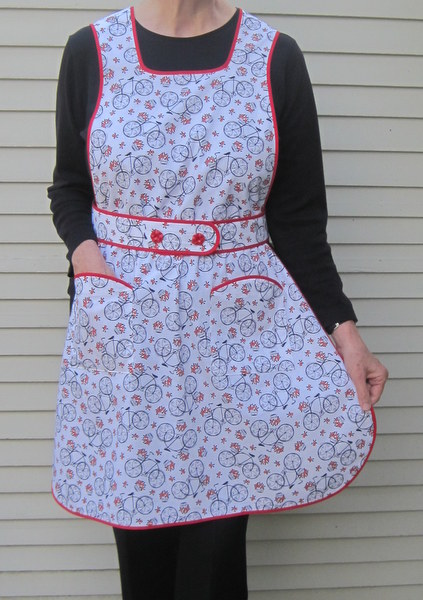 It doesn't look like I will run out of things to work on in Sisters. I'm looking forward to a great week of inspiration, productivity, and fun.
Wishing you all a happy and safe Fourth of July!