. . . (see my last post), I have another finished one to show you, the one I made alongside my students fall term at the Pine Needle. The class ended a few weeks ago but I didn't put the last touches on the bag until today. It's for my friend Vickie, who has a late November birthday, but she won't get it for several more weeks because she's traveling. You get to see it before she does.
Here are the front and back panels: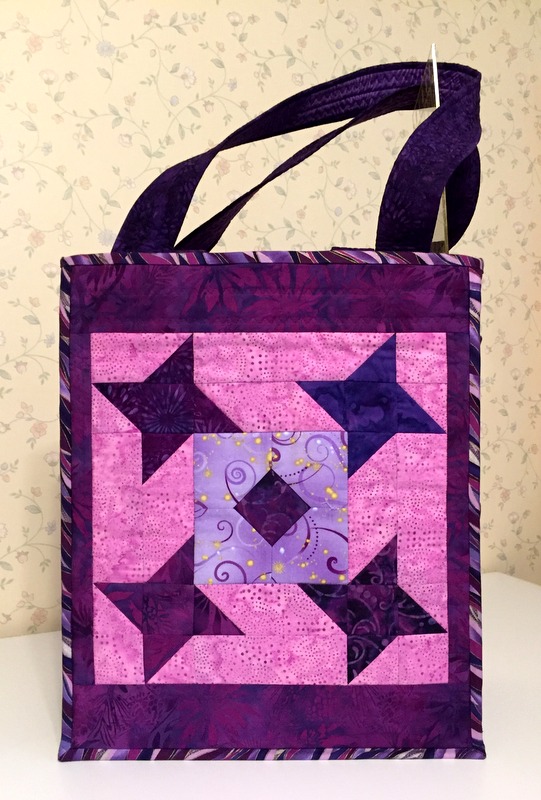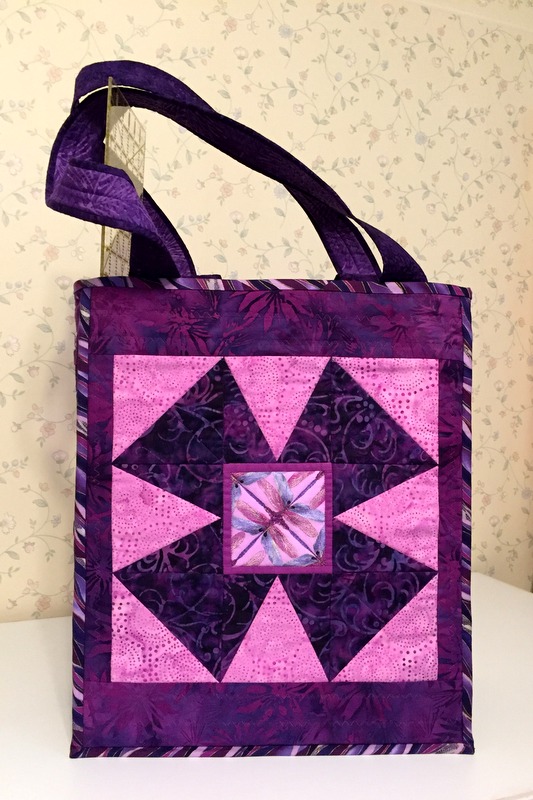 I decided early on to cut the binding fabric on the bias because I figured the striped fabric would provide a dramatic frame for the panels. Good call, don't you think?
These pictures don't give a sense of the depth of the bag — 7½" — so here's a partial side view that also shows you the pockets I put on the outside: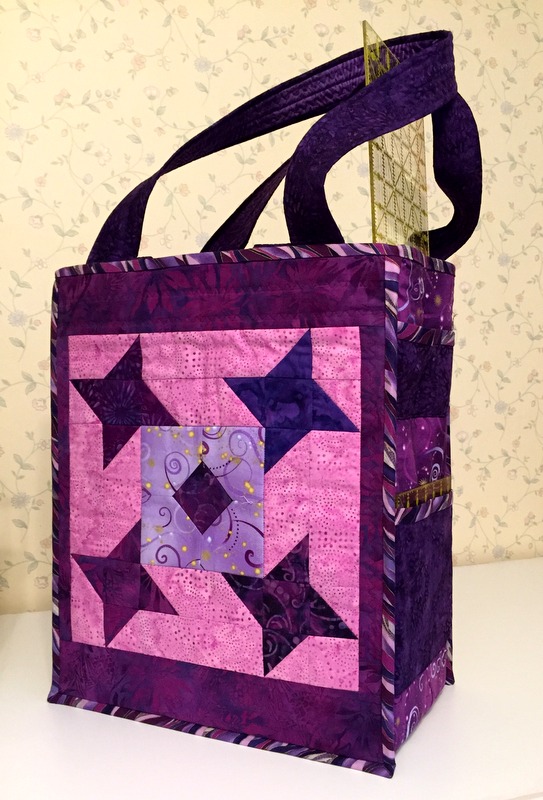 That side has two pockets and the other side has one taller pocket cut from the same wavy stripe I used for the binding: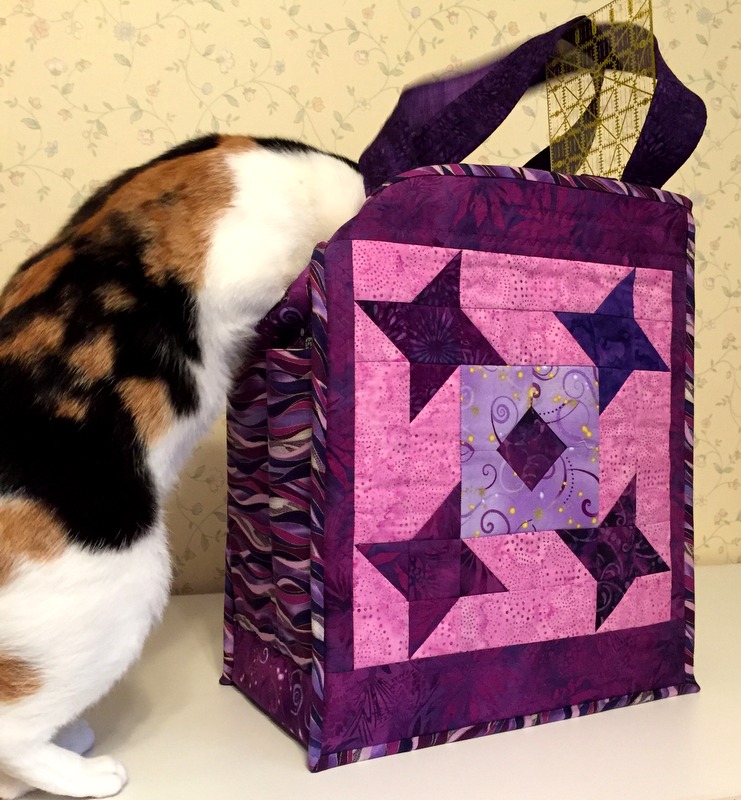 Coco is busy investigating the interior pockets, of which there are many.
A look inside: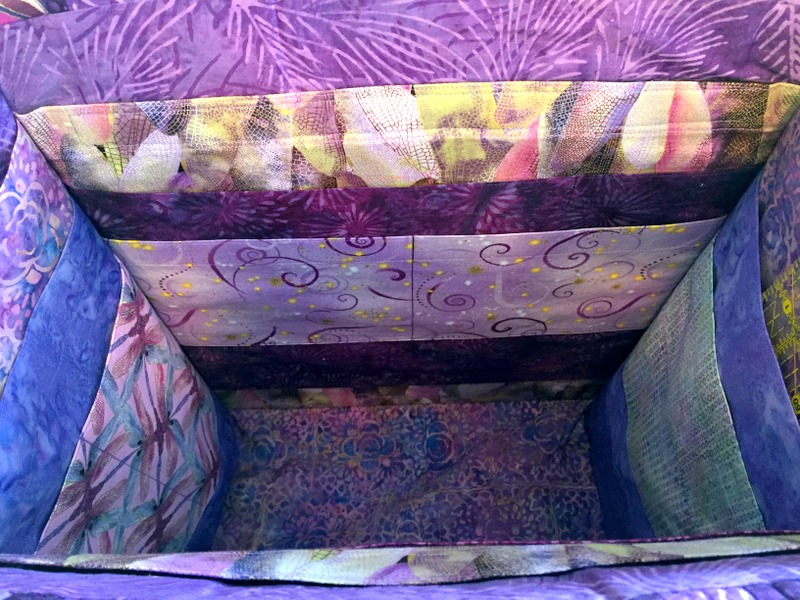 It's really hard to get a good shot of the interior of a finished Junior Billie Bag. This earlier photo should give you a notion of how many pockets there can be (totally up to the whim of the maker):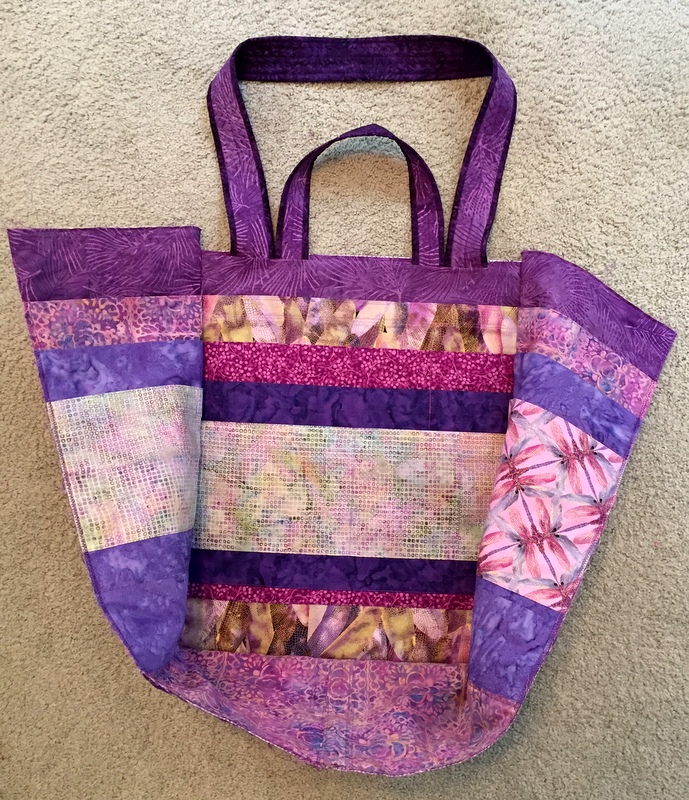 You can also see there's a shorter set of handles. Those are tucked out of sight in the photos at the top of this post.
To sum up:
The Billie Bag was designed by Billie Mahorney, who taught for many years at the Pine Needle. The junior version measures 14″ wide, 17″ tall, and 7½" deep.
The panel with Friendship Star blocks was based on a design by Thelma Childers of Cupcakes'n'Daisies. Read here how I modified it for this project. The windmill block is a variation of one designed by Deb Eggers of the Cottage Rose for her pattern A Mid-Winter's Night.
I started with fabrics from the "Dance of the Dragonfly" line by Benartex and Kanvas Fabrics, adding several batiks from my stash and one blender from P&B Textiles. There can be no doubt what the birthday girl's favorite color is!