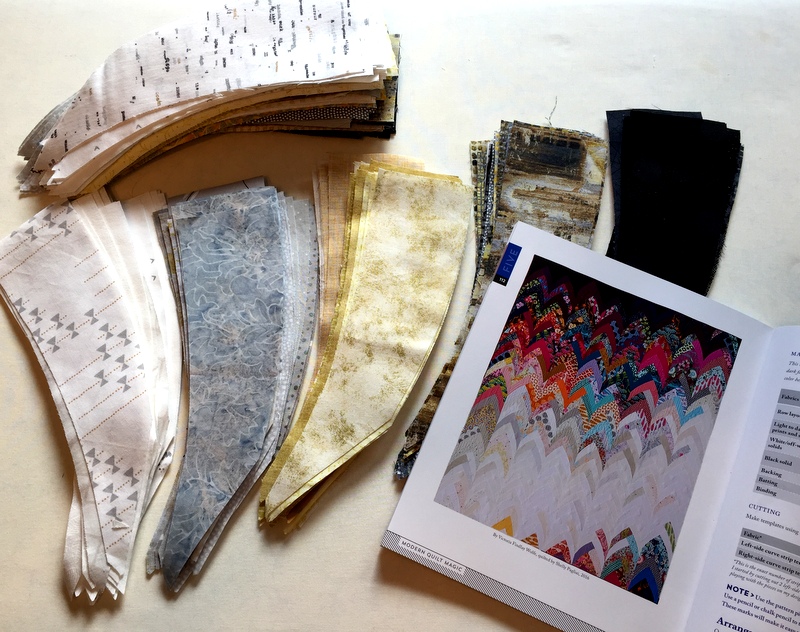 "The Beast" is the temporary name I have affectionately given one of my new projects: a quilt based on Victoria Findlay Wolfe's pattern Cascade (from her new book Modern Quilt Magic). Curved braid strips are cut from a template and then arranged to form a gradated wash of color.
Several challenges have presented themselves.
My color choices. As you can see in the photo above, Victoria's quilt is a riot of color. I'm using a restricted palette of black, grey, gold, and white. Why this combo? I was drawn to a small group of fabrics at my local quilt shop that contained golds and greys and liked them enough to build a quilt around them. Normally I gravitate toward primary colors and floral prints so this is a quite a stretch.
Already I'm having trouble arranging the golds and greys because they don't naturally blend with each other in the same way that, say, charcoal and medium grey do. Value is probably going to be more important than color in the long run. We'll see.
Finished size. I wanted to make the twin size (72″ x 90″) but am going with a slightly smaller version that should finish around 63″ x 80″ or so. That decision was made because my design wall isn't tall enough to accommodate all the curved braid strips. My sewing room and the spare room across the hall ("the Annex") where my design wall hangs are on the second story of my Craftsman home, where the walls measure 81″ floor to ceiling.
I did replace my old design wall (a twin-size flannel sheet) with a queen-size batt. I finally have the luxury of a design wall that's nice and wide. It's also quite a bit longer than 81″ but the excess is rolled up at the bottom of the wall.
Layout, Part 1. Before sewing begins, every single curved braid strip in Cascade must be arranged on the design wall. There are two reasons for this. First, the placement of each curve is critical because of the carefully planned gradation. Second, the strips are sewn together from the bottom up. (I initially rebelled at this notion. Sewing from the bottom up seems so counter-intuitive. There must be a way to sew from the top down, I told myself. Well, there is a way but it involves partial seams. On curved pieces. Not a good idea, although I did seriously entertain it for a few minutes.)
Even with the adjustment to a shorter length, the curved strips will extend beyond the bottom of the design wall when I lay out the last rows. Think of all those ¼" seams that haven't been sewn yet. Fortunately, the excess batting at the bottom of the wall can be unrolled onto the carpet to accommodate the bottom strips. Keeping Coco the cat away from them will pose another challenge. (Talk about taming the beast!)
Layout, Part 2. As if all that weren't enough, I've thrown myself an added curve, so to speak. Look at Victoria's quilt again in the photo above. See how most of the dark fabrics are concentrated in the upper left? I want my quilt to be visually weighted on the bottom right, so I'm reversing her layout. My quilt will still gradate from dark to light to dark again but the bottom half will be mostly medium darks and darks.
I've divided the quilt into three sections, roughly according to this diagram: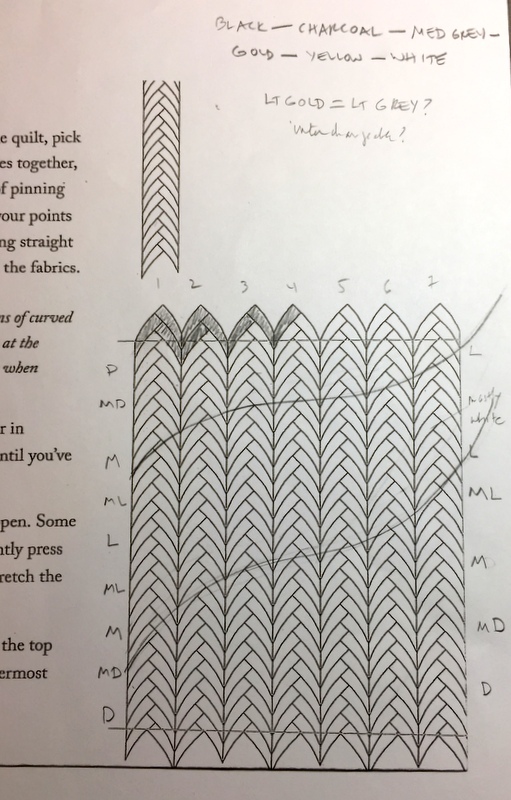 I think of the sections as waves. The letters on either side refer to value, ranging from D for Dark to L for Light. This is what the first wave looks like at the moment: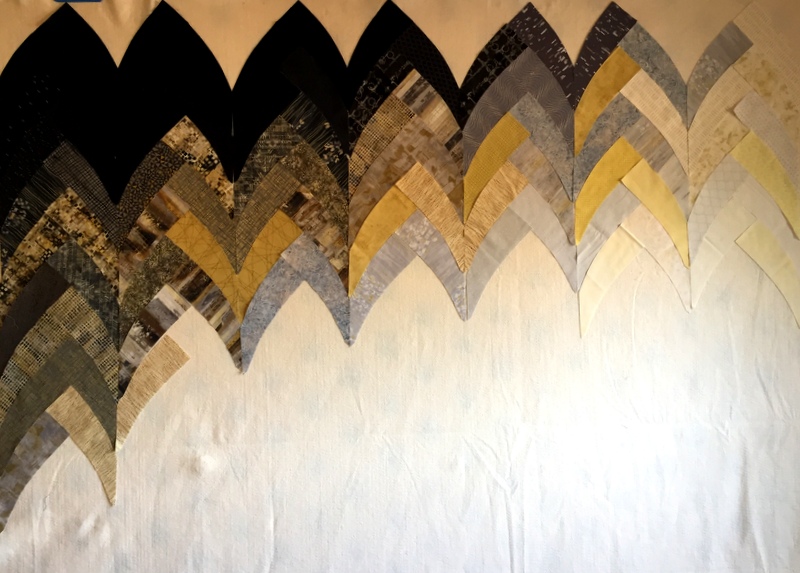 Look again at the diagram. See the horizontal lines at the top and bottom? The quilt top will be trimmed along those lines. I cropped the photo to give you an idea of what the top of mine will look like: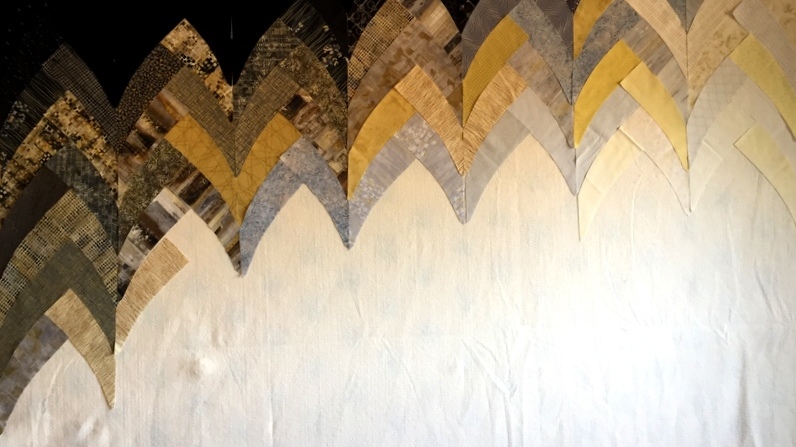 This could change dramatically before you see it again. That's because of another challenge: every time I walk by the design wall, I pause to change the position of a curve . . . or two . . . or three. Then I have to stand back — employing "the 10-foot rule"– to see if the change was a good one. I'm still auditioning fabrics, too. I found three small pieces in a tub of scraps just yesterday that are being added to the mix. Some of the ones I initially chose have been eliminated.
I'm excited about where this is headed. It's just going to take a while to get there.