My Little Neighbor, who just turned 10, fell out of a tree in our park a few weeks ago and broke several bones in her left foot. Can you imagine being sidelined in a cast just as summer vacation is starting? Her mom wondered if I might be able to come up with a hand-sewing project to help keep MLN occupied while her foot heals. Hmmm, how about a quilt?
I found some brightly colored squares of Laura Ashley fabric that I've had since the 1990s. For some reason, they are 4¾" square – maybe a precursor to the 5" charm squares so popular today. I added some squares of a blue print from my stash for a little variety, and My Little Neighbor and I got together several days ago for her first lesson in making a quilt by hand. Here is the fabric we started out with: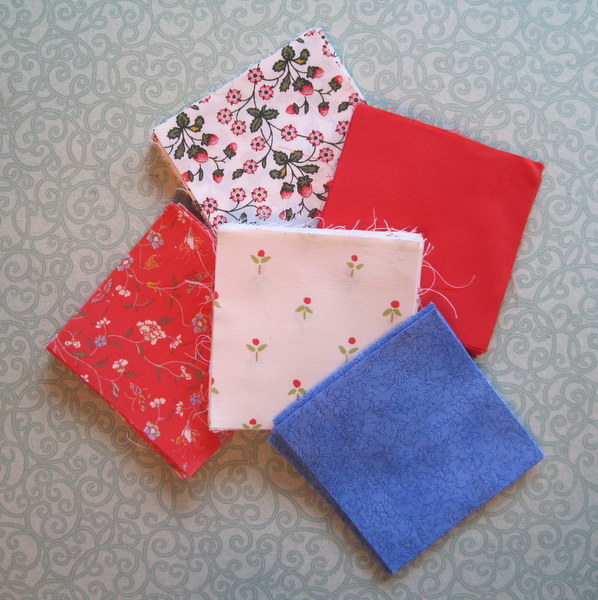 MLN liked my idea for a quilt of 9-patches, so we looked at the fabrics and talked about making sets of three squares. When all of those are sewn together, she'll join them in 9-patch units and then sew those units together. I showed her how to sew two squares together with a running stitch and then passed the needle over to her. She did a beautiful job on her very first seam! Can you imagine how delighted I was to learn that MLN already knows how to make a tailor's knot? She learned it in school!
By the end of our first lesson, MLN had sewn her first set of three patches together. Her mom captured the moment: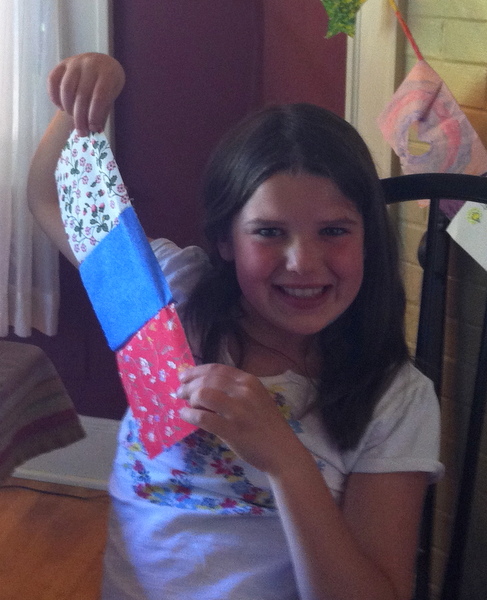 Every day MLN sews a few patches together. Here she is with 12 sets of three patches sewn together: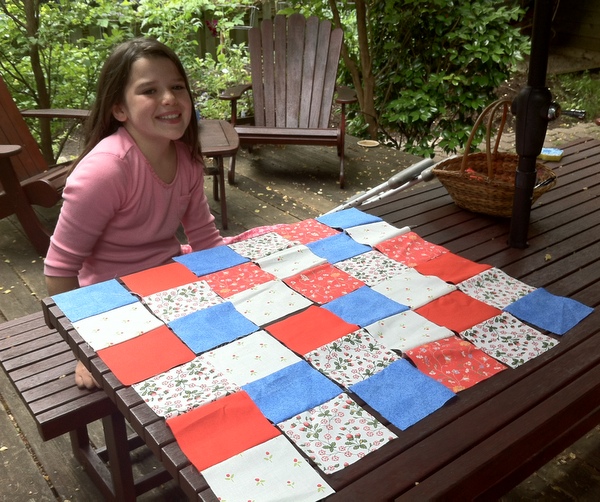 You can see what a colorful and cheerful quilt this is going to be. Did you notice MLN's crutches propped up against the table? She gets around very well on them but is longing for the cast to come off. It's purple, by the way, and I got to sign my name on it in silver ink.
I'll keep you posted on My Little Neighbor's progress over the next few weeks. I think she is on track to finish her first quilt before school starts in the fall.