. . . on my way to New York City.
New York City? Yes. My husband and I got back last night from a quick five-day trip to Manhattan to celebrate our wedding anniversary. While packing for the trip I had tossed a couple of quilt magazines in my carry-on bag. One happened to be the July/August 2014 issue of McCall's Quilting.
Flipping through the pages of the magazine, which I probably hadn't opened in years, my eyes landed on this advertisement for a new line of fabric, "Midnight" by Studio 3 for Quilting Treasures, to be released in the summer of 2014: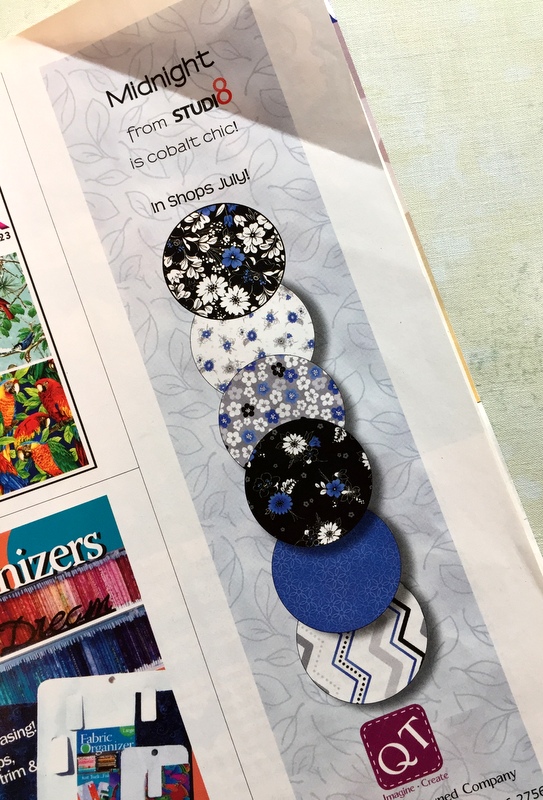 "Hmm," I said to myself, "I don't remember seeing this ad before. I really like these fabrics!" I do love the drama of black and white prints, especially with the addition of a bright accent color. "I wonder if they're even available anymore, four years after their release," I mused.
So . . . after getting settled into our hotel room in Midtown, I picked up my iPad and did a search for the fabric. Lo and behold, I was able to find almost every fabric in the line! You know what happened next, friends: I had a little shopping accident.
Look what was waiting for me when I got home: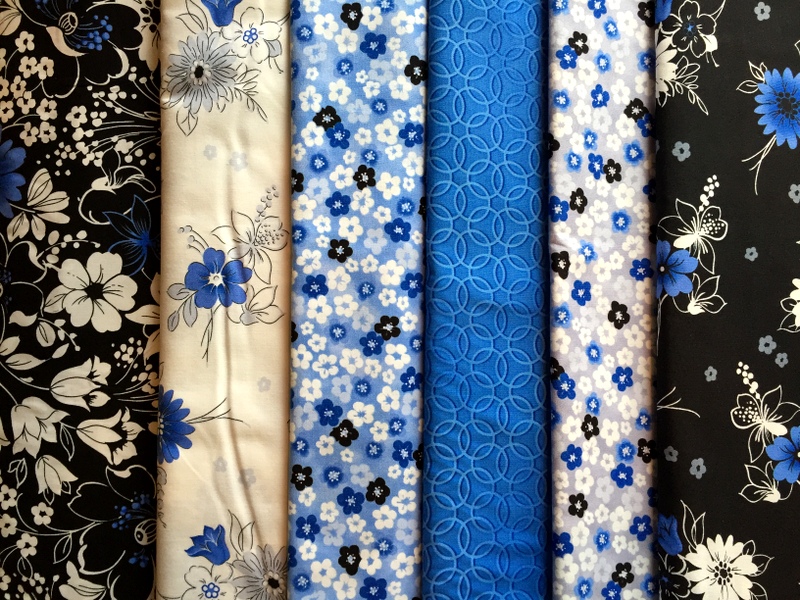 And that's not all.
While I was in New York, I paid a visit to VWF Quilts, the shop of quilt artist Victoria Findlay Wolfe. I got to say hello to Victoria and chat with her about one of my Works-in-Progress based on her Cascade pattern. She designs for Studio 37 Fabrics, a division of Marcus Fabrics, and has an amazing array of fabrics packed into her shop. I added these four to my stash: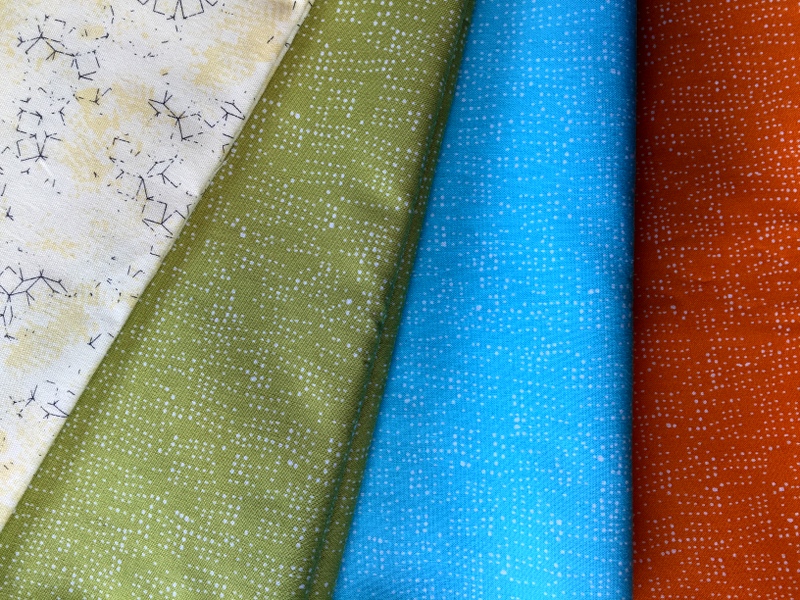 The three on the right are from her "Futurum" line and I am already regretting putting back another bolt from the line without purchasing any. (Thank goodness for mail order!)
Speaking of mail order, there was one more package waiting for me when I got home, a purchase I had made a few days before departing for New York. This purchase I can attribute to Anne W., a fellow cat lover and member of the Portland Modern Quilt Guild. (If you are on Instagram you can find her at @pdxannie.) She posted a picture of some adorable Paris-themed fabric featuring cats and I impulsively ordered a couple of yards.
No buyer's remorse here, though. I love this fabric! And look at all the goodies from the new-to-me shop called Sunny Day Supply that came with it: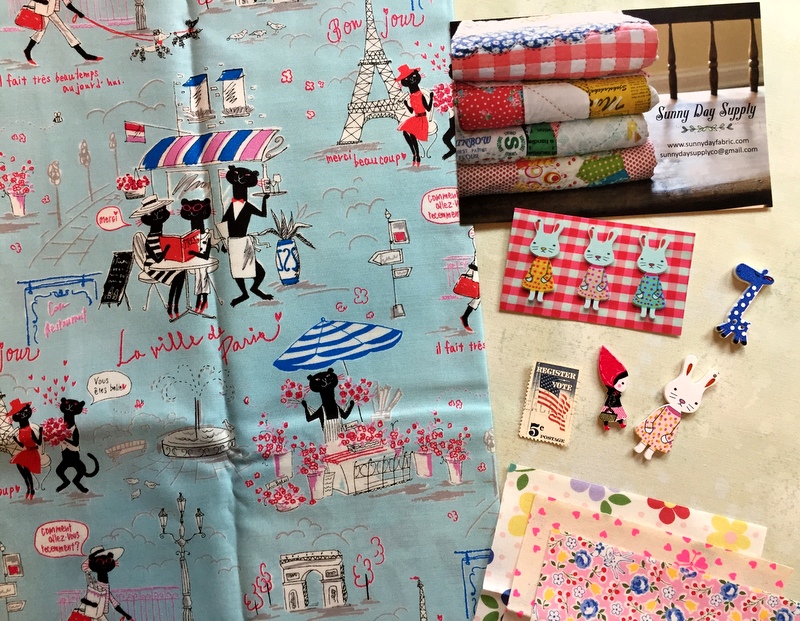 That's a postcard in the upper right hand of the photo (with a handwritten message on the other side from the owners, Mary and Shawn, thanking me for my purchase) along with charm squares and buttons and a postage stamp, all wrapped so sweetly. What a charming shop, with amazing customer service.
And the trip to NYC? Braving unseasonably cold weather, my husband and I managed to pack in four plays . . .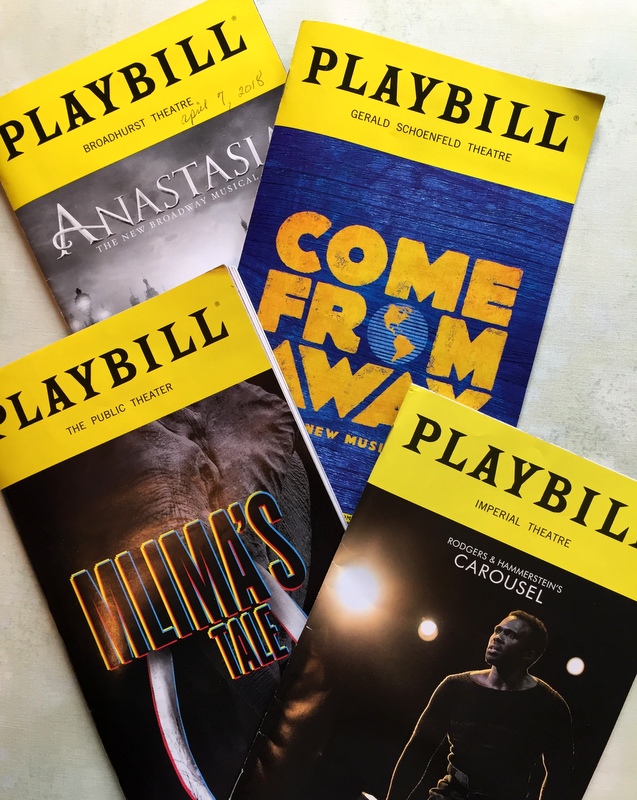 . . . and several museum visits, including the Museum at FIT (Fashion Institute of Technology), always a source of great exhibits: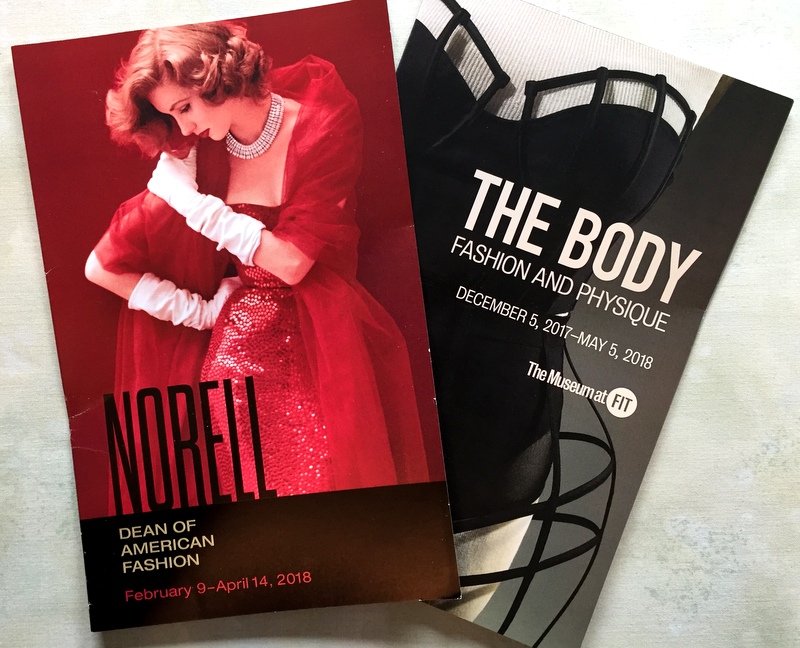 It's one of our regular stops, along with the Museum of the City of New York and the New York Public Library. Had the weather been warmer, we would have taken in a New York Yankees or Mets game as well. Next time!
By the way, our wedding anniversary is #37 and it actually falls today. On the agenda: a leisurely dinner out, where we will celebrate — with champagne, of course! — the fact that we have spent nearly four decades together.