Are you ready for more iterations of Corey Yoder's marvelous pattern Idyllic? The pictures that follow are of the quilters in my second retreat group last month on Hood Canal in Washington State. (You can see the creations of the first group of retreaters in my previous post.)
I can't resist starting with a photo of sisters Barbara and Katie playing with their fabric choices. They are going for the super scrappy version of Idyllic and are obviously having fun putting potential fabric combinations together: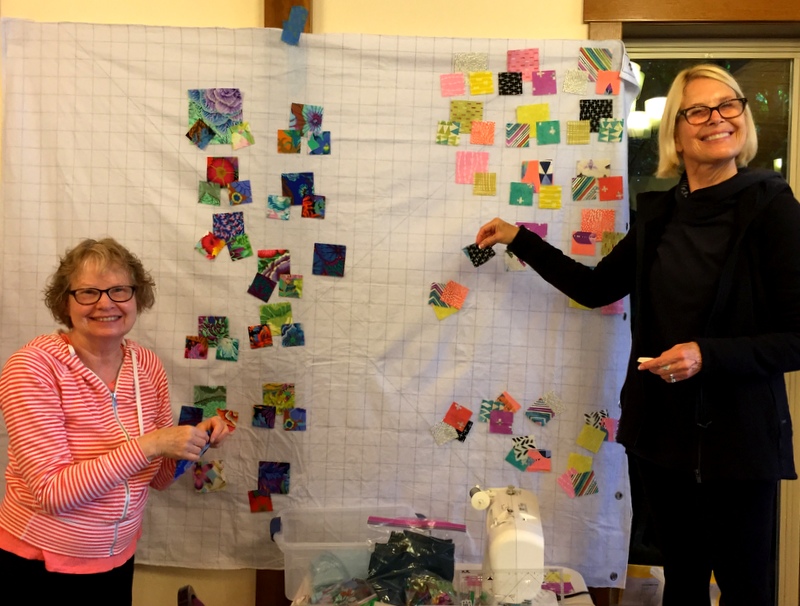 Shall we see what they did with them? Here's Barbara with her first four blocks, using Kaffe Fassett prints and versatile Grunge blenders by Moda for the background fabrics: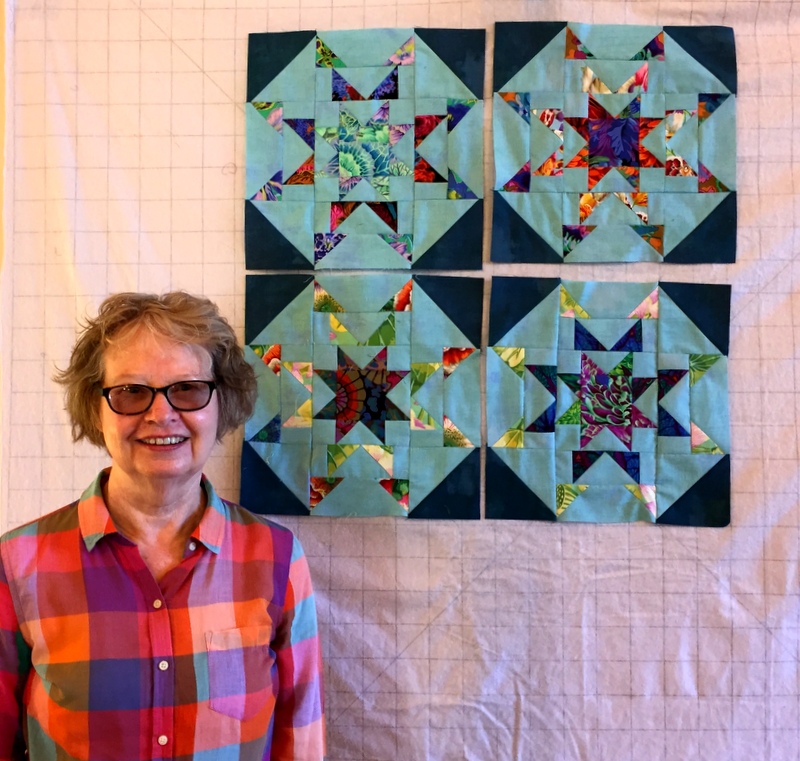 Katie is using different Grunge blenders in her blocks, incorporating some delightful Carrie Bloomston prints: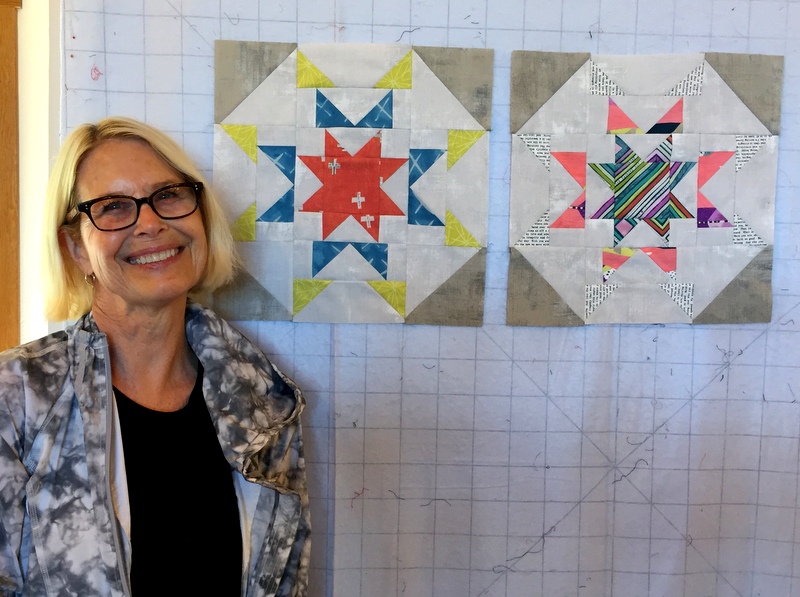 Delia played with several different fabric combos and wound up with three distinctly different blocks: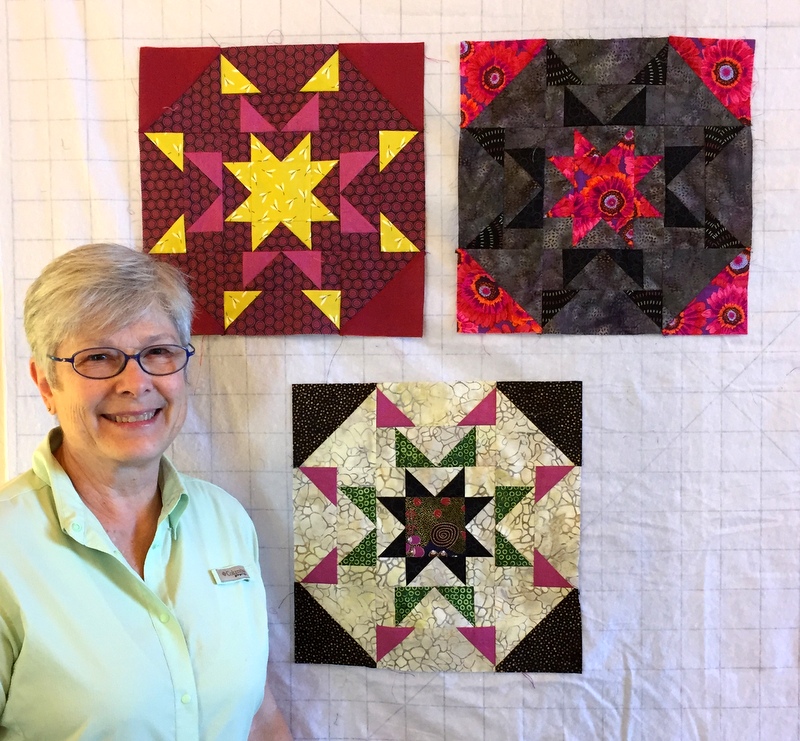 She's thinking of making a quilt using the one in the upper right corner. Delia also worked on this original elephant design using a collage technique: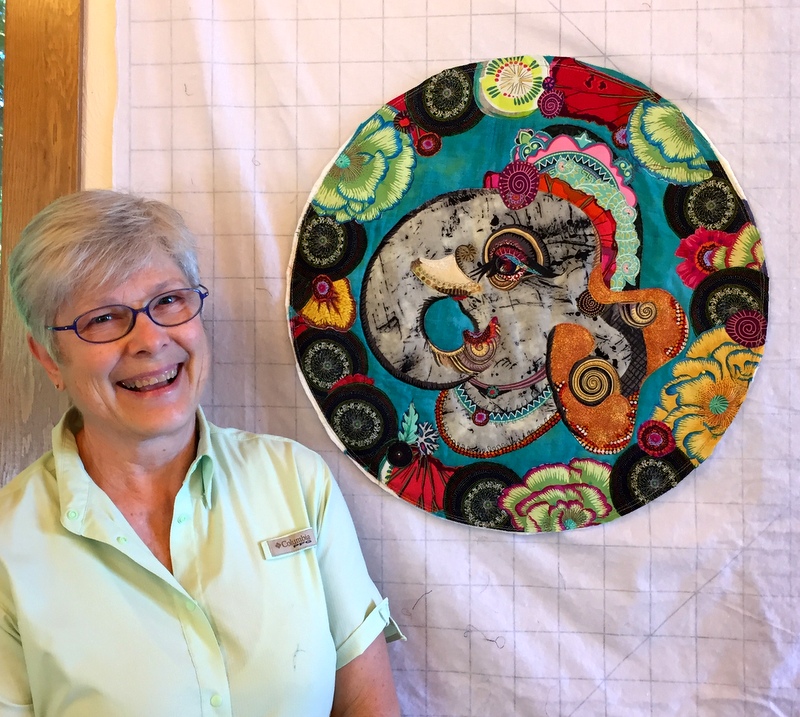 All done but the binding. Fabulous!
Sandra usually works with prints so this striking block made with solids is a departure for her: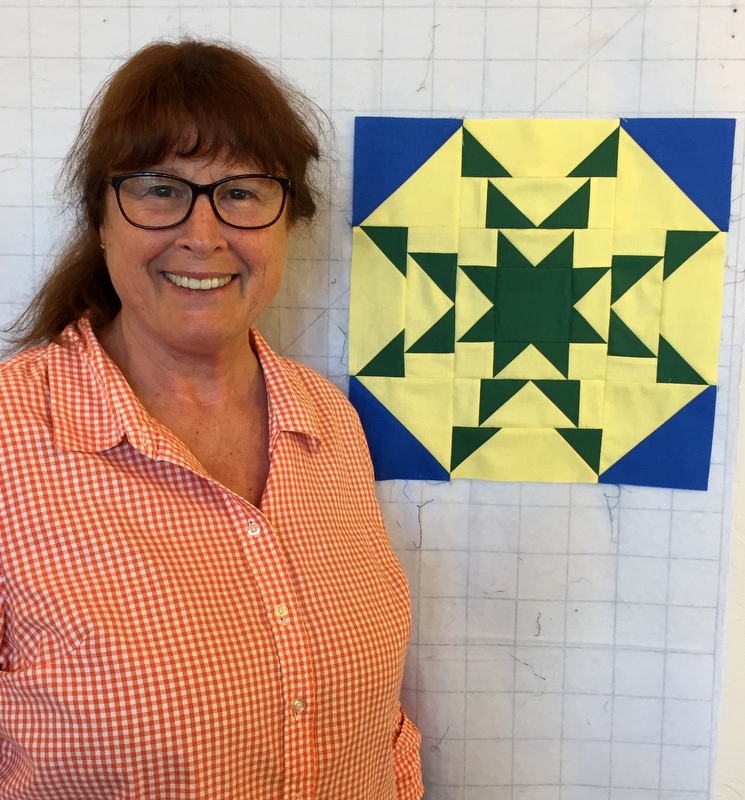 It's going to be stunning!
Sherry is using two colorways of a lovely paisley print to make alternating blocks in her quilt: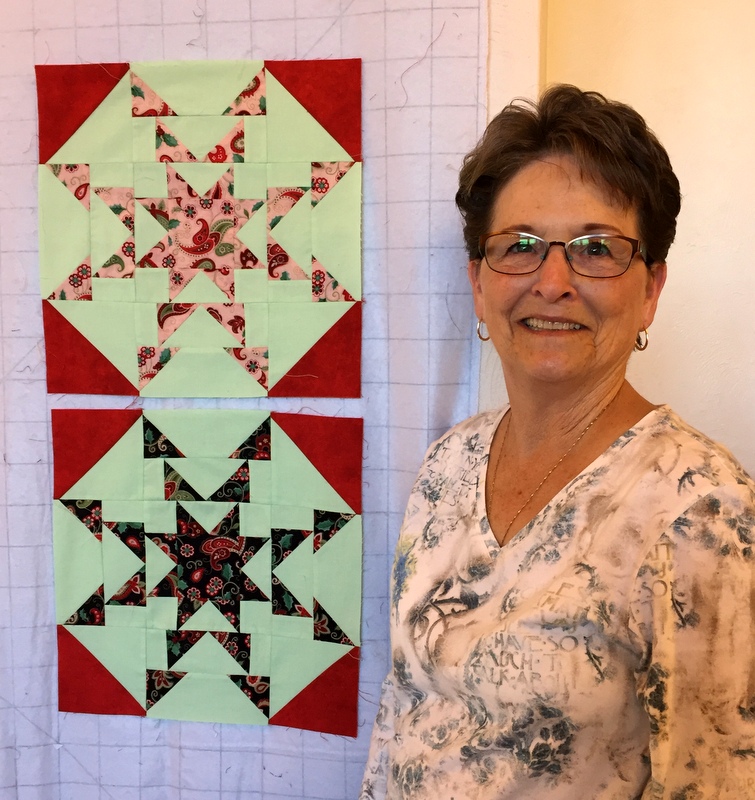 Red and green — always a winning combination. One of Sherry's lucky grandchildren is the intended recipient.
Brenda combines tan, teal, and brown prints against beige and light tan backgrounds for an elegant traditional look: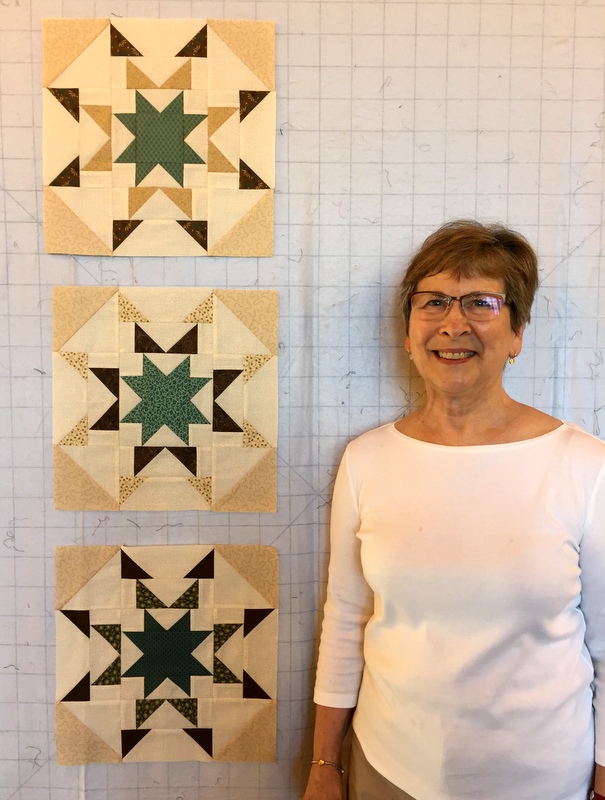 Julie concentrated on a couple of different projects, including this darling dog made from Elizabeth Hartman's Dogs in Sweaters pattern . . .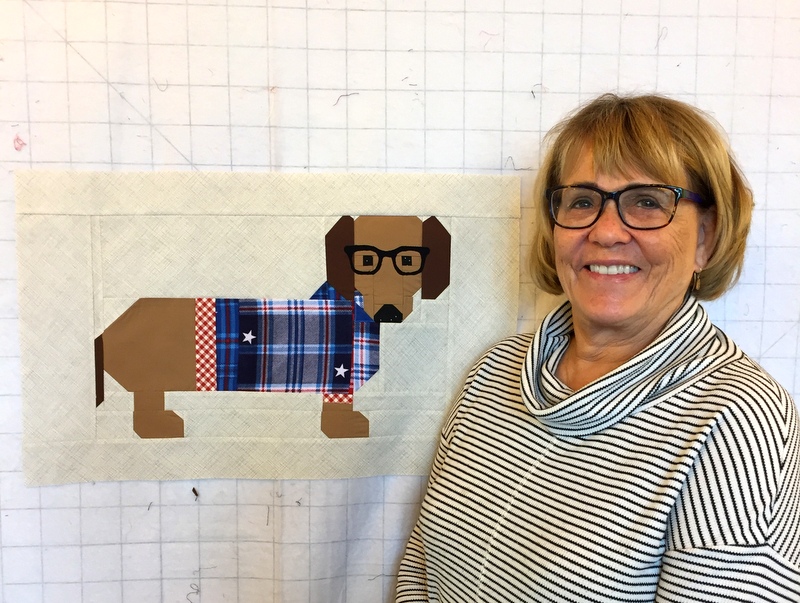 . . . and these colorful wall hangings: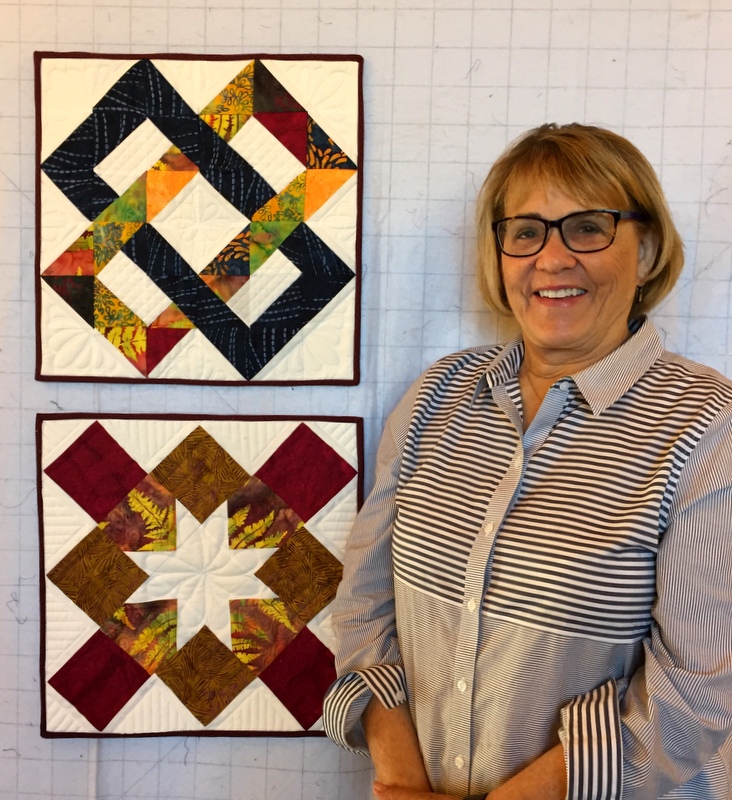 Jan is hiding behind this patriotic runner she made using a freezer paper method for cutting wonky stars: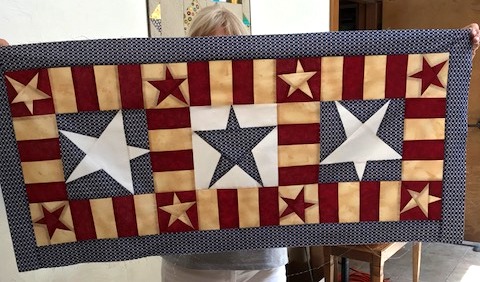 Candyce's Idyllic blocks are made from fabrics designed by Tula Pink. Look carefully and you will see what great texture the fabric in her block background adds: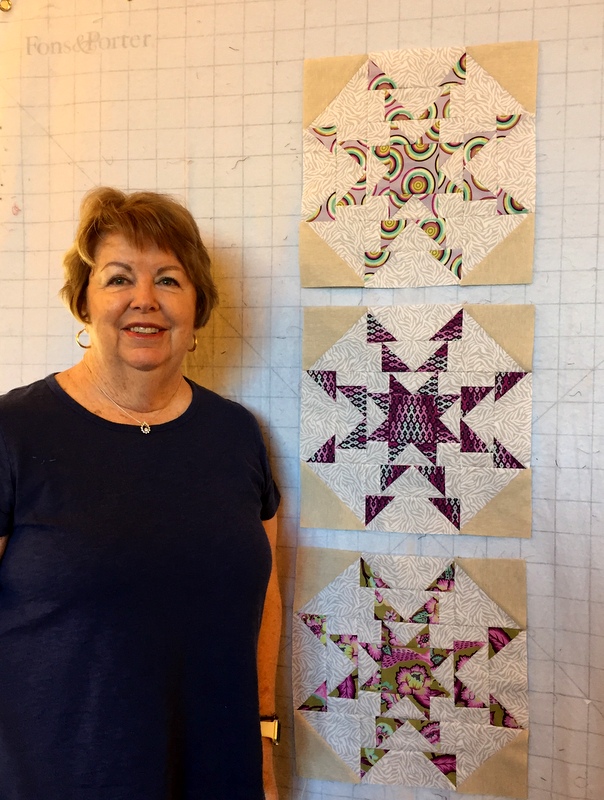 Fran was working on a project begun a few weeks ago in a different Pine Needle retreat in Wyoming, one taught by Pam Raby. The pattern is Thunderstruck by Victoria Findlay Wolfe: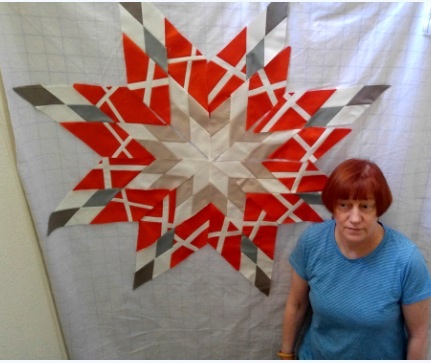 Wow!!
Patti was finishing up a big appliqué project begun in a Block of the Month program. Her blocks are gorgeous! Here's one of them: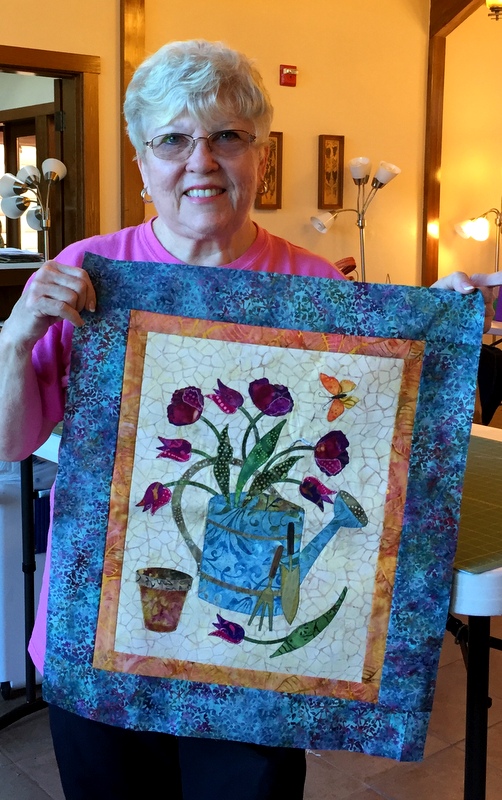 Karen (on the right) was working on the same project. Here's one of her blocks: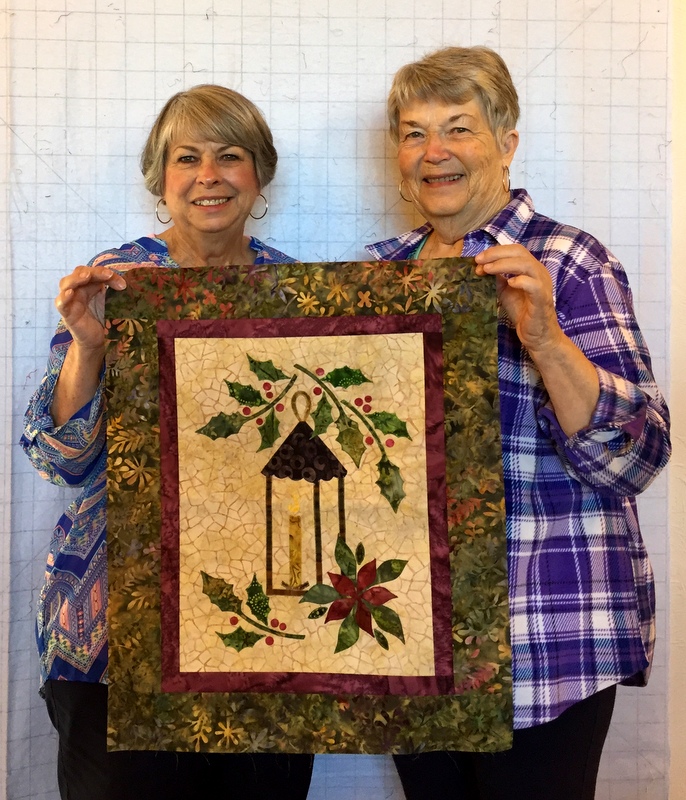 Next to Karen in the photo above is Sue, whose projects were all tucked away before I had a chance to photograph them. She worked on several self-binding baby blankets and I can confirm they were adorable.
Grandmother-to-be Melody finished up a gender-neutral baby quilt using fabrics chosen by her daughter (the expectant mother). If memory serves, the quilt will include an appliquéd elephant: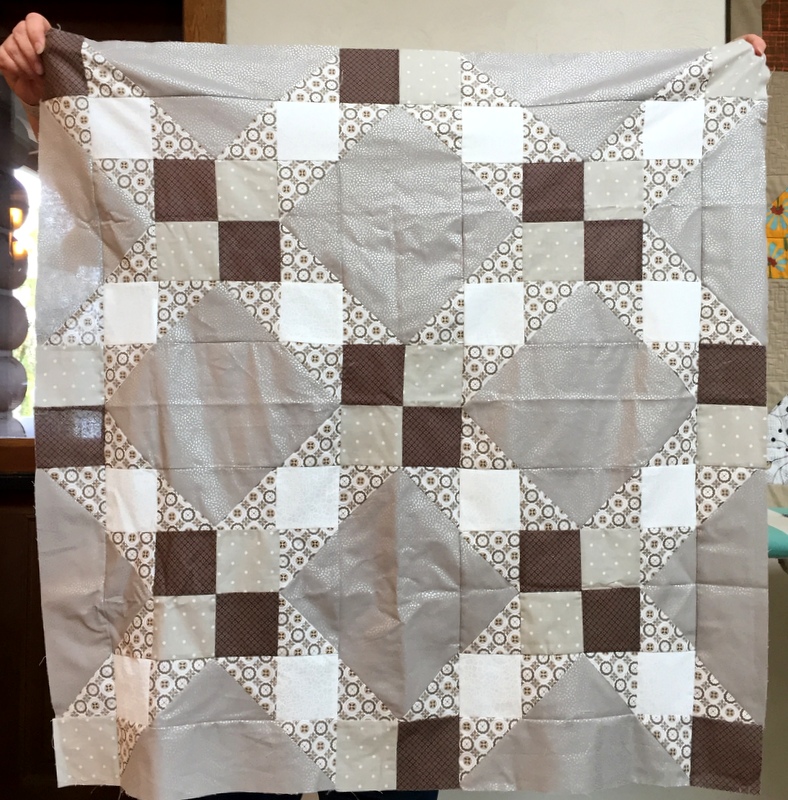 Virginia spent the first two days of the retreat cutting, cutting, cutting for a quilt of her own design. When she started sewing on the third day, beautiful scrappy blocks appeared very quickly: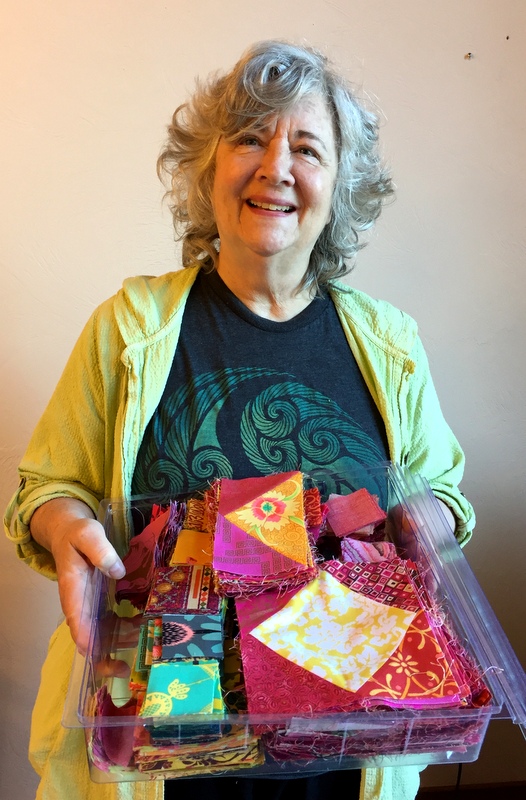 Janna planned to make 12 blocks — and finished them all. Here she is with a few of them on the wall and a few in her arms. She is thinking about putting her blocks on point — how dramatic! Take a look: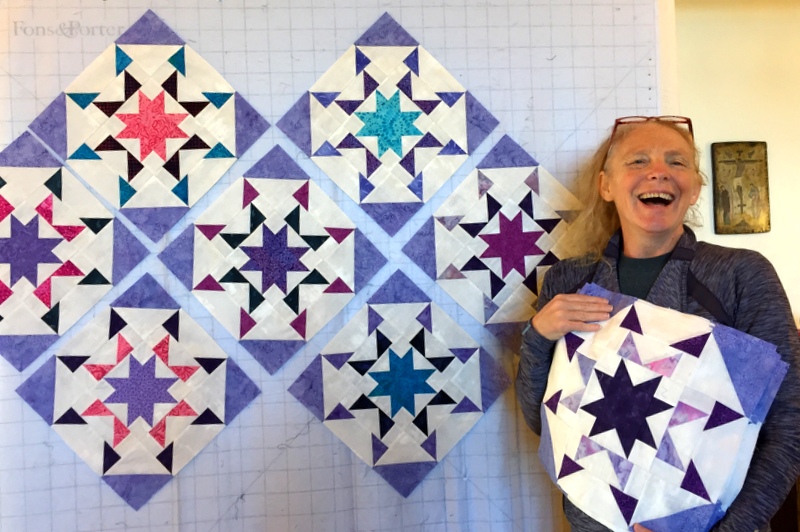 Linda gets the prize for finishing her quilt top! Here she is with 16 blocks sewn together: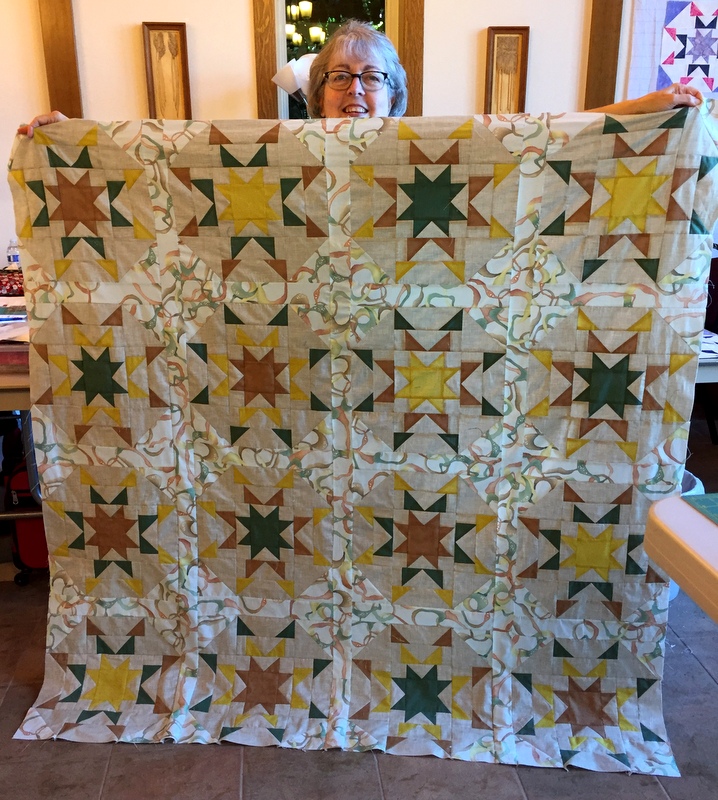 The lively background print adds movement and drama to her quilt.
Sharon S. worked on several projects she brought from home and this little one she made at the retreat: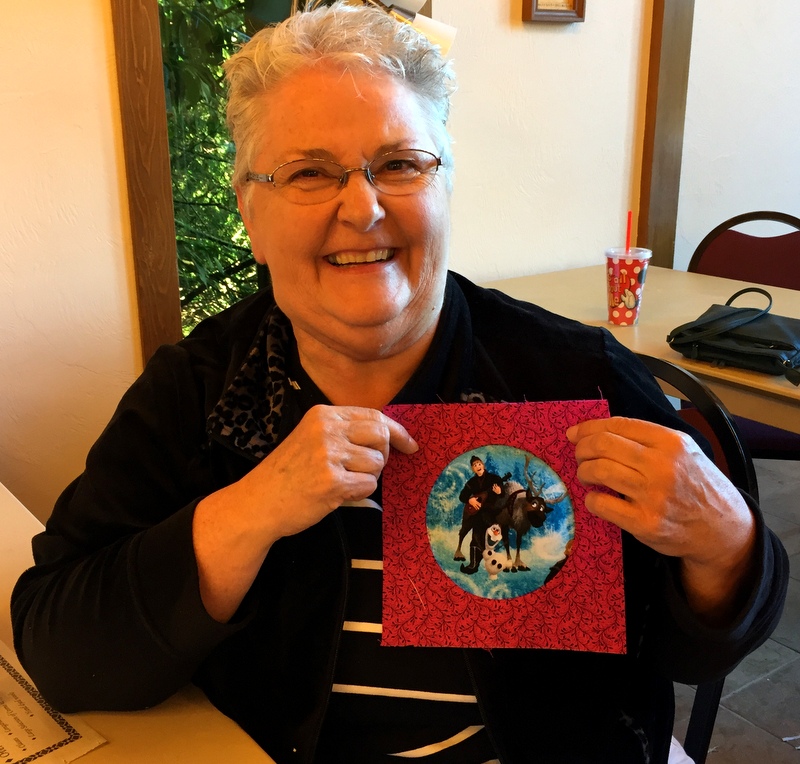 (I showed the students how to make inset circles using a freezer paper method — no pins!) Sharon's block highlights an image from the Disney movie Frozen.
Sharon R. also worked on projects begun earlier. Here she is with several blocks from a Block of the Month sampler that's going to be a beauty: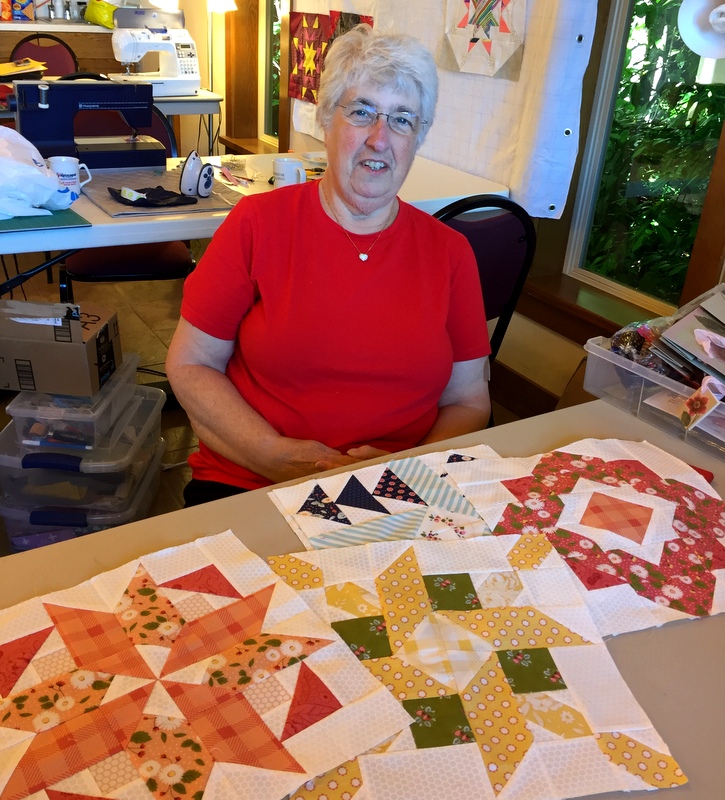 Here's a picture of our group taken at the end of the retreat. Did we get a lot done? Did we have a good time? I think the answers are in the smiles on the faces: