When I wrote a couple weeks ago about our pending kitchen remodel, I described the domino effect that accompanies so many remodels. In this case, our decision to replace three old windows in our kitchen launched the entire project.
I also mentioned a second domino effect. This occurred because we decided to move our current refrigerator to the basement pantry area. A second fridge always comes in handy, and we will be grateful for the extra freezer space when the garden produce comes on like gangbusters in late summer.
When we installed new cabinetry in the kitchen during the last remodel, most of the old cabinets were moved downstairs to the pantry, replacing steel shelving that got moved to the wall behind the furnace. That shelving became the repository for boxes and boxes of . . . stuff, mostly belonging to the Dear Husband. As a history professor with research interests that have continued since his retirement, Charlie has managed to fill dozens of boxes over several decades with newspaper clippings, travel brochures, road maps, magazines, pamphlets, and documents from his university years that may be of interest to the archivist.
The DH is in the process of going through those boxes and recycling a good portion of the contents. He's doing so to make room for the goods I am taking out of the pantry so that the cupboards and cabinets can be removed to make room for the fridge. I'm also bringing a lot of items downstairs from the kitchen for the duration of the remodel.
Here's a look at the pantry in the basement: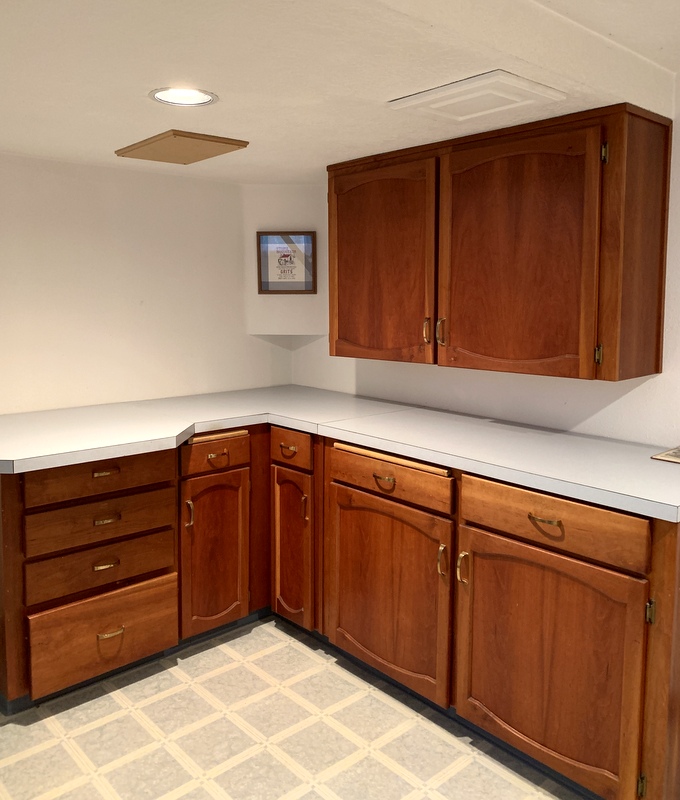 Those cabinets (except for one set that I'm saving) and all of the cabinets currently in the kitchen will be donated to Habitat for Humanity. That means I need to finish emptying them right now.
Tomorrow is Demolition Day!