Last week marked the official start of our kitchen remodel. This is what the kitchen looked like Monday morning before the demo crew arrived:
Looking toward the southeast corner
Looking toward the southwest corner
In the first picture, you can see that the trim around the windows has already been removed. My contractor did that a couple weeks ago to get the exact measurements he needed for the new windows. You can also see what looks like a hole in the upper right side of the soffit over the kitchen sink. It is a hole. We needed to confirm that the soffit could be removed and the best way to do that was to knock a hole in it to look inside!
(I really wanted that soffit removed in the last remodel but my then-contractor was strangely reluctant to take it off. I wish now I had insisted on it because I would have gained much more storage space on the south wall. That's one design issue that is being rectified in this remodel.)
Here's a look at the kitchen after the demo:
Looking toward the southeast corner
Looking toward the southwest corner
My contractor determined the original ceiling was dropped about 10″ at some point, perhaps when the soffits were installed. Raising the ceiling to its original height now would be an expensive proposition because of existing second story plumbing so we'll leave it as is.
On the west wall the demo exposed writing on the concrete surrounding the furnace. We knew the house was built in 1913. Now we have an exact date . . .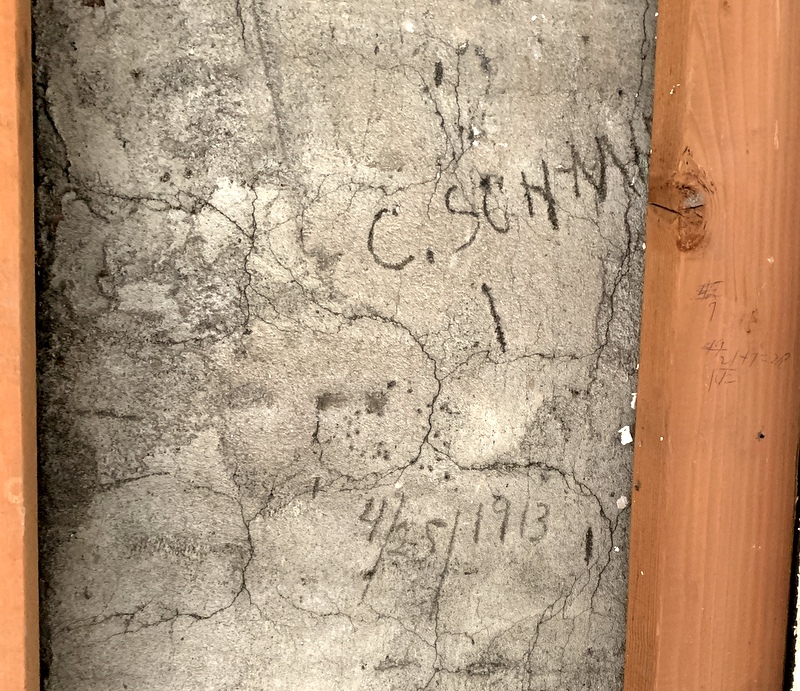 . . . although we don't know what it signifies. We also see a partial name: C. Schmi. I'm guessing it's Schmidt. Could he be the worker who encased the chimney in concrete in a "Kilroy was here" moment? I guess we'll never know.
By the way, I completely forgot to take a picture of the north wall of the kitchen. Here it is before I emptied all the cupboards and took down the wall decorations: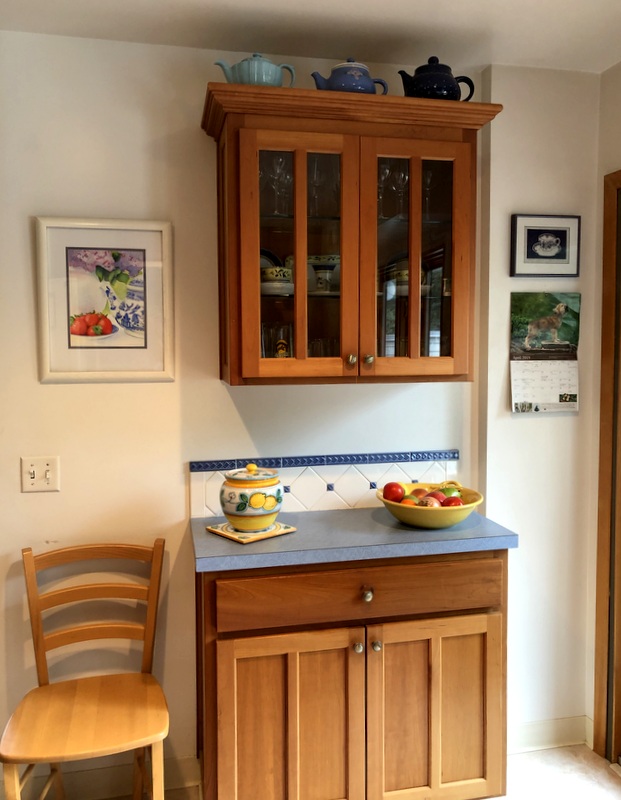 The electricians were here all day last Thursday completely rewiring the kitchen and doing some rewiring in the basement pantry. The electrical inspector came Friday and gave his stamp of approval.
The old refrigerator has been moved down to the pantry and is already in use. And the new refrigerator? We plugged it in last week — in the dining room! It's the logical spot for it as we have set up a temporary kitchen there.
I hope you'll come back soon to see what happens in Week 2!