Last week was a big one for the Portland White House kitchen remodel.
First, the walls got painted a soft gray and the ceiling and trim around the windows and sliding glass door got painted white: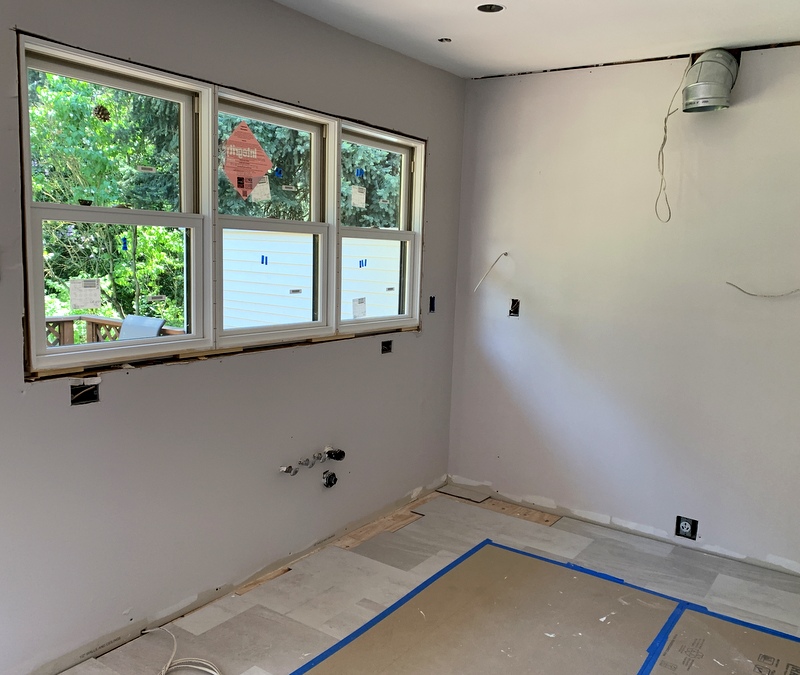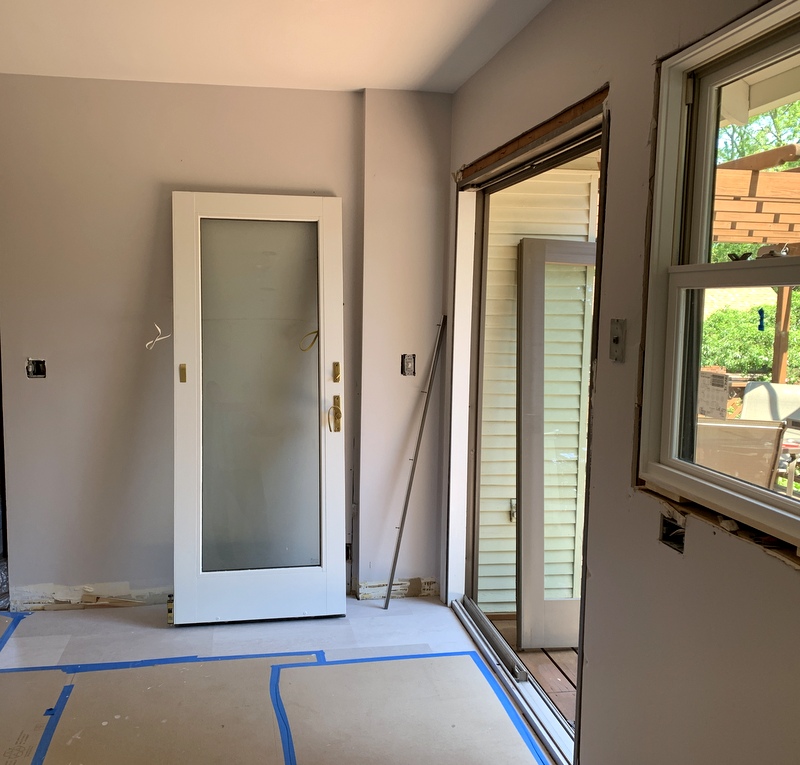 I was originally planning to have the walls painted with Benjamin Moore's "Metro Gray," which happens to be the same shade I chose for the master bath remodel in 2013. At the last minute I went one shade lighter (1458) with "Silver Bells." Gray might seem an odd choice for Portland, which gets its share — and then some — of overcast days, but I knew the bright white of the upper cabinets and the vivid blue (Valspar 4006-8C "Bluer than Blue") of the lower cabinets would be a good foil for this elegant shade of gray: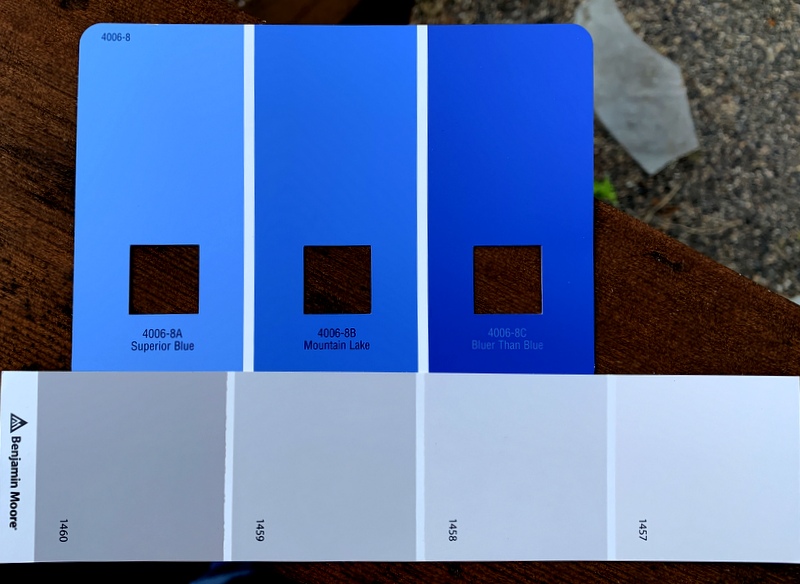 Can't you imagine a quilt in these colors?
With the cabinets installed, the empty shell of a room was transformed into a kitchen! Here's the view looking southeast: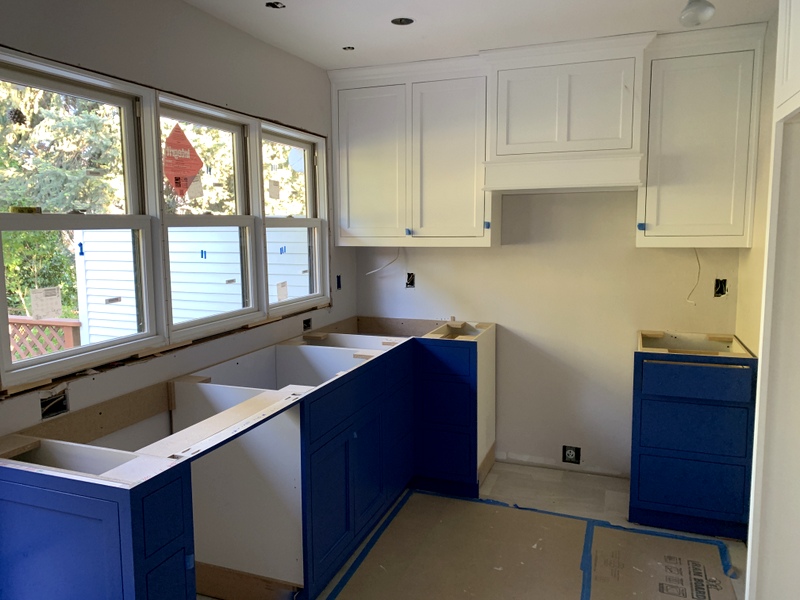 Notice the custom cover for the range hood. (Thank you, sister Diane, for guiding me to this design decision.) The tabs of blue painter's tape on the upper and lower cabinets allow the cupboard doors and drawers to be opened. The doors are inset — that is, flush with the cabinet frames — so until the knobs and pulls are installed, the best way to open the cupboards and drawers is to pull on those tabs of blue tape.
Here's the view looking southwest: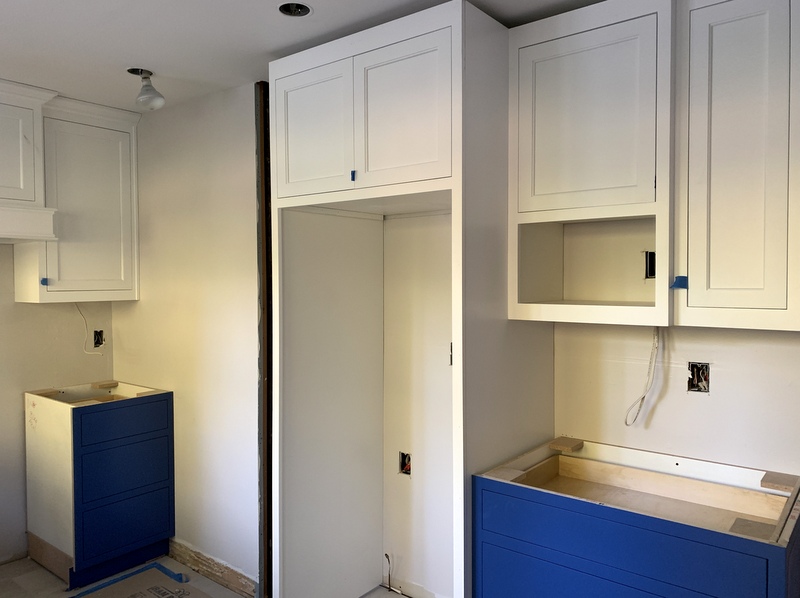 The narrow cabinet to the left of the refrigerator cabinet is missing as it got damaged somehow at the shop. The installer wants to wait until the cabinet is in place before attaching the crown molding as he thinks the molding should be cut from the same strip.
The upper cabinet on the north wall will have glass doors and shelves, to be delivered later: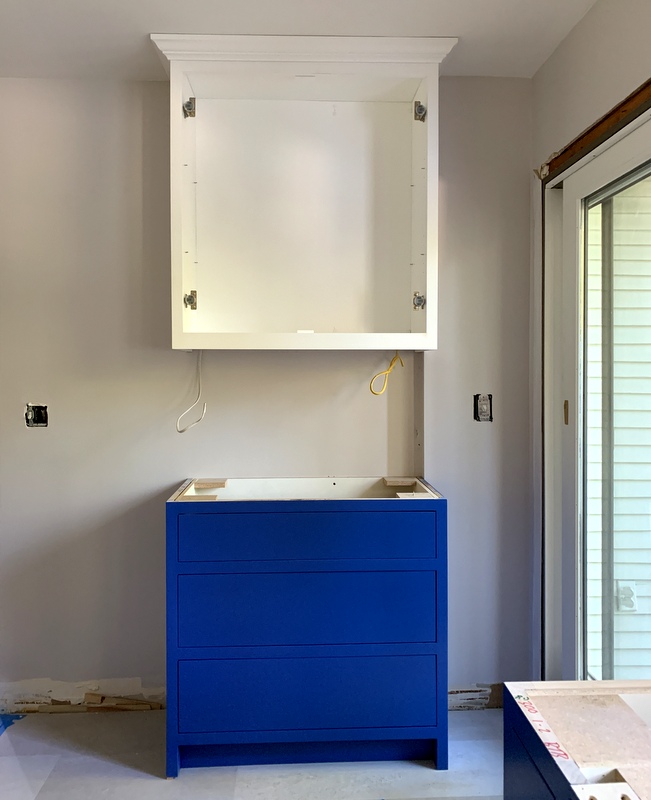 That upper cabinet makes the wall look pretty top heavy. I'm hoping the glass doors will make it feel lighter.
I must say, Coco has remained remarkably mellow as the remodel progresses. As long as her meals arrive on schedule, she is one happy cat: