Hooray — March is here! Spring is on its way! In celebration of my favorite season of the year, I'm working on a new project featuring the quintessential color of spring: green, of course. My favorite color.
You're probably wondering why on earth I've started something new when I have so many Works-in-Progress and Unfinished Objects (aka WIPs and UFOs) on hand. All I can say in my defense is that a) I like working on multiple projects at once, and b) there's a method to my madness.
Before I explain, let me show you the new project: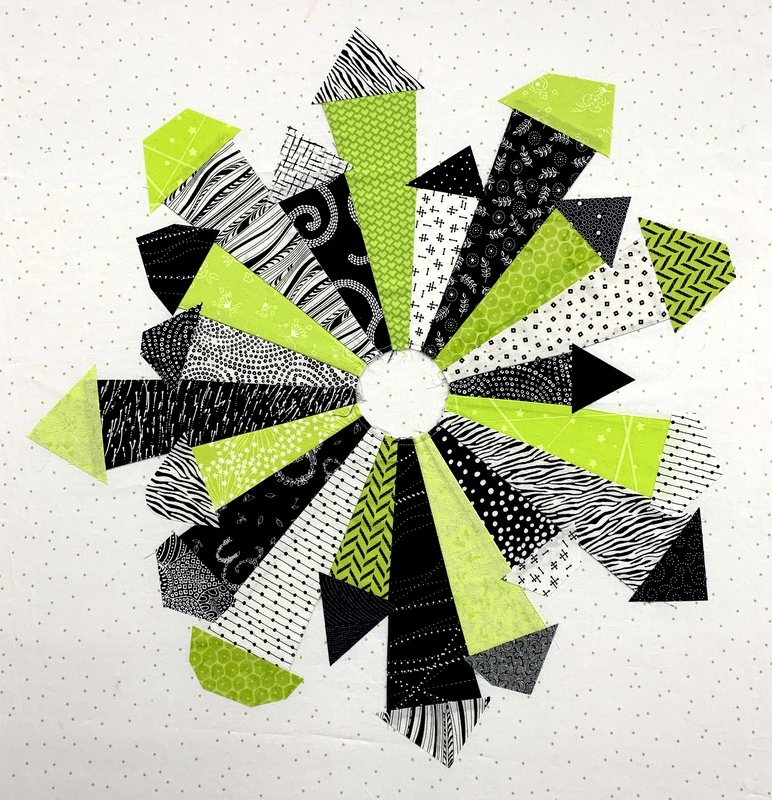 I'm building a wonky neighborhood using the pattern Dresden Neighborhood by Kim Lapacek of Persimon Dreams. The wedges are made with a Dresden plate ruler, hence the name of the pattern. Isn't my little neighborhood cute? The houses will have wonky doors and windows, and the raw edges in the center will be covered by an appliquéd circle.
Here's Kim's version as shown on her pattern cover:
I came across the pattern last year and bought it right away. After looking at some clever and charming versions recently on Instagram and Pinterest, I decided to jump in and create my own version. I'm also working on a couple of large quilts so the idea of a small (24″ square finished) project has great appeal. That's one reason.
The houses in this little neighborhood are meant to be embellished with decorative machine stitches, especially around the roofs. Late last year I upgraded my Janome sewing machine to the Horizon Memory Craft 9450 QCP model. I am absolutely loving some of the new features but haven't yet played around with the decorative stitches. This project is the perfect jumping off point. That's the second reason.
And the third reason? I'm going to be teaching a "Wonky Dresden Neighborhood" class in June. (I teach at Montavilla Sewing Center's Lake Oswego store.) This is going to be my store sample so I have some extra motivation to finish it up as soon as possible and get it on display. Hardly a burden. I can't wait to get back to it!