Do you ever buy a piece of fabric that you have no idea what to do with but you just know you have to have it? A couple years ago I was in a quilt shop in Bend, Oregon and spotted a succulent print in greens from the "Canyon" line designed by Kate Spain for Moda. I had to have some!
It sat on a shelf in my sewing room cabinet until a few weeks ago when I pulled it out to make this test block from a new pattern by Margot Languedoc called Pretty Little Baskets: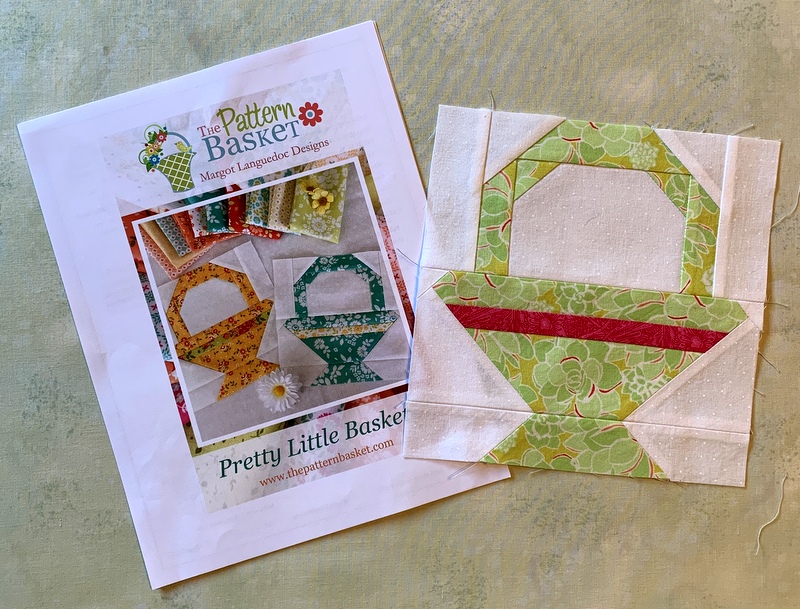 The pattern is definitely on my "to do" list but I only made one block with that fabric.
Then very recently Sew Kind of Wonderful released a new pattern called Curvy Bow Tie using the new Wonder Curve Ruler and I used a bit more of the fabric to make this test block:
Such a cute block but I wondered if the fabric would look better as the background of the block rather than the focal point. I made another block to see:
Oh yes, I like that better. But I'm not ready to make an entire quilt out of it just yet. (I love the Curvy Bow Tie pattern, though, and do plan to make a quilt when I've decided on a color scheme.)
What I really wanted to do with that fabric was make a pair of pillowcases for the Portland White House (using my own tutorial). So I did:
And I used some scraps to try out a new mask tutorial:
Now I can't stop thinking of ways to use this fabric. Wouldn't it make a great camp shirt?