I think this is the final layout for my cheddar and indigo quilt: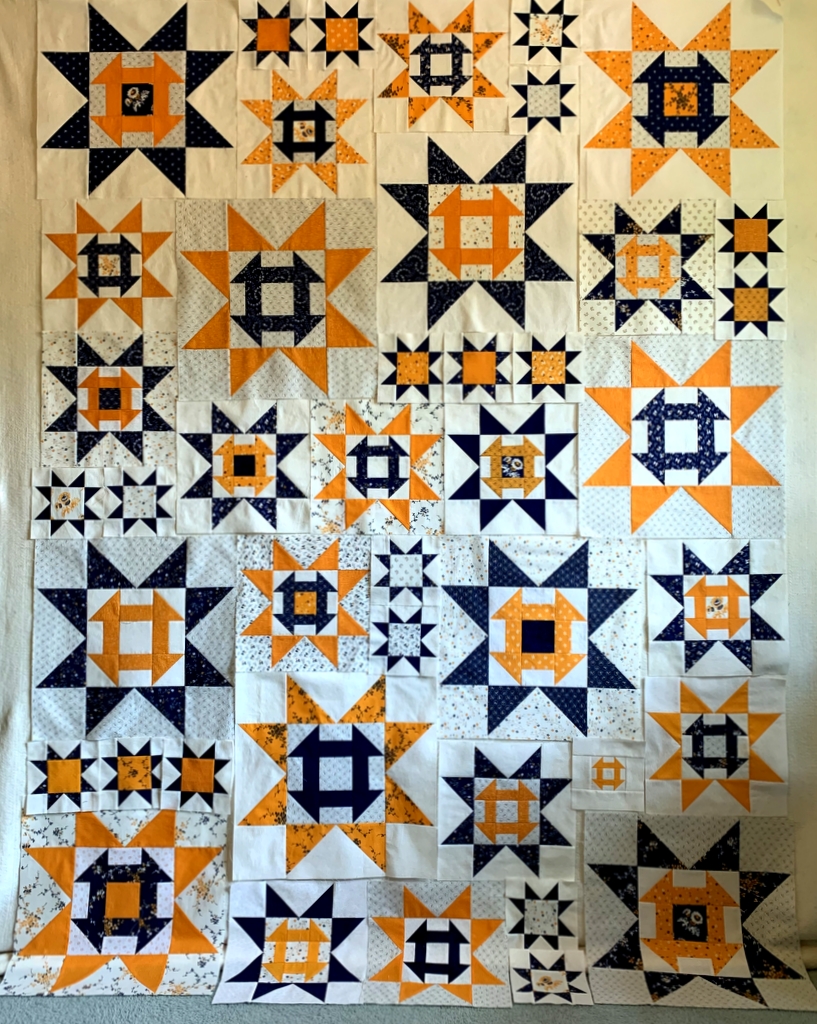 I've been moving the little six-inch Sawtooth Star blocks around to get the best distribution of the stars with light and cheddar centers and am finally satisfied with the layout you see above. They're surrounded by larger Sawtooth Stars with Churn Dash blocks in their centers, called "Churning Stars" after the design by Jenifer Gaston.
As you can see, the little Sawtooth Stars are grouped in twos and threes. In my layout I had one six-inch spot left over — and that's where "that singleton block" appears. But it's not a Sawtooth Star; it's a Churn Dash. Do you spot it? Look in the lower right part of the photo.
Isn't that a sweet little Churn Dash? It started out as a three-inch block . . .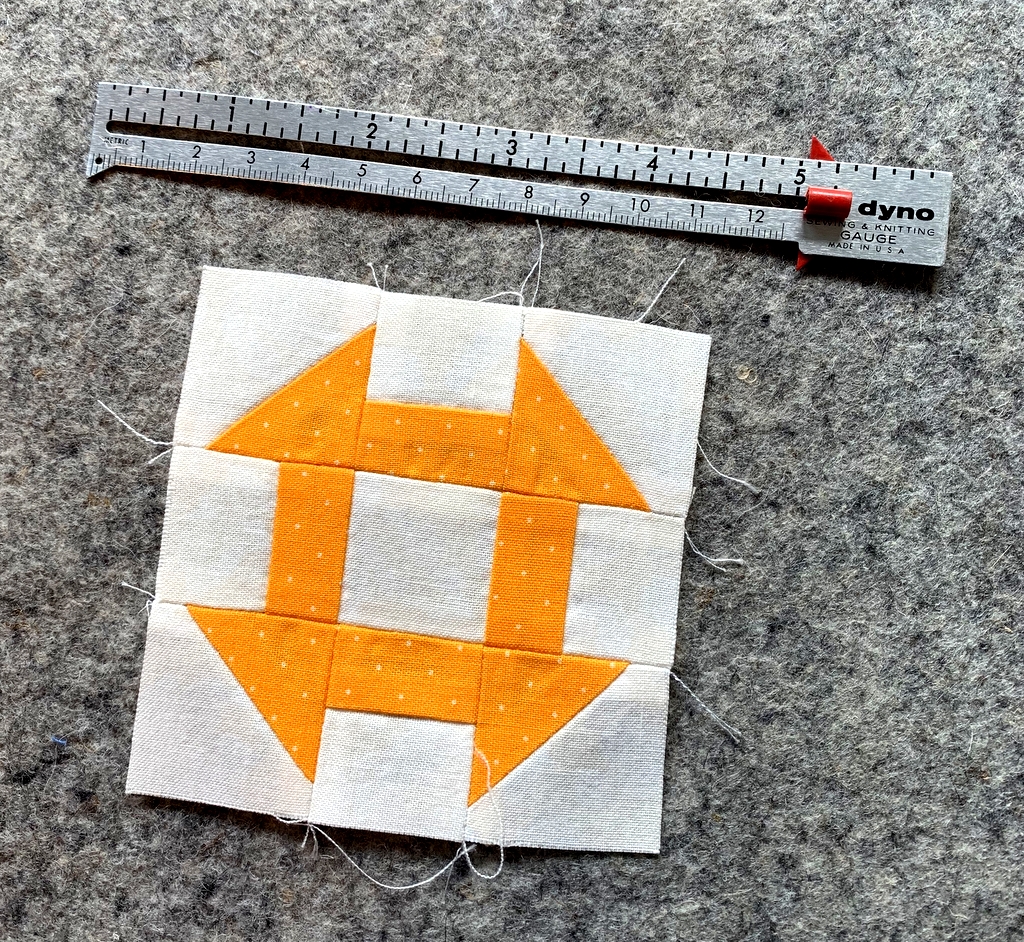 . . . that now nestles inside a block that will finish at six inches: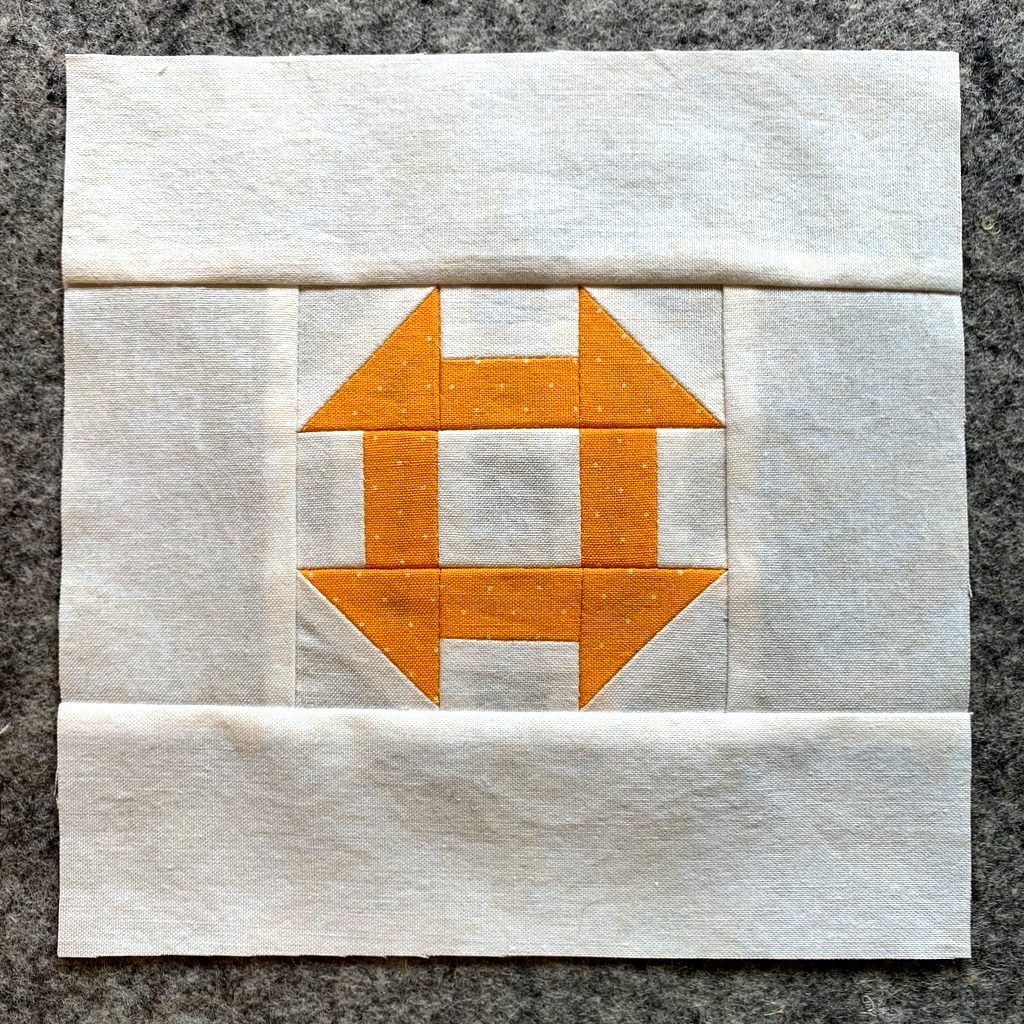 I have my friend Colleen to thank for the creation of this block. Back in November when we were together at Quilt Camp I was making my first Churning Star blocks — the ones that finish at 12″ and 18″ inches square — with no plan as to what I would do with them. It was Colleen who suggested I add some six-inch blocks. That was a great suggestion because it turned out I would need a whole bunch of them.
Then Colleen said, "Why don't you make a three-inch block?" So I did. Just one. It wasn't until I had completed my layout of the quilt on graph paper that I saw a special place for that one wee Churn Dash block.
Standing back 10 feet from my design wall, I am really liking the way the blocks are offset due to the layout and their different sizes. And I am liking the way the Sawtooth Stars are scattered over the surface of the quilt.
Hmmm! Scattered Stars . . . that just might turn out to be the name of this quilt.