I finished sewing the blocks together for Scattered Stars, my cheddar and indigo quilt, this evening. Take a look: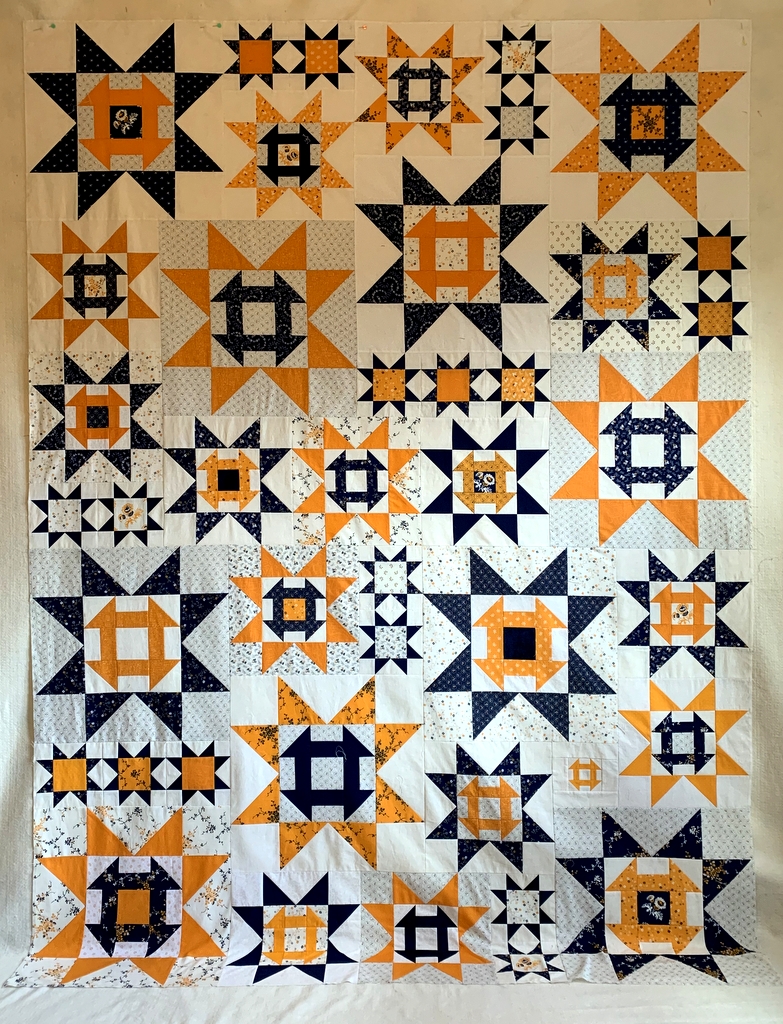 Light from the window on the right side of the room isn't spreading evenly across the surface and the bottom part of the quilt top is puddling on the floor but I think you can get a good idea of what this quilt is going to look like.
With three sizes of blocks (six, 12 and 18 inches) scattered across the quilt, I figured there'd be plenty of partial seams. They're not especially difficult but I wanted to plan for them so I didn't sew an entire seam and then have to rip out part of it. The plan was to sew the blocks into smaller sections that could then be joined together.
I started by printing a photo of my layout and marking the sections with a Sharpie: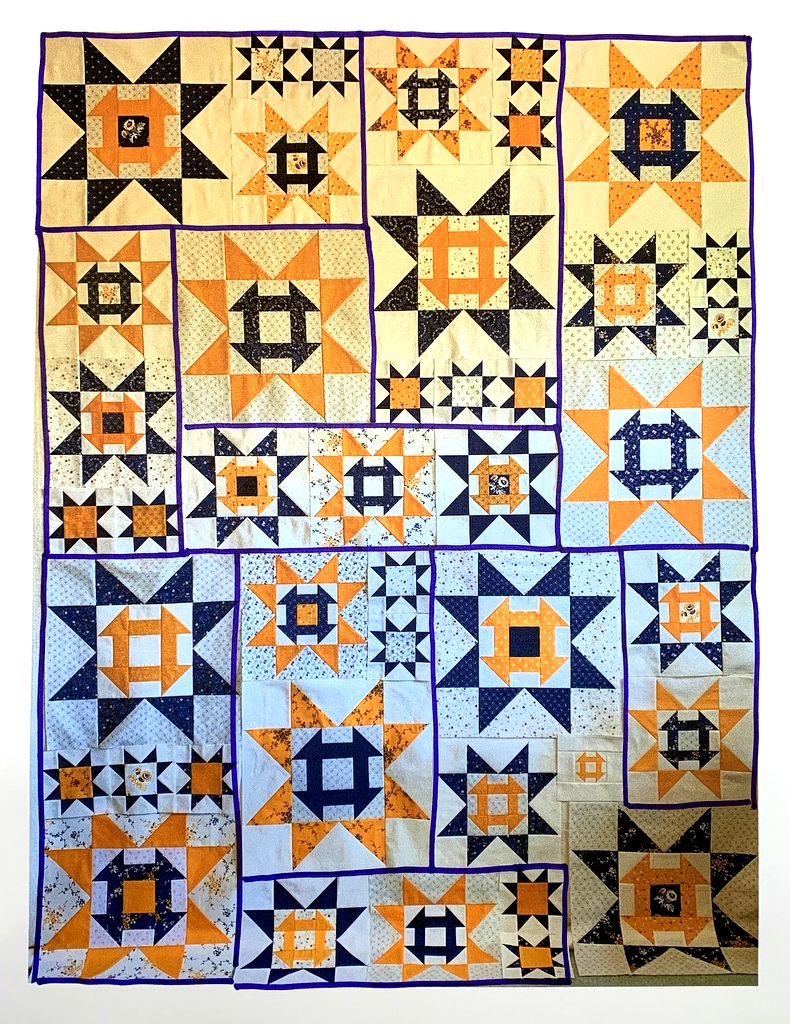 After studying the diagram I realized there are only two partial seams in the entire quilt. What a pleasant surprise! (One of the places is in the lower right side of the quilt around "that singleton block" — the one with the 3″ Churn Dash in it. Can you spot the other?)
I sewed the six-inch blocks together first — six pairs and two trios — and then the 12-inch blocks — three pairs and one trio. The star points meet in these blocks and I knew I'd have to pin the intersections — all 28 of them — carefully. When those were done to my satisfaction (yes, there were a few that had to be redone) I started creating the sections.
That's when I realized there are several other places where star points meet — stars of different sizes. That surprise wasn't quite as welcome. Turns out there were 17 of those, all needing to be carefully pinned. I've circled them in the next photo: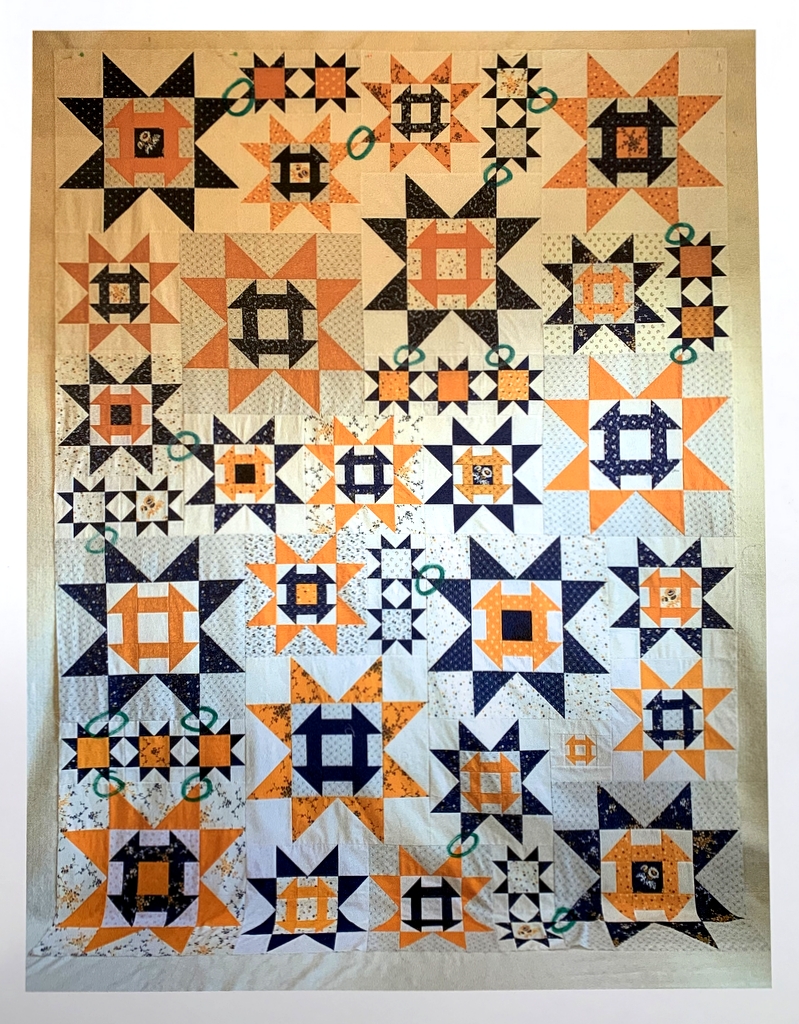 I admit a few of those had to be redone as well.
It took the better part of three days to get these blocks together. Coco was a frequent visitor in my sewing room during this time. Here she is staring at me intently, willing me to stop what I'm doing and fix her dinner: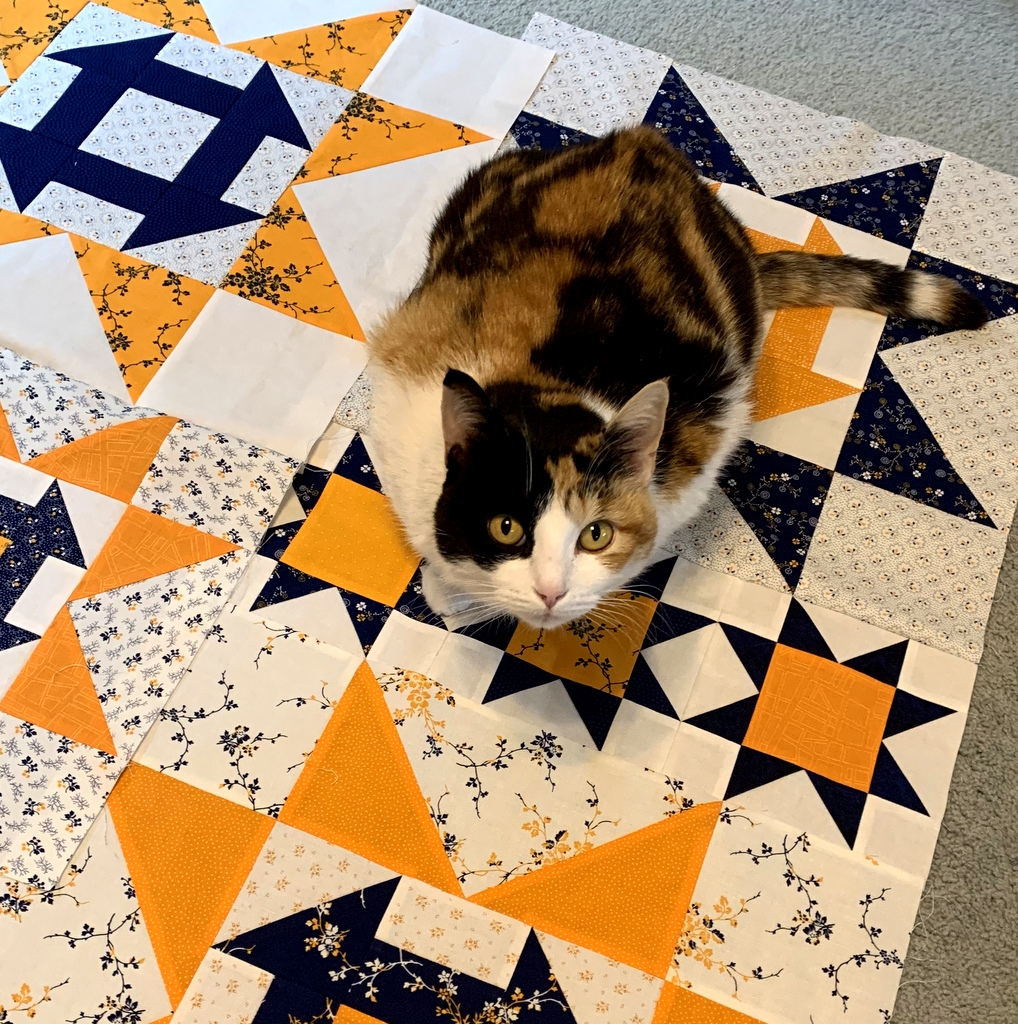 The top measures 66½" x 90½" which is just about right for a twin size quilt so I've decided not to add borders. I'm thinking about finishing it with ½"-wide binding.
Next up: a pieced backing using a couple of 18″ blocks that didn't make the cut for the front.