That's right, friends. I'm giving away a set of oven mitts to three lucky winners. Will you be one of them?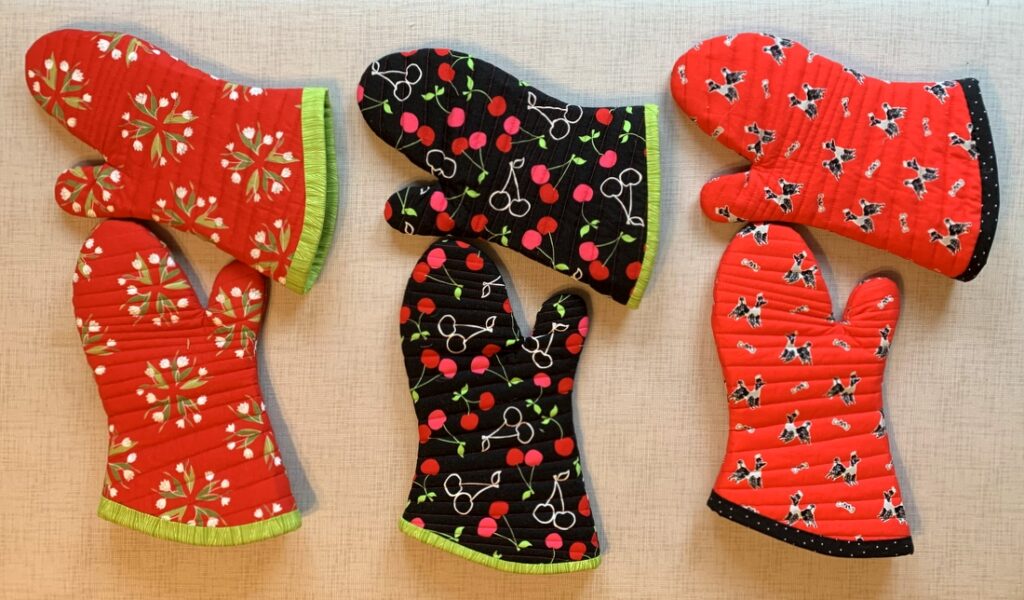 I made these oven mitts in preparation for writing a tutorial. The shape of the mitts is the same on all of them — it's the binding I've been tinkering with. I've been trying different widths and finishing techniques. Now that I'm finally satisfied, I can get to the tutorial — but now I have to make one more set of mitts to photograph for the tutorial!
The mitts you see above were made of four layers:
⦁ the outer fabric is 100% cotton
⦁ the second layer is 100% cotton batting
⦁ the third layer is Insul-bright, an insulated lining material specifically made for hot pads and oven mitts
⦁ the fourth layer (the inside of the mitt) is cotton with an aluminized coating, commonly used to cover ironing boards. This fabric is not essential but I had some on hand and decided to use it because one of my old oven mitts happened to be lined with it.
To be entered in the giveaway, all you have to do is write a comment at the bottom of this post responding to the question, "What is your favorite kind of food?" If you wish, name a dish you especially like in your favored cuisine. How simple is that? No need for you to subscribe to my blog or follow me on Instagram (though I would be delighted if you chose to do either).
One entry per person. I will mail anywhere in the world so international readers are welcome to enter.
Family members are invited to leave comments but are not eligible to win. (Don't feel too sorry for them; all they have to do is let me know they want a set and they'll get one!)
The giveaway will remain open through Friday, January 29. On Saturday, January 30, I'll use a random number generator to pick three winners. Winner #1 gets the red mitts on the left with the flowers; winner #2 gets the set in the middle with the cherries; and winner #3 gets the set on the right with the poodles.
But wait — there's more! It it happens that you are a winner and the mitts are totally the wrong color for your kitchen, you can let me know when I contact you and I'll make you a custom set in the color of your choice. If that happens, I'll draw a fourth winner for the set that didn't work for you.
Good luck, everyone!