Here it is! Tea Time on High Street is officially finished — pieced, quilted, bound, and labeled. Today was an absolutely beautiful day in Portland, with the temperature almost reaching 60. I took some photos outside late this afternoon, hoping to capture the true colors in the quilt. It's amazing how the colors shift depending on the time of day and the amount of light hitting the surfaces. The gray may look cooler in some photos as a result.
Here's the back of the quilt:
In this next shot the binding appears to be fuchsia but in reality it's a vibrant coral . . .

. . . and here's a shot of the back where the binding looks a little orange-y: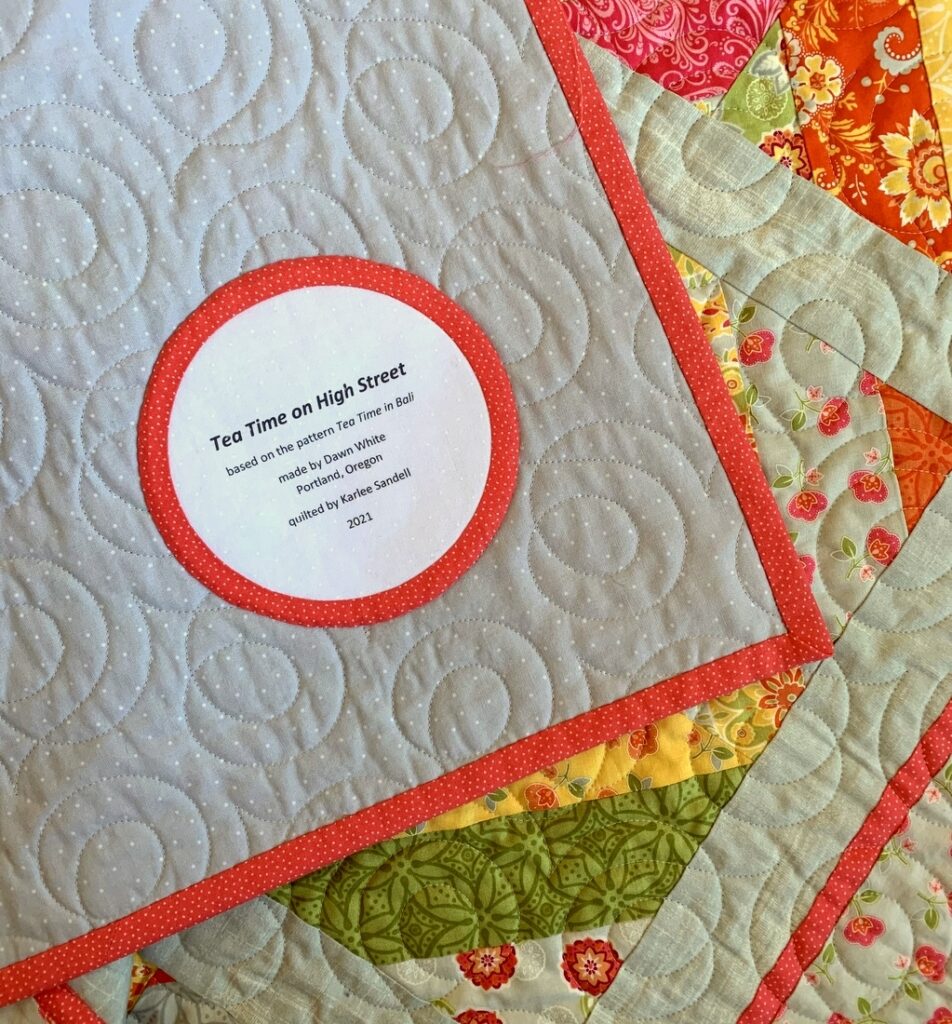 For the label I made an inset circle using the dotted fabric of the binding as my background and then enclosed it in a larger circle:
Did you notice that the ring around the label is the same width as the accent strip and binding? All part of the plan.
To sum up:
Tea Time on High Street measures 55″ square.
It's based on the pattern Tea Time in Bali by Larene Smith but doesn't follow it exactly.
The pattern calls for strip sets to be sewn into tubes, then cut into triangles that open up to form bias-edged squares.
I started with a Jelly Roll: 40 2½" strips of fabric from "High Street," a line of fabrics designed by Lily Ashbury for Moda Fabrics.
Karlee Sandell of SewInspired2Day quilted it with an edge-to-edge design by Urban Elementz called "Soho."
I'm really happy with the way this quilted turned out!