If you visited my website a couple of days ago and wanted to leave a comment on my Wacky Wonky Star post, you were met with an "access denied" message. That must have been frustrating. Bloggers love getting comments so I was frustrated as well. This issue occurred as part of a process I initiated in May to migrate my website to a new server, never dreaming it would take the better part of two months to complete and that several issues involving access to my blog would surface. This latest one occurred when a firewall was added to my site at the conclusion of the migration process, blocking comments. While the issue has been resolved, it has left me feeling sorely vexed.
Or was it the heat? My previous post was published June 27 while Portland was in the midst of an unprecedented heat wave – now being called a "heat dome" – with temperatures hitting 108 on Saturday, 112 on Sunday, and 115 on Monday. That 115-degree day was roughly 40 points above our average for this time of year. Sewing was out of the question, as my sewing room is on the second story of our Craftsman-style house, which is not air-conditioned. The Dear Husband and I slept in the guest room in the basement, which usually stays deliciously cool on hot days. It was definitely not "deliciously cool" this week but at least we were able to sleep.
Yesterday it was "only" 92 degrees so I made my second attempt at a Wonky Star block. I liked it even less than the first one. Really, the result is not even worth showing here. Being a bit on the stubborn side, I was determined to give it one more go – and then I saw a new star block in an email from Moda that so piqued my interest I decided to make it instead: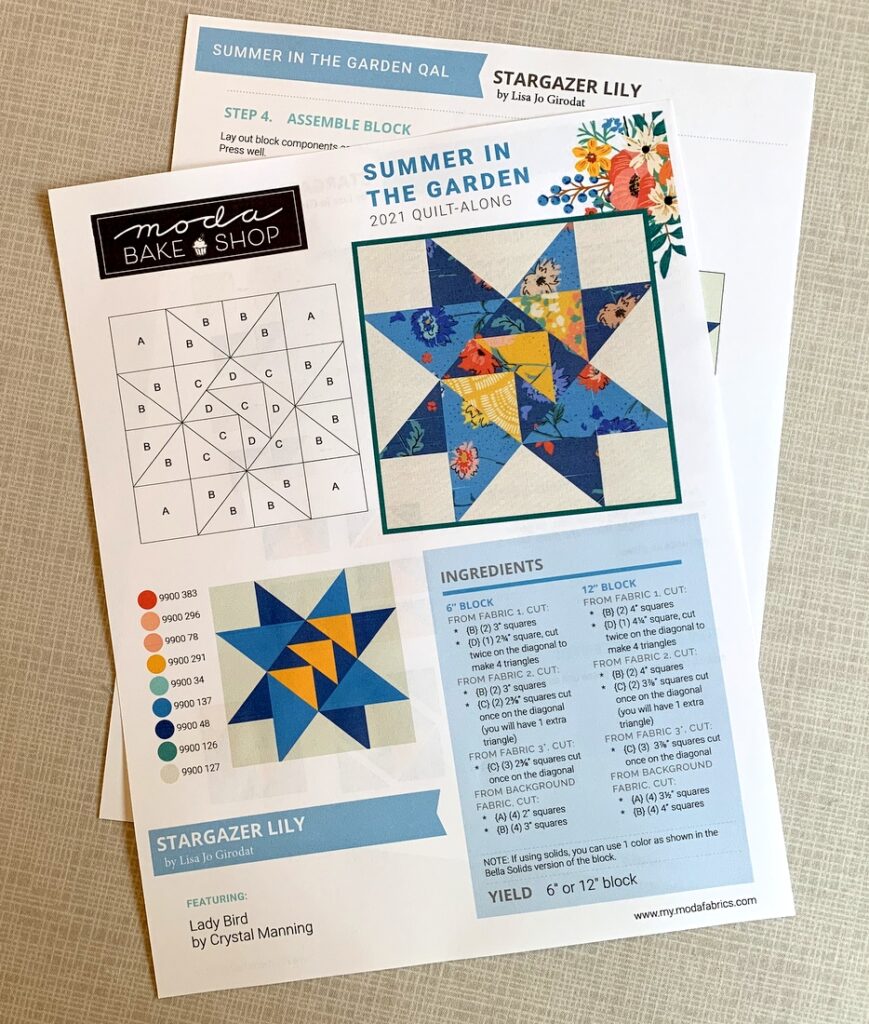 This is the third block in a new Summer in the Garden Quilt-Along offered by Moda Fabrics. Named Stargazer Lily, the block was designed by Lisa Jo Girodat. It's available as a free download (three pages) which you can find right here. I'm not going to join the Quilt-Along but I am going to make that block. Right now, in fact. It feels so much more "me" than that ole Wonky Star anyway!