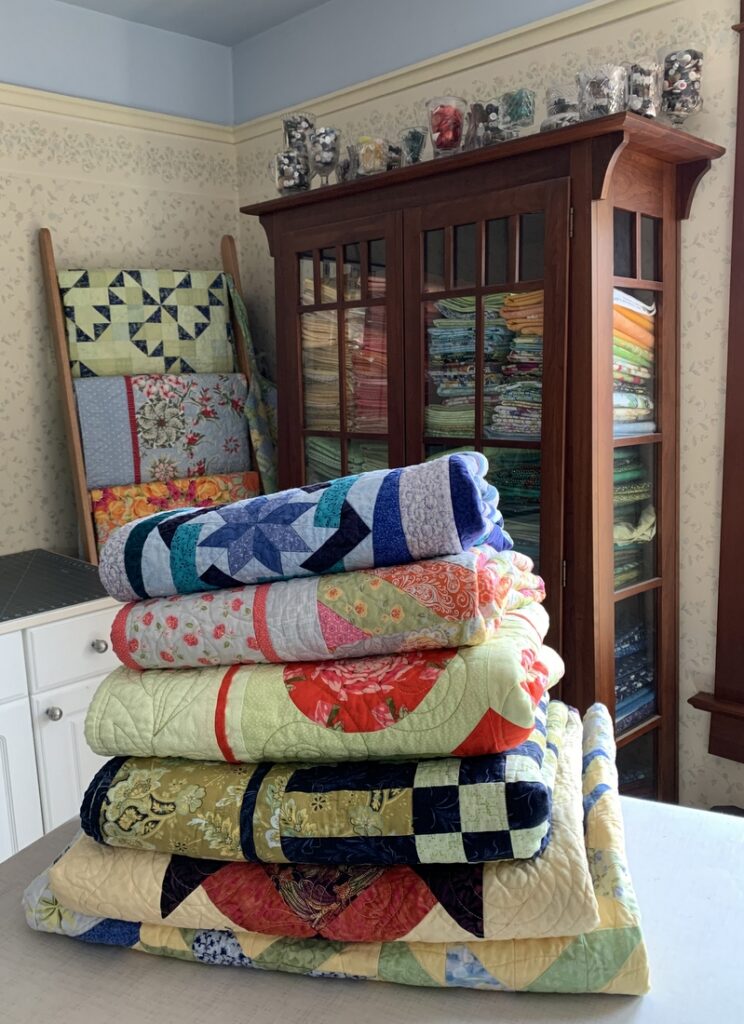 My quilt guild, the Metropolitan Patchwork Society, recently published a blog post entitled "A Call for Comfort Quilts." Friends of Hopewell House is looking for comfort quilts for residents of Hopewell House, a hospice facility reopening in southwest Portland this fall after a three-year hiatus. Prior to closing in 2019, Hopewell House spent 30 years helping thousands of individuals and their loved ones navigate with grace through one of the most profound times in their lives — death and dying.
According to Jill Citro, the Comfort Quilt Program coordinator, "The Quilt Program will offer patients a quilt of their choice, handmade by generous and creative community members who have donated their time, talents and materials. Each quilt will remain with the patient during their care. Upon the patient's death, their quilt will be part of their 'passage observance' with their family, friends and caregivers, and the family will be invited to take the quilt home with them. As you can see, the quilt becomes an extremely meaningful, moving and cherished gift."
It's time to say goodbye to a few of the quilts I've made over the past 15 years or so. In a way, quilts are like books. If you've read a book and loved it, it's like an old friend. It's comforting to see it on a bookshelf; it might even be a book you'll want to read again someday. I've become attached to every quilt I've made (even the ones that were made as gifts!) and I have enjoyed filling my home with them. They've been displayed in various and sundry places:  draped across chairs or on the back of couches, folded at the foot of beds, or displayed on quilt racks. Many a time a quilt has been pulled from its place on a chilly day to cover me or the Dear Husband while reading or watching TV.
Of the quilts I'm donating, three were made in classes I took from Billie Mahorney at the Pine Needle Quilt Shop in the mid-2000s. (Billie taught me so much about quiltmaking and is the one who first encouraged me to teach quilt classes.) A couple of the quilts are original designs and one is a recent quilt made from a free pattern. Now, freshly laundered and folded, these quilts are on their way to their new home. When Hopewell House opens its doors again, my hope is that these quilts will bring comfort and maybe even joy to hospice patients and their families.