Here's another block in my brand new quilt project: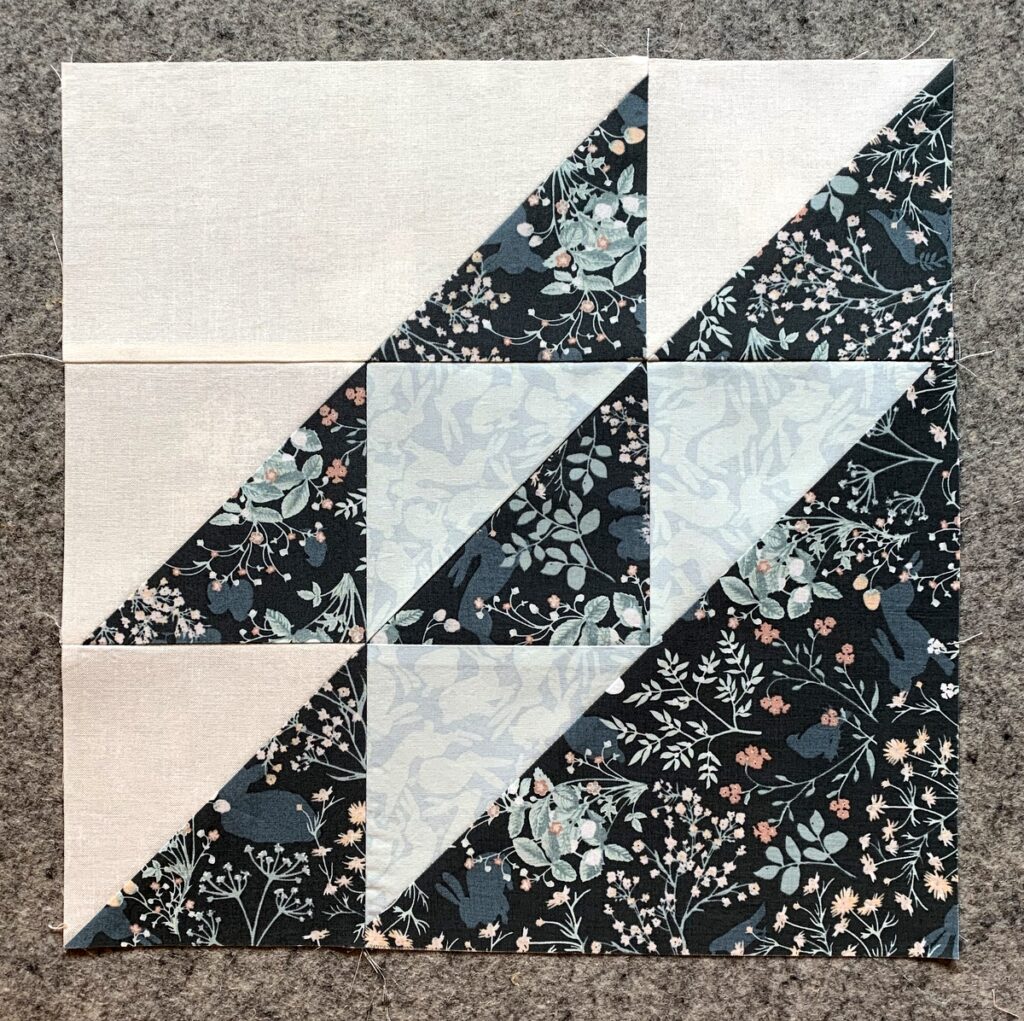 Do you recognize it? It's the traditional North Wind block, sometimes written as Northwind. I found this striking two-color version (unquilted) on Pinterest recently: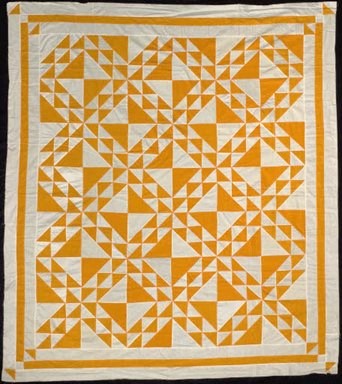 Made by a woman named Elizabeth Thomas, it measures 84″ x 94″. The quilt top was given to the Northwest Museum of Arts and Culture in Spokane, Washington in 1972 and is part of the museum's regional history collection.
I love the look of this traditional version. I may have to make one someday. But for now I'm heading in a slightly different direction. That's because I saw how Erica Jackman of Kitchen Table Quilting put a contemporary spin on the North Wind block in her pattern The Georgie Quilt: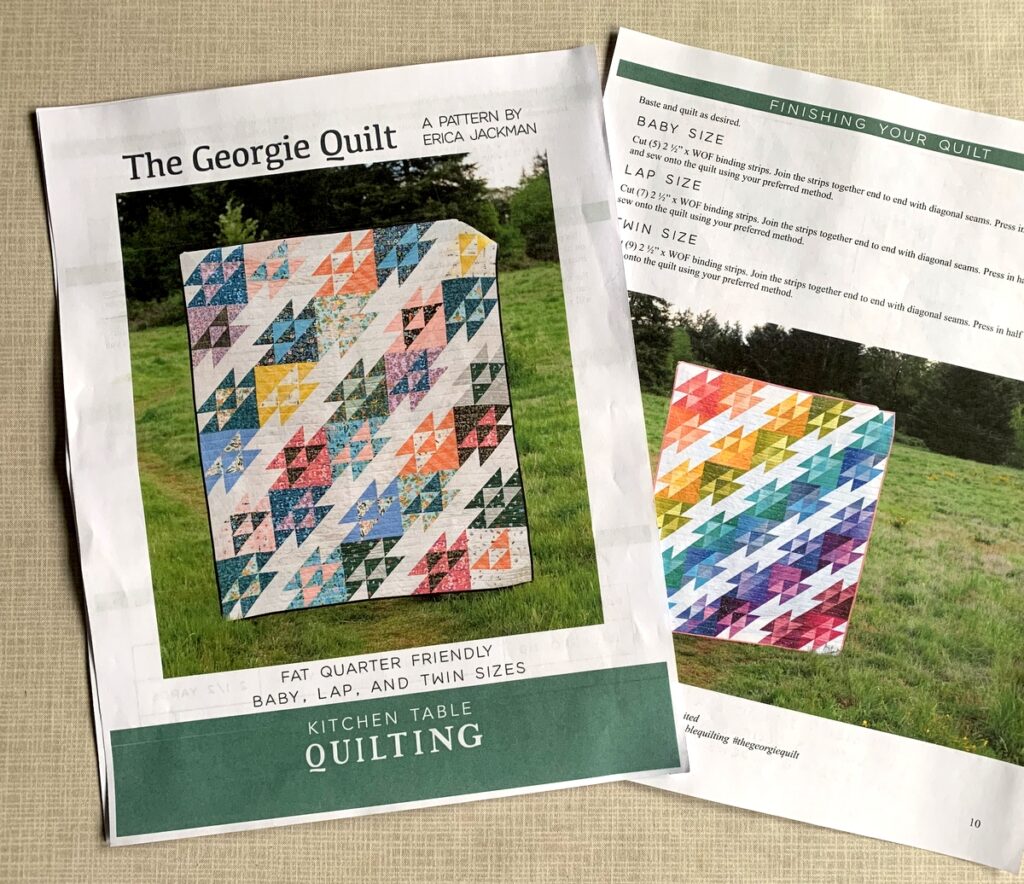 Her clever use of color and block orientation yielded a design with energy and movement. Do you see how the white corner triangles are oriented in such a way as to create a streak of lightning effect? It's especially pronounced on the rainbow version you see on the right above.
Initially I had my eye on a different pattern by Erica Jackman to showcase the fabrics I bought recently from Katarina Roccella's "Mindscape" fabric line. I couldn't decide on which pattern . . . so I bought both. I ended up choosing The Georgie Quilt pattern for this project mainly because the large corner triangles in the 12″ finished blocks show off the fabric prints so beautifully.
Here are my first four blocks: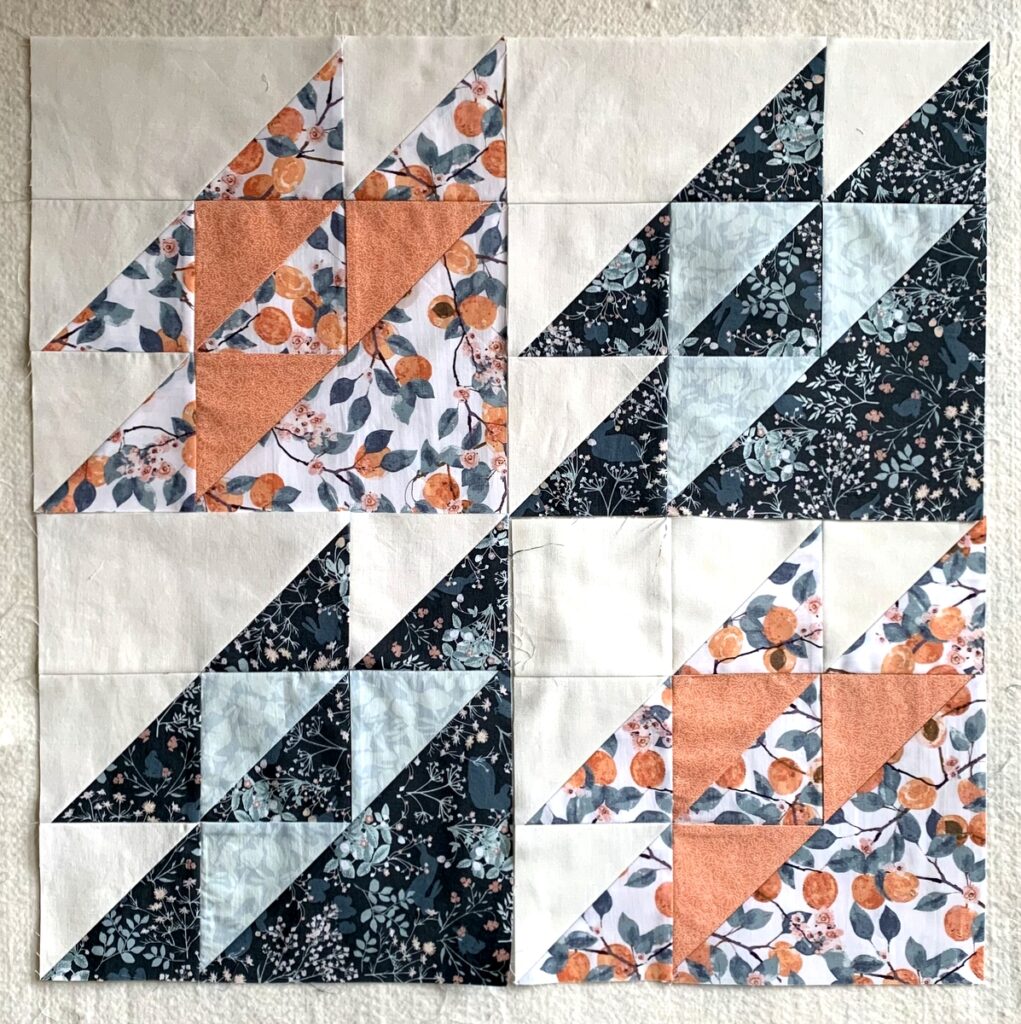 Why the duplicate blocks? Well, Erica Jackman's cover quilt has duplicate blocks but there's a second reason. The directions call for cutting squares in half on the diagonal and sewing the resulting triangles with bias seams. I avoid sewing triangles together on the bias whenever possible because it's difficult to stitch and press bias seams without some distortion.
In analyzing the block construction, I spied with my little eye the Split Cat's Cradle block inside it. Take a look at my fifth block, which reverses the positions of the two focus fabrics from blocks three and four: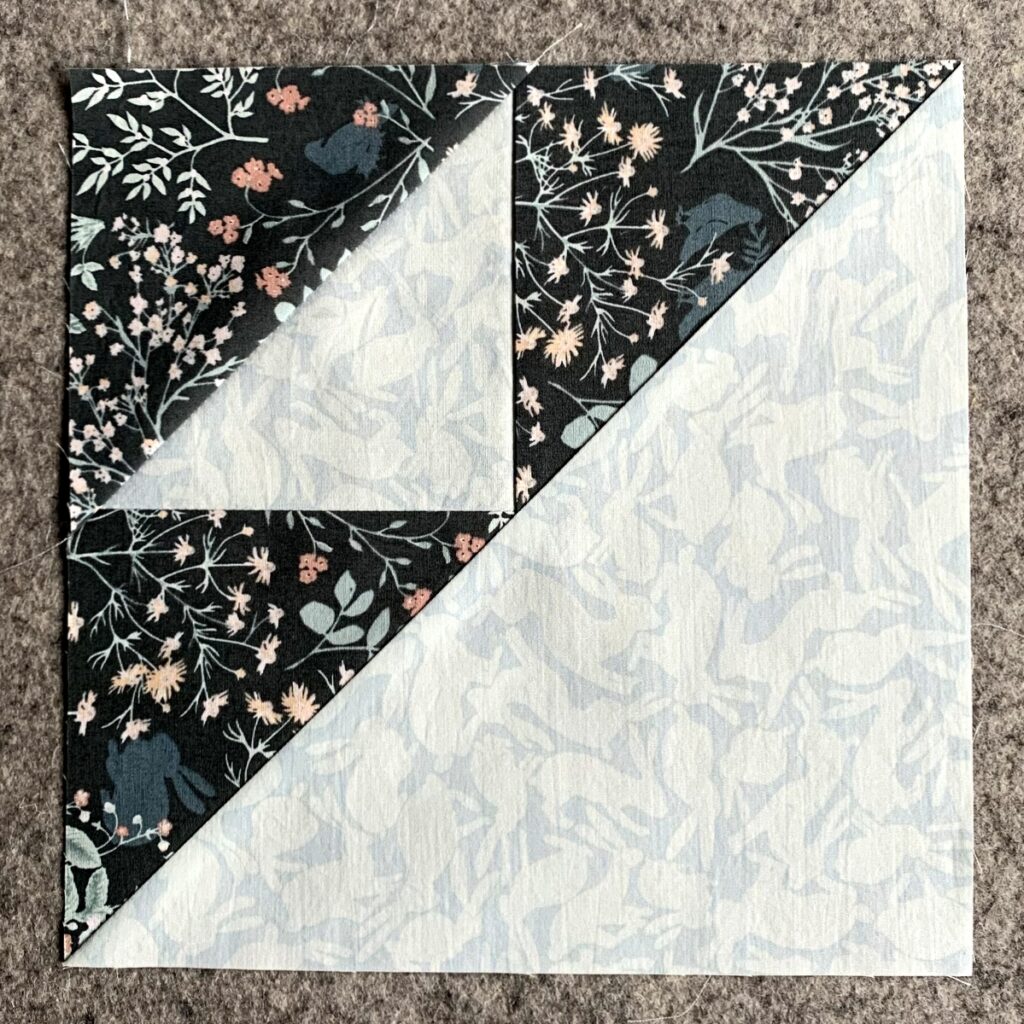 Now look at the entire block; you'll be able to spot the Split Cat's Cradle right away: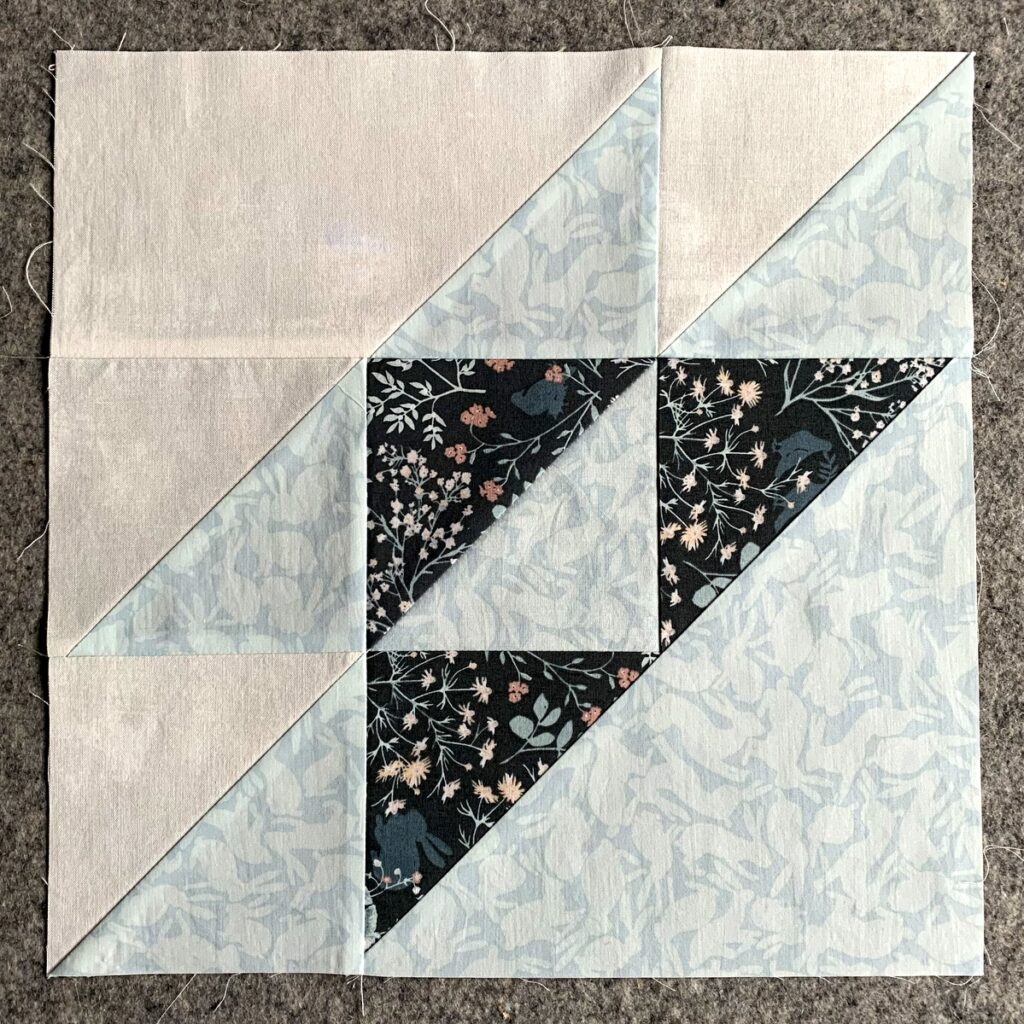 I knew immediately I could use a specialty ruler, the Cat's Cradle XL Tool from Creative Grids, which makes it possible to make two blocks at a time out of squares and rectangles without ever cutting a single triangle: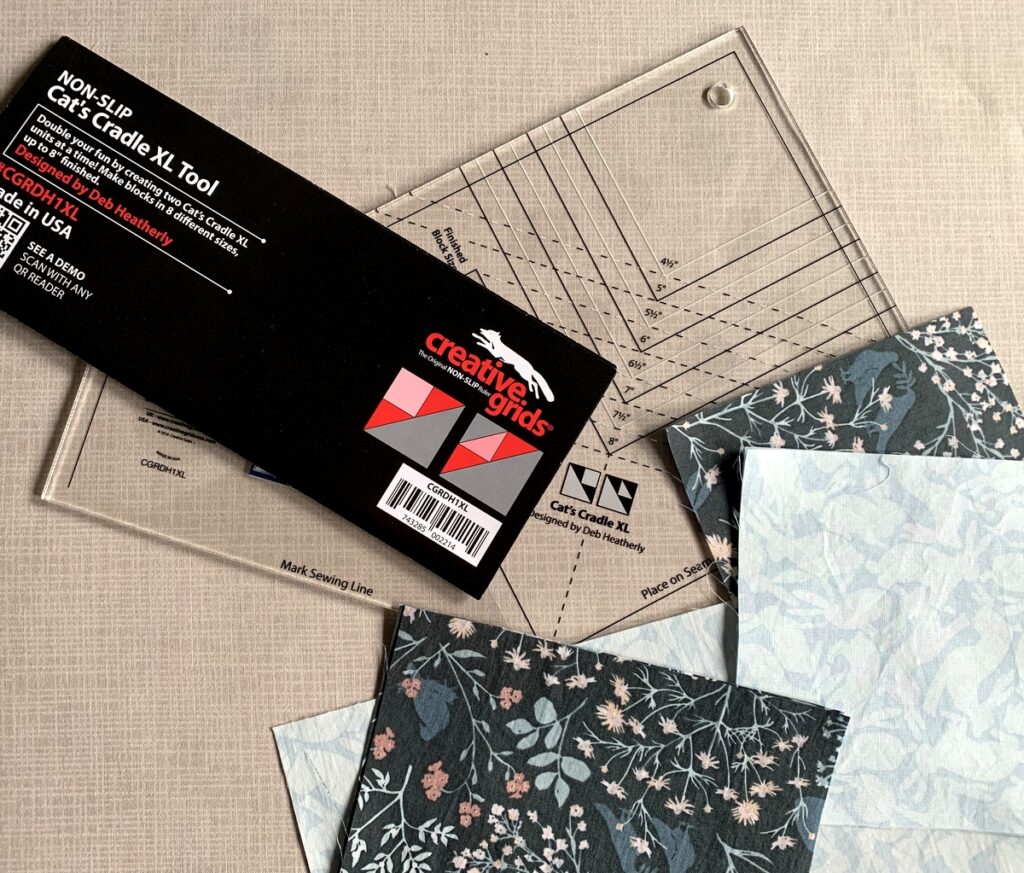 I bought the original Cat's Cradle Tool when it first came out in 2015; it makes Cat's Cradle blocks up to 4″ square. The XL Tool, which came out in 2018, makes blocks that finish 4½" to 8″ square. The largest size is just what I needed for my North Wind blocks.
This is going to be such a fun project. I can't wait to dip into my "Mindscape" stash to create some more blocks — especially when I can make two in the time I would normally make one!