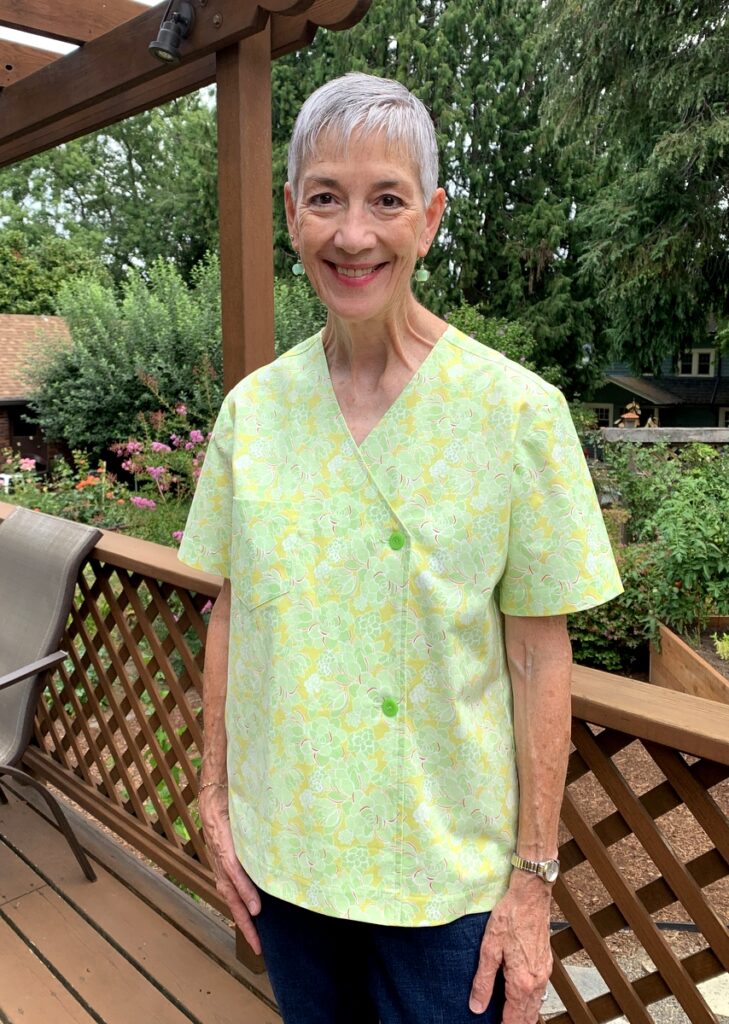 The shirt I started back in June is finally finished. I got off to a great start using a vintage "Fast & Easy" Butterick pattern and a summery cotton print from my stash: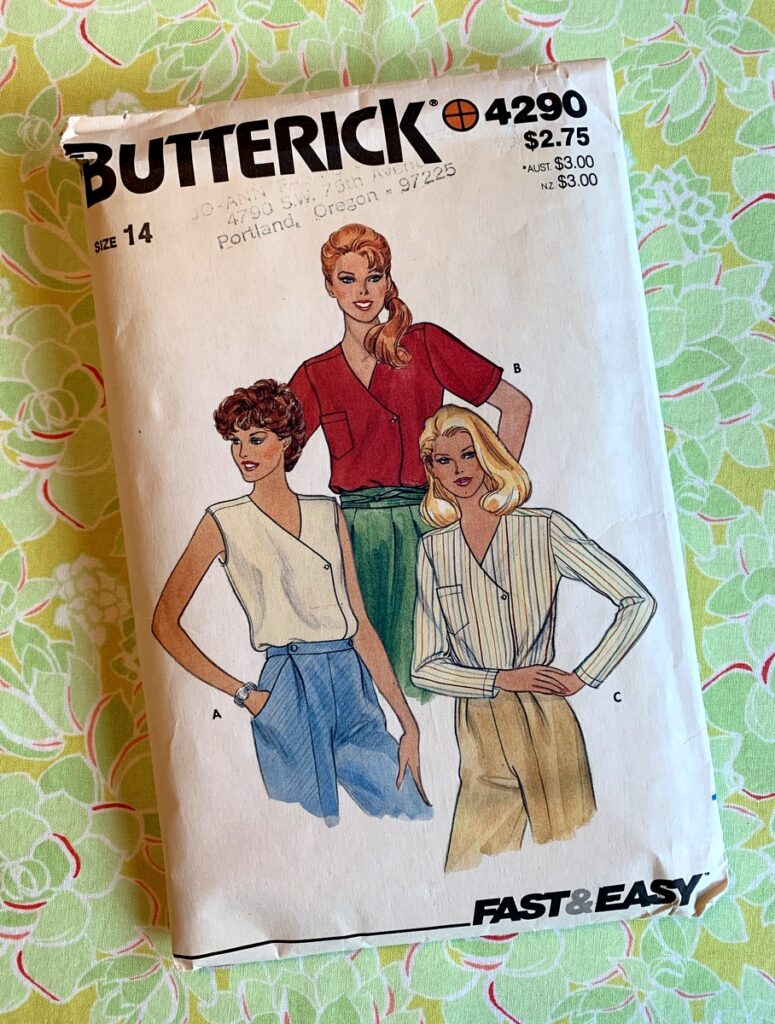 What should have been an afternoon project came to a screeching halt when I decided to serge the side seams. The last time I used my serger was in 2020, when I made myself this bathrobe.
For the uninitiated, a serger is a specialty type of machine that sews seams, trims off seam allowances, and finishes raw fabric edges — all at the same time. The serger requires four spools of thread, each of which has an intricate threading process. The four threads work together to give a lovely finished edge to a seam.
Almost immediately one of the four threads broke. Now most people would simply rethread the one that broke and carry on. Not me! Here comes a confession:  I never learned how to thread my serger. I found the diagrams that came with my manual impossible to follow so every time a thread broke I would pack my serger in its original box, return to the Montavilla Sewing store where I purchased it back in 2004, and ask the nice people there to "show me one more time how to thread it."
This time I took my serger in to Montavilla to be serviced because it was way overdue. When I got it back a couple weeks later other things in my life took precedence and it wasn't until yesterday that I got back to finish the job.
I'm pretty pleased with the result. My summer top is casual like a camp shirt but a wee bit dressier. If you look at the pattern cover you will see that the shirt was designed to be tucked in at the waist. I wanted mine to be an overblouse so I added a second button at the waist. I also lengthened the bodice by one inch and took in the side seams an inch. The fit is a bit boxy but I like it: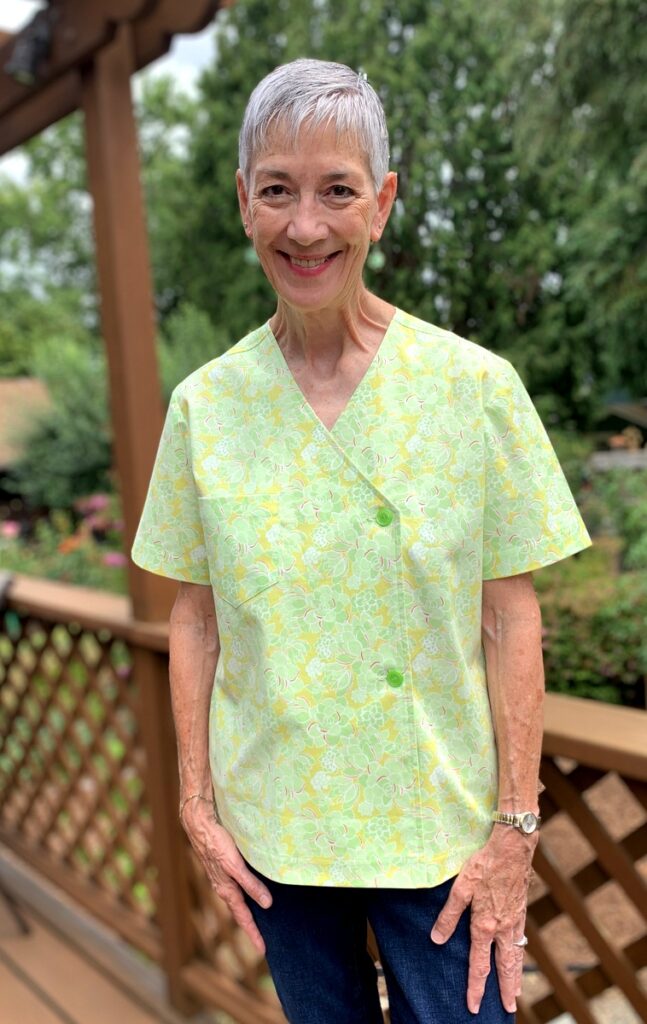 Even though my heart remains in quilting, I'd like to make myself a few more short-sleeved shirts. I even have another vintage pattern in mind: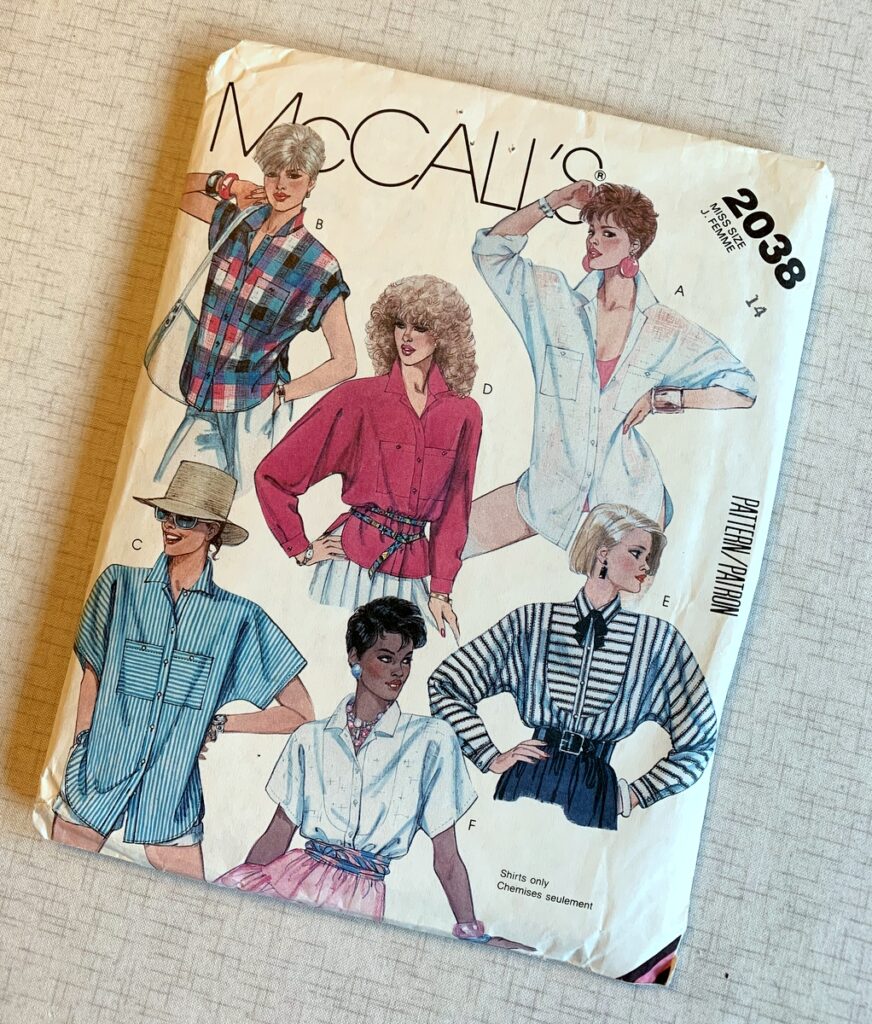 Can you guess how old this pattern is? Hint: big hair and broad shoulders! This pattern dates back to 1985.
As for my serger, it was a lower end model when I bought it almost 20 years ago. Most of the sergers sold today are called "self-threading" or "air-threading" sergers, taking all of the hard work and frustration out of trying to thread them yourself. I think it's time I upgraded my serger, don't you?