Here is a little top I just finished that features raw-edge machine appliqué in the bowtie blocks and a gradated fabric in the alternating blocks and setting triangles: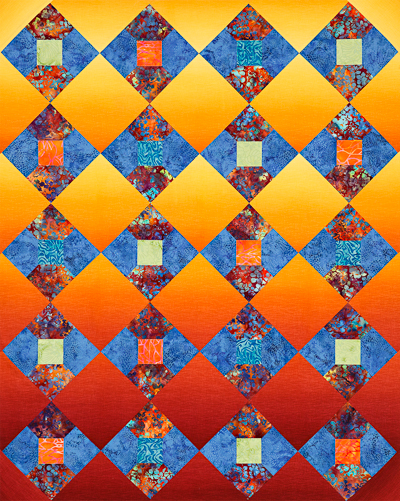 Raw-edge machine appliqué is a technique I avoided for years because of concerns about fabric fraying around the edges. Then in October, Nicole of Sister's Choice Quilts wrote about machine appliqué using Steam-a-Seam-2, a double-sided fusible web. I've used Steam-a-Seam-2 on other projects but not in combination with machine appliqué. Nicole reports that she has never had a problem with frayed edges and proved it by showing pictures of one of her quilts that's been washed multiple times. Based on Nicole's photos, comments, and excellent instructions (see them here), I decided to give machine appliqué a try.
I chose the bowtie block, one of my all-time favorites, which I've always made the traditional way using Y-seams. Y-seams are a little time-consuming but the results are wonderful. (A note to those of you who avoid Y-seams like the plague: I have my own little trick in sewing them, which I will share in a future tutorial).
The bowtie blocks shown above came together much more quickly: each block is a simple four-patch with a contrasting square for the knot, fused in place and finished with a blanket stitch. The fastest bowtie block ever!
Here's a close-up of a block with the fused knot . . .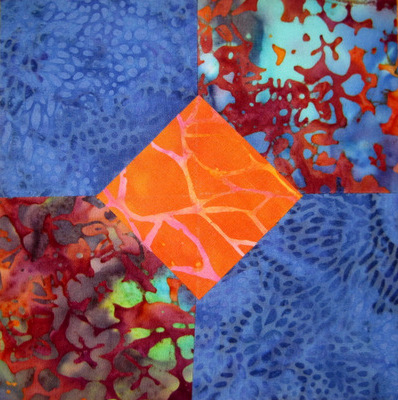 . . . and the same block with the blanket stitch added: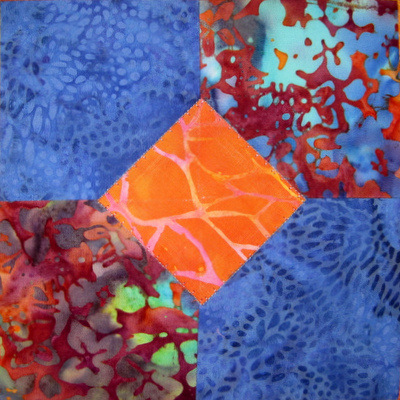 Here's the same block from the back: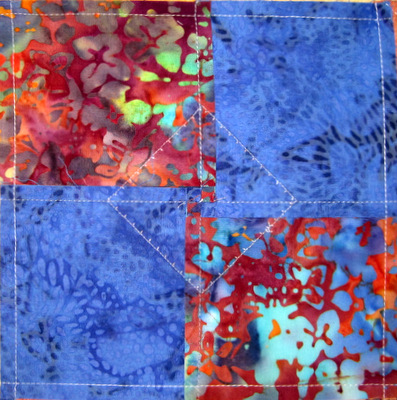 When I made the four-patch blocks, I rotated or "popped" the seam allowances open, allowing the four connecting seams to be pressed in the same clockwise direction. This gives each block a nice flat center — an important consideration when you are fusing another layer of fabric to it.
For the alternating blocks I chose an ombre fabric from the Daiwabo Collection by E. E. Schenck that gradates from a pale lemony yellow to a burnt sienna. Because the alternating blocks are set on point, I had to cut them on the bias to achieve the gradated effect.
The result is Bow-tique Sunrise, a colorful, quirky little quilt. It measures 35″ x 43″, and the blocks are 6″ square. Instead of adding borders, I'm going to finish it as is, binding it in the multicolored batik featured in the bowtie blocks. Don't you think it will make a cute baby quilt?