It would be fair to say that the Dear Husband and I are slow to embrace new technology. Not that we're averse to it. It's just that we get along with what we have and don't recognize a need for something until it's been on the market a rather long time. We were probably the last family in the western world to buy a microwave (which we use primarily to reheat coffee) and we still don't own a flat screen TV.
So it came as a surprise to friends and family when we acquired a new gadget earlier this month: an iPad Mini. The iPads have been around for a few years but Apple released the Mini just a few months ago. I had been thinking about buying an iPad for a couple of years but never quite got around to it. By the time I was ready to take the plunge, the Mini was available. In a way, my procrastination paid off.
We've had this tiny little computer for only three weeks and have a lot to learn about its capabilities, but so far I love everything about it. I do feel guilty about something, though. I bought it for the DH and me, but I have monopolized it from the get-go. It has my email, my Scrabble, and my music loaded on it. I listen to Pandora Internet radio on it for hours in my sewing room. I even carry it around in my purse!
Of course, one of the first things I did was make a case for it: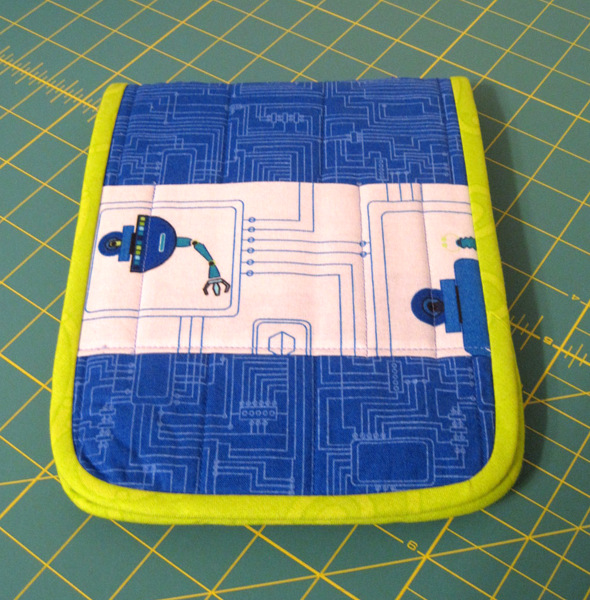 The case is basically a padded envelope with a flap that covers the entire front. That's because I wanted to protect the iPad Mini with extra batting. The back side has a layer of batting and a layer of stiff interfacing.
With the flap open, you can see how the iPad Mini is easily tucked into its snug little pocket: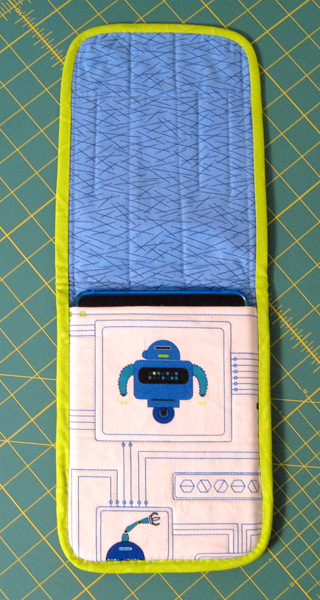 Thinking the case might double as a cushion for the iPad Mini while it's in use, I added four strips of elastic to the back corners: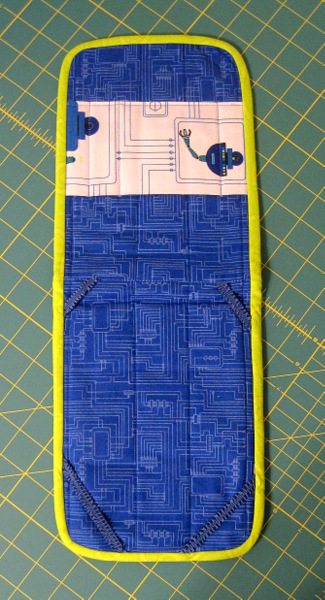 I wasn't sure of the proper position so each strip of elastic is in a slightly different place. This cover is a first attempt so the fact that the strips of elastic are not in perfect alignment doesn't bother me (well, not too much).
As it turned out, the two top strips of elastic aren't deep enough to hold the top of the device but the bottom two work just fine. The bottom strips actually do double duty: they come around to the front and hold the top flap in place, keeping my — er, our — iPad Mini very secure when it's in my purse: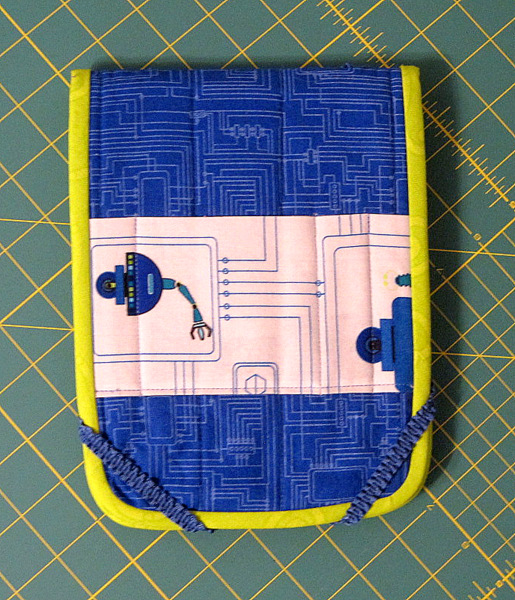 The divided pocket on the front is for earbuds and a stylus. I think the next version might have a zippered pocket on the inside for these items, leaving the front cover open to some creative patchwork.
Isn't this robot fabric perfect for an iPad Mini case? The fabric is from the Mechanical Genius line by Mo Bedell for Timeless Treasures. You'll be seeing more of the robot fabric before too long because I'm using it in two baby quilts, currently under construction.