While electricians and plumbers were working their magic last week in the bathroom that's being renovated (see previous posts), I was at work down the hall in my sewing room. As planned, I quilted two baby quilts — but the quilting didn't go as planned. I wanted to do free motion quilting (FMQ) using a large-scale boxy geometric design. Alas, it was not to be. My up and down lines looked fine but I lacked control on the side to side lines.
After several attempts, each of which was followed by picking out stitches, I gave up on the FMQ and resorted to quilting straight lines in both directions using a walking foot. I randomly spaced the lines from three to six inches apart. It wasn't necessary to mark the quilts as I used the straight lines in the print fabric and the seamlines as my guides.
You may remember that Nancy Stovall of Just Quilting basted the quilts for me on her longarm machine. The big red basting stitches were extremely easy to remove — but even so, it took a bit of time to remove the thread.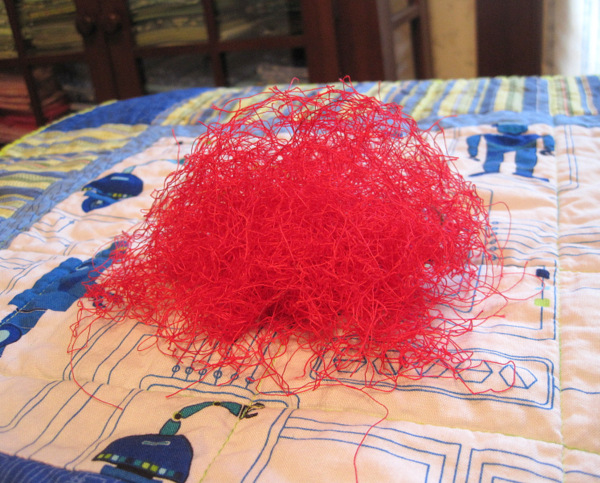 My friend Pam Raby, who blogs at Quilts and Paws, suggested using water-soluble thread next time. Brilliant! I've already passed the suggestion on to Nancy.
Bound, labeled, and washed and dried, this quilt is ready to be delivered to its rightful owner. Here's a photo of the back of baby Nehemiah's quilt: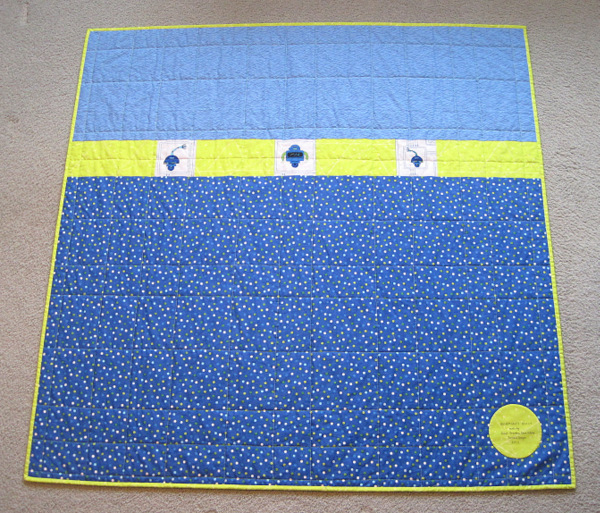 I also found time to work up a wall hanging using my own Full Moon Rising pattern:

In addition to four metallic fabrics from the Neutral Territory line by Donna Becher for P&B Textiles, I used a beige circle fabric from the Earthtones line by Norman Wyatt Jr., also for P&B Textiles — those two lines are a match made in heaven! — and a Marcia Derse scallop print for the end pieces. The strips between blocks, which I'll use for the binding, are from an Andover blender that I have in several colorways.
And finally, just because it's spring — my favorite season — and I'm rejoicing in every blooming thing, I have to show you what's on display in front of the Portland White House: