My quilt group, the Quisters, got together yesterday to celebrate Vivienne's birthday. Her birthday is not until next month, but finding a day when all six Quisters are free can be a bit of a challenge. Happily, we found a day and yesterday was it. I made Viv an iron caddy: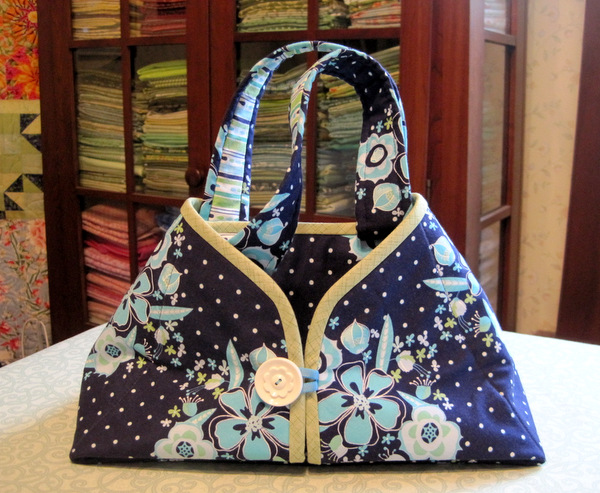 The pattern is "Caddy Pad" from Sisters' Common Thread. The caddy doubles as an ironing pad when opened up because the inside is covered with a heat-resistant lining.
The floral and dot print and the striped fabric on the inside of the handles are made from Mo Bedell's Party Dress line for Blue Hill Fabrics. I've been saving this fabric for three years, waiting for just the right project. Here's a close-up of the button and loop closure: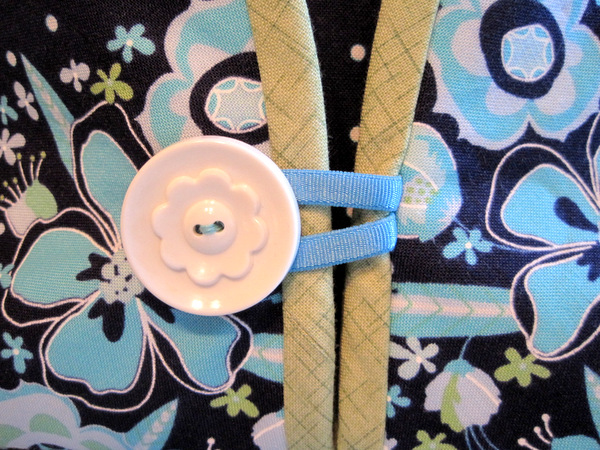 I found the vintage buttons (there's one on the other side of the caddy, too) at the Button Emporium in downtown Portland. Oh my, what a lovely shop for button lovers!
The fabric for the bias binding was also from my stash. It's from the Serendipity Sunflowers line by Debbie Beaves for RJR Fabrics. The date on the selvage is 2007, so I guess I've had it a while.
I made this pattern for the first time in March, when I was on a retreat with the Quisters. I made a few modifications to the pattern which you can read about here.
The Quisters had a wonderful time, all the more so because Deborah brought homemade strawberry shortcake and lots of whipped cream.