Did you have a fun holiday weekend? I sure did. I spent it in Idaho with my sister Reigh, my twin sister Diane, and my niece Kristi. Reigh and her husband just moved into their brand new home in Meridian, a suburb of Boise. At 1500 square feet, with two bedrooms and two baths, the house is the perfect size for a retired couple. (Diane and I were so eager to see their new home that we essentially invited ourselves for the weekend.)
Here's a picture of the pillowcases I made for Reigh as a hostess/housewarming gift: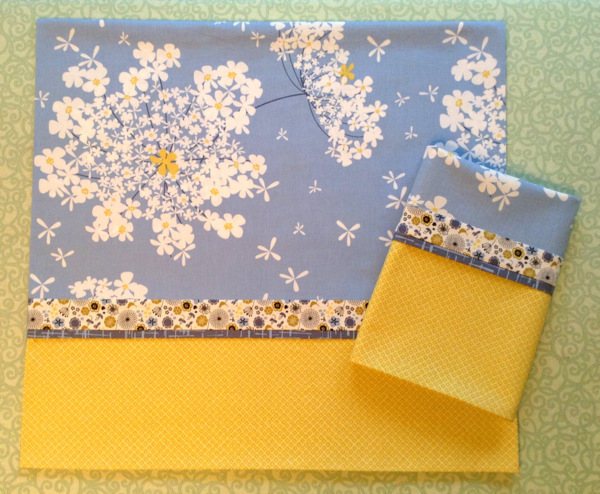 I knew she would love the fabric. Everything but the gold band is from Violet Craft's Madrona Road line for Michael Miller. The gold fabric is one of the Mini Mikes blenders, also from Michael Miller.
I wasn't planning to do any sewing over the weekend but there was a problem with the guest room shower curtain, brought from the old house. It was too short, and there wasn't a good way to add to the length. So off we went to HomeFabrics and Rugs, a home decorating fabric store in Boise where we have found many a piece of fabric for other home dec projects in Reigh's former home.
HomeFabrics has an amazing selection of fabrics, and the prices are just as amazing. The fabric we found for Reigh's new shower curtain was a mere $5 a yard, and the trim was $2 a yard. You can't beat that at JoAnn, even with a 40% off coupon. Here's a picture of the new shower curtain in situ:
The photo above doesn't do justice to the fabric. Here's a closer look: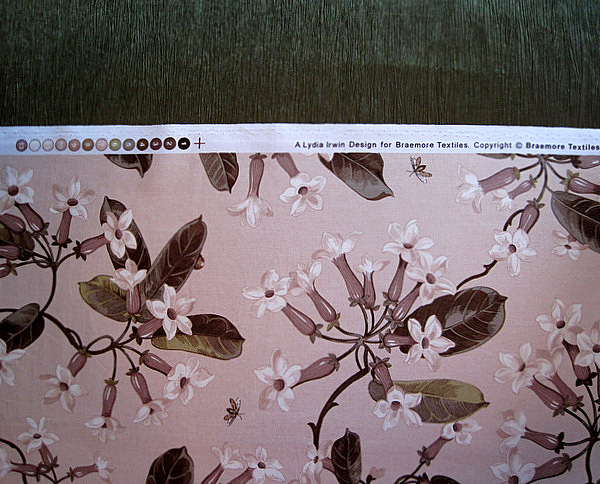 The solid green fabric used in the inset has a sheen to it and a crinkly texture that looks good against the smooth finish of the cotton print. Notice how well the fabrics go with the tile trim on the half-wall just to the right of the sink?
All of the windows in Reigh's new home feature beautiful wood millwork so she opted for plantation shutters to show it off. That means that the panels I made in several rooms in Reigh's old house couldn't be used. One pair is going home with Diane, to be "repurposed" into valances when I visit her at Thanksgiving. Half of another pair came home with me, to be refashioned into a valance for Reigh's master bath. I certainly have enough quilt and home dec projects to keep me going for a while!