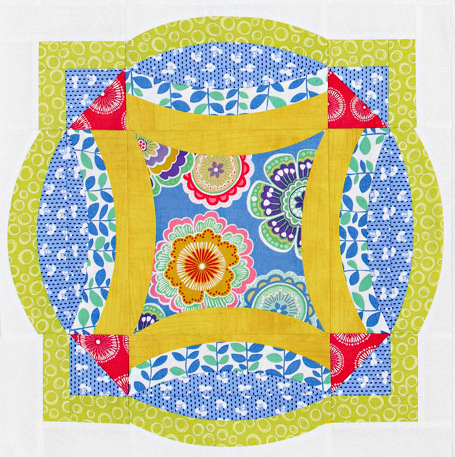 Yes, it's a new Work-in-Progress. (The older ones will just have to wait.) I'm making a quilt using the pattern Urban Tiles by Jenny Pedigo of Sew Kind of Wonderful because I'll be teaching a class on it in October at the Pine Needle Quilt Shop.
The center of the block was designed as a nine-patch but I wanted to show off the playful floral fabric (from the new Dori line by Mitzi Powers for Benartex) so I opted to use a solid piece. The block finishes at 16½".
Regular readers may recognize the pattern, as I made a table runner last year from Jenny's design, before her pattern was published:

Isn't it amazing how fabric changes the look of a design?
I hope you'll stop by in a couple of days to see my WIP transformed into a finished quilt top!