Time to show you more of the project I've been working on since my last post. I actually started this project over a year ago, when I got a bug to make a new quilt based on my 4-Patch Wonder with a Twist pattern. This is the first quilt, which is on the cover of the pattern: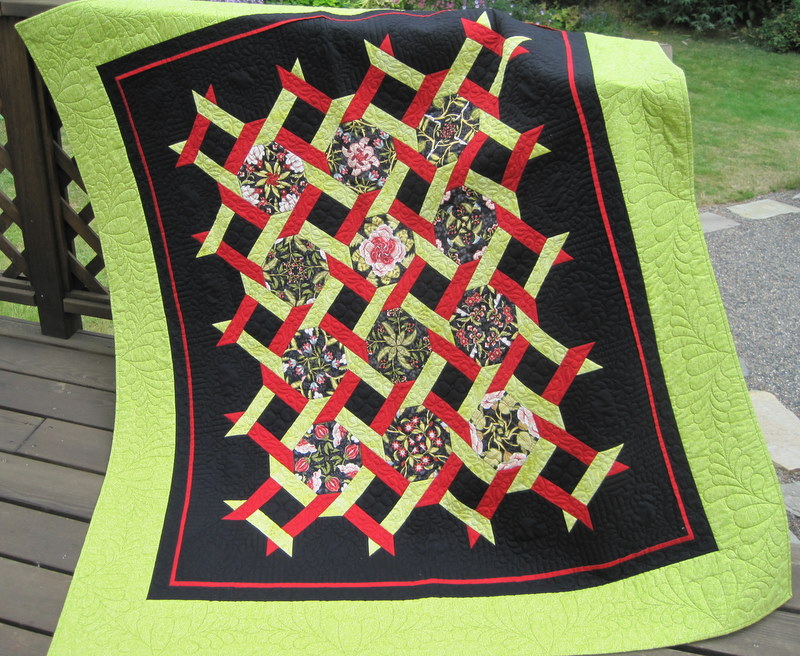 The 12 snowball blocks are very different from each other but they are all from the same piece of focus fabric, made into 4-Patch Wonder blocks (my name for blocks made of four identical layers of fabric that are stacked, cut in squares, and then rotated to make a pleasing symmetrical design). An alternating block — red and green in this case, on a black background — helps create the illusion of interlocking strips. The quilt looks contemporary but the twist block actually dates back to 1870.
The fabric I had in mind for a second version was this lovely print, Ella, by Kathy Brown for Red Rooster Fabrics: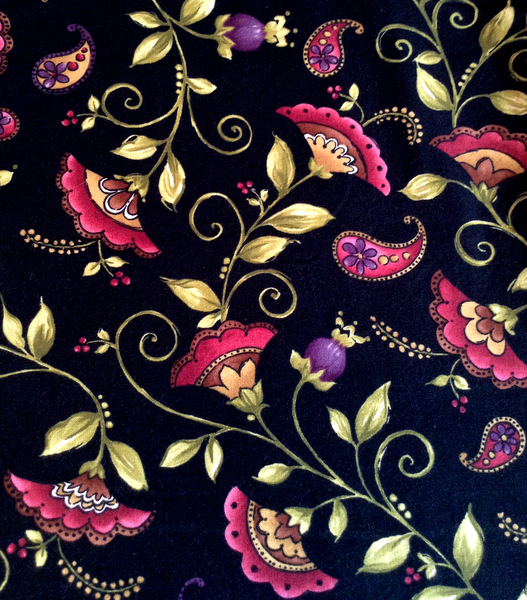 I was attracted to the folk-art feel of her design and the rose and purple tones set off by green vines on a black background. My thought was to make the lattice strips out of three colors — rose, purple, and green — instead of two colors as I did in my first quilt. And I thought the Ella print would make great 4-Patch Wonder blocks
Trouble was, the first couple 4-Patch Wonder blocks I made were — well, they were pretty but not nearly as pretty or as interesting as the original fabric: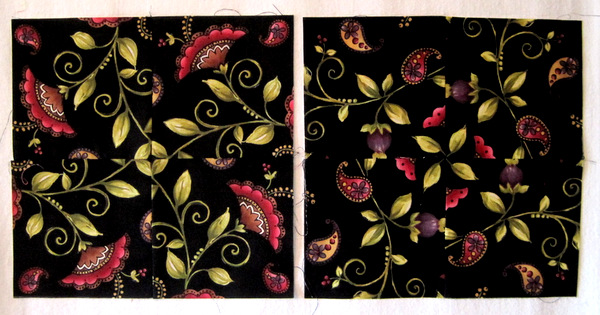 I abandoned the plan for 4-Patch Wonder blocks and simply cut squares. Then I dug into my stash for the rose, purple, and green fabrics needed for the twist strips. I pulled out quite a few pieces, all reading as textured solids. Pretty soon I had several options for each color. (What does this tell you about the size of my stash?)
Somewhere along the line I got the idea of using four different fabrics for each of the three colors. That's right — 12 different fabrics for the twist strips. I just about drove myself crazy deciding which strips would go where, and then devising a way to keep track of them once their positions were assigned. Maybe that's why I made just a few blocks and put the project away for over a year. Another Work-in-Progress, languishing . . .
Out it came last week, ready for some close personal attention, and here is the result so far: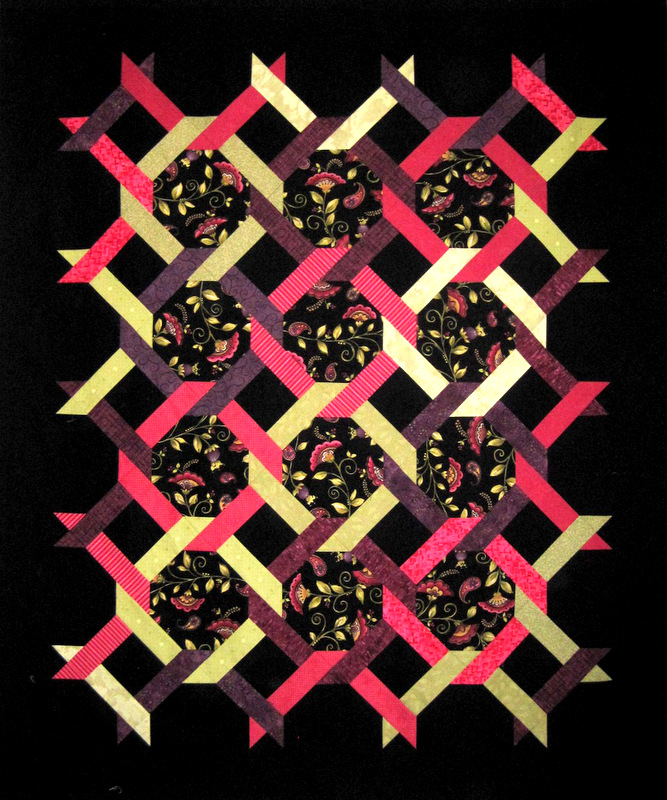 I'm very pleased with it! Still to come: borders. With quite a few 2½" strips left over from the lattice, I'm thinking about making an inner border of 2″ squares using all 12 lattice fabrics. I hope you'll check back in a few days to see what I've done.