Another UFO bites the dust! That's right, I have a finished quilt to present to you: Day for Night, begun in June 2012, finished today. It measures 56″ x 69″.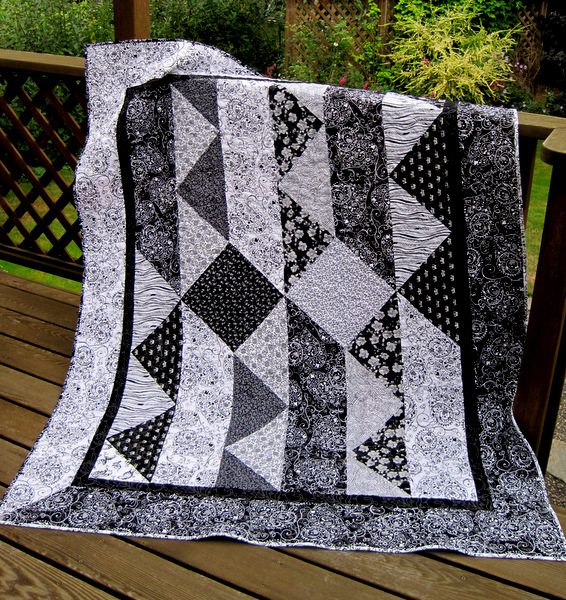 I made the top in a couple of afternoons last year, when I was in the mood for something fast and fun. You can read about it here.
Why did it take so long to finish? One reason is that I hadn't decided what to put on the back. I often use leftover blocks and strips on my quilt backs but in this case I had given them to one of my nieces for a sewing project. This summer I finally pulled a whimsical black-and-white print from my stash, pairing it with a dotted fuchsia for a jolt of color: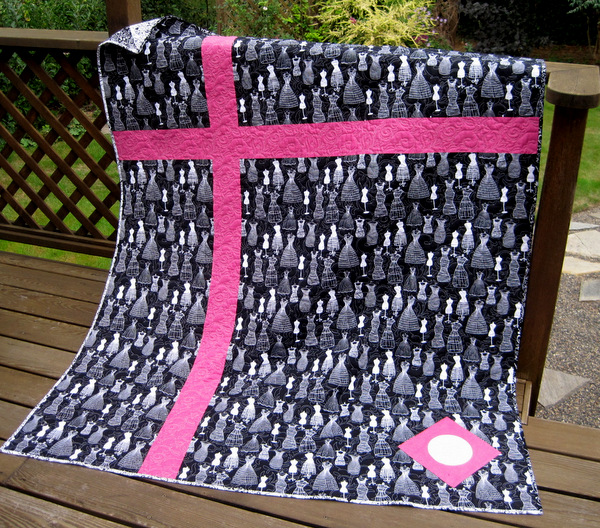 That's the label you see in the lower right-hand corner. I fused it to a square of the fuchsia fabric and set it on point to echo some of the blocks on the front.
Nancy Stovall of Just Quilting quilted a swirly edge-to-edge design that blends in perfectly on the front and complements the whimsy of the backing fabric. Here's a close-up of the back: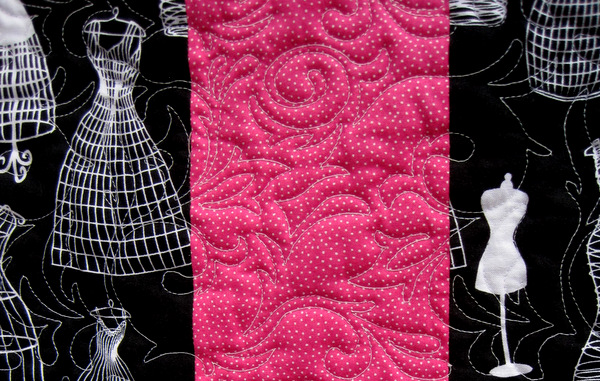 Did you happen to notice that the binding is two different fabrics? I wanted to play with the black-white/positive-negative theme by binding the quilt with fabric that's the reverse of the fabric right next to it. This was a fun challenge because I had to figure out how to miter the corners where the black and white fabrics meet: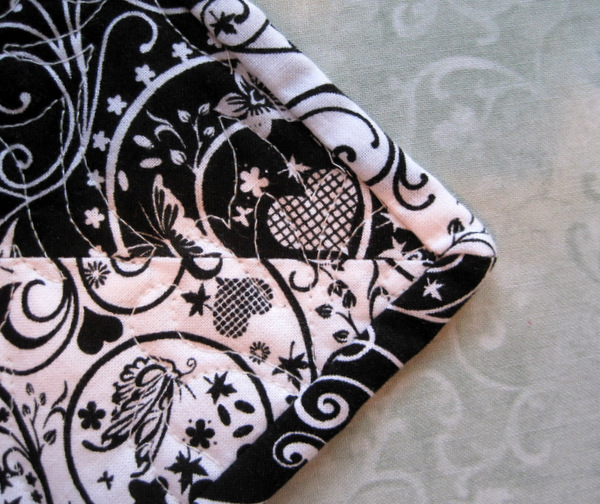 With double-fold binding (also known as French binding), quilters make it a point to avoid having a seam in a mitered corner but in this case it was deliberate.
I expected that the seam joining the black and white fabrics would be on the diagonal. Turns out the seam needs to be on the straight of grain. Not only that, when the binding strip is folded on the quilt edge to form the miter, the seam needs to be exactly on the edge that is even with the raw edges of the quilt: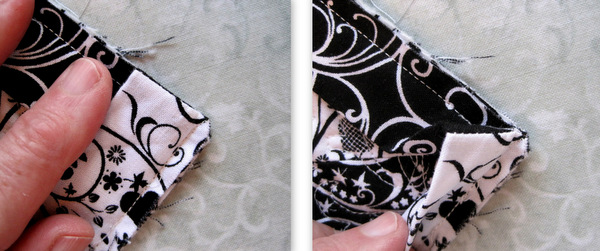 I trimmed the seams to 1/8″. There's a little extra bulk in the corners but it wasn't a problem. In fact, now that I know how to do it, I may make another quilt in the future in which the binding fabric changes at the mitered corners.
All in good time, though. I have a few other UFOs and WIPs to tackle first.